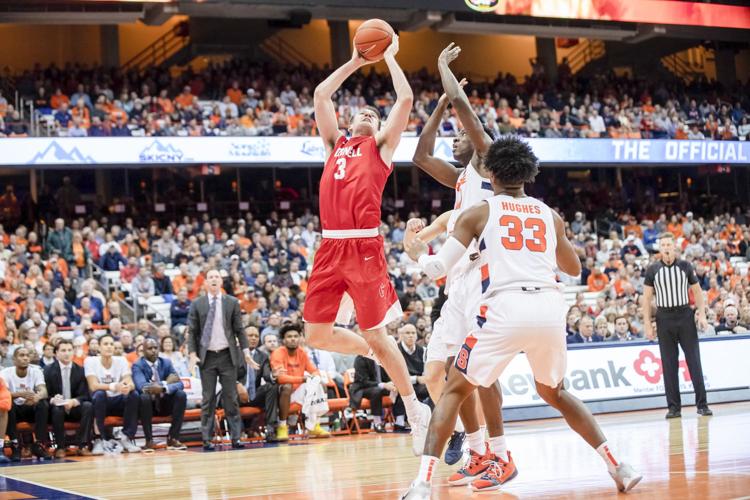 It was, like so many winter weekends, jam-packed with kids, basketball and road time. As usual, the pendulum swung a bit from happiness to disappointmen,  but no one in the gym on Sunday was prepared for the terrible news that swept over the basketball world.
On Friday night, we took the long and winding road from Spencer to Marathon to watch the S-VE Panthers take on the Olympians on the hardwood. My daughter's JV team won and the varsity lost, but it was, as always, great to spend time with the loyal parents that shift schedules and do what they can to make the games. Some of them have two or three kids with different schedules, but they try to make it all fit together.
On Saturday, I had a chat with another parent with a busy schedule. Jim Boeheim was a little busy on Saturday at noon, as his Syracuse team hosted Pitt. The Orange would be going for their 5th consecutive win, having righted the ship after some disappointing play earlier in the season.
The coach would be smiling two hours later, as Syracuse dispatched of Pitt 69-61, led by sophomore Buddy (the coach's son) Boeheim's 21 points.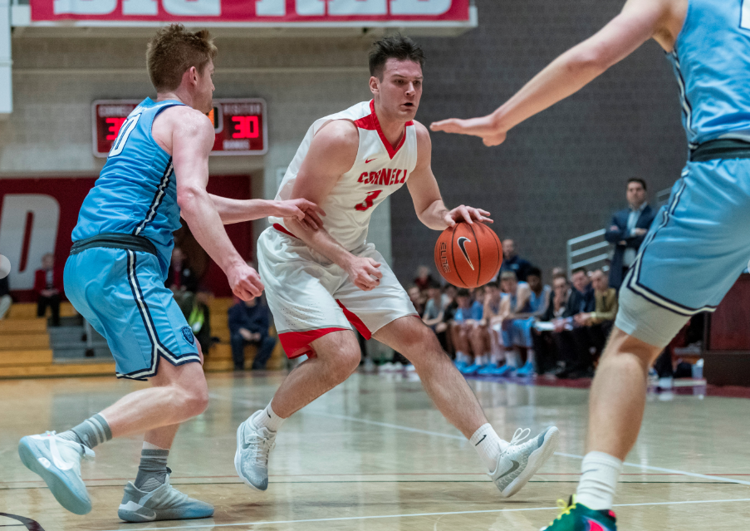 After the game, the coach would take care of the obligatory post-game interviews and pleasantries, but he didn't have a lot of time to schmooze with fans, players and supporters. Jim and his wife, Juli, would hop in their SUV, point it south and make the 60-mile trip to watch their oldest son—Jimmy—suit up for Cornell to take on the visiting Columbia Lions. The Lions beat the Big Red the previous weekend in NYC, but Cornell had been playing well at home and was determined to avoid starting off the league schedule in an 0-2 hole.
Once again, the name "Boeheim" echoed off the rafters throughout the game, as Jimmy lit it up for 18 points to lead the Big Red to a convincing 62-50 win. It was CU's third straight home victory. Boeheim had but five points in the first half, but found his stroke in the second half. Fellow co-captain Terrance McBride stepped up as well, going for 13 points and 8 boards, Josh Warren went for 11 and 6, and junior guard Bryan Knapp played a big role on both sides. Knapp had 10 points and 5 rebounds, but it was his tenacious defense that was most notable. The Lions' Mike Smith came into the game as the conference's leading scored, but Knap shut him down, limiting Smith to 5 for 23 shooting. The rest of the Lions could not make up the difference, and Cornell won its 14th game in its last 27 Ivy League contests.
It was a good day for the Boeheim family, for sure. (Their daughter, Jamie, is part of the University of Rochester's basketball program, so their travel schedule can get even crazier.)
Sunday saw more gym time, as I road-tripped to Broome Community College with my daughter to watch a college friend's grandson play. We sat with a cluster of other families, enjoying yet another day of father-daughter sports time, and the weekend was winding down. We were a little road-weary, as is often the case on Sundays, but it was a good day.
Then, in this world of instantaneous news updates, a pall fell over the gym when we learned that Kobe Bryant and his daughter had died. He was doing what we were all doing—taking his child to a basketball game—and the fact that we all got the news while sitting with our own kids at a basketball game put a finer point on the heartbreaking news.
Of course, Kobe's death is not a local sports story, and while his is a somewhat complicated legacy, it is one worth celebrating. He brought such passion to everything he did, and he was determined to use his celebrity and his resources to continue to inspire and lead. He was one of those athletes that burned hot from the opening tip to the final buzzer, and I loved showing my daughters his highlight films and saying to them, "Look at that man's eyes. Look at his expression. I don't care if you keep playing sports—that's up to you—but look at his passion, and commit to bringing that level of desire to whatever you do. You will be better for it."