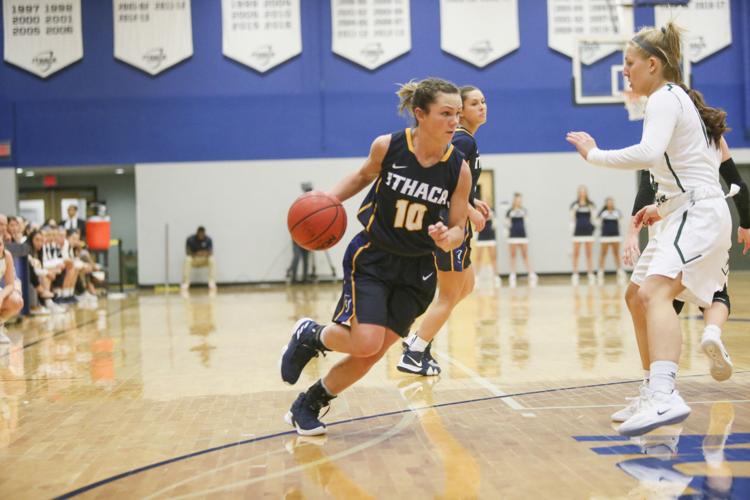 It's Senior Day, it's a home game, a Liberty League contest against rival RPI, and it's a close one. Your team lost the night before, and another loss will seriously impact your chances of hosting your conference tournament.
There are four seconds left in the game, and you're down 62-59. Your teammate inbounds the ball to you, and you take it up the court. You can't believe that RPI is not contesting you at all. You take one step past half-court, there is one second left, and you launch the ball. The clock hits double zero, and the net dances. Bedlam ensues. You're featured on ESPN's SportsCenter Top Ten Plays later that night, and the video on your college's website gets 10,000 views in two days.
After that memorable moment, I spoke to Jim Mullins, Ithaca College's men's basketball coach, and he said, "Man, that was crazy! Annie is a really reliable player, and she missed a couple of easy ones, then she buries a half-court shot to tie it and she scores six of the team's ten points in OT [overtime] to win it!"
I said to Mullins, "Jim, you sound as excited about that game as you do about your team, which also won in overtime on senior day."
"Dan [Raymond, the women's coach] and I are close," Mullins said. "The teams enjoy watching and supporting each other."
I said, "It sounds like it's the Bomber Family?" He answered, "Yes, it sure is."
"We desperately needed that," coach Dan Raymond said of Giannone's game-tying half-court heave. "Having lost on Friday, a two-game losing streak would have been detrimental to one of our main goals, which is always to host the league tournament. Had we lost, it would have put us in a more precarious position, for sure."
The Bomber men also won in overtime on Saturday's senior night, but they had a different experience on Friday.
Mullins said, "Our win on Saturday was an ugly one, but like (football coach) Dan Swanstrom said, 'All wins are good wins.' I think we might have had a 'hangover' of sorts after our big win over Skidmore on Friday, and that's understandable. They are the league's top team, [but] they came into our place and we trucked them."
Indeed, the Bombers steamrolled Skidmore 94-62, handing the visitors their most lopsided loss in eight years.
Mullins talked about a very special senior night for Peter Ezema, who notched his 33rd career double-double with 15 rebounds and 13 points. He went 5-for-10 on the night, including a crowd-pleasing fast break monster dunk in the second half. Ezema also recorded six steals to push him over 200 for his career (a school record).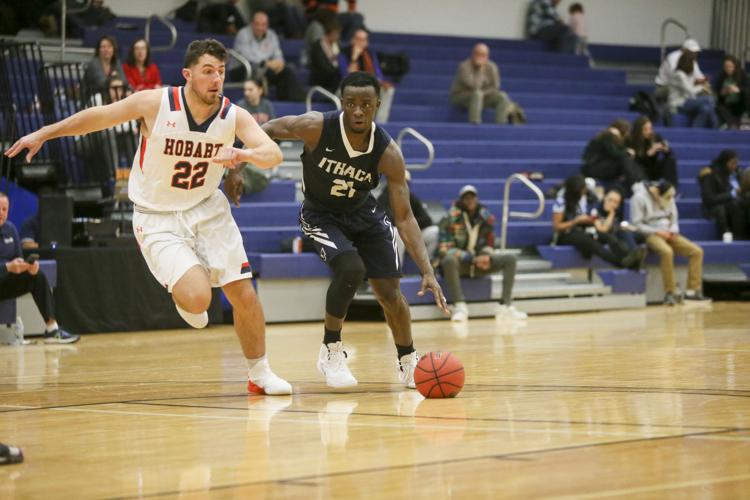 Mullins conveyed how impressed he is with Ezema who hails from Nigeria and has been in the country on his own since he was 15, according to Mullins.
"His is really a neat story," Mullins said. "On senior night, the parents usually come and are recognized, but Peter's parents are still in Nigeria. His high school coach and guidance counselor came, as did someone from here on campus who has been a great support for him, and he had an excellent game."
In Mullins' words, "We also got a big game from Matt Flood, who always does the important things that might not get noticed. He draws charges, things like that, and his senior leadership helps us immensely."  
Mullins also mentioned freshman George Sikoryak, saying "He's like the Energizer Bunny. I never saw a kid smile so much. He's a tough kid, and he grabbed some big rebounds."
For senior night, the Bomber men recognized Matt Flood, Peter Ezema and Jake Mitchell.
Senior night for the Bomber women included Annie Giannone, Allie Turnick, Meghan Pickell, Meghan Mazzella and Sara Jackson. Giannone's ESPN-worthy shot (and the upcoming schedule) can be viewed at www.ithaca.edu.