ITHACA, NY -- I recall interviewing Jim Butterfield — the legendary Ithaca College football coach — when he announced his retirement. Butterfield and I walked out into the football stadium, looked at the sign that read "Jim Butterfield Stadium," and the beloved mentor told me, "When I saw that sign, I thought I had better check my pulse, since they don't usually name a field for you until you're dead." 
Roy Staley — another local sports legend by any measure — might have a similar feeling when legions of his former Ithaca High School swimmers come to Ithaca on Aug. 27 for the Ithaca Swimming Reunion.  According to its Facebook page, the three-day gathering will give participants a chance to "Reconnect with old friends and fellow swimmers from the past 50 years," and adds, "Events include evening drinks, a fun swim meet, a picnic....and more!" 
I spoke with Allyssa Barnes and Kimberly Niefer about the upcoming event, and Kim said, "I started planning this well over a year ago — then we endured the cloud of COVID — and we are now expecting around 100 people to attend." She added, "We're happy with that number!"  
The gathering will start with a get-together at Liquid State on Friday, while Saturday will feature a swim meet at the Ithaca Swim Club and a picnic at Myers Park, plus a fun trivia contest. 
"It has been so much fun prepping for that," Kim stated. "We have been joking about our workouts, and even things like the names of Roy's dogs — many who were named after Ithaca High swimmers!" 
The weekend will wrap up with a gathering at Stewart Park on Sunday. When asked if any of the alums will attempt to replicate the 39-mile swim from one end of Cayuga Lake to the other (a feat accomplished by Ithaca High swimming alum Claire de Boer), Kim said, "Uh... no. We're having coffee and donuts." 
Allyssa was the first to bring me into the loop on this story, and when asked why she was attending she replied, "We all think that Roy is the reason we'll be there.  He had such a positive impact on all our lives."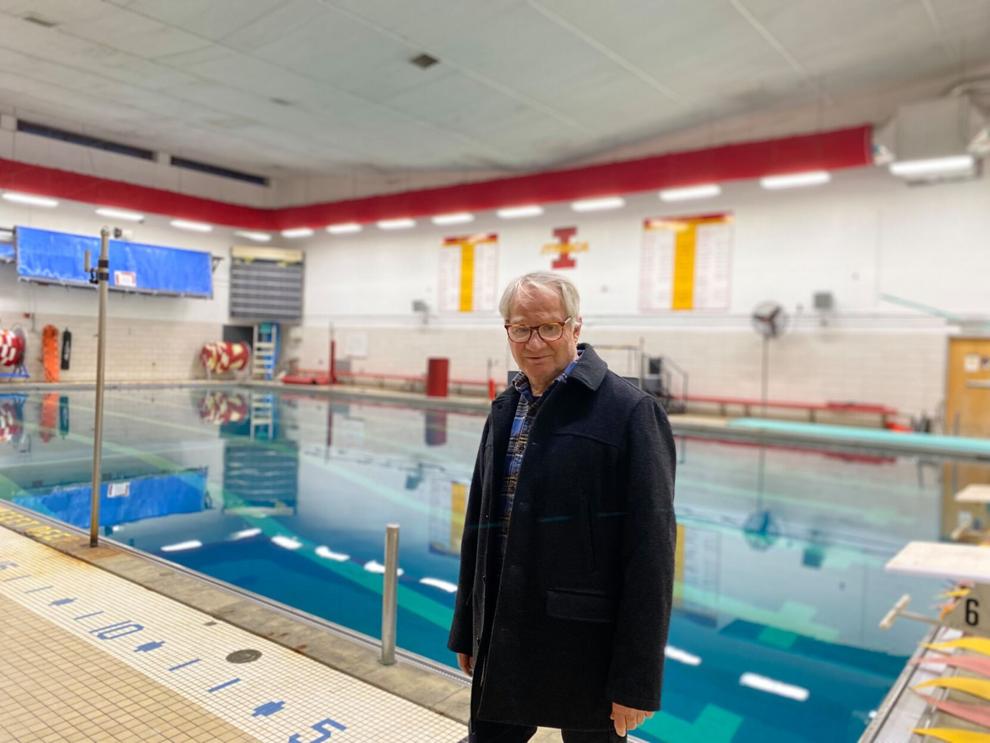 Kim's last year on the Little Red swim roster was the 1974-75 season, and she talked about the swim meet that will take place on Saturday. "We want it to have as 'official' a look and feel as possible," she offered. "We will have a timer, a referee, a meet official, and we will try to recreate some of the old relay teams." Sounding stoked, Kim said, "It was enough encouragement to get a lot of us back in the pool!"  
Allyssa was part of Staley Part II, so to speak.  She said, "Roy had left for a time, but he came back when I was there from 1987-1990. The program was just getting off the ground, and he said, 'I think we can build something.'"
Build something they did... The IHS girls varsity win/loss record was without parallel: they won all dual meets from 1989 through 2013 (except for one loss to Johnson City in 1998) and won all Southern Tier Sectionals from 1989 to 2012 (that's 23years!).The Little Red also unofficially won the State Meet in 1993, 1994, 2005, 2006, 2007 and 2008.  
In Kim's words, "Roy created a powerhouse of a program in the state for many years and he has impacted the lives of almost 900 kids over 50 years." She added, "I am looking forward to giving swimmers the opportunity to recognize Roy for his dedication to developing kids through swimming for so many years. I also know Roy is excited to hear how swimmers' lives have progressed and what they are up to now.  
"People are traveling from all four corners of the country: Washington state, California, Florida and Massachusetts."  Kim added, "Among those attending are IHS Hall of Fame swimmers Dave Singley and Terri Hoppenrath, Olympian Alex Myers and 'old timers' Dick Chelekis, Ken Harris and Bob Slater." 
Allyssa said, "When you attend a class reunion, it's just your class. I am really excited to reconnect with so many of these swimmers, to experience this inter-generational gathering and to hear about how swimming played such a significant role in peoples' lives.  Like so many, I have tremendous gratitude for the community that Roy has built, and I can't wait to shake the hands of some of these people and say, 'The stories I heard about you and your work ethic got me through a lot of workouts.'"
                                                     ***    
(Those interested should be aware that some of the events require tickets purchased in advance. Visit the website for more information: ithacaaquaticsclub.com)