I have stood next to a number of world-class athletes, and marveled at what a few thousand hours of practice can do. 
I leaned against the batting cage before a World Series game and watched Dave Winfield hit a half-dozen screaming line drives and a couple of 430-foot home runs. I have watched pro golfers hit 300-yard drives to within inches of the hole. And I have watched pro tennis players hit serves well over 100 miles-per-hour with pinpoint accuracy. All of these experiences prompted me to say, "I'd love to do that just once…" 
On Saturday, I followed Paul "Big Mac" Maccarone from his nondescript front yard in Danby to his custom-built knife and axe throwing range in the woods behind his house. There were nine targets affixed to a big (about 10 feet by 30 feet) wall, several chairs set up for spectators and idle throwers, and I asked Paul if he used a metal detector to locate knives and axes that went over the wall into the woods. He politely smiled and assured me that a metal detector was rarely needed. Then, he proceeded to bury nine knives in a row into the bullseye, prompting me to say, "I'd love to do that just once." 
When asked how long he had been sharpening his skills, so to speak, Paul (who grew up in Oneida and Canastota) offered, "When I was about eight, my dad gave me a pocket knife, and my first inclination was to throw it." He added, "I firmly believe that it's in our DNA to be strongly attracted to throwing knives. It goes back to the days of cavemen."  
By his teen years, Maccarone, now 54, said "I was able to get some knives that were designed to be thrown." He said that "while organized knife throwing existed in the 1960s, there was very little publicity." Since then, there has been "a huge upswing in interest," and there is an increasing number of throwing facilities, one featuring 28 lanes. In Paul's words, "Last year's championships offered a $5,000 prize and were televised by ESPN." 
At the end of this week, Paul will don his red, white and blue jersey and will represent Team USA at the World Championships of Knife and Axe Throwing in Great Britain. His wife, Chris, is an amateur thrower, and they will join 150 other throwers from around the world. 
While this will be Maccarone's first trip overseas, his competition résumé from this side of the pond is impressive indeed. Paul was the Fast Draw World Champion in 2014 and 2015, he won the Long Distance World Championship (burying the knife with a record throw of 73 feet, 11 inches), and was, in 2016, inducted into the International Knife Throwers Hall of Fame. Earlier this year, in Ontario, Paul won his fifth world championship with a personal best score of 251 (out of 300, tallied from 60 throws from varying distances). That achievement made him only the fourth person to achieve master's level in Tomahawk throwing.  
As Paul warmed up, he took a breath, centered himself, and sunk the knife into the bullseye. He then took one step to his right, and repeated the process. He made a few throws requiring him to hold the knife by the handle, and as he backed up to the next meter mark, the differing rotations required that the knife be held by the blade.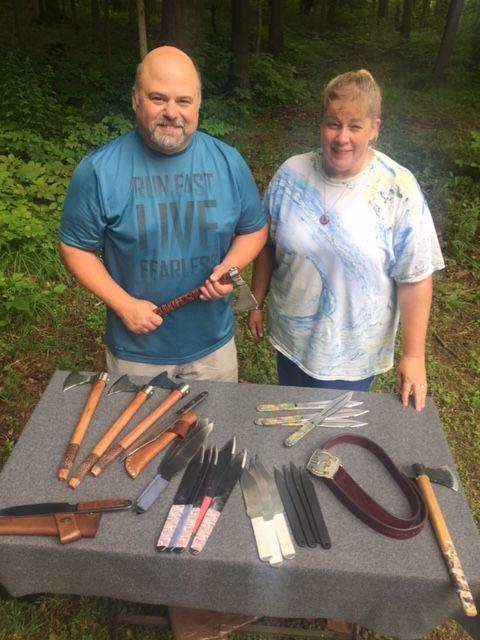 As he switched over to the tomahawks, the varying distances again required that the "hawks" be held differently, and Paul actually made some throws some throws with the blade facing toward him.
As they prepare to make the trip, Paul said, "In Europe, the specs, distance and equipment is different," and he recalled his wife's biggest moment thus far. They both took part in a "silhouette" competition in which throwers use a human-shaped target, but are disqualified if they actually put a knife inside the silhouette. Paul did so, and was out early, but Chris made it to a "throw off" against a legendary thrower from Germany by the name of Werner Lengmuller (aka The Terminator).
Chris was the better thrower on that day, taking third place, her best showing to date. She laughed and said, "It was just my lucky day to win the throw off!" 
As for me, I got my wish. I had said, "I'd sure love to do that just once," and I did. Once. It took me quite a few clanks and misses, but I buried one dead-center, and it felt great. 
Now, if I could just hit one of those 430-foot home runs…