ITHACA, NY -- As I watched 53 kids learning how to throw, catch and hit at the Total Baseball Summer Camp, I wondered if they would ever know how much baseball knowledge surrounded them. Tony Prudence (Ithaca High alum and former Ithaca College player) is the top dog at Total Baseball, and he called in some big hitters for this year's camp (held at The Rink/The Field in Lansing).  
Seeing Joe Hopkins took me way back.  Joe and I played against one another in high school in the 1970s, and the now 60-something former Little Red star looks like he could still steal a base.  
Ryan Stevens was once the youngest coach in pro baseball (the Pecos League in Texas), and he is now the head man at Wells College after previously running the show at TC3.
Wells is well-represented, as Tyler Mattoon —Stevens' assistant coach and a former standout at Lansing and TC3 — is helping out at the camp, as is head softball coach Taylor Policay. Taylor was a tough out and a stellar defensive player at Lansing, hit a few bombs for TC3, and took the Wells job just before the pandemic hit.  
Colby Gee played for Dryden High, then for the I.C. Bombers. Buzz Shirley is still a member of the Bombers' pitching staff. And finally, there was Frank Fazio. "Faz" lit up the record books at Ithaca College in the 1960s, he played local softball for many years after that, and he was on the I.C. Coaching staff for decades. Although he has coached other sports, Faz is a baseball man through and through. 
Week one of the camp is for kids ages 7-12, and Prudence called it "Our 'Intro,' or 'Rookie' camp." (A more involved skill development session for older kids starts next week.) He added, "It's all about the kids seeing success, and we do whatever it takes for that to happen."  
After the coaches are able to evaluate skill level, there will be a tournament featuring "Coach-Pitch," and in Prudence's words, "We'll take a close look and divide them into equal teams." 
While Policay is there to teach all aspects of the game, it might be helpful for the half-dozen girls in attendance to meet a woman who has paid her dues and climbed the ladder to become a collegiate coach. In her words, "It's really a lot of fun to see them learning the game."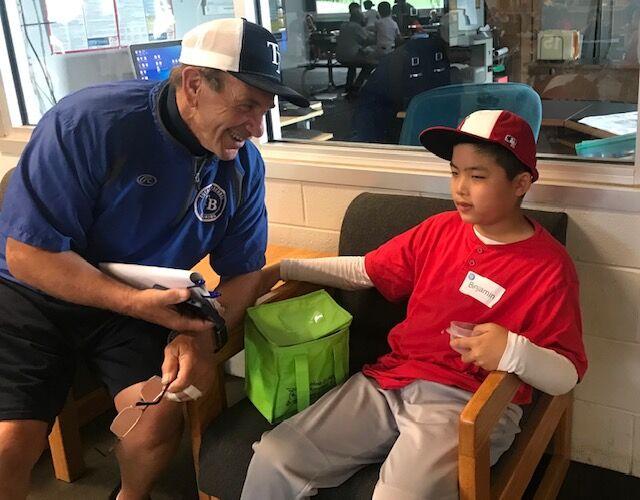 I stayed around for the lunch break, and the coaches looked right at home at the lunch tables, getting to know the kids. Again, the youngsters likely have no clue as to the level of coaching they are getting, but ballplayers like to rub elbows with other ballplayers, so the lunchroom interactions were fun.  
Stevens laughed when I asked him if it was a little too early to initiate recruiting efforts, and he said, "I do pay attention. It was only a few years ago that I was watching kids this age and now some of them are really good baseball players.  Zack Sperger is now a junior shortstop at Lansing, and James Cronin just graduated from St. Lawrence."  
Ryan added, "It's also good for them to get around kids from other schools, and meet the players from other teams early on."  
Ryan knows how long the road is from a developmental camp to the Majors, but he has seen the entire spectrum. When asked about his former players making that journey, he said, "I have had two guys make it to the Bigs, and several more (like current Bomber coach Dave Valesente) make it to Affiliated ball (Valesente played in the Pittsburgh Pirates organization). 
While some of the coaches took a break to eat their own lunch, Fazio flitted about the room like a water bug, engaging the kids that looked like they needed it the most.  He complimented them on their earlier efforts, told them how happy he was to see them there, and shared he had high hopes for them. He looked like a rookie coach at his first camp.  
Prudence — who has been connected with Faz for most of his life — smiled and said, "Look at him.  He's like a kid.  A 76 year-old kid.  He really loves baseball, and he loves these kids."  
For more info, visit www.totalbaseballithaca.com