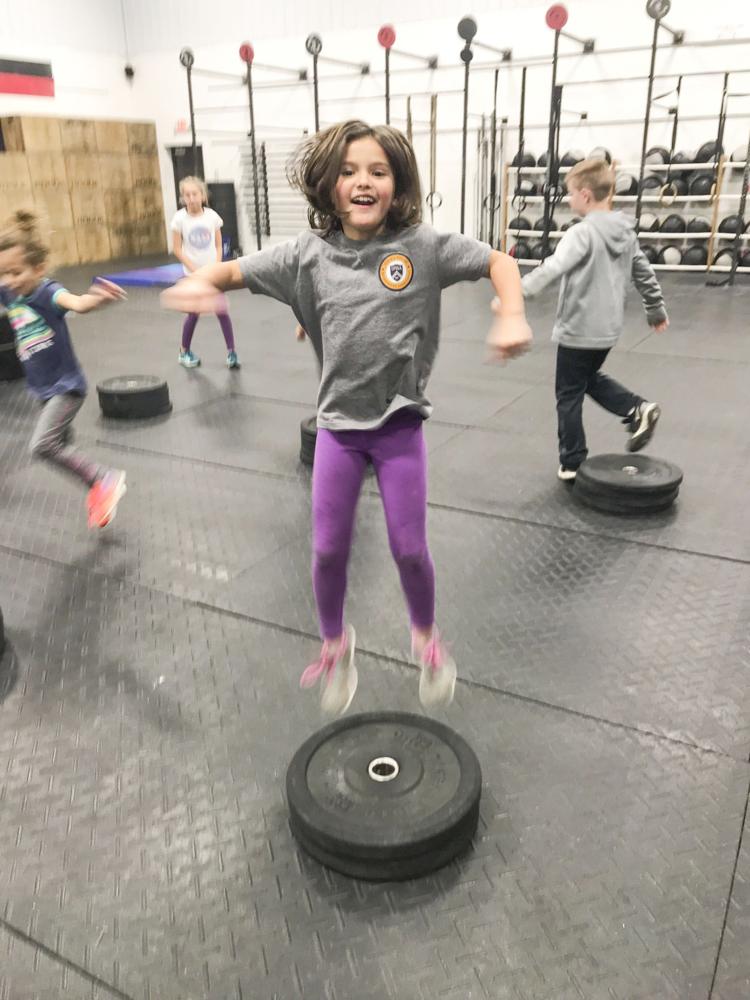 I do not know if any cave paintings depicted early humans hunting and gathering as a family, or if medieval families had any artwork depicting the fun they had together practicing archery or horseback riding. 
I do know that in my lifetime, photo albums have been stocked with pictures of families ice skating, swimming, riding bicycles, skiing and taking part in all manner of fun activities. Now, a new program is being offered in Ithaca that will enable young people to look in their (likely digital) photo albums and see memories of their family CrossFit workouts. 
The sport has been growing rapidly over the years, and CrossFit Kids (CFK) is now being offered at CrossFit Pallas (on Cherry Street, behind Wegmans). Jana Leyden, one of the gym's coaches, was kind enough to share some of the details.  
"Another coach and I just completed the certification program, and now our program is one of thousands all over the country," Leyden offered. There are 22 kids now enrolled in the Ithaca program. 
CFK features three different levels for youngsters, and according to Leyden the focus is on safety and fun. Kids from age three to five will focus mostly on that fun component, and those in the 5–12 age group will be a little more serious, focusing on proper form. The CrossFit Teens group (ages 13–18), according to Coach Leyden, "will be even more serious, with a focus on fitness."
The implementation of CFK is a logical one, given that many of the young people have been accompanying their parents to the gym and watching them work out. Jana offered, "It's a very family-oriented thing, and kids will be able to go where their parents work out, or teach." She added, "The kids-to-coach ratio will be 10 to 1. We're now averaging 8 to 15 kids per class, depending on the night, and if there are more than 10, we bring in another coach."   
For adults, the opportunity to take part in CrossFit competitions is a big part of the experience, but the young athletes will wait until they reach the CrossFit Teens level to be introduced to that.
Many of the new CrossFit students are athletes at their schools, Leyden said.  She stated, "Some play lacrosse, some play soccer, and the skills they learn in CrossFit translate very well to other sports. The strength and conditioning component, the core strength and the ability to hold their endurance are very helpful." Plus, she added, "It's a good way to keep them moving year-round, as some of them don't love their P.E. classes in school and they are more comfortable in our classes."
Most of the youngsters presently enrolled are kids whose parents are gym members, but Leyden said, "We're trying to get the word out to more parents." CrossFit, she said, is "a lifetime sport," and Leyden, like many CrossFit devotees, has found herself deeply immersed in the sport. "I was really bored with my exercise routine, and I needed a lot more motivation."   
It appears that after several years and a long list of completed events (like Spartan races, Tough Mudder events, half-marathons and a few more), she has found it. 
More info can be found at www.crossfitpallas.com.
CU Men's B-Ball Update
The Cornell men's basketball team is in the thick of the Ivy League race, and when they hit the road last weekend for the always-tough Dartmouth/Harvard road trip, they knew that Friday's contest against Dartmouth was huge. Any team wants to get at least a split on the road, and the Big Red had not beaten Harvard in six tries. 
Cornell took care of Dartmouth on Friday, then took advantage of a weary Crimson squad (which had won a triple OT game the night before) and charged back from a 13-point halftime deficit and beat the hosts 67-61. It was a big win, and some crucial adjustments are paying off. Since inserting Jimmy Boeheim and Joel Davis into the starting lineup, coach Brian Earl has seen his team go 6-2. 
This weekend will be huge, as Ivy foe Brown visits Cornell on Friday night, followed by Yale on Saturday.