Three hours after initially getting into the water one Saturday morning in September, Meghan Matheny was being called out of it to meet someone.
Standing in the shallow end of the Lansing High School pool the senior pointed to freshly stenciled dry-erase markings on the new white board that listed laps, motioning that she hadn't done it yet. The someone would have to wait.
Assistant swimming and diving coach Shelly Matheny, Meghan's mother and recent writer of the aforementioned instructions, tells her it's the warm-up for the modified team when the younger Bobcats arrive. So Meghan evacuates the pool and grabs a towel to end practice.
The event exemplified what Lansing head swimming and diving coach Diane Hicks-Hughes had said only minutes earlier: work ethic and determination are the shining characteristics to Matheny's success in the pool and more significantly on the diving board.
"I'm the type of person who wants to finish the work out and do the best I can even if it's not exactly really working with [how] I want to be doing," Matheny said to the reporter she was called out of the pool to meet. "And then with diving even if I'm really tired that day, I'm still excited to be there and work hard.
"I like the idea of always getting better and being able to break records and make the state cut. It's just in the back of my mind when I'm at practice and everything. So that's always pushing me."
Matheny accomplished all in a three-day span that began Sept. 19 when the Bobcats hosted their first home meet since 2015 at their actual home school. The meet against IAC foe Dryden began with diving; shortly after the final jump, with swimmers starting to prepare for the races, Matheny's score was announced.
"Go ahead and celebrate, Meghan, because that sets a school record."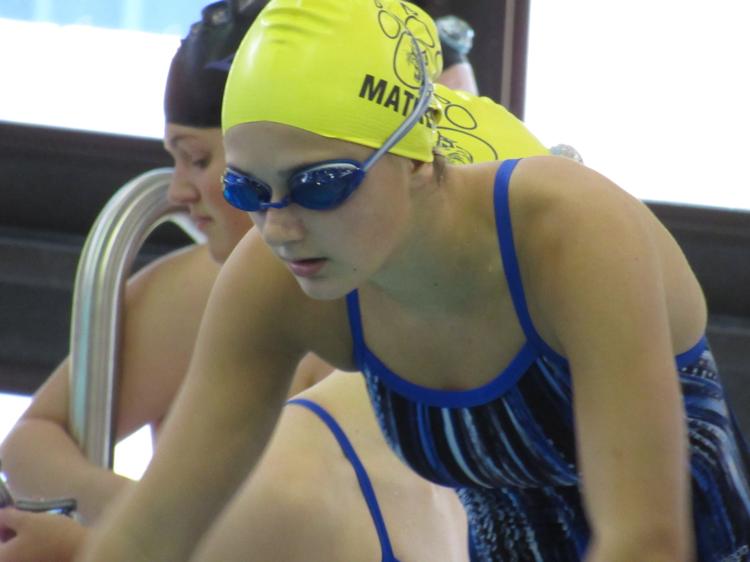 Matheny immediately went over the lifeguard stand where Shelley was to give her mom a big hug. Embraces followed with Hicks-Hughes and the entire team.
In addition to the modified record she holds, she now has the six-dive score of 263.35 gracing the wall of records across from the gallery seating. The six-dive record had been in place for 19 years.
"I've been working toward that record since I was in eighth grade, so for five years, and I've actually since my freshman year been a point away from it," said Matheny, who has the second-best score in Section IV this season according to the section4swim.com midseason report. "So to finally beat it and beat it by that much was really exciting and kind of accomplishing a goal I've had for a while."
Girls open new pool with a victory as they continue to swim at the top level
Three nights later on Friday she and Hicks-Hughes traveled to the Owego Invitational where Matheny set the school record for 11 dives – breaking her own mark -- and qualified for the New York State Public High School Athletic Association state championships. She placed third overall with a score of 456.90, .05 points behind Ithaca's Jordan Lu in second place.
The state meet takes place Nov. 17 and 18, and Matheny is well acquainted with attending. She's also well acquainted with the location, Ithaca College, where she swims club two or three nights a week and works with the collegiate coaches.
"The facility there is really great," she said, "so I think just being on those boards and having a full two hours just to dive and not having to worry about swimming and the swimmers that are in the lane is just a breath of fresh air. And being able to work with other divers is really great."
Matheny has been a constant in the pool since she was young; she also swims the 50 freestyle for Lansing (12th fastest this season), the 200-medley relay (1st at 2:00.63) and the 200-freestyle relay (1st at 1:47.99). She started diving during her 12-year gymnastics career and "fell in love with it" and being in the air.
One of her goals in her final season as a Bobcat was to make the state cut for 11 dives.
Check.
Now her final goal for diving is to improve on her dive from last year, which resulted in a 175.30 score that placed her 37th out of 41.
"I made a mistake diving last year," she said. "I didn't do as well as I wanted to so I think (my goal is) just staying calm at the state meet because I was really stressed out last year and just being able to enjoy it and have fun and do better than I did last year."
It may not be her last November at IC since the senior is considering the school for undergraduate studies. She's also looked at the other hill to Cornell University and to pastures far away in Boston, where she has family.
But if she does become a Bomber, this time around you'll find the dedicated athlete sliding off of a cushy landing pit to meet someone instead of sliding out of the pool. Matheny, one of the top pole vaulters in Section IV, is looking to attend college for track.
This article ran in the Oct. 4 issue of the Finger Lakes Community Newspapers (FLCN), available via subscription and delivered on Wednesdays. Cassandra Negley is the sports editor for the Ithaca Times and FLCN. Follow her on Twitter, @casnegley.