The talent bunched into a small padded room in the back of Lansing High School on any wintry Tuesday or Thursday evening would boggle a wrestling fan's mind.
There are a combined five state titles, five NCAA championships and two U.S. National team members between the four collegiate All-Americans who tower over bouncing bunches of possible future Lansing Bobcat stars.
Bellowing the loudest instructions and bouncing the most on the final night of the recreation department's annual program is the 26-year-old 2016 Olympic alternate who made wrestling history and had even the most casual of sports fans turning their heads: 2009 Lansing graduate and two-time New York state champion Kyle Dake.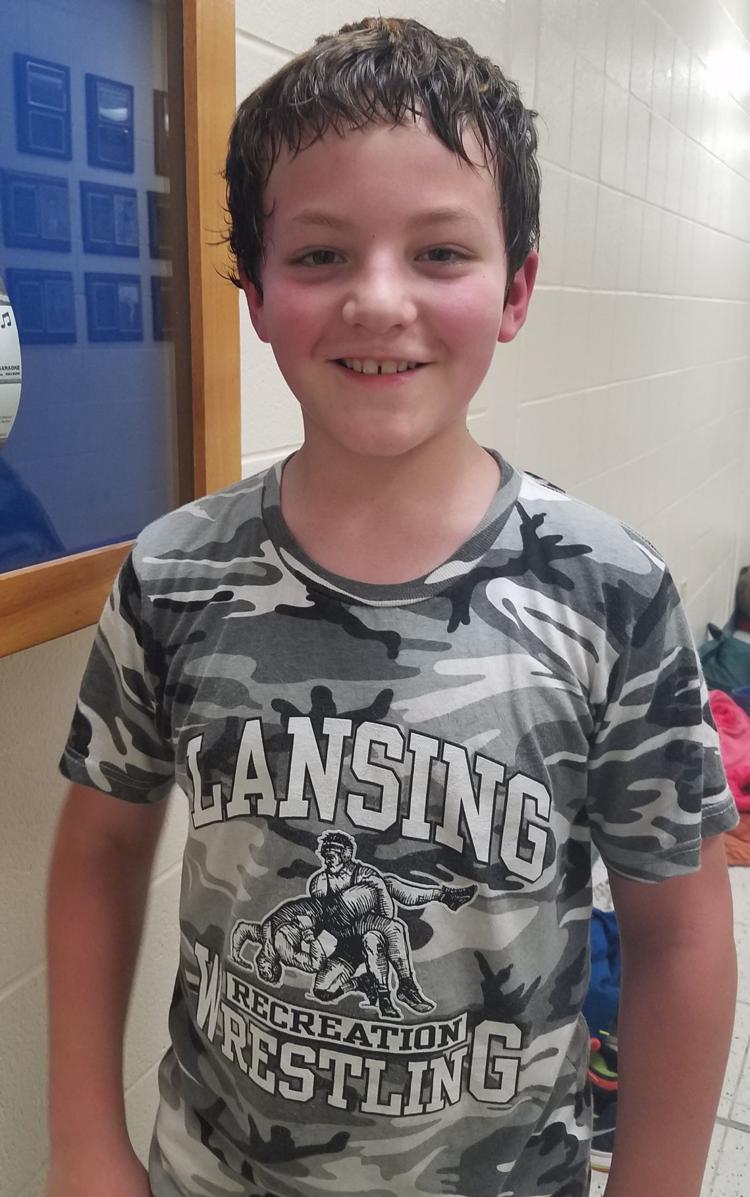 "It's very cool to have him as a coach because he's an Olympic-class wrestler," said 9-and-a-half-year-old Griffin Montfort-Balfour. "And just it's really cool to have him as the coach."
Dake became the first wrestler in history to win four NCAA wrestling championships at four different weight classifications (141, 149, 157, 165) and the only of three wrestlers to win four without a redshirt year. His success at Cornell University, where he graduated in 2013, led to the Hodge Trophy, Sports Illustrated Male Athlete of the Year and an ESPY nod.
Now a full-time wrestler with USA Wrestling and a lifelong Lansing resident – he and his wife live within a mile of his childhood home – Dake joined his dad Doug, a Lansing legend in his own right, last year in renewing the Lansing recreation department's youth wrestling program.
"I had an awesome experience coming here [as a kid] and learning a bunch and everything like that, so I always try to find a way to give back, give back to everybody who's given so much to me," said Dake, who learned at the youth level from his Hall of Fame father and grandfather Bob as well as various uncles. "And it's really the kids who are the most important, and if I can do — this is only an hour and a half twice a week. It's something so simple [and] I get so much joy out of it, seeing the little kids (grow)."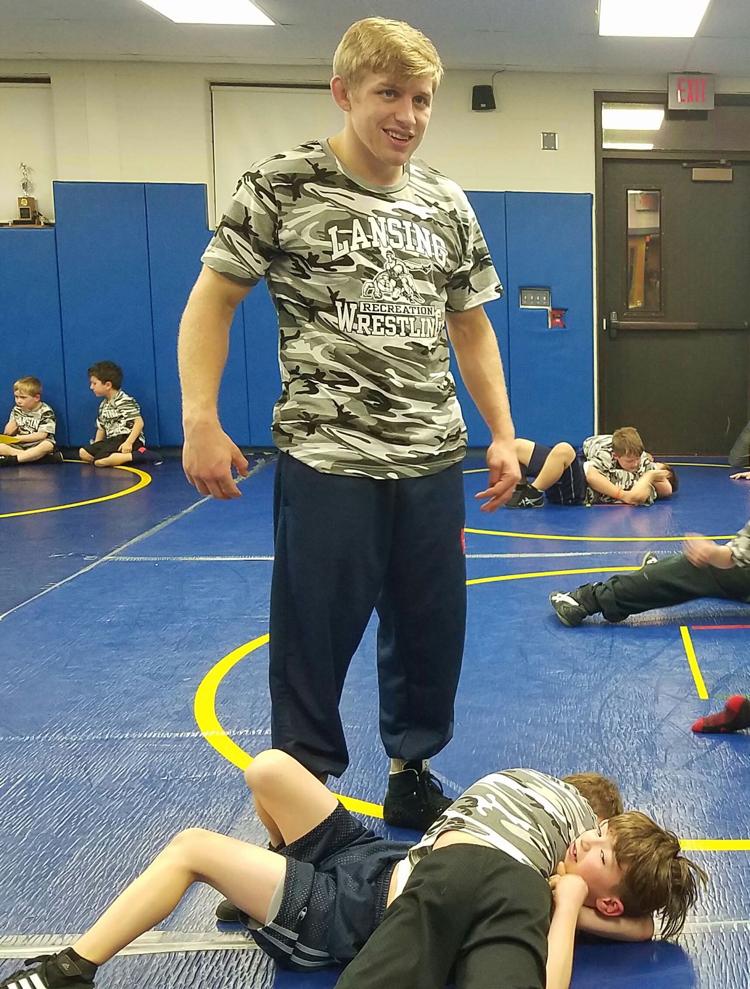 Griffin can explain all of the moves he learned this year and last year, when he insisted to his parents he join after they mentioned it.
"I like that I actually get to take people down unlike other sports and I get to actually fight people and stuff like that. It's very physical," he said.
Mckenzie Newton, 11, said she started in the program this year when she couldn't do travel basketball and was excited to learn from Dake because he's "really, really good" and she enjoys the sport.
"I can get my anger out when I'm wrestling people," she said, adding it teaches to try one's best and never give up.
The 48 kids range in age from 5 to 11 and some, such as Griffin and Mckenzie, know of their coaches' long wrestling resumes. Mostly they know about "Coach Kyle."
"We went and watched Kyle wrestle when he was in college and that's when he wanted to wrestle," Brian Bowman said of his 6-year-old son, Parker.
Parker said he likes wrestling "because I can get stronger" and getting stronger means "I can wrestle more often."
Having any of the Dakes coach you in wrestling is plenty, yet Kyle and Doug also had all-star assistance this winter.
On Kyle Dake's side of the mat during the age-divided practice was Mitch Clark, a Canton native who won a New York state title in 1993 and went on to win the 1998 NCAA championship at Ohio State. Now a rep with Advantage Sport and Fitness whose son is in the youth wrestling program, Clark is still the only wrestler in NCAA finals history to tech-fall an opponent in the first period.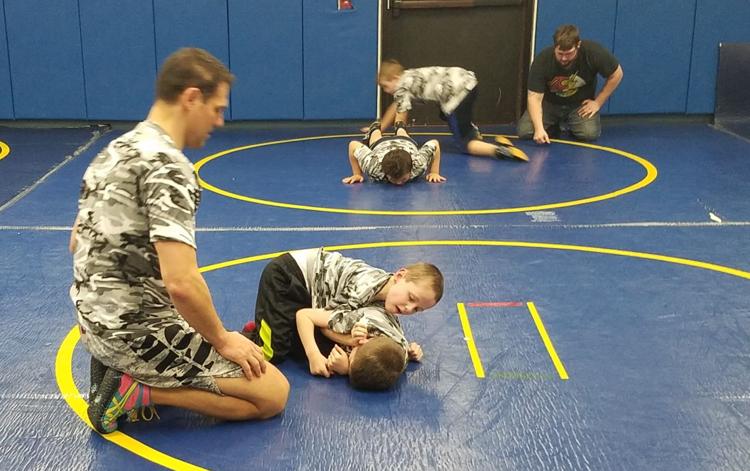 Clint Wattenberg, the current head of sports nutrition at Cornell, worked with the young group as it went through drills and began learning the basics. Wattenberg is a two-time California high school state place-winner and two-time NCAA All-American while at Cornell (class of 2003); he was also a U.S. National Team Member in 2006.
Doug Dake, an Ohio High School champion and All-American before a successful 16-year coaching career at Lansing, wandered around to help. The coaches are also joined occasionally by current Cornell wrestler Corey Dake, Doug's younger son, and 2014 Cornell graduate and current Lansing High School wrestling coach Jake Arnone.
The youth program started in Lansing many years ago, director of parks and recreation Steve Colt said, and though there have always been really good coaches the last couple of years have been "something special."
"Lucky for us that most of these guys live in Lansing or nearby," he said.
To the kids, they're all just big friends teaching them to love a sport and have fun while doing it.
"Kyle is really funny. And smart. Strong. And so are all the other coaches," Griffin said.
Many of the parents made mention of how the program has changed their child's life and at the end of the final night, kids bunched around coaches for photos their parents, many of whom wrestled for Doug or Bob Dake, shared on social sites.
"You see the confidence, that's really the big thing," Kyle Dake said. "The best thing for me is to see there's probably nine or 10 really shy, not really confident, really timid kids and how, like, they're jumping all over me, they're wrestling, they're loving it and that's what it's really all about. That's what makes it fun for me."
The nine-week program of 12 practices teaches more than moves, Dake said, it teaches how to deal with pain, stress, loss and failure. If the kids didn't listen, five push-ups or sit-ups were in order. During drills, the winner was rewarded with five sit-ups and the loser with five push-ups.
"If you would have come to the first practice versus now, you would have been, like, what the heck," Dake said. "Just pure madness."
Now they're hitting real wrestling moves and passing along the word.
"No one in my class does it," Parker said. "I like to tell them about it every day when they come back in to school … since I like to see them smile when they hear about it."
Hannah Freemantle, a 5-year-old who took matters into her own hands and made the program T-shirt as much fun as the moves, also spreads the word about her favorite new sport.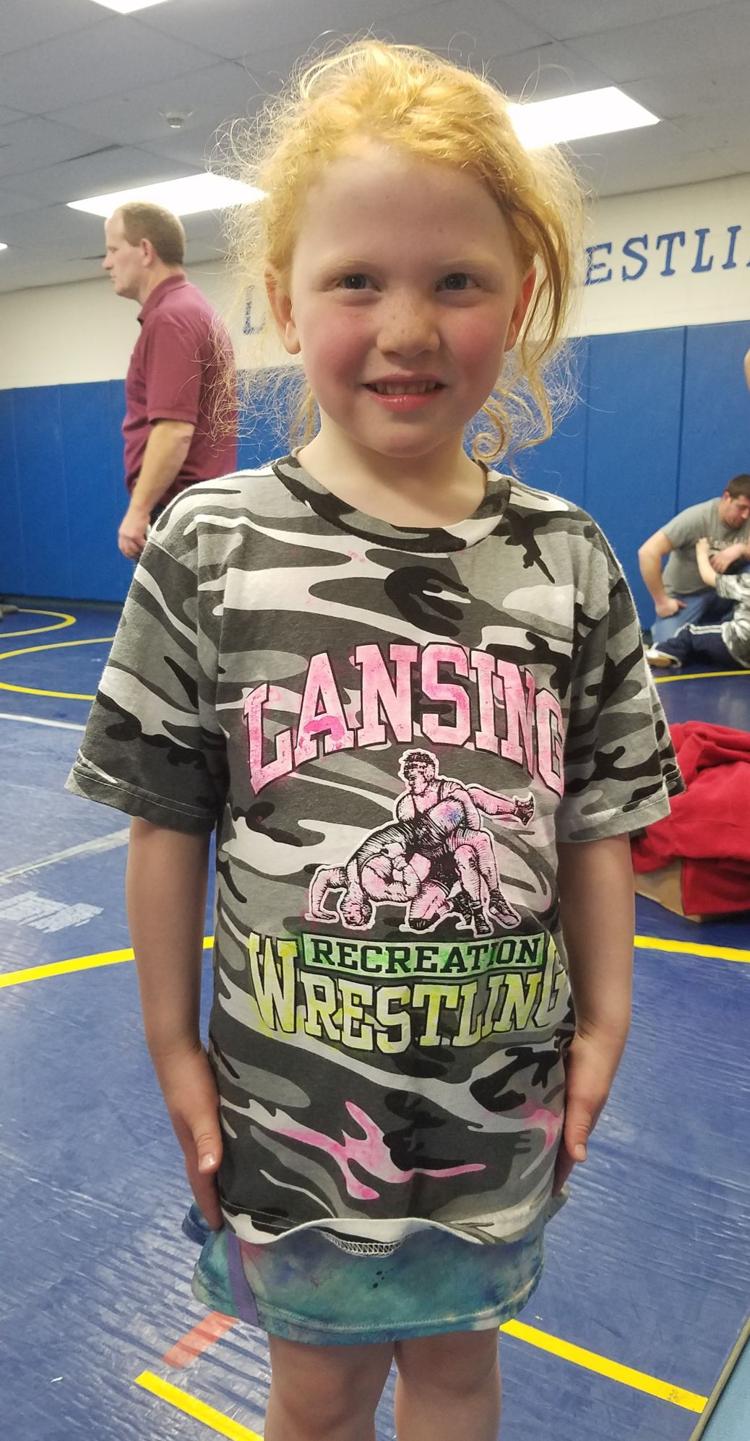 "Sometimes I say, like, 'I go to wrestling. It was so much fun; do you want to come next week?'" she said.
Hannah's mother said it was Hannah's older brother who was first enrolled (he later dropped out), but Hannah latched on to the sport when she came to practices and wanted to participate. She said her daughter loves wrestling, but thought the black and white camouflage program T-shirt was too "boyish."
"I didn't really like the colors, that's why I wanted to make it a little more colorful," the talkative Hannah said.
She spray-painted the words "Lansing Recreation Wrestling" with bright pink, green and yellow and added a coordinated skort, though it made her stand out in her favorite part of the night, the "Sharks and Minnows" finale.
"There's a top that goes with it (the skort), but mommy said these kind of match in colors," she said.
It's always been important to start wrestlers young by incorporating fun and growing a pipeline. Many times, there simply aren't enough bodies to compete in weight classes, making a team victory all but impossible.
"Really it's trying to get as many kids as I can hooked to the sport, and then after that happens I can pass the baton off to another coach," Dake said.
For at least four of them plus the behemoth of kids who started the night by practicing moves on each other and bombarding Dake when he walked in, the hook is already planted.
"I want to make Lansing as good as possible," he added. "It'll be sweet to have a good team eventually."
Follow Ithaca Times sports editor Cassandra Negley on Twitter, @casnegley.