When it comes to the latest buzz word in recreation, there are two types of people: those who already down with Pickleball and those who aren't. (Maybe three kinds if you count people making pickle jokes.)
Invented in 1965 by a group of fathers on Bainbridge Island off the Washington coast, the sport is the fastest growing recreational activity in the nation. There is absolutely no pickle involved – it's thought the origin of the name is derived from the co-inventors' cocker spaniel named "Pickles" who loved to chase stray balls and hide them in the bushes – but rather badminton, tennis and ping-pong. Players use what looks like over-sized ping-pong paddles to hit a wiffle ball over a tennis net on a badminton-sized court.
The places to play increases by approximately 80 each month, according to the USA Pickleball Association (USAPA), and this summer Lansing can be added to a list that includes Dryden and locations in Ithaca.
Maureen Cowen considers herself a "newbie" to the sport after picking it up from friends who go to Florida every winter and play. Though fresh to the activity, she's not to the area and knew some people to help form a new court closer to her home on Lansing Station Road especially since Pickleball at the YMCA in Lansing, the older generation's typical go-to, is limited during the summer while camps go on.
"It prompted me to find -- and I know (Lansing Parks and Recreation Director) Steve Colt through other things I've worked on -- if it was possible to set something up outdoors," Cowen said.
Colt and Cowen looked into doing it on basketball courts, but the wind from Cayuga Lake wasn't conducive to a sport that requires hitting a hollow ball with holes in it. The next option was the Lansing High School tennis courts, a viable situation since the net was already there. The group uses painter's tape to tape the official size 20-feet-by-44-feet boundaries on two of the three pickleball courts and drops the net slightly lower with filled gallon milk containers hanging.
Cowen used a Lansing listserv to promote the new court last month and encouraged her friends to come out for a clinic with advanced players including local Pickleball enthusiast Dave Lawrence, dubbed the "lead volunteer" by players at a group gathering Saturday, July 22 at the Lansing courts.
"I think it will gain some ground," Colt said. "There's a lot of people around our region playing. They may not be in Lansing right now and they may not be in Dryden right now but there are a lot of people in the county who play. And I think as more people play and venues start to accept them, I think it's going to grow."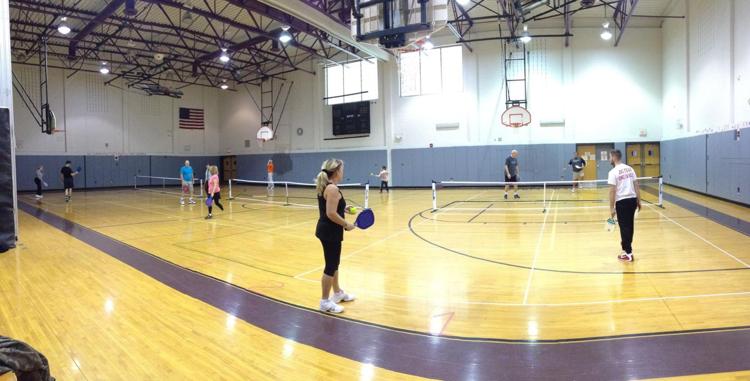 The Pickleball OGs
The Dryden Recreation Department pounced on Pickleball early, at least on the smaller level of Tompkins County. In the spring of 2014, the town became the first to offer organized Pickleball on Sundays at the middle school gymnasium for $3 and anyone over 18 who wanted to play. Anywhere from five to 10 people would show up; one woman told the Dryden Courier in December of that year she was shocked the sport hadn't picked up in Ithaca yet.
Through the previous three years it's continued with as 20 from surrounding towns showing up. Summer months have always been smaller showings, even when the department moved it outside to the Tompkins Cortland Community College courts and dropped the fee to $2. (The money goes toward paying the facilities supervisor fee when played in the middle school gymnasium.)
"We always keep it going but our numbers have definitely dropped off … yeah and it's weird, I don't get it," Dryden recreation assistant Rex Hollenbeck said. "We were trying to figure it out."
Part of it could be the busy summer months but Hollenbeck said it also could be the growth of facilities in the area since Dryden started, specifically the YMCA, which started a program in the winter of 2015. Cowen got her start there where a morning program is offered January through June for free to its paying members. (It's a $4 charge if you're not a member.) On any given morning there could be 12 players on three courts with people waiting to get in, Lawrence said.
He said this year the original group from when he started at GIAC around the time Dryden began its program has grown from six to more than 100. Dick's Sporting Goods has increased its Pickleball paddle offerings in that time, from basic wooden paddles to nicer more expensive ones.
Players use a spreadsheet as the go-to way to schedule Pickleball at Cass Park, Stewart Park and now Lansing. [To sign up and play, click here.]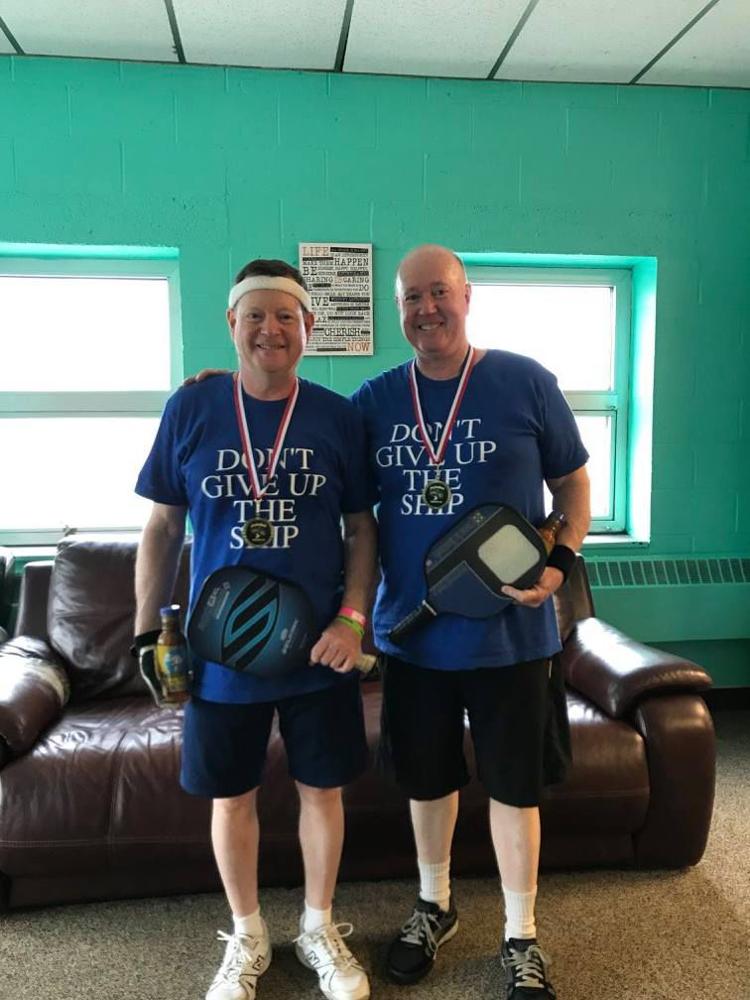 "Almost every time we do a session there's almost one or two we haven't seen before," said Lawrence, who plays in competitive tournaments with his brother.
And Colt has been watching from his office next door in Lansing.
"Dryden Rec a while back got into Pickleball and they did a really good job with it and it was successful," Colt said out of the gate in talking about the new court in Lansing. "They gave it a try and it worked."
Colt said he would "like to be able to say" the program will continue within the Lansing Recreation umbrella into the winter and go inside, but booking gymnasium space at the school is incredibly tough with all of the activities going on already.
"I think at this point we're just out testing the market, per se," he said. "They're going to see what kind of response it gets. And I told them, I hope it goes well. (If) we get more organized next year maybe take this thing to the gym in the winter time."
So What's the Big Deal
Every few years the Finger Lakes Community Newspapers checks in with the Pickleball program in Dryden, and now other locations, and the answers for why people pick up the paddle are always similar.
"It's a doable activity … There's definitely a lot of skill involved in it but that's gradually picked up once you continue to practice," Cowen said. "It's good physical activity. It's a good brain activity (and) eye-hand coordination activity. All those things. And it's social.
"So I guess for me personally, I just I like to be physically active. And a new thing is a new opportunity. It's good to be challenged."
Hollenbeck, who turned 29 this month, played in high school as Dryden is one of the many in the area to teach the sport in physical education class. He's well-versed in being at the top of the athletic game, having wrestled and run track as a Lion, but he knows exactly what Cowen means by the challenge.
Jim Holman, 82, was one of the first to get hooked on Dryden's program and he still comes around to play. He's well-known to the local Pickleball community as each brought him up on conversation.
"That dude is good," Hollenbeck said. "And you wouldn't think that somebody – you know I'm 29 and he's probably 70-something – but dude, he kicks my ass."
The game can be ultra-competitive or not and since it's played on a court smaller than that of tennis, there's less ground to cover.
"I used to play table tennis," Lawrence said. "I'm not coordinated enough to play tennis well. But this is just like big ping pong."
The sport "covers every age," he said; it's an easy way to keep adults of any age engaged and playing to their specific skill level, with the hand talents of a non-moving game such as pong involved. A lot of players have developed a spin that makes it hard to read the bounce – think how you would read a ground ball in baseball – or makes it hard to fully return it.
For most who pick up the paddle, it's over: they're hooked. When those ages 6 to 96 can play it and enjoy it, no wonder it's the fastest growing recreational activity in the nation with an up-and-coming attitude in Tompkins County.
"It's something about the sport – I think it's because it's played with a wiffle ball – that really no matter (the) difference in athletic ability it kind of evens out the playing field," Hollenbeck said. "You can only hit a wiffle ball so hard, you know what I mean? And there's no fear of getting hit by it, because it's not going to hurt."
For a list of places to play in Central New York with contact information, visit jimlawrence.com/Pickleball.html.
Cassandra Negley is the sports editor of the Finger Lakes Community Newspapers and ithaca.com. Email her at sports@flcn.org. Follow her on Twiter, @casnegley.