New Partnership between OurBus and Rally opens up previously-unavailable options for Thanksgiving move-out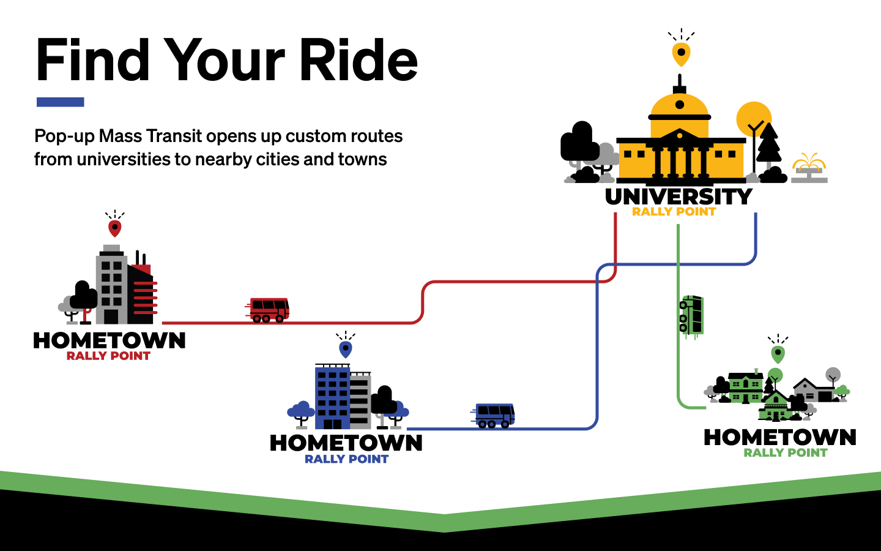 Are you a student or parent stressed about the best way to travel home for the holiday break?
You're not alone.
While universities were announcing plans for the Fall schedule, most transportation companies were reducing service or allowing seating capacity to 100%. Parents were left wondering if they should pick up students on campus at the expense of exposing themselves to higher risk. For most people, there was no good, affordable option.
Realizing this, OurBus partnered with Rally, to create a new offering for this Thanksgiving called Find Your Ride. For the first time, the technology that has moved hundreds of thousands of event-goers, is open to ANY university holiday break trip.
What is pop-up mass transit and why does it matter?
While the internal technology and logistics are complex, it's a simple experience for riders. A student or parent can search available trips at Rally.co/holiday-break and purchase a single or multiple bus tickets.
The difference compared to the regular trips that riders are used to purchasing on OurBus is in the control and flexibility that individual customers have. Each person has the ability to choose an existing route, add a new stop to an existing route or create an entirely new route!
Passengers can get a direct trip from Cornell or any university to their hometown. Other than making the trip easier and faster than switching between multiple buses, trains or planes, direct trips have been deemed less risky by the CDC.
After reserving a ride, the passenger then shares information about the trip with others in their community going in the same direction. For most riders, that means being on a bus with people who have been following the same COVID precautions as them for the past few months, creating a safer environment.
Dozens of trips are already available. Check them out now on the site.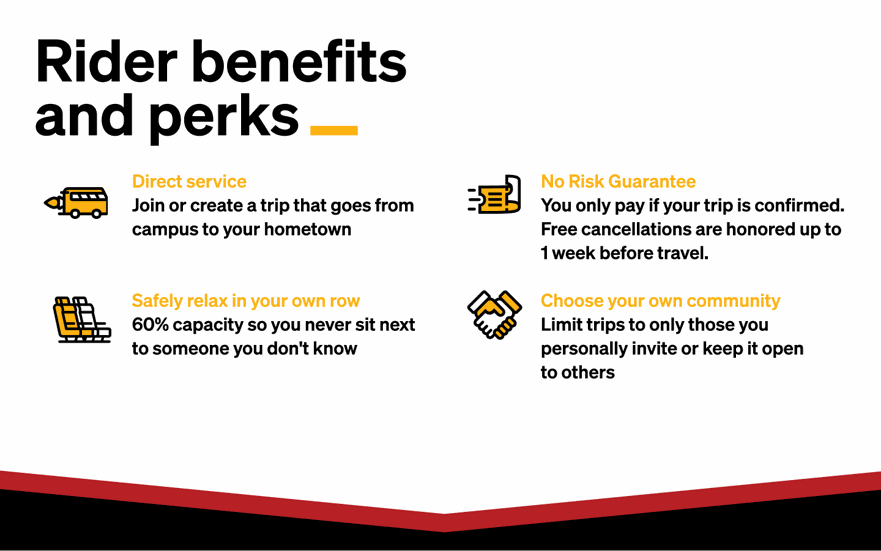 What can riders expect on Thanksgiving trips?
All Thanksgiving 2020 trips have the same level of service as trips purchased with OurBus.
Customer service available at every step of the journey to answer questions before, during and after the trip.

Charter-style bus with free WiFi and personal power outlets

Contactless mobile boarding

Masks required onboard for all passengers and drivers

Enhanced cleaning procedures on buses immediately before the trip

Onboard sanitized rest room

60% seating capacity so individuals get their own row and two people traveling together can share a pair of seats (unless noted)

Extra baggage availability for up to 2 large bags and a carry-on for free (60% capacity trips)
For students who want to settle into their own row on a clean, modern bus this Thanksgiving break, you can now Find Your Ride.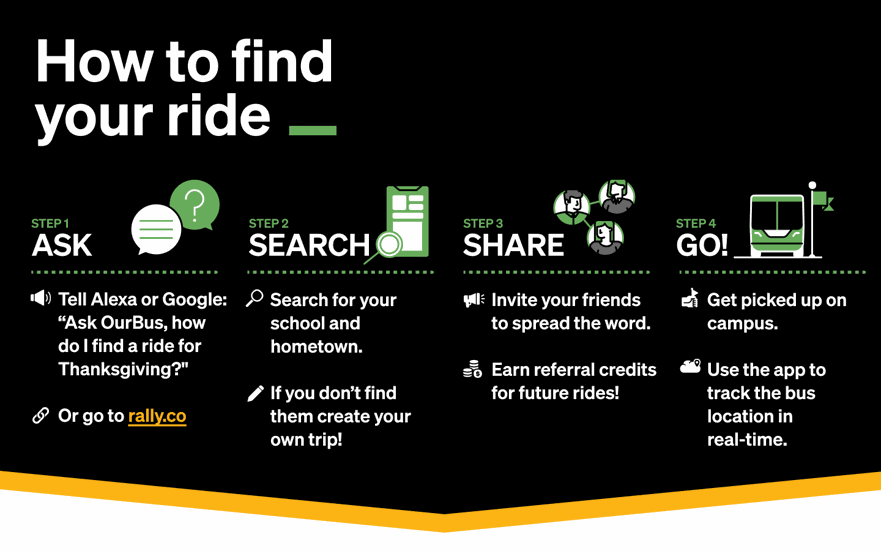 For any questions about Find Your Ride or Thanksgiving travel in general, email pr@ourbus.comor call +1(844)800-6828.