19th Annual Great Downtown Ithaca Chili Cook-off, Saturday, February 11, 11:30 p.m. to 4:00 p.m. 
The life of a chef is fluxing. A cross between an athlete, a rock star, a sculptor, and a military general, the position calls for a unique approach. The love of food and its infinite power is the crux of the job; the ability to wrangle with definition and nobility, the search for meaning in an environment strange and surreal, part of the magic of it. Keep this in mind at this year's Downtown Chili Cook-Off. This is stuff made by Buddha-like individuals, talented knife wielders ripping it up in hazardous conditions. That first bite of chili is refined, the energy behind it twentyfold. There's a deep story behind the creation, a tale in every bite.
"I'd say it's a combination of baseball and football," head chef of the Ithaca Ale House, Jonah Sweet explained. "Because baseball is sort of slow and a long process, but than it can be tremendously fast-paced and action packed; and it's like football because of the physicality, the long hours, the really hot working conditions, and you're on your feet the whole time. It's definitely intense."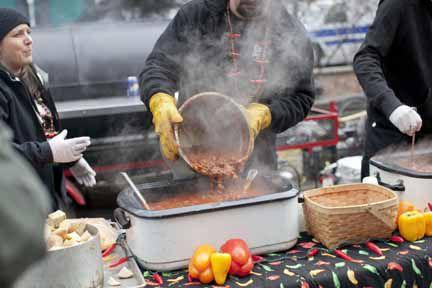 Sweet's made the rounds in kitchens across Ithaca and the country, slowly building his taste and style. One of the more nuanced aspects of the restaurant business is the amazing amount of knowledge and particular traits one picks up. A person's interaction with food is a distinct method: mystical, deft, and intricate. It's a language one develops while unaware. The long journey Sweet made to the Ithaca Ale House is what made him the chef he is now. 
"I don't think I ever intended to be a chef," he laughs. "I was 14 when I first worked in the restaurant business. I bused tables on weekends in high school to earn some cash. I went out to Colorado for college and when I came back to Ithaca I started working at Rulloff's. Like I said, this was never a planned career path, just a way to pay the bills. I made the rounds in town: Viva, Mahogany Grill, all sorts places, but my passion for food didn't really develop until I was working at a hotel in Florida. There, I was immersed in passionate and amazing cooking every day. There was an incredible and vast Haitian and Caribbean element to the dishes, and it was stimulating. When I was offered a chance to run the kitchen at Ithaca Ale House I came back up." 
Chili is a community food. With a history starting back in the 1800s in South America, the classic dish, known as chili con carne, was introduced to North America towards the end of that decade, most prominently in Texas. Chili parlors started opening up all over the states soon after, and the debate soon began: who's got the best chili? Each different geographical location has a particular style of chili, a particular nuance to its assemblage. Restaurants, delis, and homesteads follow suit: churning out their own unique and inspired blends. A chili-cook off is a gathering of taste, a time to appreciate all chefs in the universe. 
"I think I made my first chili variant at Rulloff's, way back when," Sweet noted. "Chili's important because it's representative of community. Ithaca's chili fest is always a great experience. I want to do it every year. I love interacting with all the people, seeing their reactions, talking and learning from all the other chefs in town. You get a lot of constructive criticism, and that's an important part of growing as a cook. It's always a blast." 
Ithaca Ale House finished first in the best meat chili category last year, but Sweet didn't take the credit. "Greg Evans, one of the cooks here, deserves all the praise for last year's placing. It was an amazing chili. This year, it's me doing the cooking, so we'll see what happens [laughs]." 
The 19th Annual Great Downtown Ithaca Chili Cook-off takes place on the Ithaca Commons and surrounding streets, featuring 30 restaurants, with the following categories: best meat/overall chili, best vegetarian chili, and people's choice chili. Along with the plethora of chili available, there'll be a farmer's market happening with local vendors, breweries, wineries, and other fun winter activities. Come and celebrate all chefs, and have some chili.