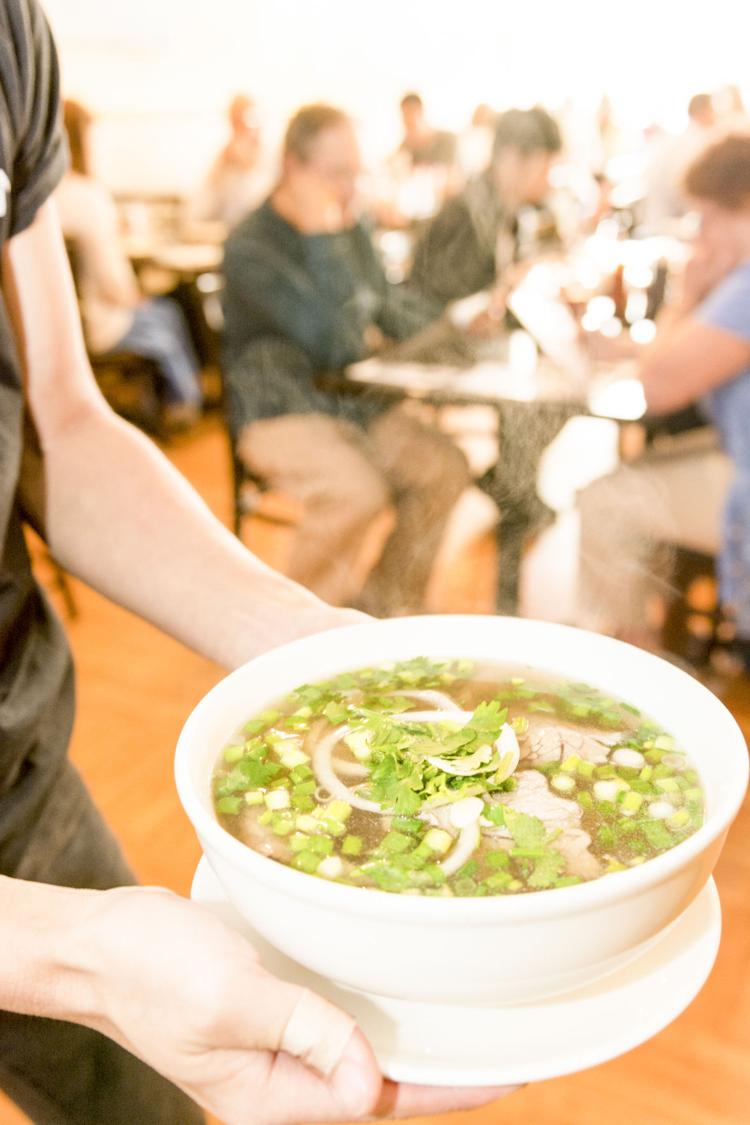 "It breathes reassurance, it offers consolation; after a weary day it promotes sociability. . . There is nothing like a bowl of hot soup."
–Master chef and author Louis P. DeGuoy
 Proust may have comforted himself with madeleines, but to many of us pleasant culinary memories revolve around steaming bowls or mugs of soup, offered by loving hands. Humans have been cooking the stuff since they learned how to make clay pots, so by now soup's comforts may be hard-wired. And it's the simplest thing – all you need is a heat source, a pot, a bowl or mug, and a fridge full of leftovers, or, in the case of our ancestors, a half-gnawed mastodon. 
These days, the ping-ponging freeze-to-thaw weather sends a white fog rising off our half-frozen pond, stirring memories of ice-skating on a flooded Brooklyn park handball court, and dashing home, teeth chattering, to the warmth of mom's grilled cheese sandwiches dunked into bowls of bland Campbell's cream of mushroom or tomato soup.  She wasn't an adventurous cook – we lived on frozen peas and carrots, and she believed mushrooms should be peeled before cooking because they grew in you-know-what -- but she could open a can with the best of 'em. And despite her culinary ambivalence, up against a family illness she could make a beautifully clear chicken broth with big, heavy matzo balls, curative ballast to keep us in bed until we were feeling better. 
My husband, raised by a New Englander, swears by the childhood comforts of Campbell's chicken noodle soup and white, white, white clam chowder, made from quahogs his family would dig up on Barnstable, Massachusetts beaches, potatoes, fatback, celery, and plenty of cream.  None of that bloody-red imposter Manhattan clam chowder, for him.  
What was the soup of your childhood? And what memories come into focus around the fragrance of a soothing soup? Whether your early memories are of ramen, cold sour-cherry soup, birds' nest soup, shchav, dried onion soup in a paper packet, or Campbell's in the red-and-white can, there's just something about a familiar soup that's cosseting.
And soups are known not only for their primal comforts, but also for alleged cures for such widely ranging infirmities as colds, headaches, hangovers, constipation, and overweight.  The exquisitely simple Chinese chicken broth with fresh ginger and scallions is said to chase colds. Menudo, the spicy, complex, Mexican tripe soup served with a squeeze of lime and a shot of hot sauce, is reputed to combat hangovers, and is available in many Tex/Mex neighborhood eateries on Sunday morning-afters. Others swear by fragrant Vietnamese pho, served in steaming bowls, the next best thing to a steam inhaler for fighting respiratory ills. And it is rumored that a steady ten-day diet of cabbage-and-vegetable soup will knock off a quick ten pounds, act as a vegetal Roto-Rooter, and raise the quilt off your bed.
Some actual research has been done on the efficacy of chicken soup in fighting illness, pointing to the combination of hot liquid, salt, and sugar that beats the cold germs to a bloody pulp. But, while there aren't many such studies, according to the NYTimes, there are a few "that suggest that soup — particularly the homemade variety — does seem to reduce cold symptoms and boost the immune system more than cold water or hot water alone."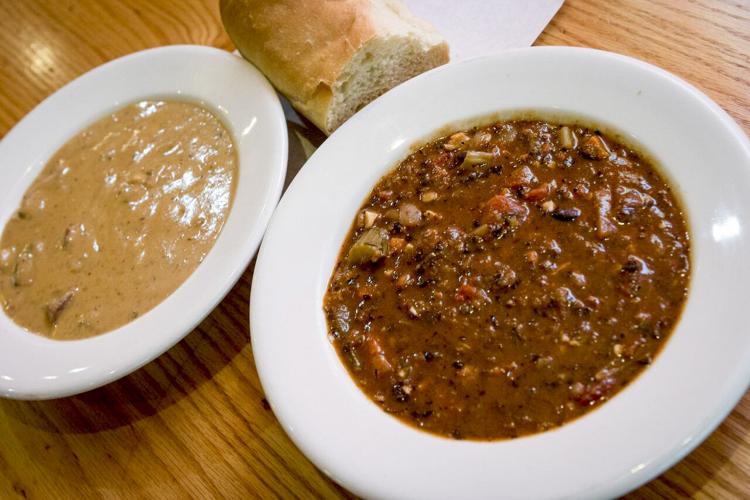 Soup as Warm-Up
If you're one of those hale folks who think it's fun to walk through ice-coated Taughannock Falls gorge on a bright winter's day, you might stop post-hike at Good to Go in Trumansburg to enjoy one of Chef Brian Krieg's fortifying potages.  He offers two soups every day, one vegan and the other meat- or cream-based, and owner Nana Monaco estimates that they sell around thirty gallons of soup a week, both steaming hot for immediate consumption, or frozen for take-out. Soup is one of their most popular items, says Monaco. "Especially this time of year, it's so comforting," she said. "Homemade soup is hard to find these days, and I have customers who eat soup every day, winter and summer," including one 90-year-old customer who comes in every week from Ithaca for soup. "It's his outing." And customers stop by to take soup to sick friends.
She cites the recent popularity of bone broth as a current health fad. They make their own from scratch. "You can't really get that out of a package," she said. "Our soup maker, Brian Krieg, has been roasting chicken, using bones and leftover meat for the broth, and cooking it for a minimum of eight hours."  
One of their most popular soups is chicken almond soup, available every Wednesday, and made with almond butter, ginger, sweet potatoes, kale, onions, and chicken.  The almond butter gives it a creamy kind of texture.  Coconut milk makes for creamy vegan soups, and other favorites are a sweet potato coconut curry, and, of course, chicken soup, gluten-free, with noodles on the side.
Soup-making secrets
While nearly anybody can make a warming, satisfying soup, some soups are more satisfying than others, some nearly mythical in their powers. It has taken me decades of hit-or-miss soup making to realize that the secret ingredient in borscht is sugar. It balances the tartness of the souring agent -- lemon juice, vinegar, or sour salt (which is basically dried vinegar) -- and makes the vegetal flavors pop.  But a squirt of vinegar or lemon juice can bring life to even the dullest potage.
For years I wondered what made Daño Hutnik's tomato soup so galvanizing, even going so far as to write to Bon Appétit magazine to ask if they could wrest from him his secret ingredients.  When I reached him at his restaurant, Daño's on Seneca, to interview him for this article, he freely parted with several "secrets." First off, he said, "the secret ingredient is love." When pressed he also admitted to adding a shot of balsamic vinegar and a bit of sugar. 
And my own trial-and-error-derived secret to making fluffy, light matzo balls is to keep them covered during cooking so that they steam as well as boil.
Getting Started
For soup-making initiates, there are hundreds of soup-centered cookbooks. Two favorite heavyweight tomes are Soup: A Way of Life by Barbara Kafka and Splendid Soups: Recipes and Maser Techniques for Making the World's Best Soups by James Peterson. The New York Times cooking branch devotes an entire section to soup making, YouTube is rife with soup-making instruction, and Amazon lists hundreds of soup cookbooks, from The Skinny Nutribullet Soup Recipe Book to Southern Soups & Stews: More Than 75 Recipes from Burgoo and Gumbo to Etouffée and Fricasee to ladle: paleo and gluten-free comfort soups to Dr. Kellyann's Bone Broth Cookbook: 125 Recipes to Help You Lose Pounds, Inches, and Wrinkles to THE SOUP CLEANSE: A Revolutionary Detox of Nourishing Soups and Healing Broths from the Founders of Soupure.
If you haven't got a pot to process in, here are a few well regarded local soup sources that can fix you up (in addition to Daño's and Good to Go):
• Saigon Kitchen for their "phabulous pho" as one reviewing wag tagged it.
• Gorgers for whatever soul-warming soup happens to be on the menu that day
• Asia Cuisine for their steaming kitchen-sink-sized bowl of spicy jjampong replete with noodles, vegetables, and bits of protein, including the odd protruding squid ring or tentacle.
At home or away, what we need at this time of year is comfort, warmth, and the above-mentioned reassurance, consolation, and maybe sociability, although you probably don't want to be around many of us when we're fevered, drippy, and crabby. Just leave that package of steaming soup on the doormat, ring the bell, and skedaddle.  We'll call to thank you when we're feeling better.