In 2017, "Wine Enthusiast" called Grüner Veltliner "Central Europe's sexiest grape" and described it as a "chameleon" with as many faces as there were vineyards in Austria. It sounds as if you're planning to have a long-term relationship with this wine, it would at least keep your life interesting. Grüner Veltliner is now being grown in several Finger Lakes vineyards and after talking to some winemakers, it sounds like moving across the Atlantic did not make it less of a changeling. 
The Finger Lakes region has long been known for its Rieslings and Gewürztraminers. Grüner Veltliner is another white wine made from central European grapes. This new wave also includes Lemberger (Blaufränkisch), Zweigelt, and Dornfelder, all of which make red wines.
Aaron Roisen, the winemaker at Lamoreaux Landing Wine Cellars in Lodi on Seneca Lake, has had experience making this grape into wine at Three Brothers Wineries in Geneva, which he said was the first in the region to plant it, and at Hosmer Winery in Ovid on Cayuga Lake. He said Grüner was "so site specific" but also referred to it as a "workhorse variety."
Roisen admits that he didn't like working with Grüner at first, but he has come to see its upsides. "It's steady from year to year," he said of its vineyard behavior. "You can set your watch by it. It was not affected by last year's drought because it's picked early." Lamoreaux Landing picked its Grüner on September 18 last year and generally does so within a week after that date. 
They don't grow much of it; he makes 170 cases each year from an acre of vines. All their Grüner is in their Round Rock vineyard, which he described as being on a knoll, giving it good exposure to the sun, and there is good drainage in its gravelly soils. He recalled that at Hosmer it was planted in their North Block, which gets both morning and afternoon sun, but it is flatter than the Lamoreaux site and has limestone-rich clay soil. The soils of the Finger Lakes are as varied as those of Austria, if not more so.
Julia Hoyle, the winemaker at Hosmer since the 2017 vintage, described their two plantings as "pretty vigorous" but said it doesn't go dormant and will keep growing late into the season and can be damaged by an early cold snap. She thought of it as a bit odd looking on the vine, a mixture of golden and green clusters.
Unlike Lamoreaux Landing, Hosmer leaves the grapes on the vine until the second or third week of October. "Grüner is similar to Lemberger," Hoyle said. "You don't get high Brix [sugar content] but it continues to flavor-ripen." She said an extended sunny, warm October causes a real "dial-up" in its flavor.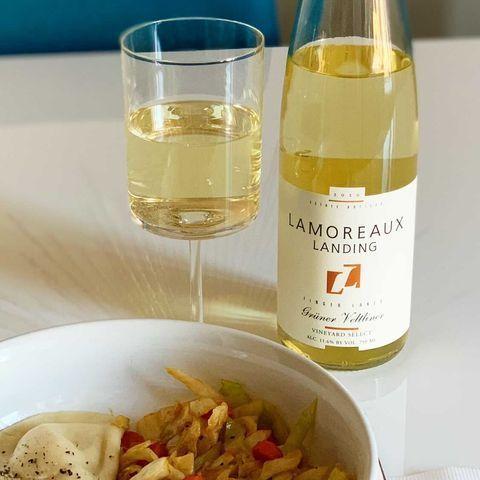 Hosmer makes around 330 cases of this wine, almost twice as much as Lamoreaux. Fulkerson Winery in Dundee on the west side of Seneca Lake has four acres of Grüner Veltliner planted. They pick it during the last week of September at about 19 Brix, according to general manager Steven Fulkerson, the seventh generation of his family on the farm and the second to make wine. That acreage produces 15-20 tons of grapes, which are made into 300-400 cases of wine, and they sell "a lot of juice" to home winemakers.
Fulkerson has been producing Grüner since the mid 2000s. It grows in the lowest part of their farm in a deep, light sand, which the general manager said gives the wine a "floral character." He called it "a tea drinker's wine" because the flavors were subtle, usually like a white peach.
Roisen noted that the grape loses its acidity on the vine very quickly through theripening season. When he first came to Lamoreaux Landing, they left it on the vine, trying to increase sugar content, but the acidity declined. Roisen found that the flavors in the grapes had already developed before the acid level began to drop. Until the 2018 vintage, he made Grüner Veltliner "just like any other white wine" and produced "an austere, saline wine, built for [drinking with] rich, fatty dishes."
In 2019 he learned of a process called "stabulation" used in the making of Provençe rosès and decided to apply it to the making of Grüner Veltliner. The grapes are picked at 18 Brix, pressed, and the juice left on the gross lees (leftover yeast particles) at 35°F for up to three weeks. It is stirred twice a day, tasted daily, and liquid nitrogen is bubbled in to keep bacteria at bay. Because it is picked so early, the Lamoreaux facility is still relatively empty, allowing Roisen to carry out this extended procedure without it getting in the way of other production protocols. Their formerly austere Grüner Veltliner went from being moderately popular to being a richer, sweeter wine that flies off the shelves.
Lamoreaux's wine has 10 grams of residual sugar and is made in steel. At Hosmer, Hoyle ferments some Grüner with four or five grams of sugar in steel and puts a lesser, drier amount in oak barrels, which "softens" the wine. She then blends the two until she gets the wine with the acidity and tannins to carry the flavor through to the finish. 
Fulkerson, for his part, finds the grape very sensitive to the sulfite added as an antimicrobial to prevent the formation of malic and ascetic acids. About 60 parts per million are added to most wines, but he is careful to use much less to make Grüner Veltliner.
"It's got a big pop," said Hoyle, "but not a particular flavor." In some years she gives the grapes a cold soak to extract more flavor. Roisen called it "fresh, juicy approachable wine" that can be enjoyed in spring and summer. "Wine Enthusiast"described four different styles of Grüner Veltliner made in Austria. It seems the Finger Lakes are on their way to offering at least as many.