ITHACA, NY -- With summer heat comes tasty treats and Ithaca's food trucks are serving it up fast and fresh. If you're in the need for a quick on-the-go meal or a more socially-distanced outdoor dining experience, look no further than the following:
Silo Food Truck
Silo Food truck is a consistent favorite here in Ithaca, voted Best Food Truck by readers in the Ithaca Times' "Best Of" issue. But don't just take our word for it, Silo has won awards throughout the state, snagging top prize at the 2016 New York State Fair food truck competition and being crowned Central New York's best food truck in 2017. The truck, owned by Katie Foley and chef Jesse Steve, serves up crispy fried chicken and creamy mac and cheese, usually with a unique fusion twist. Offerings range from classic items like fried chicken with cornbread and gravy, to the more adventurous green coconut curry, featuring the same signature fried chicken this time served over purple coconut sticky rice with house-made Asian pickles and local greens. Silo's chicken is unique in that it undergoes a three day cooking process before being fried to order. The chicken is also partially roasted at one point in the process, giving it a unique flavor and ensuring a faster cook time when it comes time to fry. Silo may not be the lightest or healthiest option, but for good-down home comfort food with a twist, this is the place to be.
Silo was started back in 2015, a year after Steve and Foley first met. Steve aka "the Chicken Wizard'' previously spent 17 years in the food industry, working at restaurants across central New York before shifting to the food truck lifestyle. After the first year of operation, Foley, who had a background in business and marketing, left behind her full-time job at Ithaca's Planned Parenthood to spend more time working on Silo. 
"We both had the same values in terms of the kind of produce we wanted to source, the businesses we wanted to support and the quality of the food and ingredients we wanted to use," Foley explained. "And I think that people really took to it, which is cool."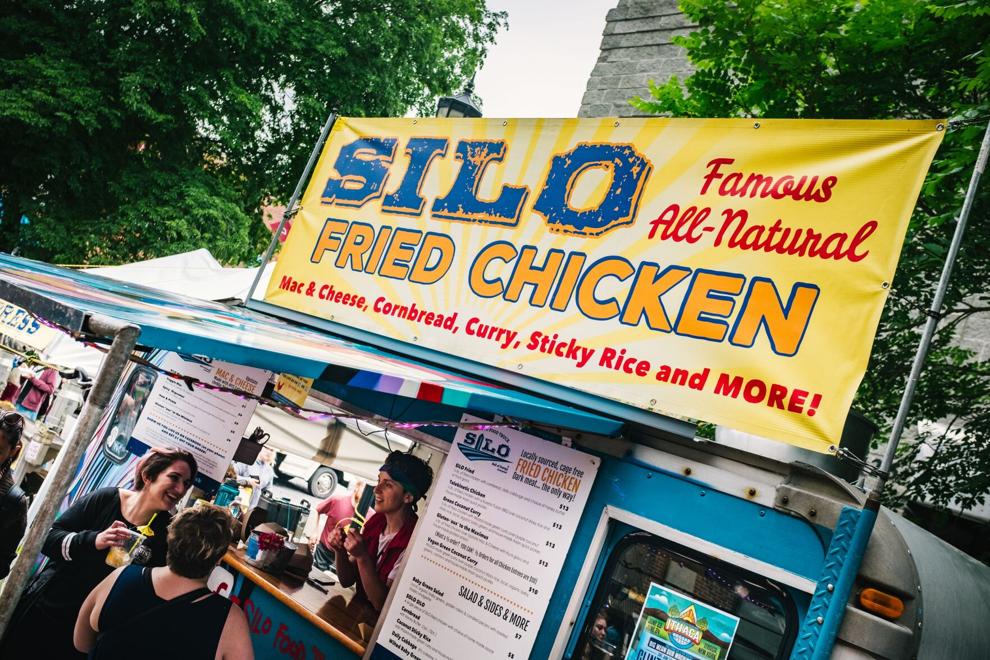 Festivals used to be the name of the game for the duo, traveling as far as Florida for events. Now, in part due to the pandemic,  Foley and Steve stay a bit closer to home. 
This year Silo has added a second, larger truck into the mix, which is located outside of Liquid State Brewing Company, located on 620 West Green St. The truck is operational Wednesday through Sunday throughout the summer, late afternoon through evenings. Foley said the truck will offer an expanded menu at it's Liquid State location, due to its larger size and greater holding capacity. The original food truck will continue roaming around Ithaca and the surrounding area throughout the summer. Every other Wednesday night, Silo will station at the Trumansburg Farmers Market. On the alternate Wednesdays, the truck will set up shop at the Pumpkin Stand at Mount View Farms, located in nearby Ovid where Steve and Foley currently live. On Friday nights, Silo has teamed up with Seneca Lake Resorts. 
On the Street Pita
On The Street Pita is both a new-comer and an old-favorite in Ithaca. The food truck itself is a new addition, having come on the scene in early 2020, but this is only one of many iterations of the food chef Brian Horvath has been serving up for decades. The fare as it stands features fallafel, souvlaki, gyros, greek salads and rice bowls among others. Most plates are topped with homemade Tzatziki sauce, tahini or hummus, served alongside warm pita bread.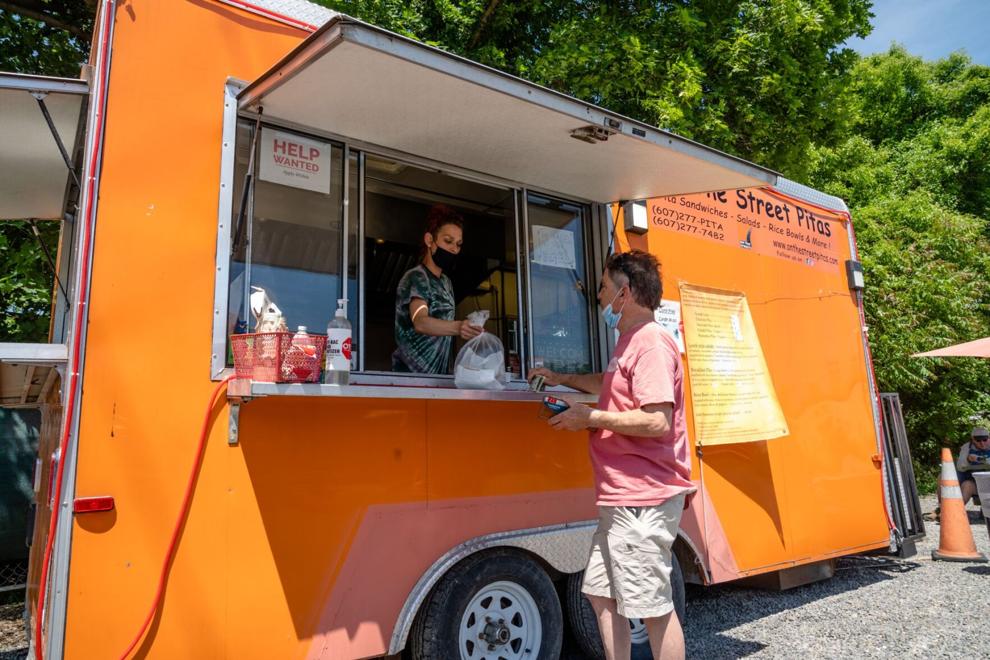 Horvath originally set up shop at the Ithaca's Farmers market for six years before transitioning to a brick-and-mortar restaurant in 2012. After five years of that, Horvath took a hiatus before returning on the scene with his food truck featuring the same menu items the restaurant previously offered. Although Horvath is not a trained chef, he spent plenty of years honing his skills, dating all the way back to 1988, when he started vending French Bread Pizza to finance his trip following the Grateful Dead on a summer tour. Necessity proved the mother of invention and the rest is history. 
"I never really knew what I wanted to accomplish, I never had any set goals and it kind of all happened organically," Horvath said. "I put out to the universe that I wanted a food truck and the universe gave me one." 
Whether it was divine intervention or not, Horvath said all in all he prefers the food truck lifestyle.
"You're more connected to the people that you're serving," he said. "You're face to face with people and it's more like feeding people than serving people."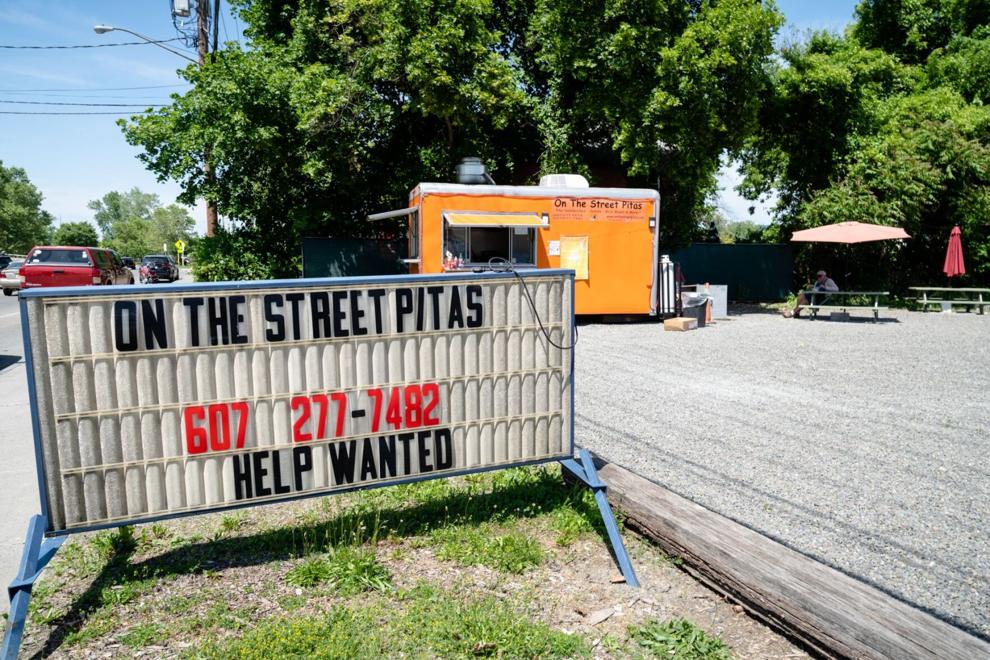 Currently, the On the Street Pita truck is located at 301 Taughannock Boulevard, Tuesday through Saturday from 11 a.m.-8 p.m. It's a fairly short walk from the waterfront and the Ithaca Children's Garden, making it a great lunch spot or stopping point for famished walkers and joggers. On weekends, Horvath will also be selling his menu items at the Ithaca Farmers Market, although he doesn't plan to attend any festivals this summer in his food truck.
In June, Horvath is adding sweet treats to his truck in the form of an ice cream cart, serving up desserts from Cayuga Creamery. This will certainly be a refreshing summer addition to the menu.
Circus Truck
Circus Food Truck is unique to say the least. There's no official website beyond a sparse Facebook page with a hand drawn profile photo of a skull with a mohawk. The location itself on 720 W Green St., in the parking lot next to Ace Security Locksmith, says all the rest. But for those in the know, Circus is a top-tier destination for flavorful eats.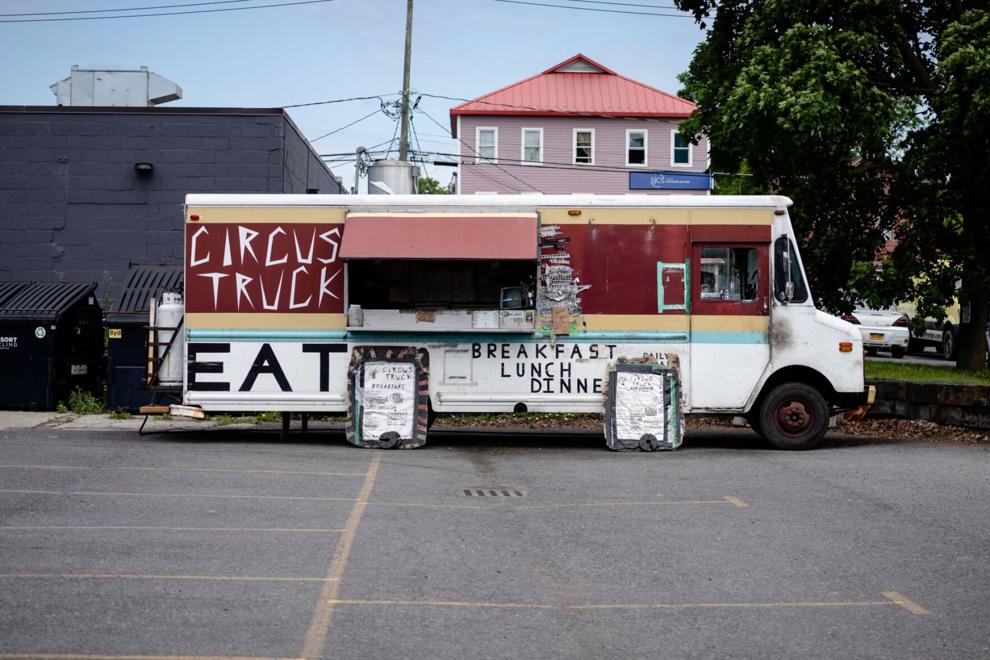 The owner, JP, declined to do an interview, but the customer reviews consistently praise both him and the food he turns out on the daily as the best around. The menu is roughly scrawled in front of the truck but boasts breakfast burritos, home fries and french toast. The main meals are various pasta dishes, from pesto to vodka sauce. Recent specials included the "Frankenstein" alfredo with Italian sausage, sweet peas, shredded parm and fresh basil as well as a dish titled Pasta Alla Recidiva numero LXXXV with spicy vodka sauce and Italian sausage and mushrooms. According to one Facebook review, if JP offers to make you special, "Just do it, you will never regret it for your whole life."
No specific hours or days are listed on Circus's truck but there is a phone number listed for contact info: 607-229-5198