Can a village of some 1,829 souls (as of 2014) support 19 restaurants, 20, if you count the Trumansburg ShurSave that churns out subs and pizzas for T'burgers on the fly? Can it also support three ice cream parlors, and a food-serving farmers' market and bowling alley? 
Well, the answer seems to be yes, with a little help from our friends, out-of-town visitors, and "summer people." But what's truly remarkable is not the quantity but the quality of the eateries that have made their homes in Trumansburg, from cheery bar-and-grills and our one chain restaurant, to the seat-yourself easy in-and-out pizza and sub shop of the Trumansburg ShurSave, to high-end palaces of culinary perfection such as Hazelnut Kitchen and the newly re-opened Inn at Taughannock. And Trumansburg is a short, 10-mile ride from Ithaca—fairly close for a culinary adventure.
The easiest way to reach Trumansburg is by car, straight up Route 96 to Trumansburg's Main Street, where there's plenty of free on-street parking and a municipal lot. For those embarrassed of personal motorized transportation, TCAT bus service makes several forays to T'burg each day from the Ithaca hub, but they generally cease around 7 p.m.; you can put your bike on the bus for an invigorating, mostly flat ride back to Ithaca while the weather's still nice. And then you can easily justify ordering a dessert or two at one of these great joints.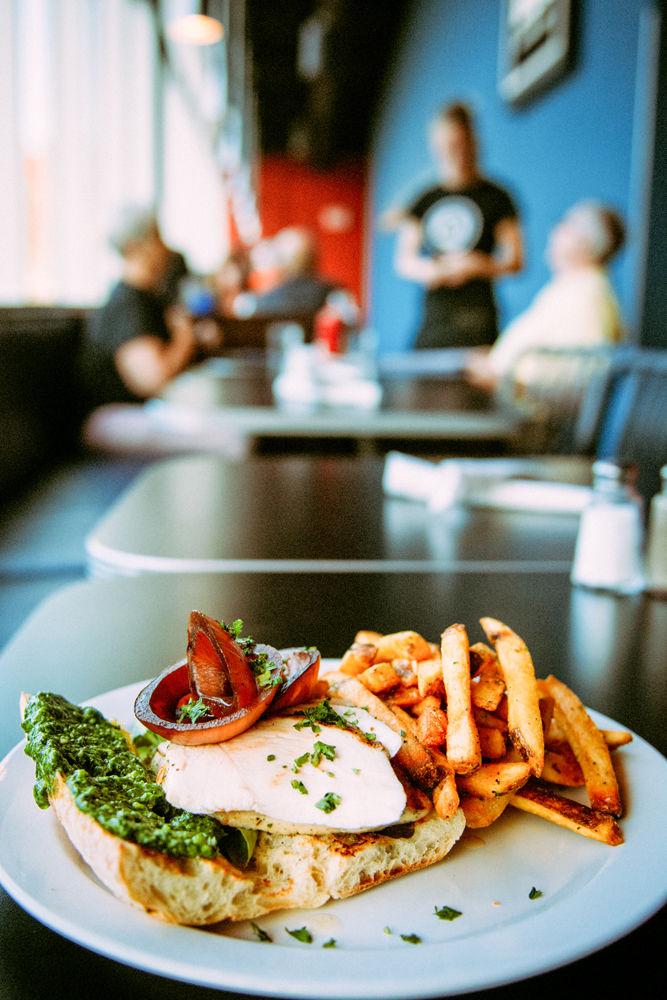 Atlas Bowl 
61 W. Main St., 607-387-3191, atlasbowl.com
Rent a pair of bowling shoes, and get ready to demolish that delicious dinner on one of their seven old-timey ten-pin lanes. Open seven days a week beginning at 4 p.m., Atlas is a comfortable place to hang out with friends and family, and features a full bar with a good selection of cocktails, ciders, beers, and international wines, including some Finger Lakes wines on tap, and splits of Prosecco for everyday celebrations. In keeping with the bowling theme, the bar pulls are bowling pins. 
Atlas' menu focuses on small plates (the fried Brussels sprouts with bacon, parmesan, and lemon, are to die for, as are the devil-made-me-do-it "totchos"—tater tots with bacon, cheddar, green onions, jalapenos, and sour cream), daily taco platter specials, and large plates, including a cast iron-seared pork chop with house-made sauerkraut, roasted grapes, and bacon lardons, zucchini "noodles" with clams, and their fresh gnocchi. Vegetarian, vegan, gluten-free, and allergen-avoiding menu items along with a kids' menu make it easy for nearly anyone to enjoy a great dinner. Wednesday dinners feature the best of the day's Trumansburg Farmers Market produce. Designated driver? Wash it all down with a creamsicle float. Live in the area? Join a Monday or Tuesday evening bowling league! 
Black Diamond Diner
9502 Route 89. 607-387-5240
Billed as the world's smallest railroad diner, Jerry Collins' Black Diamond kitchen is hewn from the front end of a 1941 diesel locomotive, joined by a shed that accommodates two, or, said Collins, four for wedding receptions, if two are standing. "You're My Coney Island Baby" is the shed's repeating sound track. For the claustrophobic, outdoor seating includes a few umbrella'd picnic tables with a calming view of Cayuga Lake. The diner is set on the triangle of land where Route 89 meets Kingtown Road, a lot it shares with Brayton Foster's farm produce and firewood stand. 
Do not be put off by its small size—the hotdog flavors are monumental. For two bucks fifty choose a snappy-skinned Hoffman's dog: the Coney Island with spicy meat sauce and sweet raw onions; the Red Onion Romance with cheese, onion sauce, and sauerkraut; or the Cayuga Sizzler with cheese, meat sauce, and cole slaw. 
There's a selection of canned sodas and bottled water, and for dessert, fudge nut brownies and what Collins proclaims "the world's best rice pudding." Collins himself is part of the draw, a personable retiree who emigrated from Connecticut. The Black Diamond Diner is open year-round on Saturdays and Sundays, from 10:30 a.m. to 5 p.m. and if you're feeling peckish after a half-day of wine-trailing, the Black Diamond offers a cozy respite, and a darned good dog.
Creekside Café
4 W. Main St., 607-342-8145, creeksidetburg.com
Owner Cathy Stadtlander honed her restaurant-running chops at Ithaca's DeWitt Café, and turns out the kinds of delicious dessert that made the café famous, so T'burgers don't have to drive all the way to Ithaca for a rich slice of lemon semolina cake, thank goodness! Stadtlander also bakes up Italian cookies, Swiss rolls, Persian baklava, chocolate ricotta cake, Austrian ricotta cake, fruit cakes with shortbread bottoms (keeps the booze from leaking out), fresh fruit tarts, shortbreads, and more, but we're getting the carte before the lunch. Lunch offerings include a varied menu of sandwiches, paninis, bowls, po' boys, and salads, nearly all of whose ingredients are provided by local farmers and producers. Early mornings find a wide range of breakfast sandwiches, breakfast plates (meat and two eggs, any style, toad in a hole, or French toast with maple syrup), and three egg omelets with your choice of ingredients, as well as maple granola with Ithaca yogurt, espresso powder, and honey. There are imaginative daily specials for breakfast and lunch too.
Situated in a sunny trapezoidal brick building abutting an old-timey commercial block and overlooking Trumansburg Creek, Creekside serves up farm-to-table fare for breakfast, lunch, and Sunday brunch to its devoted following, and in warm weather, diners enjoy outdoor seating overlooking the "crick." They also cater business meetings and art openings, and welcome take-out orders.
Crystal Lake Café at Americana Vineyards
4367 E. Covert Rd, 607-387-6801, americanavineyards.com
The Crystal Lake Café's Sunday brunch features house-made everything, down to the bagels at this eatery beloved by locals and visitors. The breakfast tostada (crispy corn tortilla with black bean puree, ranchero sauce, scrambled eggs, cheddar, and salsa with home fries) is a hands-down favorite. Eggs Benedict are laced with a creamy hollandaise sauce and served with a mass of home fries; a home-made tender cheddar and scallion biscuit is topped with house-made sausage gravy. Eggs Florentine arrive with a side of hand-cut sweet potato fries and one of the day's specials is an over-brimming sandwich of barbecue-smoked beef brisket, over-easy eggs, caramelized onions, and cheddar on toasted house-made bread. 
There are lamb burgers, pulled pork quesadillas, chicken wings and salads. Desserts include warm bittersweet chocolate torte with ganache and whipped cream and a blueberry sapphire jam and almond tart with Cayuga Creamery vanilla ice cream. The wine list includes the entire, long roster of Americana's wines, a potion for every course and every set of tastebuds.
Live music on Sunday afternoons and Friday evenings brings in a happy crowd, pleasantly lubricated on Americana wines. Open daily for lunch and dinner, weekend brunch.
Dragon Village
21 E. Main St., 607-387-7800
One online reviewer called it "the best Chinese restaurant in Trumansburg." In fact, it is the only Chinese restaurant in Trumansburg, but don't hold that against them. It's a darned good Chinese restaurant, actually, more of a take-out. There is a table that seats five, but you'd do as well to take your food down the block to the farmers market and enjoy it on a picnic table. The menu is of a Cantonese persuasion, with a short list of spicy Taiwanese-style dishes. Chef's specialties include hot volcano beef, seafood Szechuan, and crispy shrimp, packed with a good count of large shrimp, snow peas, and carrots, in a tangy chili sauce.
The owner/chef is also a fine artist, and you may be lucky to catch some of his colorful paintings on your way through. Call as you drive to Tburg, and they'll have your order waiting for you.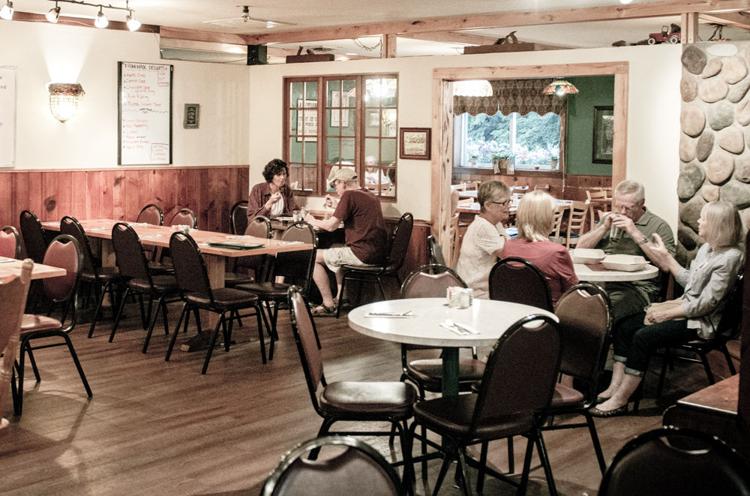 Falls Restaurant and Tavern
214 E. Main St., 607-387-9761, fallsrestaurantandtavern.com
Liveliest on summer weekends, this is the go-to place for breakfast, brunch, lunch, or dinner. Meet your early bird neighbors and the local farmers on first-name terms with the Falls' standard breakfast fare, plus creative additions through their large whiteboard menu, coffee that keeps on coming, white and whole wheat bread baked on the premises, and a rainbow of home-made pies and other desserts. Lunches and dinners include their standard diner-like offerings, as well as a revolving, and sometimes surprisingly sophisticated menu of specials, homemade soups, and those luscious pies. 
The recent post-and-beam dining room addition expands the lake-cottage feel of the place, and provides more room for diners and fewer waits. The weeknight blue plate special means you won't have to scrape the spare change out of your car seats. We are particularly fond of the Tuesday night meatloaf dinner, Wednesday's spaghetti and meatballs, and Saturday's prime rib, and equally fond of their breakfast corned beef hash and eggs. Some of the waitresses have been on staff since the Salty Dog was Ithaca's rock joint, and they know their stuff. They're warm, efficient, and old fashioned enough to call you "Hon."
Felicia's Hive 45 Kitchen + Bakery
45 E. Main St., 607-209-4229, hivefortyfive.com
The latest addition to Trumansburg's roster of great places to sup and sip is the long-awaited Felicia's Hive 45 Kitchen + Bakery, beautifully reviving a derelict building on Main Street. A sequel to a much beloved Ithaca bar, Felicia's is dedicated to creating cocktails from locally sourced ingredients and to producing good things to eat, including warm sticky buns, cool éclairs, creamy cheesecake, flourless chocolate cake, and oatmeal date bars (perfect sustenance for Taughannock Falls State Park hikers or for taking along to the wineries), as well as freshly brewed coffee. 
Dinners offer small plates—dips, spreads, and salads—along with a revolving menu of larger items and comfort foods, among them grilled cheese, chili, beet-and-bean burgers, and pork or veggie pot pies, selling like hotcakes for good reason. They offer a bunch of vegetarian options, and are happy to deconstruct a dish or make something creative for those with allergies. 
Queens of the Hive produce their own bread and rolls, and baker Amelia Sauter has a magical touch with piecrusts; her meat pies and vegetable pies are legendary. Dinner is served Thursday, Friday, and Saturday, with Saturday's box lunches available from 11 a.m. to 2 p.m., and there's an expanded Sunday brunch from 10 a.m. to 2:30 p.m., followed by the "Beeline Hour" crush Sundays from 3 to 4 p.m., when all baked goods are reduced to half price until gone.
Glenwood Pines
1213 Taughannock Blvd., 607-273-3709, glenwoodpines.com
With the demise many years ago of Camel's and Kostrub's Diner, the Glenwood Pines, established in the 1950s, may be the longest-established-still-standing of the T'burg-area restaurants. A hang-out for lake dwellers, lake visitors, and those merely in search of a friendly place to hang out with a cold one and an award-winning Pinesburger, it also offers sweet fried fish platters and sandwiches, a variety of burgers, not-to-be-missed corn fritters, house-made chili, Guinness bratwurst, and Yuengling-battered scallops. Burgers (Tully-, Pines, and Salmon- among them) are served on Ithaca Bakery French bread, and after 5 you can snag a filling-stuffed baked potato. Cole slaw and potato salad are homemade and mighty tasty. Kids are welcome and there are games for them to play. Feeling bored? Take the Pinesburger Challenge—eat four Pinesburgers in under an hour and receive a famous T-shirt. 
Lake views are part of the Pines' charm. The service is friendly and efficient, and the place is usually packed, in summer with lake people and locals, and in winter with more locals and hockey players driving up from the Cass Park rink to salve their egos and nurse their bruises with a cold beer. And if you've just wandered in for a beer at the bar, you may enjoy the Pines' jolly collection of bobbleheads.
Good to Go
21 E. Main St., 607-387-TOGO, gtgtburg.com
With a focus on healthful eating, Good to Go is a great place for grabbing a salad or sandwich, either to gobble down at one of their tables or to take on a picnic. They have great coffee from neighboring Gimme!, and a full selection of healthful prepared foods and desserts that taste like they couldn't possibly be as good for you as they are. Good to Go also caters, and we've been delighted with their massaged, lemony kale salads; cheese tortellini salad with pesto, artichoke hearts, spinach, sun-dried tomatoes, and parmesan; vegan pecan sweet potato cakes; and Julie Jordan's tofu neatballs, made with tofu, walnuts, spinach, garlic, and onion. 
Their baked goods (muffins, brownies, quickbreads, and love those Linzer cookies!) are the perfect meal ender, or an ideal get-you-through-the-3 p.m.-blahs treat, along with a cup of their good tea or a glass of freshly squeezed juice. Conscientious locavores, they're also sensitive to the needs of those with food sensitivities and allergies. And, best of all, they're an outlet for Wide Awake Bakery's bread pickups, Tuesdays and Fridays, for those of us who believe we can indeed live by bread alone.
Hazelnut Kitchen
53 E. Main St., 607-387-4433, hazelnutkitchen.com
Recently appearing with Seneca Lake's Daño Hutnik at the Big Apple's James Beard House, the Hazelnuts offer exquisite farm-to-table food, and are known for their eye-opening wine- and cider-maker dinners. An ever-changing menu, with daily specials created from the best of the day's market offerings, is always full of sly temptations—chilled green tomato bisque with peeky toe crab salad, pasture raised grilled double beef burger, and slow roasted pork shoulder were recent menu offerings. Or put yourself in the hands of chefs Justin Paterson and Matt Kelly, and let the kitchen decide! Creative chefs, Paterson and Kelly keep the good surprises coming, and front-of-the-house manager Lisa Jonckheere assures diners of a pleasant experience. 
Paterson is also known for his house-made charcuterie, including fresh and smoked sausages bursting with flavor. There's a good wine list featuring Finger Lakes wines and ciders, and the restaurants participates in Healthy Food for All and Finger Lakes Cider Week. They have even hosted a charcuterie CSA. Upcoming events include a Plow Break Farm Dinner on Sept. 20, FLX Cider Week Oct. 1 through 9, and a Redbyrd Orchard Cider Dinner Oct. 5. Hazelnut Kitchen is the longstanding jewel in Trumansburg's culinary crown. Reservations recommended.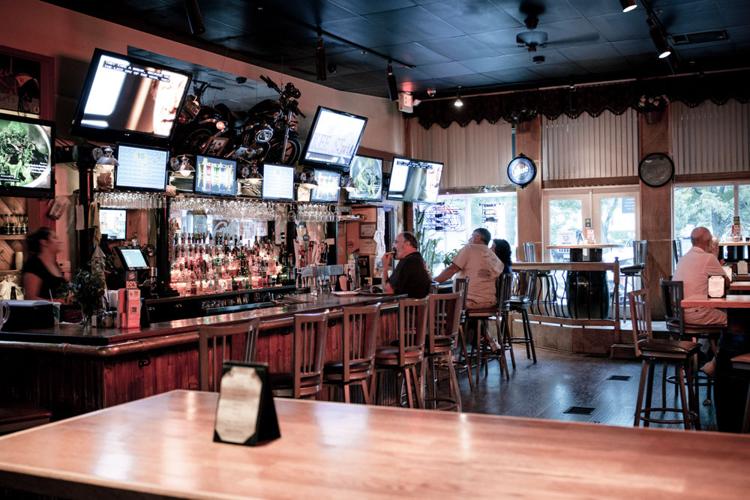 Little Venice Ristorante
49 E. Main St., 607-387-7044, littlevenicet-burg.com
The bar at Little Venice is a favorite with the sports-loving locals, while the rest of us favor their great-deal sumptuous, 50-item salad bar including freshly made brick-oven pizza, homemade soup, baked pasta, and chili, all for a whopping $8 for lunch, a quick steal. Their pastas are made on premises with local eggs, sauces are freshly made, and they double-grind their own Angus beef daily for 8- to 12-ounce burgers served on brioche rolls—try the uvula-searing T.F.D. Fire House Burger or the Big Azz BBQ Burger for a thrill. 
There's also a selection of appetizers (new: Buffalo chicken eggrolls), baked subs, salads, fish and chips, and wraps. There's also a full menu of Italian-style pastas and mains, a variety of mac-and-cheeses, seafood, and prime rib seven days a week. They do a masterful job of catering, on-premises or off, and their sun-lit meeting room holds a small mob. Best of all, they deliver in the T'burg area, a blessing for the rushed, exhausted, or folks who spend their days in their pajamas.
New York Pizzeria
2 W. Main St., 607-387-3700
We love 'em all, but New York Pizzeria, part of an upstate chain run by native Sicilians, has what we consider the best brick oven-fired pizza in the county. By the slice, a lunchtime favorite of the village's over-educated contractors and construction workers, it's a favorite after-school hangout for the kids; can they learn Italian by watching Italian-language television? 
Evenings, it's ground zero for family take-out dinners, spewing forth a parade of moms and dads grateful for a night away from the stove, guiltlessly providing a nutritious meal they don't have to fuss over. New York Pizzeria also turns out big salads, and they carry Italian sodas. The pizza crusts are hand tossed, the topping ingredients fresh and plentiful. Our favorite is the barbecued chicken with extra garlic, artichokes, and sausage. Over the top? Maybe, but cold, it's a send-you-on-your-way breakfast the next morning. If we had a subway here in Tburg, your garlic breath would guarantee you a seat during rush hour.
Redder's
1710 Trumansburg Road, 607-277-6362
Southernmost of the Trumansburg-area culinary constellation, this friendly working person's bar and restaurant was called Rascal's several years ago. I've driven by it for more than 20 years, and didn't know what to make of it. But the race car has come off the roof, the interior is ultra-clean and welcoming, with a bar on one side and be-linened tables on the other, with 40's-style red leatherette-covered kitchen chairs, and wooden booths. 
The welcome is sincere, and the portions are substantial and a good value. Redder's' bar menu offers Philly cheese steaks, meatball subs, gigantic, juicy ½-pound burgers and two sizes of pizza, which you can call ahead and order to go. Burgers include all sorts of creative toppings, as do the pizzas. Hand-cut, twice-fried French fries or sweet potato fries, onion petals, jalapeño poppers, and the like round out the bar menu. Portions are very generous. Fridays bring in the happy hour crowd, and on Friday and Saturday nights full dinners rise to the fore, including prime rib, haddock broiled or crisply fried, pasta and meatballs, chicken parmesan, and more, and include salad bar and a choice of side. Desserts are homemade. And, of course, there's a full bar. Cheers!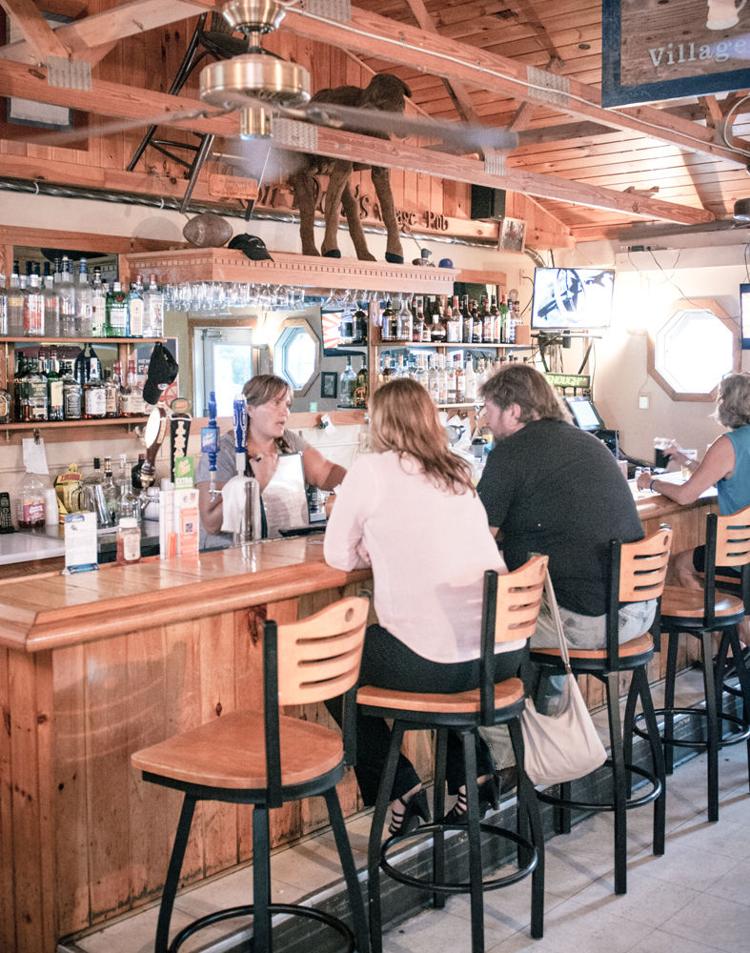 Ron Don's Village Pub
1 Old Main St., 607-387-9222
A village staple for many years, when it opened in the spot originally held by the long-missed Camel's, Ron Don's, now perched across the street, offers a warm welcome that brings back locals time and again, and invites newcomers to enjoy the friendly atmosphere. Owner Donnie Scott prides himself on the pub's massive half-pound, flame-broiled burgers. A recent classic Tully burger (topped with American cheese, lettuce, tomatoes, raw onions, and mayo, and served on a hefty Portuguese roll) was done just as ordered, and was chin-dripping juicy. Pair your burger with a side of fries or onion rings for a tummyful. 
There's also a good selection of wraps and salads; a taco salad, with colorful nacho chips standing in for a deep-fried taco (thank goodness) came with a good helping of spicy ground beef, cheddar, lettuce, tomato, onions, and a dollop of sour cream. Their open kitchen, a show in itself, also produces a selection of pizzas in small, medium, and large, a variety of chicken sandwiches, and the house-invented Ron Don's Squeeze, a sandwich served on a 9" pizza crust, baked, folded, and delicious! Weekday lunch specials offer a sandwich, side, and soda for ten bucks. And while you're there, you can pick up a fashionable RDVP baseball cap for a mere $12. It's your basic black, and you can wear it with anything.
The Rongovian Embassy
1 W. Main St., 607-387-3140, rongovianembassy.com
The Rongo has been a T'burg mainstay since 1973, serving up great music and hearty Mexican-style food, most recently under the expert tutelage of famous vegetarian chef Julie Jordan. There's meat too, and recent favorites have been the organic bean or beef nachos, vegetarian, vegan, or chicken enchiladas, grilled steak fajitas, Outer Rongovian Poutine, and the Big Rongo Salad. 
Dine inside, or in warm weather, out. Known as Trumansburg's living room (you might run into your kids, your ex, your ex's ex, and your dog there), the Rongo is known for its cocktails, and has been for its entire run, including the infamous Suffering, Dying, and Dead Bastards. There's a good selection of beers and wines, and a couple of the local hard ciders on tap, which are really worth sampling or, on hot days, guzzling. 
The music alone is worth the freight—everything from rock to jazz to Finnish Tex-Mex (seriously) to string band music. It's one of the best and most varied music venues in the region. Catch The Destination, Toivo, the Flying Broadwell Brothers, Bobbie Henrie, Richie Stearns and Rosie Newton, or any of the bands resting midway on their trek from NYC to Toronto—but you needn't leave hungry or thirsty either. The place is family friendly. In fact, it's everyone friendly. 
Silver Line Tap Room
19 W. Main St., 607-209-4116, silverlinetaproom.com
They've got 31 taps (including two ciders, an apple and a pear), $5 beer flights, and good pub food at reasonable prices. On a recent evening, an order of wings with Camel's sauce (other options were Buffalo in various degrees of heat, tequila lime BBQ, and Cajun parmesan) was done just right, with the requisite bleu cheese dressing and celery stalks; and a dish of well seasoned crab fritters arrived on a bed of greens with both remoulade and cocktail sauce. The small but balanced menu also offers fish and chips, calamari with cocktail sauce, a variety of sliders, a black bean and salsa veggie burger, and the house salad. 
Small ensembles, the likes of blues favorite Delta Mike Shaw, reggae's Big Upstate, and folky-jazzy singer/songwriter Jen Cork serenade you. There's no cover charge, but the musicians appreciate your tips. Old-fashioned beer barrels define the outdoor seating area on warmer evenings. 
Open mic nights are Tuesdays. Sing a song and get a half-price beer. The staff tells us their popular Sunday brunches will start up again soon.
Subway Express
2078 Rt. 96, 607-387-4310
You'll find the usual array of Subway subs prepared at your direction: Ham, roasted chicken, chicken teriyaki, turkey, steak and cheese, meatball marinara, and roast beef as well as prime rib and baked fish, with a panoply of vegetables and cheeses help to fill the just-baked white or whole wheat sub rolls. For the younger set, there are Kids Paks with mini-subs, apples, and milk. And they open at 9:00 a.m. with breakfast sandwiches and biscuits and gravy. Call ahead if you're in a super rush.
Taughannock Farms Inn
2030 Gorge Road (off Rt. 89), 607-387-7711, t-farms.com
Its name in transition to the "Inn at Taughannock," the quality of its food has taken a magnificent turn for the better. We found the best crabcakes ever, with ample chunks of fresh-tasting crabmeat (no filler) on a bed of greens with sundried tomato tartar sauce, and enjoyed as well a week's worth of yummy roughage in the heaping portion of Brussels sprouts roasted with shallots. Italian ricotta cheesecake, the owner's family recipe, was light and creamy, a reminder of the ones we loved in Little Italy's bakeries, and definitely worth the calories. We've heard raves for the award-winning Nantucket clam chowder, but there's a full menu of pastas, seafood, salads, red meat, and homey standards, including the Inn's beloved turkey dinner with all the fixin's. As a fully functioning inn, they serve breakfast (try the banana-walnut pancakes), lunch, dinner, and Sunday brunch. While it's on the pricey side, you can't argue with the quality. 
Very capable Trumansburger Rupert Robbins, recently of the Inns at Aurora, is installed at the kitchen's helm. Service is warm and capable, there's a full bar, and on a recent Monday night the place was hopping, with diners in the bright room overlooking Taughannock Falls Park and Cayuga Lake, as well as on the stone patio, gathered around an outdoor fireplace. Local stonemason Kevin Reilly's stone landing at park level gives hikers a place to rest and contemplate further hiking – or lunch and dinner.
Wrap It Up Gift Shop and Café
9632 Rt. 96, 607-256-6094, wrapituptburg.com
The gift shop offers the work of more than 100 local photographers, painters, potters, jewelers, knitters, quilters, candlemakers, woodworkers and other artisans, as well as quick breakfasts and lunches. When owners Randy and Linda Smith open the Plexiglass cabinet to serve up freshly baked cinnamon buns, sticky buns, crumb cake, and a variety of muffins, fragrances of butter, cinnamon, and vanilla perfume the air – they're irresistible. Nearly everything is made in house, and served on their diner-style counter, in homey booths, or to go. A recent sausage gravy brunch was loaded with sausage crumbles, atop the fluffiest of homemade biscuits, with a side of cantaloupe, filling and well done. A packed chicken salad sandwich on whole wheat offered the crunch of celery along with the sweetness of green grapes, with pickles, chips, and more cantalope on the side. Their popular soup of the day was French onion. 
Breakfasts include reasonably priced eggs with sausage, bacon, or cheese on English muffins or bagels, and a side of bacon or sausage is a bargain-priced $1.69. Their house blend coffee has a local following. They have fashioned a homey outdoor patio with a stage for musical performances and a view of acres of productive fields nearby, and by the time you read this, they may already have opened their wine-trail tasting room, as they say, "making day-drinking acceptable again." 
And then. . .
Don't forget the Trumansburg Farmers Market, Wednesdays from 4 to 7 p.m. at the corner of routes 96 and 227, with picnic tables, a variety of good food for purchase, great local bands on the bandstand, and you never know who you'll run into there. 
And our two—no, make that three—ice cream joints, Not My Dad's at the south end of town, Trimmer's to the north, and the soon-to-be-open Sweet Melissa's smack-dab in the middle will give you a good excuse to take a cone over to Taughannock Falls and watch the dry run.§