The cortege of Finger Lakes cider makers leading the orchard-based hard-cider boom in New York State, is looking forward to a spectacular harvest this year, with trees laden to breaking with fruit.  Just starting to achieve national and international recognition for their work, cider makers themselves struggle to define their product for marketing. Is it a beer?  Is it a wine? Locally, cider makers prefer to liken their product to dry apple wine, either still (no bubbles) or fizzy. Should the apple flavors speak for themselves, or should they be propped up with such additives as raspberries, hops, or, heaven forefend, prune juice?
While New York is second only to Washington State in apple production, it is especially well qualified to grow the English, French and German apple varieties that produce fine ciders made without peculiar additives or gimmicks.  Despite this qualification, most of the apples produced in the United States, and in New York, are dessert apples, fine for eating out of hand and baking into pies, but lacking in the qualities that make for a good cider. In our area progress is being made with the planting of many new cider-apple orchards.
If you have access to apples and would like to try your hand at cider making, there are some good books on the subject. One of our favorites is "Cider: Making, Using & Enjoying Sweet & Hard Cider" by Annie Proulx & Lew Nichols. Keystone Cider Mill in Sayre PA does custom pressing, but It's a good idea to call in advance to schedule your time.  In most of the non-cidering season, Keystone also functions as an old-fashioned roller rink.  Who knew? But, as we do, you may just want to enjoy a bottle of fine local cider with dinner.  Cheers!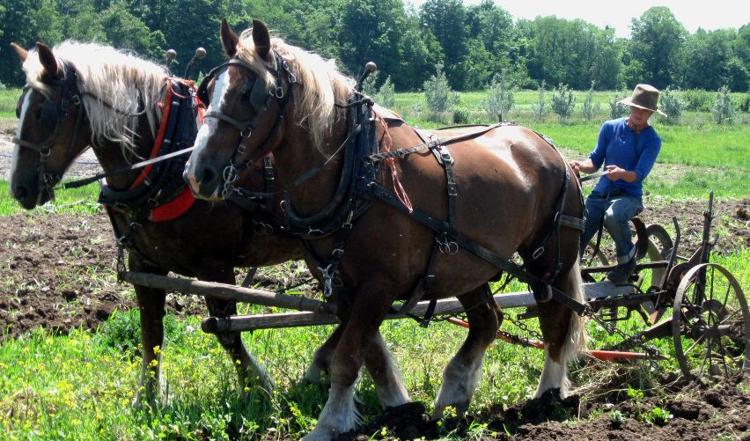 A. Growing healthy fruit trees begins with cultivating the land.  Good Life Farm's Melissa Madden and her team keep the weeds down, limiting shelter for pests that attack fruit trees, and providing more light, water, and nutrients for the trees whose fruit goes into making Kite & String Cider.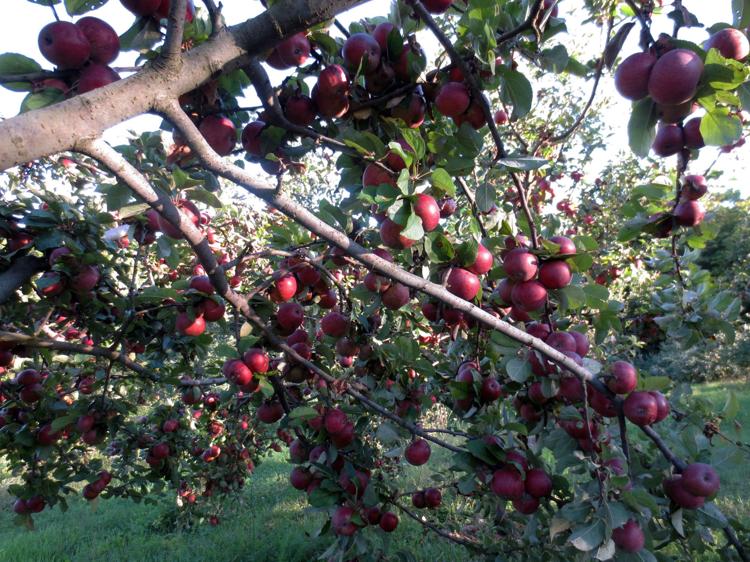 B. As the season progresses, cider makers keep careful watch over ripening fruit, which comes in many colors, shapes, and sizes, and they look to head off the pests that bring on apple scab, plum curculio, and fire blight.  They claim the best fruits for cider are bittersweets, sweets, sharps, and bitter sharps, many of them too bitter or tannic to eat as raw fruit, but perfect for blending into balanced, dry ciders.  Cider makers refer to these as "spitters," but they provide some of the flavor structure for fine ciders.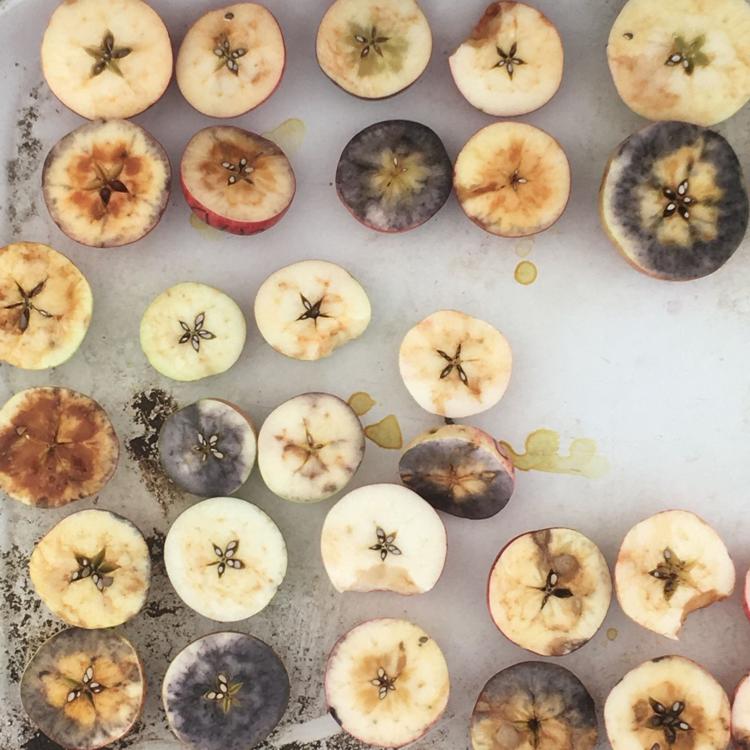 C. An iodine test tells whether the fruit is fully ripe -- whether the starches have matured into sugar. Starch turns blue on contact with iodine.  When an apple is fully ripe, there's no purple or blue hue at all and the apples are ready to be gathered.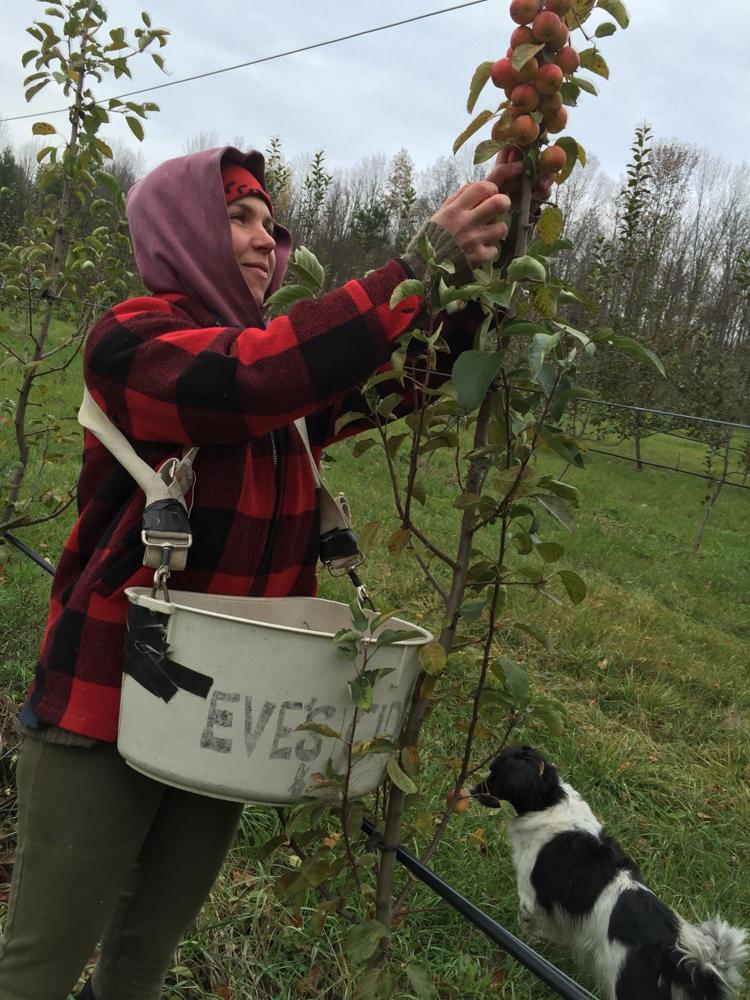 D1. Finger Lakes cider's "Founding Mother" Autumn Stoscheck of Eve's Cider picks from a newly fruiting dwarf Washington State University Cider Crab apple tree in her Albee Hill orchard.  Eve's has been making cider for sixteen years to great acclaim.
D2. Ever on the hunt for flavor components for his South Hill Ciders, Steve Selin often hikes in to find abandoned orchards, whose trees, like this Dawes Leathercoat apple, are laden with fruit.  His packbasket full, he hikes back out again to deposit them, then treks back for more.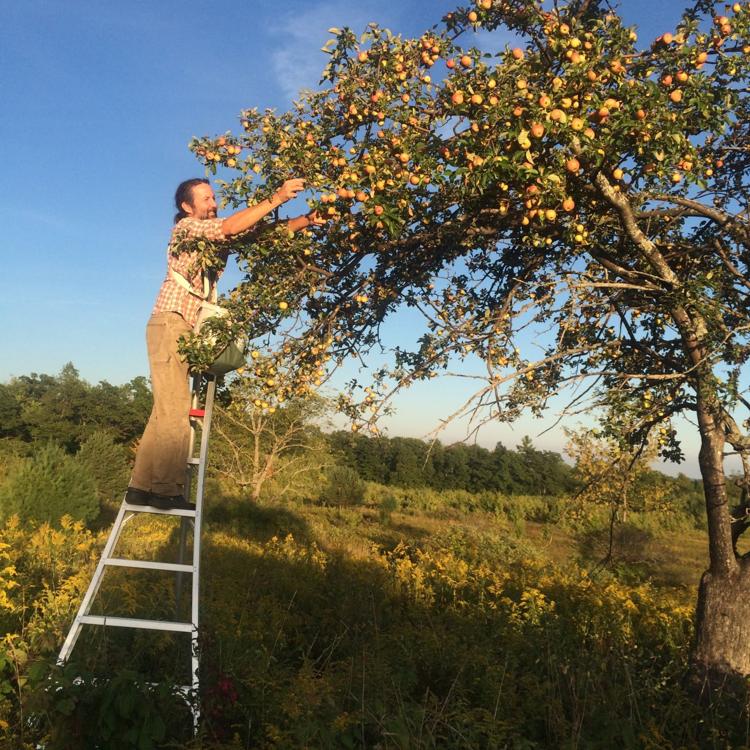 E. If there's time, cider makers like to "sweat" their harvested apples.  Boxed, the apples are set in a cool, shady spot where some of their liquid content can evaporate, concentrating and intensifying the apples' sugars and other flavor components. Cider apples can have odd names; Sheepnose, Ashmeads Kernel, Zabergau Reinette, Chisel Jersey, Roxbury Russet, Cox Orange Pippin, Brown Snout, Porter's Perfection, Tom Putt, and the charming Belle de Boskoop. They don't have to be beautiful because they'll wind up in the cider, and some are downright ugly; the russets look like gnarly potatoes. But those flavors!!!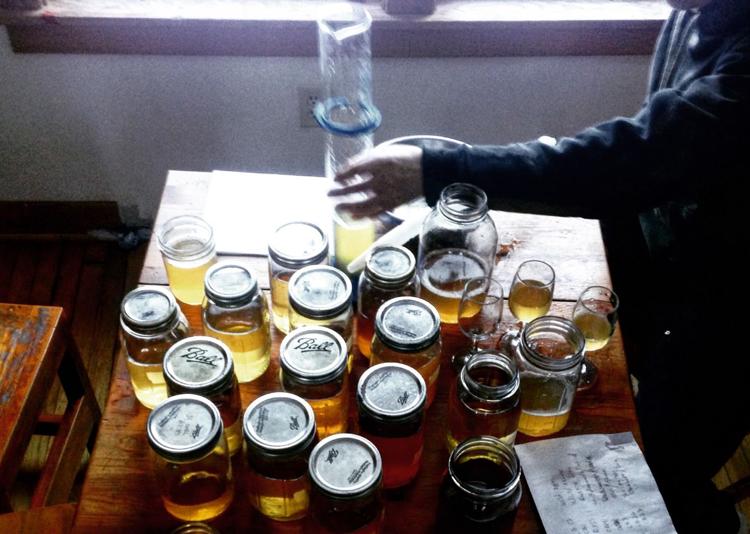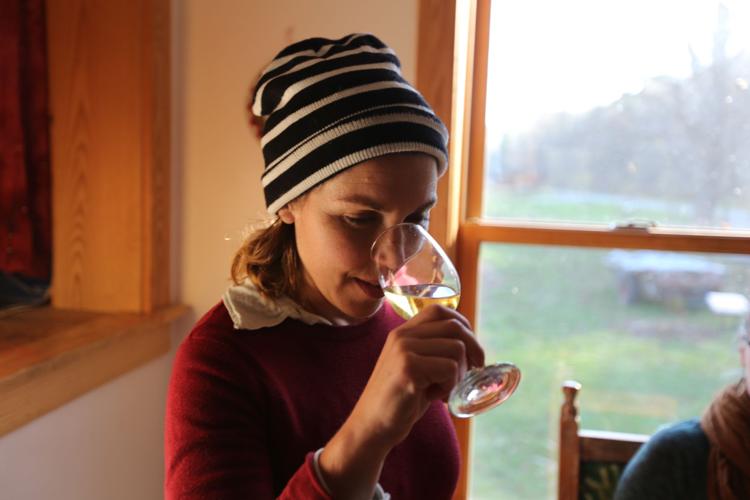 G.+H. Cider makers utilize their laboratories as well as all their senses to blend ciders and to determine how best to age each one.  What types of yeasts will be added and encouraged to convert the juices into dry still ciders?  Will the cider be fermented in bottles, later to have the spent yeasts disgorged to create a brut bubbly, similar to a fine Champagne?  Or will the luscious fresh juice be blended with an apple brandy to make a rich pommeau dessert wine? These are but a few of the cider-maker's options.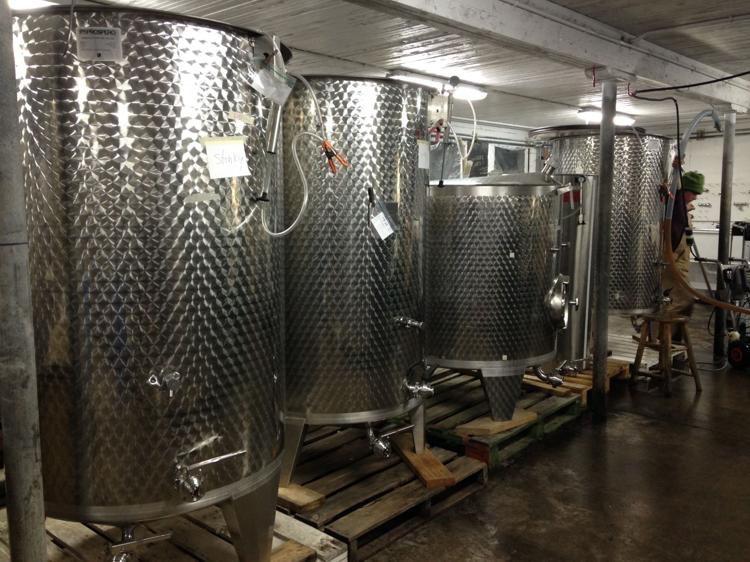 I. Fermentation takes place in steel tanks, some with refrigerating jackets, polyethylene tanks, oak barrels, or in bottles, and its pace relies on the yeasts' liveliness, the ambient temperature, and the amount of sugar in the juice. Warmer temperature can yield a quicker fermentation; a colder, slower fermentation may yield more complex flavors.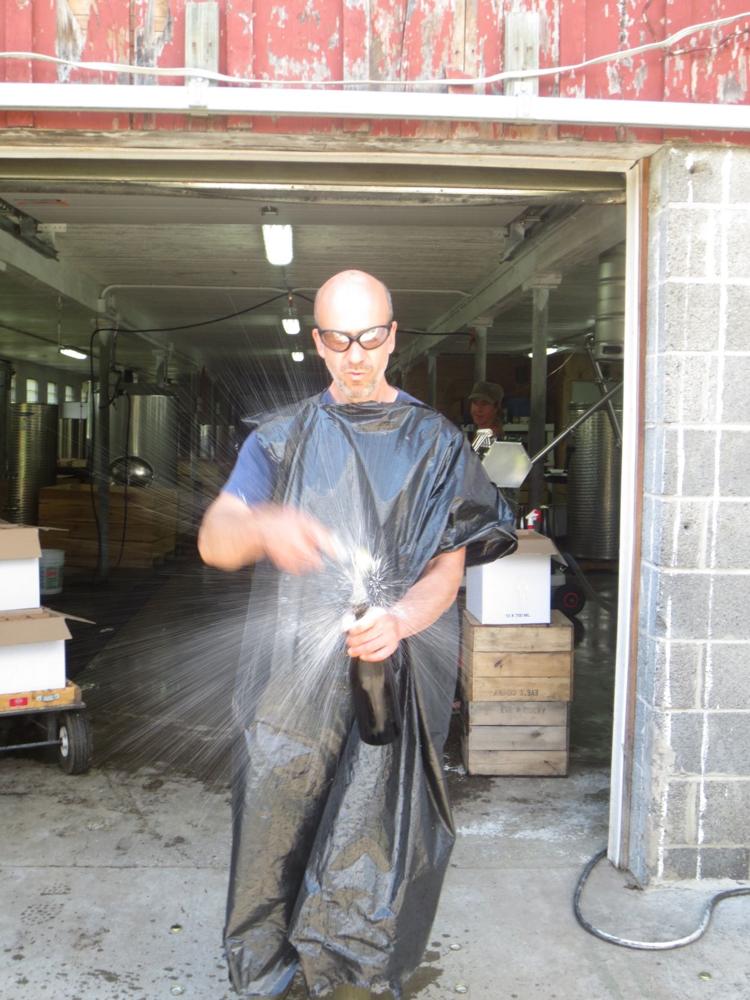 J. For bubbly ciders, having spent as much as eighteen months building up pressure in punt bottles, it may be time to flip off their crown caps, propel out the used-up yeast (called disgorging), cork and twist a cage over the cork to hold it in place under pressure.  Ezra Sherman does the honors here with Autumn's Gold Sparkling Cider, which can sit on the lees for as many as 18 months; it's sloppy work and a black plastic bag, the height of cidery fashion, goes with everything!  While commercial wineries and cideries may boast state-of-the-art bottling lines, a typical annual supply of Autumn's Gold Sparkling Cider, 24,000 bottles, is individually disgorged, corked, and caged by hand.  These hardworking folks need no gym memberships to stay in shape.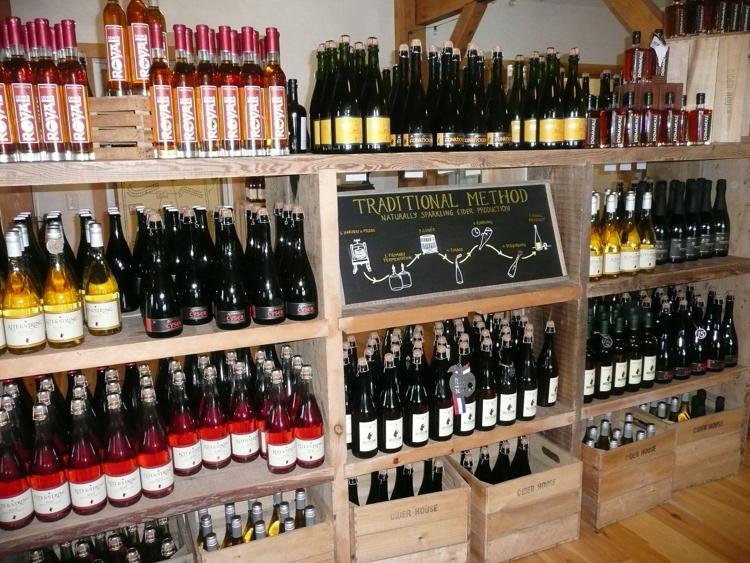 K. The Finger Lakes Cider House at the Good Life Farm markets and sells the ciders of several local makers, including their own Kite & String ciders, and provides tastings to the public.   Cider can also be purchased at Northside Wines & Spirits, Red Feet Wine Market, Cellar d'Or, Greenstar and several bars and restaurants in the area, as well as at restaurants in New York City and elsewhere. And some Finger Lakes cideries ship to New York and to many other states.