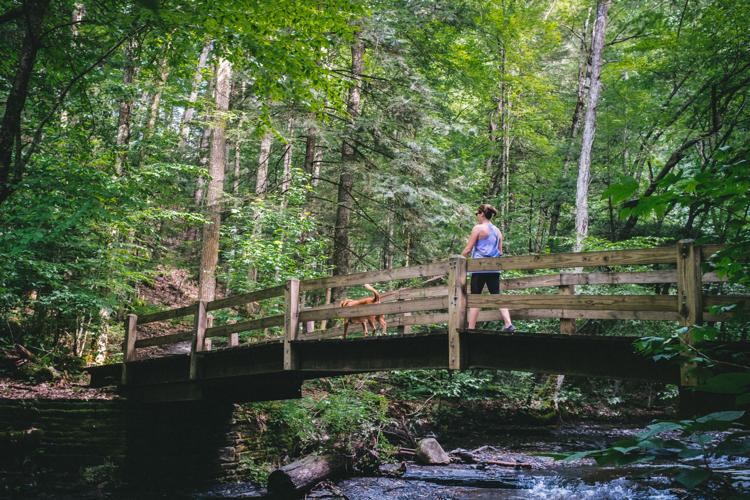 Some would say it's best that the politics of America's only Whig president have long been forgotten to the winds of a changing world. Some may consider it a black mark on a region of immense beauty that the name of a person who allowed the union-saving Compromise of 1850 to pass – allowing the spread of slavery in the years before the American Civil War – and the ratification of the Fugitive Slave Act be allowed to label such a gem of the Finger Lakes' unique glacial geography.
Nonetheless, Fillmore Glen – named for the region's only president, Millard Fillmore – should be noted primarily for one trait and one trait only: Its immense beauty.
Born into debilitating poverty on January 7, 1800, Fillmore was actually born about five miles from the present day park, his life beginning in a log cabin among the rolling wooded hills of Summerhill. Largely self-taught, Fillmore apprenticed as a clothier and married in the Village of Moravia – one mile north of the park – in 1826 before working his way to Buffalo, where he studied and made his way as a lawyer before entering politics on the fringe Anti-Masonic line at the age of 28, earning a seat on the State Assembly. At 33, he was a member of Congress, long gone and far-removed from the rough hewn world of his early beginnings. (Side note: John D. Rockefeller and Cornell founder Andrew Dickson White – born in Homer – also spent their childhoods in Moravia.)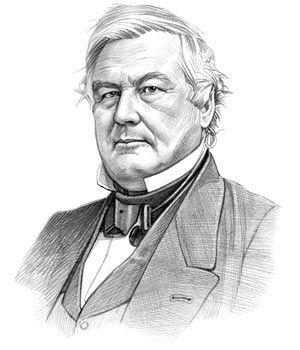 Though Buffalo was long his home as well as the place in which he was buried upon his death in 1874, Fillmore's name will forever be associated with the park, which at its entrance even features an accurate reproduction of the modest cabin in which he was born.
Established in 1925, the park itself is easily-accessible off State Route 38 and, despite a modest entryway of flat grass, offers a number of spectacular views on its winding pathways. A narrow gorge featuring five waterfalls along its main 1.3 mile trail, the 960 acre park features nearly five miles of hiking trails along wooded paths, stunning vistas and a botanically-rich canyon steeped in local lore. Though today the gorge is notable for its well-curated paths and meticulous stonework so typical of the Civilian Conservation Corps projects of the Great Depression (the corps maintained a camp within the park from 1934-1938), long ago the park was considered something obscure – a gem of nature – a place of quiet reflection far removed from the legacy of its famous neighbor. 
Fed by a meager stream originating from the depths of Summerhill State Forest and flowing into the Owasco Inlet, the creek that carved the gorge is itself no wonder: dubbed Dry Creek by one resident, George Spafford, in an 1874 edition of the Moravia Valley Register, the creek was notorious for – as its namesake would imply – going dry in the height of summer. However up its bend one would find an irregular, 30 foot tall gorge wall which upon scaling, one would find the first of several spectacular waterfalls. From there, the canyon walls grow steeper, eventually growing into a spectacular ravine dubbed by the young man in his account as "the Pinnacle."
"On either side are perpendicular walls of solid stone, over one hundred feet high, towering toward the sky," he describes it. "No shrub can grow on this rocky cliff, until near its top; then a few bushes cling as if in fear, to its brink; this is 'The Pinnacle.'  On the east side of the stream is an indenture large enough for a medium sized man to stand.  This is disfigured by the names of different persons, and of different dates, which are chiseled in the stone."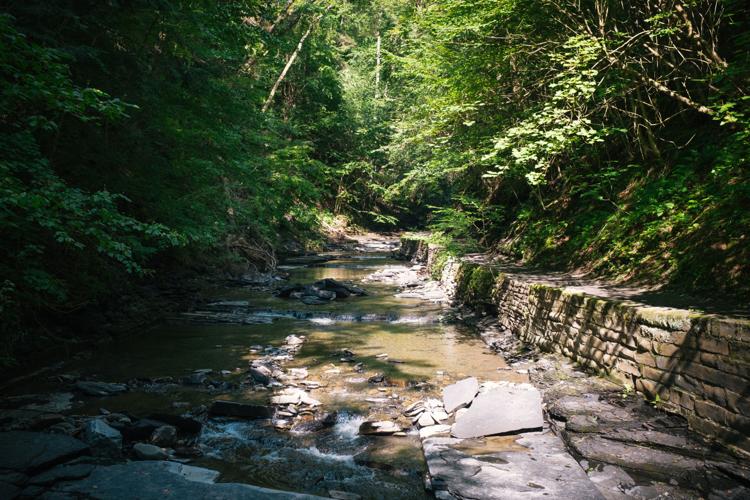 Farmland in Spafford's day, the gorge – beyond its use as a popular hiking spot – also served well in an agricultural context: legend has it herds of cows – to escape the summer heat – would take refuge beneath a waterfall that slipped off a rock ledge jutting out of the lip of the gorge. In that legacy, the Lower Falls of the park is today endearingly dubbed Cowshed Falls. Though challenging for its steep grades, three other waterfalls – including the 85-foot-high Dalibara Falls – can be found. There is one other waterfall off-trail, the Upper Falls, that will require some sleuthing to find but, for what it is, is well worth the hunt.
Though it's not the lengthiest of hikes, there are about 60 campsites on the premises for you to crash and, in Moravia, there is a pretty sweet ice cream place – Scoop's – on Main Street to reward yourself with.
And at day's end, you can lay your head down in the rustic land that birthed a U.S. president.