An 18th-century map of what is now central New York State, newly acquired by Cornell's Rare and Manuscript Division, shows natural features, Seneca and Cayuga villages and native footpaths.  It promises to offer insights into pre-colonial life and advance learning and research about our region.  The Rare and Manuscript Division, one of Cornell's 20 libraries, specializes in unique or historically important materials such as original manuscripts, rare books, documents and photographs, and this is a significant addition to their collection.
The document, drawn by prominent Albany-based mapmaker and surveyor John Rutse Bleecker, is now part of the American History and Culture Collections.  It actually consists of three maps: a finished map of Hudson County, and sketched maps of Schoharie Creek and Seneca and Cayuga territory, including what is now the Montezuma Wildlife Refuge.
The Seneca-Cayuga map depicts Cayuga and Seneca Lakes as well as six small triangles representing indigenous villages.  Five of these villages are named, and all are connected by a network of dotted lines indicating footpaths.
The mapmaker, John Rutse Bleecker (1713-1800), was a scion of a prominent Albany merchant family and son of an Albany mayor.  He himself was a merchant, politician, and experienced surveyor and mapmaker, and held elected positions including Sheriff of Albany County and Albany city alderman.  Though his early mapmaking record is somewhat sketchy, there is evidence of his activities as a surveyor as early as 1735.
Bleecker's later map-making work, though, was prolific, far-ranging and influential.  Dozens of his surveys survive in New York institutions, most dated to the 1760s and 1770s.  While the majority involved property surveys in the Hudson Valley, he also produced maps covering regions as far afield as the Connecticut River Valley, the St. Lawrence Valley, and the territory controlled by the Cayuga and Seneca peoples in central and western New York on the map now at Cornell.
18th century maps of the Finger Lakes region are exceedingly rare.  For historians and those enthralled by old maps, this is an extraordinary acquisition.
Of course, map aficionados might fairly be considered a dwindling breed.  These days, many drivers are entirely dependent on their GPS, and there have been countless news reports about drivers blindly following those directions into serious accidents or bodies of water.  Last week, a bicyclist working for a Manhattan business entered the westbound Lincoln Tunnel while following a route suggested by a phone app.  Laughable, yes, but many of us have stopped paying attention to the world around us because we are too intent on following directions.  
A 2008 Cornell study entitled "In-Car GPS Navigation: Engagement with and Disengagement from the Environment" found "empirical evidence that disengagement is an issue".
Still, maps tell stories beyond the depiction of geography, though they are by their very nature incomplete.  They can't show everything, and that means choices have to be made - choices that reflect the mapmaker's point of view or agenda.  The map room at the History Center has a dozen or more 19th century maps of Ithaca.  In that time, being prominently displayed on a map was valuable to merchants, so it's likely many of the featured businesses paid for the privilege.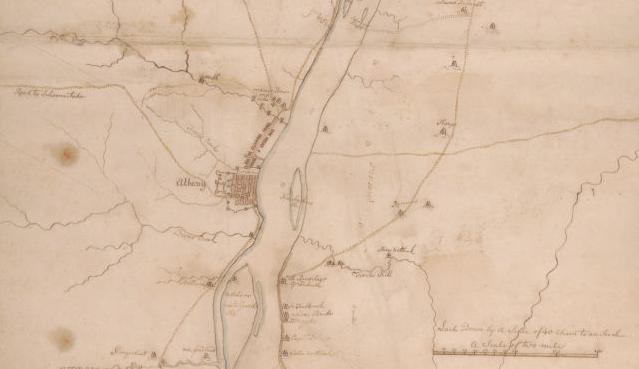 One of the oldest surviving maps (c. 500 BCE) is a Babylonian map of the world.  It shows a circular Babylon at the center, bisected by the Euphrates River and surrounded by the ocean.  Though short on details and accuracy, it gives the viewer an idea of the whole world, with himself at the center.
Eventually, the demands of commerce and conquest created a need for more accurate maps.  Ships were crossing oceans, and as sea trade increased, maps of the New World became more faithful to geography.  This was particularly true of the seacoasts and major rivers - places the beaver trade depended on.  It's in the context of extending the knowledge of inland trade routes that the Bleecker map was likely prepared.
The map offers a pre-Revolutionary War glimpse of upstate New York, which had an extensive network of native byways and villages, but no significant European settlements.  It provides researchers with information about what this area of New York looked like before Europeans moved in.  
Cornell's Dr. Jon W. Parmenter is a historian of colonial North America, specializing in the history of indigenous peoples in the Northeast, particularly that of the Haudenosaunee (Iroquois).  He dates the map at c. 1760, a time when the Finger lakes region was known to European colonists, but not extensively settled.  "No Europeans were residing around Cayuga Lake at the time the map was drawn; this area was not opened up to settlement until after the Revolutionary War," he says.  "The map is best understood as a snapshot of indigenous settlement, although not without errors. There are some communities noted that don't fit with c.1760 and one that is a total mystery insofar as the only historically known settlement with that placename occurred in what is now Ontario, Canada.  So some of what Bleecker based the map on was inaccurate.  It says a lot about how little the Europeans knew about the place before they arrived."
Kurt A. Jordan, associate professor of anthropology and American Indian studies at Cornell, calls the map "an important and exciting acquisition".  His research suggests that Cayuga and Seneca populations tended to be larger and more stable toward the north end of Cayuga and Seneca Lakes, where conditions were more suitable to farming and fishing.  "I think it's the reason that the map only covers the north half of Cayuga and Seneca Lakes.  The southern halves just weren't as important from the perspective of New Yorkers engaged in diplomacy and the fur trade," he says.
Historians know the names of many of the native places noted on the map, but "it's important to have the exact locations of settlements, and dates when they were occupied."  The map also contains what Jordan calls, "really interesting details."
The map showing Cayuga Lake references a lakeside "tarry," which seems to indicate a place where people waited.  At the "tarry," a traveler might have signaled for someone to come across the lake in a canoe and carry them to the other side.  This demonstrates the quite well-developed transportation infrastructure in the area.  A spot near what is now Montezuma, N.Y. is labeled, "The resort of gees and ducks of all sorts all the year."
The map may be displayed as part of an exhibit at some point, but the public may also request to see it, or other items from the collection, at any time.  The Rare and Manuscript Division is open from 9 a.m. to 5 p.m. Monday through Friday, and on Saturdays during Cornell's academic year.