For newcomers or any Ithacan wandering downtown, did you notice how new public artwork sprung up mid-summer? Maybe you were wandering near the Green Street parking garage and noticed a huge rock in a confoundingly familiar shape, or you checked out a new sculpture blooming in front of the Tompkins County Public Library. Maybe you wandered into Bank Alley for a coffee, but were distracted by colorful works hanging against the brick walls. Or you passed the Ithaca Times building at night and stopped to watch the new light installation, curious about what it was.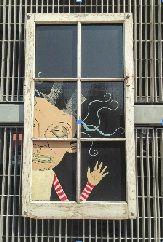 These pieces, along with a handful of others, are all a part of the 2015 outdoor public art exhibit, Art in the Heart, commissioned yearly by the Downtown Ithaca Alliance and amazingly already in its 16th season. Public art, in certain respects, is different from works meant to be exhibited indoors, as pieces tend to be larger in scale, graciously approachable, and functioning as a means for community unity and engagement. The artworks in the exhibition are for everyone, there to trigger the curiosity of passers-by of any age. They are gifts from the artists to us, the community, to enjoy.
There are nine new works by nine different artists in this year's show, all on display until the beginning of November, and what excites me most about this incarnation of Art in the Heart is the impressive array of media and colorful variety of the works included. Each artist is unique in his or her vision, and each artwork functions within its environment in its own way.
Take Windows, for example, a two-dimensional piece produced by Art in the Heart veteran Jim Garmhausen. In his usual cartoonish style, Garmhausen presents portraits of two figures, but does so in coordination with repurposed window frames. Attached to the metal bars of a parking garage, the framed pictures look perfectly in place, as the characters peer out from their windows at you, one even waving hello. "Windows," Garmhausen writes, "examines the idea that the way we see the world becomes a frame for how the world sees us." We are peering in at the characters and they are looking back at us. The interaction is welcomingly delightful. 
Other public artworks to check out include:
Michael Sampson's Hand Balancer, which is a painting inspired by trapeze artist Gretchen Ernst. An abstract bundle of movement, it explores essence over representation, leaving viewers to puzzle with intrigue.
Spirit of the Trees II by Barron Naegel, a spiritual piece of Buddhist consciousness, wisely placed near the Mystic Water Kava Bar.
The colorful and child-friendly (created with help from the artists' kids!) Four Seasons Forest from Kristin Dutcher and Bryan Riek, as they explore the various seasons presented on one tree trunk. (Editor's note: by the date of publication it had been handled by too many children, broken and consequently removed from the front of public library.)
Kadie Salfi's Metamorphosis, in Press Bay Alley,which juxtaposes prints of animals with constellations, all in deeply engaging dialogue. 
Mary Beth Ihnken's hard-to-miss Which Came First—the Chicken or the Egg? is hung in the alleyway beside City Hall. The paintings, one of a large-scale chicken beside a smaller painting of a (large) egg, were inspired by Ihnken's own chicken and memories of the countryside in contrast to urban downtown.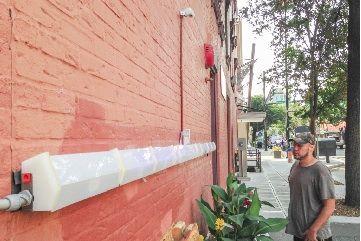 Valentine by Rob Licht, a large cement sculpture of a valentine heart, exploring the symbol's history and cultural ubiquity, as the piece resides coyly in a flowerbed next to the city hall parking lot.
Klaus Pinter's Untitled piece may be easy to miss. A simple box living in the alleyway between Cinemapolis and Maté Factor, participants are free to take a sheet of paper and follow Pinter's instructions to create sculptures of their own.
Lastly, deserving special mention in the exhibition due to its ingenuity and utter interactivity, is Mark Zifchock's Sequential Environment. A bar of lights visible at night, the overlapping purple circles react to the environment around them, changing colors and speed as you walk past. The coolness of the shades transforms into bright and cheerful pinks, oranges, and yellows, reacting to your movement and body, joyous and beautiful. The piece makes you aware of yourself and your relationship to the artwork, to your surroundings as a whole.