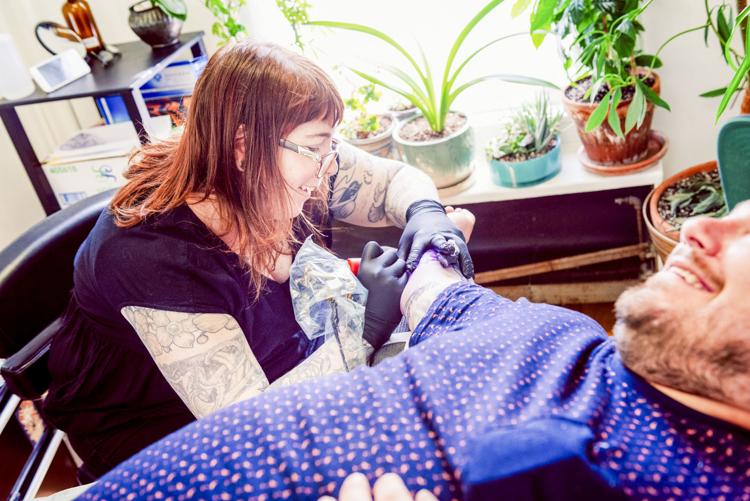 Best Tattoo Artist
Phoebe Aceto
Aceto spent 10 years establishing her rep at Model Citizen Tattoo, and has since opened her own business Here's To You this past March.
"Wow, thank you Ithaca! There is a lot of talent here so I take this as a huge compliment. 
"After ten years since I opened I love tattooing and I am so grateful for it -and my clients every day. I look forward to working some conventions and guest spots; I will be tattooing at Amor Eterno Arte in Oakland, CA late November, but Ithaca is home base for me! All appointments are scheduled via email herestoyoutattoo@gmail.com or leave a message at 607-319-3103.
"I do not have a website, but you can see my work on Instagram @herestoyoutattoo as well as Facebook. Thank you again to my clients and all who voted."
Best Massage Therapist
Avi Baumgold 
Baumgold has been massaging the stress out of Ithacans for a decade, mostly working on his own out of his house, but additionally picking up one day a week at Rasa Spa and the Integrative Oral Health office each. 
"It feels great, I've been a massage therapist for 10 years here in Ithaca, I feel like I've touched many people in Ithaca," Baumgold said. "I'm surprised, and honored."
A dancer and acrobat as well, Baumgold said he's always been passionate about movement, and understanding the body through movement is what initially brought him to the practice. He said unlocking access to movement for his patients is one of the primary highlights of his job. 
Best Dentist
Dr. Ira Kamp
Kamp's unconventional dentistry practice triumphs again, as he did in 2016 as well. Kamp combines dentistry with a certification in acupuncture, and focuses on an integrative-centric approach to dental health. The breadth of Integrative Oral Health's services includes sleep therapy, natural remedies, massage therapy, acupuncture and nutritional guidance.
Best Veterinarian
Dr. Ann Shakespeare at Cornerstone
Cornerstone Veterinary Hospital has been open since May 2006, when Shakespeare opened the practice with Christine Armao. Shakespeare has been practicing in the area for over 20 years, both in Elmira and Ithaca, and Cornerstone has drawn positive reviews for its fun atmosphere and staff. 
Shakespeare said she was appreciative of the recognition from the community. 
Best Common Councilor
Ducson Nguyen
Ducson Nguyen, now in his third year of representing the Second Ward, came to Ithaca from New Jersey after his wife got a job at Tompkins Cortland Community College. He said he first became interested in Common Council candidacy as a result of the housing shortage and wanting to push for transportation reform, and is now working on abandoned shopping-cart legislation, as well as trying to make the budget more easily accessible and understandable to normal citizens. 
"I greatly appreciate it," Nguyen said. "But my colleagues do just as much as I do and even in my third year I feel like I'm constantly finding out how little I know. But mostly it makes me think, 'I love you too, Ithaca.'"
Best radio DJ
John Simon
"What a cool surprise!" says Simon. "It's particularly poignant because I stopped doing my weekly Thursday show when WVBR switched formats in mid-January, and I seemed to have a real cross-section of happy listeners back then." Simon, who also plays in the bands Radio London and The Yardvarks, has been playing the hits on WVBR's "Rockin' Remnants" since August of 2003. He was recruited by co-host John Rudan, "who knew me because I was always calling in to make requests or win stuff or talk about the music. We suddenly have a solid team of five DJs, and each one brings his or her own spin on the basic genre 'Ithaca's longest-running local request Oldies show'   
"There are so many great DJs on local radio, so it makes me wonder what pushed me over the top. I try to keep things interesting:  background info on the music (nerdy "chart-date" stuff, but also historical context and occasional spotlights on the session players and composers), and I also invite conversation and requests, and I try to present a balance of big hits and obscurities, plus women artists and a healthy mix of sub-genres. It doesn't hurt to have a great Saturday night time slot (6-9 p.m.) either. I also occasionally do the "Dealers Choice" and "Nonesuch" shows, but "Remnants" is my main affiliation.
"Thanks for being the bearer of good tidings."
Best Local Activist Group
We Are Seneca Lake
We Are Seneca Lake had one of the more notably successful years when it comes to local activism in the area, claiming a victory when the plan for natural gas storage near Seneca Lake was halted. We Are Seneca Lake, an environmentalist group, had applied significant public pressure to defeat the measure. 
"We Are Seneca Lake sets a great example of what can be achieved when hundreds of people organize through nonviolent civil disobedience under a common goal to protect our community and way of life," the group said via its Facebook. "It was amazing to see everyone take time out of their lives and offer their skills as part of this movement. This is truly a victory for the environment."
Best Chef
Gentry Morris, The Rook
"Thank you to everyone who voted for me, and to all the people who enjoy The Rook," says Morris, who has lived in Ithaca since 2011.
"I'm inspired by people who love to cook and eat. I also draw inspiration from traveling. I think it's important see what is happening in other cities, and what other chefs are doing.
 "We opened in January of 2016, intending to be a neighborhood staple. As we move forward I think we continue to be a place where people can come to celebrate, have a good cocktail, and consistently good food. I definitely couldn't do it myself, big thanks to all of our employees, kitchen and front of house.
Best Actor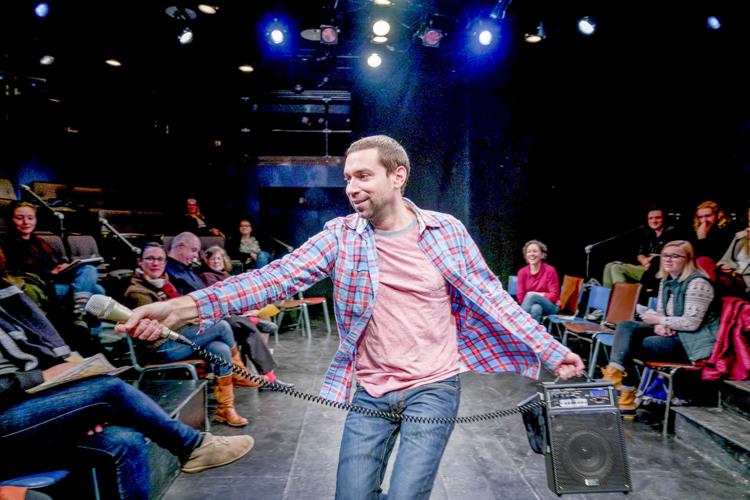 Karl Gregory
Gregory was a resident actor at the Kitchen Theatre for six years, and said though he's moved on to the Big Apple temporarily, Ithaca holds a particularly special place in his heart and his theatrical journey. 
"I like to consider Ithaca my artistic home, it's a really nice recognition to get from the community," Gregory said. "It's a community I love performing for, so thanks!" 
Gregory is currently auditioning for TV shows and movies in New York City, but you can next see him in Ithaca in the Kitchen Theatre's production of Tribes, which will open next spring. 
Best Author/Writer
Diane Ackerman
The author of of two dozen highly-acclaimed works of poetry and nonfiction, including the bestsellers "The Zookeeper's Wife" and "A Natural History of the Senses," and the Pulitzer Prize Finalist, "One Hundred Names for Love" had this to say: "How wonderful! I'm delighted and honored. Thank you, readers! I love Ithaca in every season--both the green landscape and the human landscape! I feel lucky to have spent many happy chapters of my life here."
Best Visual Artist
Chelsea Fausel at Fausel Imagery
"As a newer business, all I can say is wow," Fausel said. "I am humbled and grateful and stoked to accept this award. Thank you for investing in my art and entrusting me to press pause n some of the most precious moments in your lives through my photography."
Best Local Hero
Svante Myrick
Ithaca's own Da Mayor got right to the point, as he is wont to do.
"I can't tell you how grateful I am. There are so many Ithacans I look up to and admire, from Rebecca Bowersox to Dr. James Turner. It's the honor of my life to serve this City, and I'm bowled over to have this support."