Best PLACES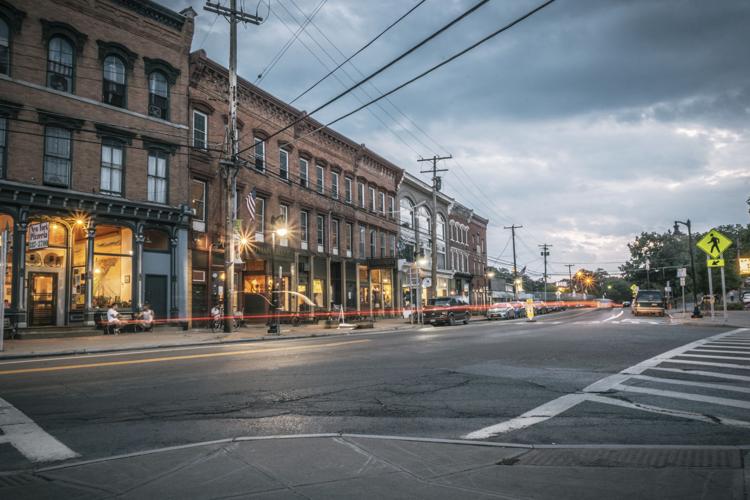 Best Village in Tompkins County | Trumansburg
The founding families of this village, the Tremans and McLallens, came from the border country between New York and Massachusetts, and a slight New England flavor does linger over 200 years later.
Trumansburgers are pretty opinionated and very proud of their village. And they like putting their own oar into decision making, a la the annual town meeting tradition that you find in New England. The analog in Trumansburg is the annual "State of the Village" meeting, held in February. Here's what Finger Lakes Community Newspapers editor Glynis Hart reported about the most recent one: 
"Dozens of residents of Trumansburg village packed the fire hall last Saturday to listen, complain, and share ideas in the annual State of the Village meeting. Mayor Marty Petrovic and village board members presented updates on the sidewalk improvement project, the deer management plan, and capital projects for the wastewater treatment plant and the new village well.
"Most people don't come to our regular village board meetings," said Petrovic, encouraging people to save their comments until presenters were finished: "Today is all public comment, essentially."
After kicking around a proposal to make downtown Trumansburg a smoke-free zone, villagers returned a verdict by a show of hands: they're against it.
The proposal was from the county health department. "The board hasn't decided one way or another," said trustee Rordan Hart. "We're looking for feedback."
Two people who work in downtown Ithaca, where smoking has been banned on the Commons, spoke against it.
"It's a health problem, not a civic matter," said Don Ellis.
"Banning smoking on the Commons has shifted smoking to adjacent areas," said Jennifer Schlassberg.
In Trumansburg, "It's a solution to something that's not a real problem," said Mark Kaplan. He would support restricting tobacco sales in the village, however.
Trustee Ben Carver channeled Ted Schiele, the spokesman for Tobacco Free Tompkins, saying that the aim is to prevent youth from smoking by not normalizing it in public places.
Jessica Bauer, who tends bar at Little Venice, said, "I've been a bartender in the village since Camels was Camels. When the law banning indoor smoking was passed, we supported it. But, I can tell you, we will lose business if this passes."
When no one seemed to be speaking in favor of it, audience members proposed a show of hands; they were overwhelmingly against banning smoking in the village.
"That's different than I expected," said Petrovic.
"Way different," said Morse.  
Trumansburg mayor Marty Petrovic, upon hearing his village was the county's favorite, had this to say:
"That is fantastic! Many of us have believed that Trumansburg is a great village, and it is good to hear your readers agree. 
"I believe the reason that Trumansburg is so popular is the strong sense of community. The community in a broad perspective is centered around support of the arts (music, art, etc), churches, farmers market, schools, and the many small and large events that happen from GrassRoots, the fair and Winterfest. 
"The community is so supportive of our library, schools and many tangible projects that would not happen without the efforts from volunteers like all the structures at the farmers market and the many feet of sidewalks that have been installed. 
"We value our history and in the last year have celebrate two historic sites with events and placement of historic marker, Dorsey Hill for Loyd Dorsey that is believed to be the first black property owner and voter in trumansburg to commemorating a day long event to horror Robert Moog the inventor of the music synthesizer. 
"Even though the village proper is small there is a lot to do. On weekends the are no fewer than 10 places to have dinner, three places for ice cream in the summer, several establishments with live music and  a boutique 1950s retro bowling facility with great food and drink. There are great things for kids to enjoy from the mini-village to bowling.
"What else can I say but I feel there are very few villages in New York that can compare with Tburg!"
Best Regional Distillery | Myers Farm
When Myers Farm Distillery first opened we went up to their Ovid facility, which is built to resemble a traditional Scottish distillery, to sample their beverages, and discover the virtues of connecting an organic farm with an outstanding value-added product:
Joe Myer's family has been farming in Ovid since the 1860s. His brother John went organic in the 1970s, making it one of the earlier organic farms in the state. In October 2012 they opened Myer Farm Distillers and began selling spirits that had been made from the organic grains grown on their 1000-acre farm.
"I had done a lot of research," said Joe Myer when asked what kind of experience he had with distilling spirits. "I went to a conference at the Geneva experimental station, and I grew up working a dairy farm, so I know about pasteurization and sterilization. I've got a practical background; I'm used to working with equipment."
Myer let his assistant distiller, Mark Thomas, serve as the construction manager for the building of the distillery itself. "He has the craft skills," Myer said. "He's a timber framer, and he repairs barns and houses." The building is modelled after a Scottish malt house, right down to the tower built of hand-trimmed stone.
His brother John grows all the grains that go into the spirits. "He has been farming for over 30 years," said Myer. "He chooses the varieties that he thinks will work the best. He goes by flavor, and narrows it down to a particular strain [of wheat or corn]. We use a different wheat for the aged versus the unaged whiskey."
Their gin is a "London style," which is to say very dry. Tasting room manager Lindsay MacIntosh compared it to Bombay Sapphire. "Somebody told me that gin is vodka that someone has dropped a tea bag into," said MacIntosh.
All gin is flavored with juniper berries, but Myers Farm also adds coriander and other herbs, which gives it a distinct floral taste that is much more nuanced than most gins.
"Spirits that are produced commercially have such a limited range," said Myer, "so because this is an artisan operation we thought 'Why not experiment?' People who haven't had gin in years because they thought they didn't like it try ours and get a surpise."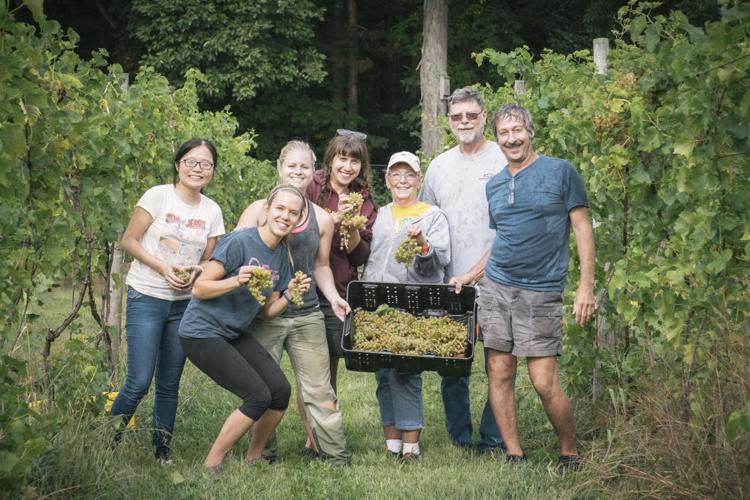 Best Best Regional Winery |
Six Mile Creek Vineyard
Mary and Amy Renodin purchased Six Mile Creek Vineyard about a year ago, so they had never heard of the Best of Ithaca awards and Mark was therefore a little puzzled about being told that his winery had been voted the most popular.
"We're happy about it, of course," said the hesitant vintner, as if he thought there might be duties and responsibilities that came with the honor.
He and his wife are from the Watertown area and for 10 years before deciding to move here, they would drive down at least twice each year to visit the wineries.
"We didn't even know you could buy a winery," he said. "We thought they were all probably passed down through families or something."
Mark had been in the restaurant business for the previous 16 years and his wife had been in retail managment for even longer. You could say they know something about customer service, so maybe that helped their popularity among "Best of" voters.
"We're very hands-on," said Mark. "We actually work in the tasting room a lot. The previous owners were retired and let someone else manage it for them. We are right there."
In spite of the time he spends in the tasting room, Mark said that his favorite part of owning a vineyard is the amount of time he gets to spend outside working.
Twenty-seven other wineries got at least one vote in this contest with Sheldrake Point and Americana Vineyards coming in a strong second and third behind Six Mile Creek. But Ithacans were loyal to their homies: Six Mile Creek Vineyard is the only winery in Tompkins County.
Best Regional Brewery | Ithaca Beer Company
We saw the same pattern here that we saw with the cideries; a lot of new breweries have sprouted up recently in the Ithaca area (and indeed throughout the Finger Lakes, yea the country), but one of the earliest artisan brewers in the area has remained the most poplar.
In recent years Ithaca Beer has made the news more often for its various expansions than for its beer. But Luke Fenchel went out there to review the beer and food in 2014:
"It wouldn't make sense to discuss the Taproom without talking about the beer—which the Ithaca Beer Company offers onsite in flights. In addition to the year-round offerings of Apricot Wheat, Nut Brown, Pale Ale, and Cascazilla, the Taproom offers seasonal beers as well. This week, the Taproom is set to unveil Cayuga Cruiser, a summer seasonal Berliner-Weiss. Other seasonals include Ground Break, an America-style hoppy and rye brew, a Gorges Smoked Porter, and a Belgian variant called White Gold."
A year earlier beer connoisseur Charley Githler did a round up of local breweries and marveled at the new digs that Ithaca Beer had made for itself:
"The entire brewing and tasting operation recently relocated to a nearby brand new facility.  It is spectacularly different from the previous building, with a dining area, a beautiful outdoor German-style beer garden with nearby bocce court and fire pits (described by the marketing director as a "grown-up playground"), a taproom selling pints and flights and weekend brewery tours.  The public part of the new building is open and airy and the outdoor portion has a sort of California-meets-southern-Europe feel to it. The menu is pub-style food with an emphasis on the local and sustainable.  With four full-time brewers and the new, larger capacity, Ithaca Beer is looking to further saturate its existing territory, comprised of six northeastern states and Ohio, rather than extending its reach to more far-flung territory."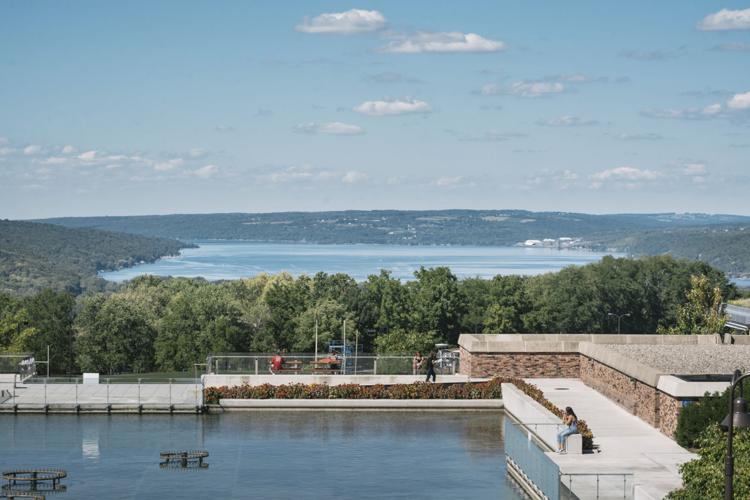 Best View of Cayuga Lake | From Ithaca College
This  view is so spectacular that we decided to have a picture of it lead off this entire special section (page 3). The view from Cornell is a bit more storied (in the school song, no less), but when you are on South Hill you are looking straight up the valley with the entire expanse of the lake laid out before you. You can tell that it disappears around a bend to the left, but you can't actually see it, adding to the mystery.
The other upside to the view from the Ithaca College campus is that you can actually see out from the grounds. Cornell has added so many large buildings that, if you are a mere member of the public, you have to make your way to the top of Libe Slope or climb to the top of either the Johnson Museum or McGraw Tower to get a spectacular view.
In contrast, the Ithaca College campus design has left a big gap between the Peggy Williams Center and Job Hall. You sit by those lighted fountains that do their own intricate dance while you stare out from your perch 500 feet above Cayuga's waters, with its waves of blue. §