Best PEOPLE
Best Friend to Addicts | Svante Myrick
In February Mayor Svante Myrick rolled his "Ithaca Plan" for combatting our growing illegal drug problem.
Our reporter Josh Brokaw cover the event:
"Myrick touched on some key aspects of the plan in his opening remarks, including opening an Office of Drug Policy, a 24-hour crisis center, low-cost or free hepatitis treatments, and increasing awareness about New York's Good Samaritan laws - which allow people to call emergency personnel when overdoses happen without fear of legal repercussions.
The plan also calls for increased access to methadone in Ithaca -- right now, the closest clinics are in Syracuse and Binghamton -- and for more doctors trained to prescribe Suboxone, used to treat opioid addiction. The plan also calls for safe injection facilities where heroin users can shoot up under supervision, which has been a focus of media coverage since details started coming out when an AP report on the plan was released Monday. 
There are four "pillars" to the plan: Harm reduction, treatment, prevention, and enforcement. All of those topic areas had committees of people, part of the Municipal Drug Policy Committee formed by Myrick in April 2014, dedicated to coming up with recommendations.
Best Massage Therapist | Meredith Carpenter
There is a massage school in Ithaca, so there are a lot of massage therapists. How in the world do you stand out from the pack in the event that are one of the many, many graduates who decide they would like to stay here?
We actually got 35 different responses to this question, more than any other category, even "Best Winery." This tells you something about Ithaca and about your relationship with your massage therapist (everyone thinks theirs is the best).
Meredith Carpenter got more than twice as many votes as the next runner up.
"I love practicing massage," she said, "because using my body to facilitate other people feeling comfortable and happy in their own bodies is an incredible privilege and a wonderful experience. I feel we are alive in order to enjoy ourselves, and to learn and grow. Working with our physical selves is such an important part of that. 
"When I graduated from massage school over a decade ago my mom gave me a picture frame with this Rumi quote written in, and I still think about it every day when I work.
"'Let the beauty we love be what we do. There are hundreds of ways to kneel and kiss the ground.'"
"Thank you to everyone who chose me. I am so honored and grateful!"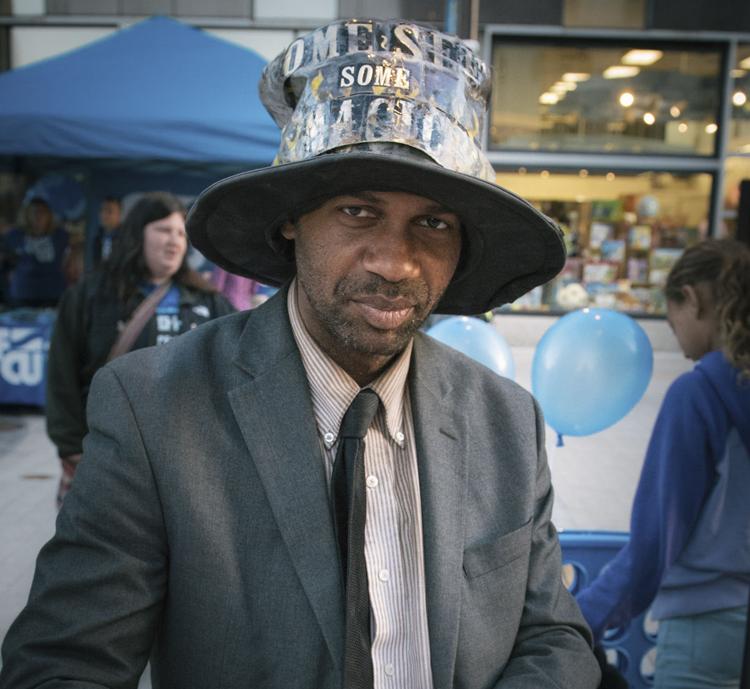 Best Street Performer |
William Metro, "The Magic Man
"I'm glad to be recognized," said William Metro, one of the many aliases of the "Magic Man," upon being told that he had received the most votes in this category. Only Hilby the Skinny German Juggle Boy came close.
Metro started his magic business in 2011, but he has been learning and doing magic tricks since he was 10 years old. "I got the tricks from the old-time magic shops," he said, "and then I put it together to make a business."
He arrives on the Commons between 9:30 and 10 a.m. and moves along the pedestrian mall until he breaks for lunch. Then it puts in an afternoon shift and breaks for dinner. He closes out each day by setting up outside the downtown bars between 10 p.m. and closing.
Magic is only one of Metro's undertakings. He also has a television show about politics on the Time Warner public access cable channel. He no longer owns the equipment to produce music, but for many years he also made his own rap tapes.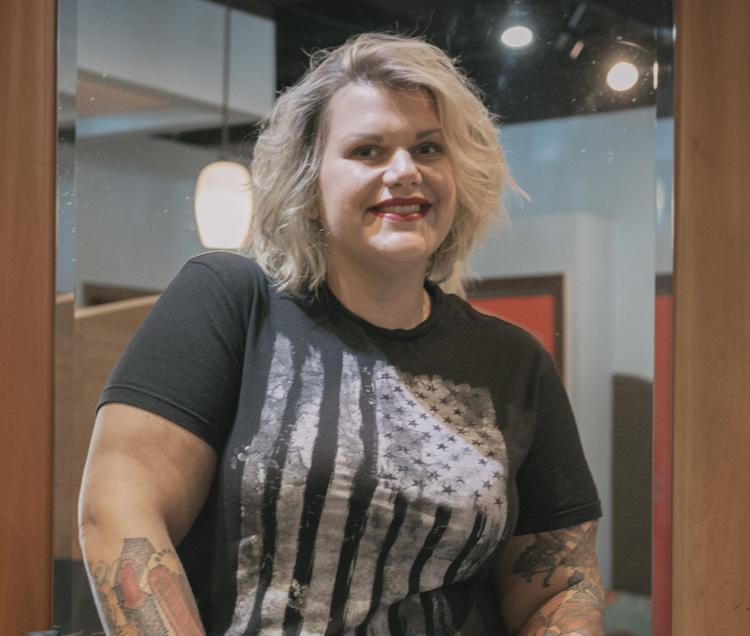 Best Stylist/Barber |
Demitra Karakantas at Satori
Karakantas was honest about the fact that she told her friends and clients about the Best of Ithaca contest when the ballots appeared in the paper and on line. But really this is just part of her natural gregariousness. "I'm a people person," she said, "and I love what I do. My clients feel like we're friends and they can tell that I love what I'm doing.
Karakantas, who is one of the senior stylists at Satori on Hanshaw Road, has been at it for 13 years. She is a New York State licensed cosmetologist and her style is described as "edgy."
Best Developer | Travis/Hyde
During the past year Travis/Hyde has probably received the most attention for their attempt to re-develop the site of the old county library at the corner of North Cayuga and West Court streets. Now the whole thing is bogged down in county politics, but Frost Travis has maintained admirable cool through it all.
Travis was taken off guard by his company's win. Developers don't tend to get a lot of love in Ithaca.
"Thank you!," he said, "I was not aware of this honor, and I am humbled. We understand that what we build is something that people are going to have to live with a long time so we do our best to get it right. We also feel it's important to reach out and listen to community stakeholders when we start a project—some of our best ideas have come from unexpected quarters. Environmental sustainability is a strong value in our company—we are by no means perfect, but we try to improve with every project."
Best Attorney | Luke Fenchel
As a freelancer arts journalist, Luke Fenchel is more visible than a lot of attorneys in this town. He has always gotten votes in past years, but this is the first time he's come out on top. In December 2015 Fenchel parted ways with the law firm of Holmberg Galbraith, LLP where he was partner, to open a practice with a strategic focus on criminal defense.
Never shy about providing us with copy, Fenchel had this response to the news of his win:
"I practice almost exclusively in criminal defense, which is rewarding in that it offers an avenue for me to be of service. No one ever wants to need a defense lawyer—going to court even for a traffic ticket can be incredibly stressful. Being charged with a crime is overwhelming, frightening, or worse! The effect on your job, on your reputation, and peace of mind can be monumental. 
"My mission is to provide a compassionate, knowledgeable, creative, and economical complete legal defense that is narrowly-tailored to my client's unique needs and in an atmosphere of trust and respect. Because my practice is client-centered, I strive to be an effective and efficient communicator as well as a zealous advocate. 
"The criminal justice system focuses on a single incident, a terrible day. My job is to step back and provide context and clarity to a byzantine process. I honestly hope you never do need a criminal defense lawyer, but if you do, I hope you don't hesitate to call."
Best Dentist | Ira Kamp at iDental
If you were going to try to pull a newcomer's leg about what a dentist is like in Ithaca, you might tell her "Well, my dentist is a certified acupuncturist and he integrates sleep therapy, acupuncture, massage therapy, nutritional guidance, and natural remedies into his traditional dental services. In addition to other dentists and hygienists, he also has three massage therapists on his staff."
Your newbie friend would probably start laughing and say she was still glad to have moved here, even if the dentists weren't really like that.
That, as they say, is when you pull the other leg. "I hate to break it to you, but that's what Ira Kamp's iDental Spa is really like. In fact, it's exactly like that."
Best Veterinarian |
Anne Shakespeare at Cornerstone Vet Hospital
"It's the personal interest that the doctors take in the patients," said Joan Shaw, the hospital manager at Cornerstone, in response to the question we ask everyone. "The staff is stable over the years, so we know all our clients quite well."
Cornerstone has been at its present location on Third Street in the shopping center that includes the DMV for 10 years, but the veterinarians—in addition to Shakespeare, the staff include Bridget Barry and Christine Armao—have many years of experience before that. The hospital is accessible to out of town clients, as it is right off Rt. 13 and is one of the few veterinary offices downtown for pet owners without cars.