Best FOOD & DRINK
Best Unique Sandwich | Gorgers
Matt Shrieder, the manager and chef at Gorgers, is pretty sure that his sandwich shop won for their Chupacabra, a new variation on a regular pulled pork sandwich that includes sharp cheddar cheese, tomatoes, onions and cilantro with chipotle, chimchurri and sriracha. That's right: three different kinds of hot pepper sauce.
"It's the newest one," he said, "and it's definitely one of the most popular." Owner Bart Diamond came up with the original roster of sandwiches, but customers often ask for a custom sub. 
Shrieder said that those customers keep coming back and the word starts to spread through the electronic grapevine, and more people order the sandwich, until finally it gets added to the menu.
Best Inspired Dining | Just a Taste
Best Wine Selection | Just a Taste
Best Service | Just a Taste
This mainstay of Restaurant Row, located on the west side of North Aurora Street, almost always has a line outside of it, particularly on the weekends, particularly when its nice outside. They don't take reservations (except on graduation weekends), so you have to plan if you want to eat at this tapas restaurant.
Like The Thai Cuisine, Madeline's and most recently Mia, Just a Taste is another creation of restauranteur extraordinaire Lex Chutintaranond, who opened it in March 1990. He sold it to Cornell hotel school graduate Jennifer Irwin and her partner Stan Irwin in 1994. 
We haven't reviewed Just a Taste since 2009, when Henry Stark said this: Irwin met Walton in a restaurant in San Francisco where he was the salad chef and she was the pastry chef. He describes his role at Just A Taste, "I run in the back and hide. I'm a behind the scenes kind of guy. Jennifer does everything. I try to give her a lot of support." Actually, the last time I encountered Walton he was in the kitchen trimming the meat off a lamb carcass.
This complementary partnership seems to work like a charm.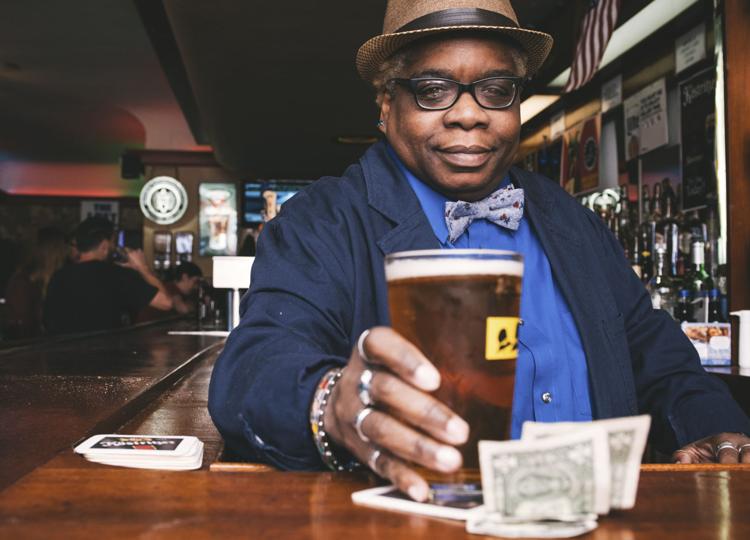 Best Cheap Drinks | The Chanticleer
During the winter of 2012-13 Becky Lane and her crew at Nice Girl Films made three episodes of a Web series called The Chanticleer in the Ithaca bar of that name. Inspired by lesbian pulp fiction from the 1950s the plot centers on a woman who returns to Ithaca from the big city in order to run her late father's now-seedy bar. Lane showed the episodes at Rochester's Image Out Festival in October 2013 and screened them at the Lesbian, Gay, and Bisexual Center in Greenwich Village in November 2013 and at Cinemapolis in December 2013. They were well received, and some of her colleagues Lane was encouraged to make a feature film of the story.
More episodes were indeed made and they can be found on line. Lane and company didn't have to change that much to bring the Chanti back to the 1950s. The place definitely has a noir feeling, even here in bright, shiny electronic 2016. The drinks aren't really especially cheap, but they aren't expensive either, and when you order one and hunch over it to stare at the Art Deco bar through its thicket of bottles, you feel like you ought to be wearing a trench coat and be a little down on your luck, even if you aren't.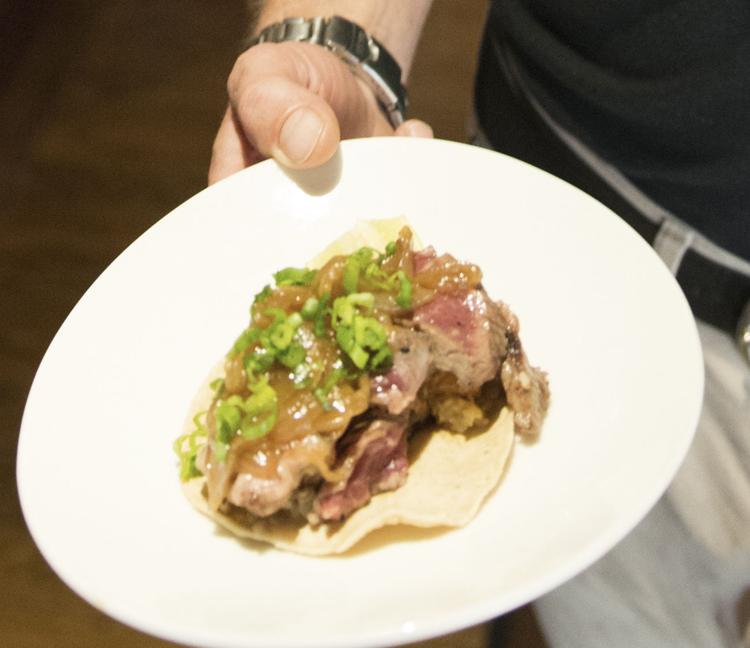 Best Daily Specials | Agava
"What has rough dark sugar cubes and strong coffee," wrote Peggy Haine in a recent review, "a monumental list of tequilas and beers (including a $6 six-pack you can send to the kitchen as a thank-you), an adventurous and lengthy menu, a four-buck loaded fruit salad they can't possibly be making money on, and a brunch item called the "Fat Elvis?" I'd be fibbing if I said it was anything other than East Hill's Agava Restaurant, a neighborhood favorite that always seems to be bustling.
"We enjoyed the asparagus farotto: a bowl of locally grown faro, asparagus, and aged Parmesan, hip comfort food. Then we went for the properly unctuous fettucine Alfredo, basking in a tomato cream sauce punctuated by scallion slices, and topped with chunks of grilled chicken. A bowl of shrimp and grits was our other choice, and was equally memorable, with chewy bits of tasso (a smoked pork beloved in Cajun country), plump shrimps, and a sauce that was unexpectedly sweet and expectedly spicy—I'd say the chef batted that one out of the park."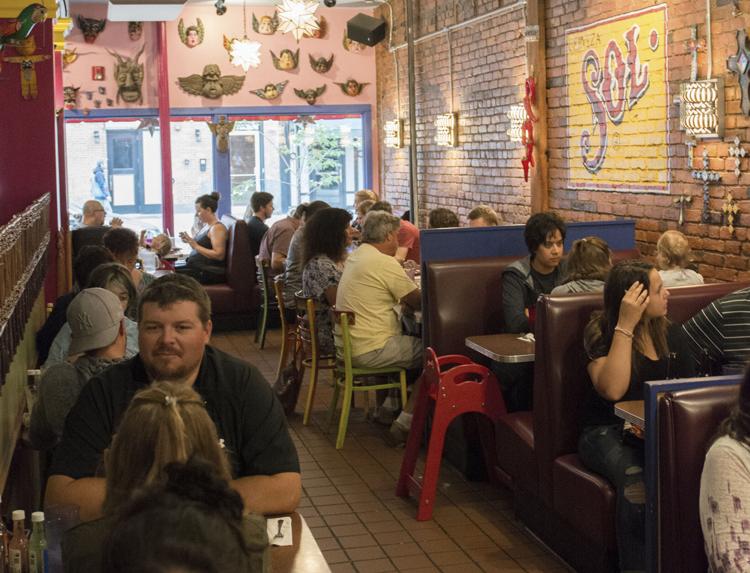 Best Cheap Night Out | Viva Taqueria
"We've won this one before," admitted Jill Lippencott, long-time bartender at Viva. "We're happy that people come back. We keep everything the same for a reason: to keep the quality up." Viva Taqueria has been open for 20 years and Lippencott has worked there most that time. The Taqueria opened first and then a year later the cantina opened to include the bar and more sit-down dining (there had been only seven tables). Lippencott said 18 years ago they were making their own chips and salsa and providing them free, a practice no longer in place. They still make the chips, but they aren't free anymore. On keeping the prices down, she noted: "You can only charge so much for rice and beans."
A visiting regular customer, overhearing Lippencott's diplomatic answers, chimed in: "Hey, when you eat cheap, you should tip better."
Best Place to Take Your Parents | 
Boat Yard Grill
Not that many people take part in the maritime culture of the Finger Lakes these days. Even on the most brilliant, breezy summer days, Cayuga Lake is not exactly crowded. That doesn't stop the Boat Yard Grill from mounting a convincing interior design that is one part yacht club and one part hunting lodge. It is definitely the kind of place that a certain kind of parent feels right at home and another kind of parent probably holds as an idealized image of upstate New York décor. You certainly can't beat the view. Perched at the northern tip of Inlet Island, the large windows open out to moored boats, rambling storage buildings, and an expanse of water that includes lighthouses and distant cliffs.
When it comes to lakeside dining in general, the Boat Yard Grill on Cayuga Lake rather splits the difference between the Switzerland Inn (on Keuka Lake) and Seneca Harbor (in Watkins Glen). Like the Switz, parts of it are literally hanging over the water, but like Seneca Harbor it is located at the south end of a lake and rather grand. 
Like that of Seneca Harbor, the Boat Yard lunch menu is weighted toward seafood with a smattering of beef and chicken dishes. The dinner menu is more extensive and adds a number of different cuts of steak. Unlike the Switz and Seneca Harbor, the Boat Yard Grill serves a separate brunch menu on Sundays between 11:30 a.m and 2 p.m. 
Best Ethnic Restaurant | Hawi Ethiopian
A lot of people have been waiting for an Ethiopian restaurant to open in Ithaca. For a few years you could get it at the Congo Square Market, but last year Hawi opened in what had been an apparently cursed location on South Cayuga Street. So far they seem to be doing quite well. Finger crossed. Well, except when you're there of course, when you'll have to use your fingers to eat. Our restaurant critic Peggy Haine loves the place: 
"Having discovered Ethiopian restaurants in D.C., Toronto and Rochester, we've been longing for an Ethiopian place closer to home, so we were pleased when Hawi opened its doors.  The restaurant is on Cayuga Street, in the same location that spawned the successful Daño's—now on Seneca—and we hope it will similarly prosper. 
"An Ethiopian meal at Hawi arrives on a large platter meant for sharing, though you can order single portions if you like. The platter is lined with injera, and colorful mounds of meat and vegetable stews are scattered about on top. The injera, a large crepe-like pancake whose batter has been fermented and is pleasantly sour, is made from teff flour, ground from a tiny, gluten-free grass seed. Your injera serves as plate liner, napkin and spork; tear off pieces of it to scoop up the various vegetable and meat stews and convey them to your mouth. This might be awkward for a first date or job interview, but for dining with friends or loved ones, it is delightful and fun—think Tom Jones, the 1963 movie whose oyster-eating scene titillated audiences awakening to '60s sensuality, clips of which are available online.
"Try the appetizers, but beware of eating too much injera early on—it can fill you up long before you've managed to transmit every other thing on your plate to your mouth. We've enjoyed the yater kik fitfit appetizer, a lemony combination of injera bathed in butter and mixed with yellow split peas and jalapeños, served with even more injera.  The avocado salad—fresh tomatoes, onions and avocados mixed with a house dressing served with injera—was tart and refreshing."
Best New* Restaurant | The Rook
The Rook opened restaurant in Ithaca's downtown, near the intersection of North Plain and West State streets, in Fine Line Bistro's former location. The restaurant is named for a type of crow—Corvus frugilegus means "food-gatherer" in Latin—not the chess piece. The silhouetted image of the bird adorns the new sign on the storefront. The Rook's culinary mission claims a modern take on old favorites, and it delivers. 
Our critic Annemarie Morse adored the place: "The menu presents varied options: New York strip steak and oysters, grilled trout and ricotta gnocchi, to name a few.  We decided to order from the smaller plate selections and shared some delicious grilled dates, smoked trout, salad and fries. The "dirty" option is also delicious. (For those not keeping up with this kind of thing, "dirty" means anything sprinkled with cheese, chopped meat and/or vegetables and/or spices.) The Rook also serves up a spaetzle (German egg noodle) dish made with Gruyere, cream and crispy shallots, which is a must try.
"The Rook's owners include a lineup of experienced industry professionals. Head chef Gentry Morris previously served as sous chef at Le Café Cent Dix and was the chef/owner of Belly (the recurring pop-up restaurant at Lot 10). Lila Donaruma worked in the hospitality/restaurant industry for 15 years in various capacities and Autumn Greenberg, with more than 10 years in hospitality, most recently tended bar at the Argos Inn, which is well known for a drink menu that boasts numerous unique craft cocktails."
*Opened within the last year.
Best Local Cider | Bellwether
Bellwether, on Rt. 89 just north of Trumansburg, is one of the earliest cideries to be established in the Finger Lakes and now the region is becoming cidery central. 
When asked about their continuing popularity, Cheryl Barton, who with her husband Bill, owns Bellwether, said, "Longevity and name recognition doesn't hurt, but I think our style of cider helps too. We try to make approachable, everyday ciders, and I think that's what appeals to people."
Barton appreciates what other cider makers are trying to do when they go for something distinctive and perhaps esoteric, but it just isn't Bellwether's mission. 
She and her husband were introduced to hard ciders in Normandy many years ago, where a pitcher of it would be put on the table as a matter of course in most restaurants. So they decided that they would like to recreate that sort of casually drinkable beverage here in the Finger Lakes.
And their ciders are meant to pair well with food. "They have a slightly lower alcohol level than wines," said Barton, "and they are less filling than beers, so they are well suited for having with a meal. That's not say though, they I don't like to sit down on a hot day with a nice cold glass of cider all by itself."
Best Place to Eat Cake | Lona Cakes
Best Place to Eat Cake | Lona Cakes
Although Lona Isenberg Gutchess has many years of experience baking cakes, she only opened the doors of her storefront in Community Corners on June 17 of this year. Her cakes have apparently made an impact right away, as they edged old favorites: Madeline's restaurant and Sarah's Patisserie.
Anna Isenberg, Lona's younger sister, moved up from Chile to help run the business. "We are adamant about quality," said Anna. "Lona wants just the right amount of sweetness and the right amount of richness." Every ingredient is carefully vetted and selected, and everything is prepared on site, and the cakes are custom made for customers.
"We are about you," said Anna. "It is just for you."
Best Coffee | Gimme! Coffee
Gimme! is the coffee that started it all in Ithaca and it is still on top. Now for a ride in the way-back machine. Here is an excerpt from a 2001 article by Jessica Keitz: 
"Gimme Coffee's new incarnation, Gimme! Amour, located amidst the State Street construction, still seems scattered and sparse. The SoHo decor - pale oak tables, bright walls and metallic light fixtures and roasters - contrasts with the dust and noise outside. But Kevin Cuddeback, who opened the first Gimme! store on Cayuga Street about a year and a half ago, says that the situation will give them time to work out the kinks in the business.
"'I just figured that because the place is finished inside, it might as well be open. It'll give us a change to work out the bugs and get the system running, so when we do get a street out front, we can be prepared,' he said.
"Cuddeback noted another upside to the State Street construction. 'We have secured the regular, routine business of the construction people,' he said. 'On Monday of one week, they were drinking regular coffees. By the end of that week, they were drinking vanilla lattes and mochas. It's kind of funny how it all evolved'
"Besides, Cuddeback said, he expects only about 40 percent of the new location's business to be from the espresso bar. The rest comes from roasting coffee, a new enterprise for Gimme and for Ithaca.
"Gimme now roasts all of the beans for its own stores, in addition to selling them to local retailers. John Gant, who has roasted coffee in Alaska and certified coffee crops in India, is in charge of preparing the beans.
"'He's someone in the who's who of the coffee world,' Cuddeback said of Gant. Gant demonstrated the roasting process, from evaluating the raw beans to brewing the perfect espresso. His manner is like that of a wine taster, describing the way a new Ethiopian blend feels on the palate, or the aftertaste of a more common Indian roast.
"'Ethiopians are almost wild coffees,' he says. 'They're not really plantation coffees.' He compares the beans, showing how the Ethiopian ones come in different shapes and colors, with some defective beans thrown into the mix. By contrast, the Guatemalan blend in a nearby bag is a near uniform bluish-green.
 Gant says that quality control is important, but that the nuance of an exceptional coffee like the Ethiopian can override the need for uniformity. 'I wouldn't want to get rid of the excitement that comes out of that coffee,' he said."