When the ballot for the 34th annual Best of Ithaca poll first begins appearing in the Ithaca Times in August, some prospective winners go to work, telling their friends and clients to vote for them. Most people, however, continue on with their daily business just as they always have, perhaps filling out a ballot of their own, or perhaps even blissfully unaware of the contest at all. So, when we telephone people to tell them that they've won the responses can range from a triumphant "Ha! Excellent." (as in, 'My plan has succeeded!') to a completely stumped, "Really? No kidding." Happily, the response, "What's 'Best of Ithaca'? was recorded only once.
When you get right down to it, this is a small town, so the chances of the same business, person, place etc. winning repeatedly is a bit unavoidable. We try to keep that down to a dull roar by fielding different categories each year and inventing categories that are not obvious drop kicks for a particular person, place, or event. We don't always succeed. For example, Just a Taste restaurant walked away with three wins this year. We all have to face it; it is a really good restaurant. We brought back "Cheap Night Out" for the first time in a while, and Viva Tacqueria won again, just like they always do. For many years we gave up on the "Best Cocktail" category because Felicia's Atomic Lounge kept winning by a comfortable margin. When they changed their emphasis and moved to Trumansburg, it was safe to reintroduce it (and they got votes anyway).
The Best of Ithaca vote differs from a political contest in that the latter is multiple-choice, while the former is a fill-in-the-blank. Imagine what political elections would be like if you could pick anyone at all to be president or dogcatcher? You would probably have some surprise winners. It was not a foregone conclusion that out all the golf courses around here, that the public course would prove to be the most popular. And it was rather charming the miniature golf course at the Sciencenter chalked up a respectable tally.
Thanks to everyone who voted and congratulations to all the winners.
- Managing editor
Ithaca Times
Best ENTERTAINMENT
Best Community Celebration | Ithaca Festival
Ben Greenberg assumed the directorship of the Ithaca Festival last year and under his aegis some changes were made. The famous parade was moved from Thursday to Friday night ("to keep the momentum going") and the city-wide event was combined with the annual GIAC Festival, with a never before location being added at the new park across Court Street from GIAC.
"It's all about the whole community celebrating," Greenberg said of the festival. "It's a long standing tradition and it has developed a reputation."
The director has had plenty of experience as a concert promoter, but this was a "different endeavor," he said. "I loved that it was about getting out into the community."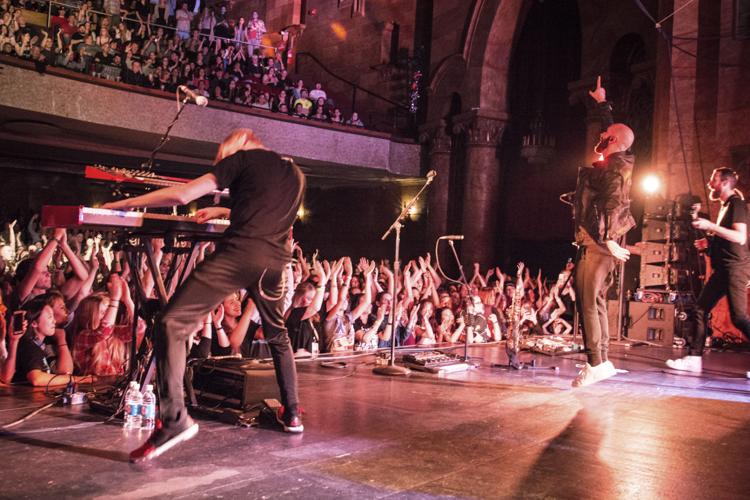 Best Singer-Songwriter | X Ambassadors
This hometown band has made the big  time and they returned to Ithaca in May to play a benefit for the State Theater. This seems to have been a memorable event for our voters and they bent the definition of singer-songwriter a little to give the most votes to brothers Sam and Casey Harris and guitarist Noah Feldshuh.
According to Jason Warshof's May 18 cover story on the band, "X Ambassadors, with previous names including the Fuzz Brothers and the Ambassadors, got its first break in early 2012, when its ballad 'Litost'—referring to a Czech term for a particular type of unhappiness once explored by Milan Kundera—was chosen for an episode of the WB television drama One Tree Hill." Yeah, that sounds like an Ithaca band.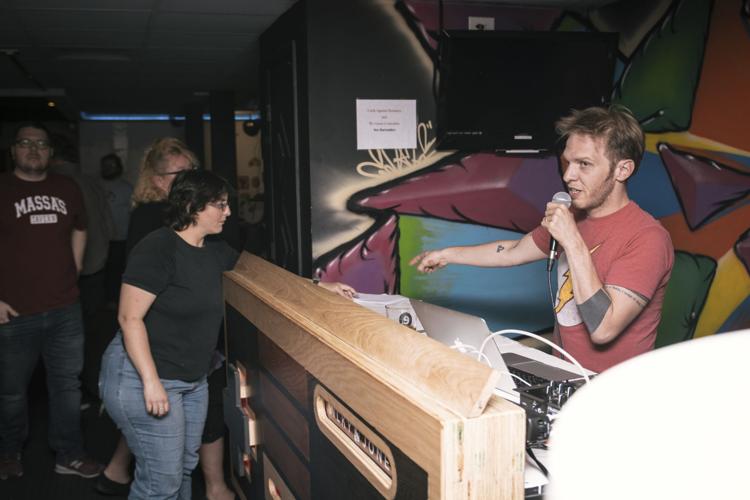 Best Bar Game | Silky Jones Trivia
"I'm still surprised," said trivia host Bob Proehl, upon learning his event had bested other entries like The Westy's Cornhole and the venerable games of pool and darts, "our regulars haven't mugged me on the way out yelling 'Who's got the answers now?', so this is a nice vote of confidence. Or at least tolerance."
Re-launched in November 2012 with Proehl at the helm, the trivia contest convenes on Mondays at 9 p.m and Bob promises to get you home in time for the 11 o'clock news. When Bob is out of town being a rock star author, Ben Mumford-Zisk fills in.
Best Public Radio Station | WSKG
The highest vote-getter, Z95.5, is not actually a public radio station. Well, it's a public radio station in the sense the the public listens to it but we were looking for a public-radio station, as in commercial-free and generally broadcasting NPR or Pacifica programming.
The top public-radio station vote-getter was Binghamton's WSKG-FM (90.9 on your dial in Ithaca). The station broadcasts NPR shows like "All Things Considered," "Morning Edition," and "Wait, Wait Don't Tell Me."
Other public-radioish station runners-up included WICB-FM (91.9), the Ithaca College station, and WRFI, the community radio station (88.1) that carries a lot of Pacifica programming.
Best Location for a Party | Stewart Park
The two most popular places to have a party were both more or less outdoors and available for reasonable rates. Ithacans, it would seem, are not out to impress their guests, but to put all the resources into food and drink and have a gosh darn good party. 
Stewart Park, owned and maintained by the City of Ithaca, racked up the most votes. The park has no entrance fee. If you want to rent the Large Pavilion and are having up to 24 guests, then it costs $40. The application form (which includes all the rules) is available at cityofithaca.org.
The second most popular location was collectively our three state parks: Taughannock Falls, Robert Treman, and Buttermilk Falls. Pavilion rental there ranges from $50 to $175 and can be done through NYSParks.com.
Best Place to Go Dancing | Lot 10 Lounge
Each Wednesday night Djug Django convenes for an evening of gypsy jazz, singing and dancing. The collective features a group of regulars (Doug Robinson, guitar and vocals; Dave Davies, guitar, vocals, and trombone; Harry Aceto, guitar; Eric Aceto, six string violin; Brian Earle, clarinet and occasional vocals; Jim Sherpa, low-down washtub bass; Al Hartland, drums and; Chad Lieberman, piano) and their guests. Vocalists are invited, as are dancers. Things get going gradually after 5 p.m.
Best Local Theatre Production of 2016 |
In the Heights at the Hangar Theatre
Many balloters took this to mean "Best Local Theatre" and they voted for the Hangar Theatre over others in town. We were actually looking for everyone's favorite production and the one mentioned most often was In the Heights, the Lin-Manuel Miranda musical that packed the house in July. "It killed," said Michael Barakiva, the newly appointed artistic director at Hangar. "It was something like 90 percent capacity for the run." In the Heights was programmed before Barakiva came aboard, but he called it a "dynamic musical" and liked the "diversity that it offered."
Barakiva accounted for the popularity of the 355-seat Hangar by its support for both local and national artists. He noted that the cast of In the Heights was just such a mix. "It is the foremost learning theater in town," he claimed. "We put seasoned veterans together with beginning actors. It's a grand space where great things can happen."
Best Local Art Exhibition |
The Electrical Utility Boxes
In July our reporter Erica Dischino attended a meeting of the City of Ithaca Public Arts Commision. They were deciding among proposed murals for more the electrical utility boxes around town. Our readers made it clear that this is the Best Art Exhibition in town. As with the Best Theatre Production question, many folks listed a gallery rather an exhibition. The art on the power boxes was the only exhibition that people recalled, obviously because it is part of their everyday lives, rather than on a gallery wall for a month.
There are currently around 35 electrical-utility-box murals to be found around the city of Ithaca. The mural information will be posted on neighborhood listserv, the Downtown Ithaca Alliance will send a notification to their members and a postcard will be sent out to anyone who lives within 200 feet of the box, informing of the new murals. 
According to Dischino's article: "The boxes have a high level of creativity and diversity," said CAP executive director John Spence. "They were all created by individual artists and almost everybody has a favorite box or one that will stop them in their tracks. The level of work and detail put into these creations is just amazing. There's really something for everybody." 
"When you're taking something that is usually an eyesore," PAC member Carol Mallison said, "and turning it into public art, people are going to want to do it."