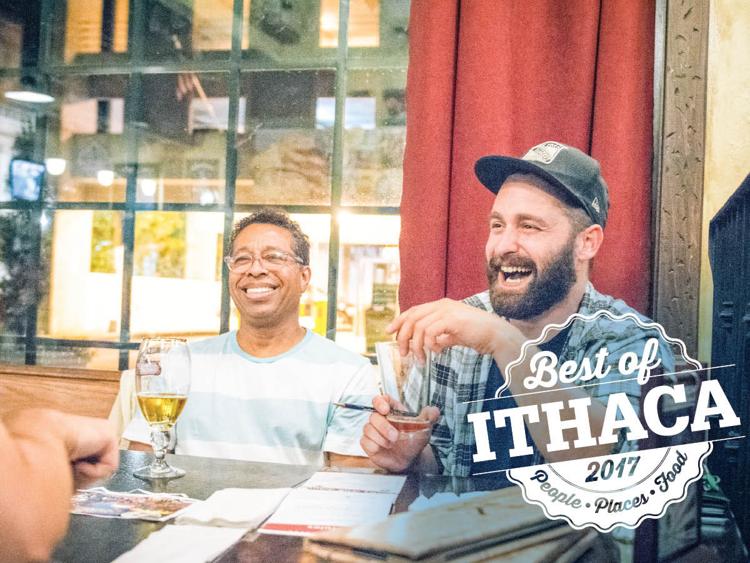 Best Game Night | Kilpatrick's Pub
The trivia contest that is held every Monday night from 8 to 10 p.m. at Kilpatrick's pub in the Seneca Place building on Tioga Street is actually run by a national company based in Denver. The company is called Geeks Who Drink, and they run the trivia night activities at The Haunt too. Both weekly events have the same host, Kavi Kardos. She auditioned for the job in Austin in 2011 and has worked in marketing and PR for Geeks Who Drink, but her real love is hosting the contests.
Kardos, who has degrees in writing and publishing from Emerson College and the University of Houston, moved to Ithaca recently to work at the Roper Center for Public Opinion Research. She took over the trivia nights from Adrienne Huffman. "I like everything about these contests," she said. "I like playing too; I will play most nights of the week when I'm not hosting." Kardos said the trivia night makes a great first date and is also a great way to show off in front of your friends.
"Most nights it's packed," she said of Kilpatrick's trivia night, "especially since school started again." The contestants include a lot of graduate students and some undergraduates, but also, Kardos noted, a surprising number of primary school teachers.
Best Local Theatre Production | A Funny Thing Happened on the Way to the Forum @ The Hangar Theatre
"We're thrilled with the consistent support from the community," said the Hangar Theatre's managing director Josh Friedman. The theatre does one musical per summer and it is always the production that draws the largest audiences. This summer was no exception. While Friedman said numbers for Funny Thing … did not compare with the huge crowds that came to see Lin-Manuel's In the Heights last summer, but Ithaca Times readers certainly liked it. "It did well," Friedman said, "which is typical for a musical."
We reached artistic director Michael Barakiva in New York: "We are so honored to receive this award again. I chose Forum because it is a celebration of comedy, theatre and most of all joy, which is what the Hangar is all about."
Friedman is already looking forward to the holiday season, when the Hangar will inaugurate a new tradition: they will stage A Christmas Carol, including a free community performance to kick off the run. The director said the funding is in place to continue doing the play on an annual basis. It is part of an effort to make the theater a truly year round space. When Friedman arrived in Ithaca six years ago only 1,200 people passed through the Hangar's doors between summer seasons. Last year the number was 15,000.
Best Beginners Hiking Trail | Taughannock Falls Gorge Trail
Best Advanced Hiking Trail | Robert H. Treman State Park
Fred Bonn, the regional director for state parks, was pleased to learn that two of the state park trails were considered "best" by Times readers. The Taughannock Falls gorge trails is the perfect for first-time visitors, Bonn said. "A flat trail is extremely appealing because you can take along all ages and sizes. It's also a good distance; it's about a mile and a half round trip." 
And although it is relatively short and flat, it isn't at all boring. "It's well shaded in the summer," Bonn noted, "and there is a great 'reveal' at the top of trail when you come around the corner to see a 215-foot waterfall in a huge amphitheater."
Bonn said that recent work at Robert H. Treman State Park has included building new staircases from the park office in the lower park up into the gorge. "The work was done by the Excelsior Conservation Corps," the parks director said. "It's modeled after the Civilian Conservation Corps. The work made the gorge far more accessible."
Out-of-towners learn about the trails through social media, Bonn said. People post photos of themselves hiking. State park staff actually monitor the number and content of these posts. "But for the residents," he said, "these parks are their backyards."
Best Cultural Asset | The State Theatre
"It's a great honor," said State Theatre executive director Doug Levine of being voted Best Cultural Asset. It is a broad category. "There are so many other things that could be considered assets—the Commons, the farmers' market—but maybe we were recognized because we add so much to the culture of downtown." 
Over the last nine years, since the theatre became a non-profit organization, it has steadily expanded and diversified its offerings. "It's a theater for everyone," Levine said. "It's working for a number of reasons: our board of directors, our relationship with Dan Smalls Presents, our staff, and our volunteers." The shows have sponsorships from businesses, foundations, and individual donors. Levine considers the theatre, which is now on sound financial ground, to be "community owned."
Best Open Mic | Lot 10 Lounge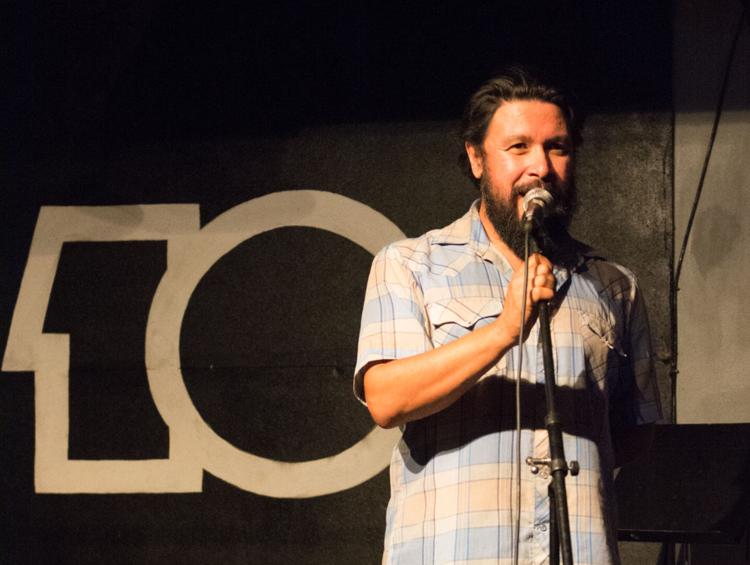 In August the Ithaca Times did a "round up" of open mic nights in and around Ithaca. We managed to identify 11 of them. And then the 12th decided to go and win the "Best Open Mic" category in our own service. Um, oops.
The open mic event, hosted by Sir Leon, occurs each Tuesday at 9 p.m. Each week performers wow the audience while tuning into their stage genius, according to the Facebook page. Lot 10 won this Best of Ithaca category in 2013 too: "We do a Tuesday night open mic that caters more towards music, although we have had a little bit of everything place," said Lot 10's Matthew Riis. "Our co-hosts Leon and Amanda also help to make the night fun and engaging but I think the bottom line is the people in attendance, whether working, performing, or viewing. We are blessed to have some wonderful regulars and staff alike."
Best Sounds of Summer | CFCU Concert Series
Tatiana Sy, the events coordinator for the Downtown Ithaca Alliance, is the person who puts together the CFCU Concert series that happen on the Commons each Thursday night through the summer. She tries to mix it up. "I'm trying to create a culture of discovery," she said. "I want people to do more than show up to see their favorite band. I want people to think 'It's Thursday; let's go down to the Commons and see the band."
It is Sy's third summer of coordination and she thinks she's making progress. "Children just take over the space on some nights," she said. "It is really good that families feel comfortable coming down here."
The line-up includes reliable staples and Sy gets those in place first to "form a foundation." She starts fundraising for the concert series in February or early March and starts listening to bands as potential bookings. By April sponsorships should be in place, but the majority of the funds for the series come from concessions, which is a bit of a wild card. "The sponsors give us legs to stand on," she said, "and then we bet on the concessions."
"There's always someone [a performer] that you know you want," Sy said. "I noticed a few years ago there was a pocket of the community that didn't have a mainstream space. I was able to address that recently." She booked the Cosmic Joke Collective, which is a band of local artists who cover other local artists. "It's kind of an odd way to get introduced to local music, but it works," she said.