Not everybody likes a popularity contest, but a lot of people do, and they vote every year in the Best of Ithaca poll. We collect entries in August and September and tally them up
Every year we try to come up with categories that don't repeat ones we've put out there the previous year (or two). We also try (not always successfully) to avoid categories where the winner is going to be an obvious walk away. For example, while hundreds of people are sad that Felicia's Atomic Lounge has closed (but will open retooled as something else in Trumansburg), at least now someone else can win the Best Craft Cocktail category.
When we call up the winners to let them know that they are popular, nearly all of them are quite pleased and most of them are quite taken by surprise. Business people are of course trying to be popular in order to stay in business, but a Best of Ithaca win is a nice little affirmation that they are in fact succeeding at being popular.
We hope that some of these categories will open your eyes to some new possibilities as well. Maybe you never thought about which view of the Cornell campus was your favorite and furthermore you might disagree with the popular choice and start making new judgements as you drop into Ithaca from various directions. Or maybe you are new in town (hi there, freshmen and new faculty and staff) and were not aware of how drop dead gorgeous (sorry) Cascadilla Creek's rockbound valley is.
You can also use the Food section as a restaurant guide, the Entertainment section as a vetting tool for reading the TimesTable, the Places section as a field guide for where you spend your free time, the People section for who to turn to when you want the job done and done wright, and the Essentials section as a sort of abridged Angie's List, if you are one of those people who follow trends. (We try to devote all our other issues to the people who make them.)
In an case, the Best of Ithaca is a summary of where people are hanging out, what they are doing for fun, who they think is doing a good job, and where they go to get what they need. 
Enjoy,
Managing Editor
Best ESSENTIALS
Pet-related Business: Ithaca Grain & Pet Supply 
"Wow, that's great!" said Kristy Morehough, the manager of Ithaca Grain & Pet Supply. "I always thought we were the best. It's nice to know other people think so too."
Morehough has worked at Ithaca Grain for five years and been the manager for two. She believes that the popularity of the business is rooted in the quality of their customer service. "We know our products," she said of her employees. "We know where they come from and how they work. And we're all animal lovers, so we can speak from personal experience."
Ithaca Grain, which is near the Brindley Street bridge off West State Street, has been under its current ownership since 1997. It has been more of a grain store, but the new owner took it firmly in the pet direction.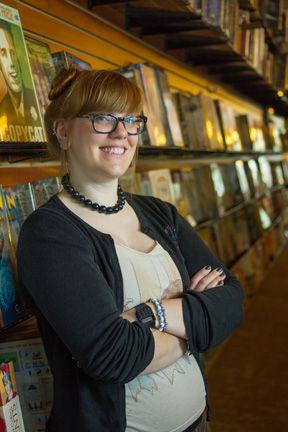 Geek-friendly Business: Enchanted Badger
"Geek-friendly" is far from a pejorative these days. Geek culture includes the playing of immersive games in a social setting. These games can go on for hours or days and people playing them can come from all demographics. They all meet at Enchanted Badger on Elmira Road to play them and to buy them.
"We sell board games and magic card games," said Stacia Humby, who owns the store with her husband Sean. "We don't sell anything electronic, just old-school analog games. But being local and small, we don't compete with other stores that sell mass produced games. Once you delve into what's out there, you'll find that there's something for everyone. It ranges from some that involve zero luck and massive strategic planning to card games that are just silly fun."
"People who like these games tend to be people who enjoy thinking," she said. "They call it 'brain burn'; they unwind by winding their brains up. You can't think about much else when you are wrapped up in a board game. You are aware of what the other [players] are doing, but you are leaving out the rest of the world and focussing on the complexity of the game."
Fitness Trainer: Kathy Lucas 
Fitness training is something a lot of people do and there are a lot of fitness trainers out there. Why did more people vote for Kathy Lucas than anyone else? We asked her what distinguishes her approach from others she had experienced, witnessed, or heard about?
"I'm an unconventional fitness trainer," she said. "My approach to training includes unconventional tools such as Steel Clubs, Gymnastic rings, P-bars and a full - creative range of bodyweight moves and sequences. So by learning to use these less than ordinary tools, my clients find a deeper sense of movement awareness which brings them to a greater appreciation and understanding of how to move well. "
What does she enjoy about working with people to improve their fitness? "My greatest joy," Lucas said, "is to observe clients who start from a place of resistance to exercise—to then becoming intrigued by what their bodies are capable of and then finally connecting to how it empowers them."
Lucas is a fitness trainer, but what is her definition of fitness? "To me, fitness is not only related to the physical, but instead permeates all aspects of our lives," she said. "When we commit to it, our choices change and we discover a better quality of life."
Clothing Store: TJ Maxx
In addition to being selected as Best Clothing Store, the success of TJ Maxx locally might be measured by their recent (Aug. 20) move from a space up at the Cayuga Mall to a larger space in the old KMart building on Elmira Road.
There are more than 1,000 TJ Maxx stores around the country and over 300 in Europe. They were founded in 1976 in Framingham, Massachusetts as another face of the Zayre discount department store chain. 
All TJ Maxx stores support the Save the Children campaign and in 2005 donated $1.25 million to the charity. 
Thift/Second-hand Store: Trader K's and Salvation Army (tie)
"Awesome," said Jessie Williams, the manager of Trader K's, when she was told that her store was the most popular thrift store in town. She then high-fived her nearest colleague with whom she was sorting clothes.
The store is on the Commons, located across the way from Petrune and near several other clothing stores. They are celebrating their 20th year in business this year.
"They like us because we're part of the community," said Williams. "We have something in here for everyone. We've got luxury items and we have budget items, everything from the fashionable to the conventional." In Trader K's, she said, you can find anything from clothes that used to hang in KMart to clothes with the Anthrology label.
"Everybody comes in here," Williams said. "from college students to a family of four. That really happened: a family of four came in." They all left with clothes.
Trader K buys from 75 to 100 people each day. At the end of the day the staff gets together and sorts everything they've received into "genres." From there it goes into a large storage area below the store. "We pull things from there as they're needed," said the manager.
"Some other stores are more computerized than we are," Williams said. "But to do it this way you need knowledgeable employees. I would rather hire people, train them, give them skills, and pay them more."
The Salvation Army is located out on Elmira Road across from the Tractor Suppy. The Salvo is wonderful for some of the same reasons as Trader K's. For one thing plenty of families of four walk in there and walk out with new additions to their wardrobe.
Our former web editor loved the Salvation Army because they sort all their clothes according to color. (She dresses almost entirely in black).
Nail Salon: Miracle Nails and Ashley Nails (tie)
Miracle Nails on Elmira Road is a bit more than a nail salon. They are also a spa and you can get a massage there. Their Facebook page has 832 likes and 378 of those folks (male and female) have also been to the business. Since Ithaca isn't exactly a place where men have their nails done, we presume that some of the votes might have been for the spa.
Ashley Nails, which is on Fulton Street in the West End, is focused on nails, just like the places that are never quite out of sight as you drive through the center of Long Island. Given their tight focus, their tie with a spa that does nails is impressive.
Place to Buy Jewelry: Mansour Jewelry
"How 'bout that," said David Abdulky, the owner of Mansour Jewelry, one of the older stores on the Ithaca Commons. Mansour has won popularity contests before, but Abdulky is humble about it.
"I owe it to my customers," he said. "If that is what the customer feels, then that's great."
Why do people like Mansour? "We try to get people's confidence," the owner said, "and I guess we do. You have to do ten times more than the customer expects you to do."
Abulky opened his retail business in 1979 and he was a jewelry maker before that. In fact, he still is a jewelry maker.
"It's important that there is a feeling of belonging," Abdulky said. "It's your place. We think of every customer as a friend. You always want to do your best. You fill a need."
Selling jewelry is a happy business, he said. People come into his store to celebrate happy occasions. Even if someone in a little trouble, he noted, he is at the jewelers to make it right again.
Family Doctor: Dr. Robert Breiman of Family Medicine Associates
Dr. Breiman was a little dubious of these "best of" ballots. He wasn't sure that it was right that a single physician should be singled out as the "best." 
Breiman has been practicing medicine for 39 years and he has been a family doctor for his entire career. Family doctors take care of both kids and adults.
"Family practice is alive and well," he said. "We enjoy developing relationships with our patients over the years, watching them grow up."
Family medicine, said Breiman, is about listening to your patients. He still makes house calls (now called "home visits") for people who are not able to make it to his office. Family Medicine Associates of Ithaca has two offices: one on Brentwood Drive off Warren Road and one right downtown on West State Street between North Albany and North Geneva streets.
"A goodly number of local doctors will still go out on a home visit," said Breiman. "It's good to see a patient in their own environment."
Breiman was concerned that medicine had become rather consumer oriented. "But I think the old relationships are good," he said. "You take care of people."
Category We Forgot to Include: Best Hair Salon
We included this category last year, sort of. We asked our reader to name the Best Hair Stylist, and Sean Kee of Resistance got the most votes. Kee opened Resistance over 20 years ago, a long run for a salon. As he is still open, we will probably wait a bit before we let him win again.
Best FOOD & DRINK
Gourmet Burger: Ithaca Ale House
Bar Food: Ithaca Ale House
John O'Leary, the owner of the Ithaca Ale House, said that his food is good because everything is fresh with no frozen or pre-made ingredients on the premises.
"It has always been that way," he said, "because we don't have any storage, so we have to get everything in every day and make it fresh."
The Ithaca Ale House has been part of "restaurant row" on North Aurora Street for nearly a decade; they will celebrate their tenth anniversary next May.
How does he put together his popular menu? "We do a lot of specials all the time, both lunch and dinner," said O'Leary, "and we get a lot of feedback."
Ithaca Ale House has been doing a "Burger of the Week" for a while now and folks now walk in asking for one.
The meat in Ithaca Ale House burgers is not artisan beef. O'Leary buys his ground beef from Maines, but every burger he serves is Black Angus with an 81 to 19 lean to fat ratio. He has looked into using local raised beef, but he is waiting for the quality to become more consistent before he adds it to his menu.
Food Truck (Food Cart): Circus Truck
The Circus Truck, a dramatic mix of culinary art and street food—think cirque nouveau cuisine—is a gastronomical spectacle. Recently re-located from its prior location on West Seneca Street, it's currently stationed at 720 W. Green St. next to the Finger Lakes Beverage Center (also in the Ace Security parking lot), and the good news is it looks like it's here to stay.
A cross between an edgy cosmopolitan eatery and a good old-fashioned diner, the Circus Truck takes a big-tent approach. It shares the best attributes of a greasy spoon—namely comfort and a casual approach—but serves up phenomenal pastas, and unique iterations of classics.
Owner J.P. Vico is a chef who honed his skills at Ithaca restaurants as varied as Pangea and Wes' Corner Diner.
Food prep at the Truck is a practiced performance: everything is cooked to order. Take the pasta ala vodka. With a sauce prepared before your very eyes in a fiery fury, and pasta perfectly al dente, it's a great showpiece, but also satisfyingly fills stomachs. Vico plays the perfect ringmaster—half-showman, half-carny. At $8 or thereabout, you'd be hard pressed to find a better version in upstate New York.
(Luke Fenchel reviewed the Circus Truck in November 2013. Vico won the "Best Food Truck" category that year too.)
Gluten-free Options: Greenstar Cooperative Market
"We have many, literally hundreds of gluten-free options throughout our stores," Greenstar Marketing Manager Joe Romano said. "We have had gluten-free foods before it was a "thing." Now, there are so many to choose from, we make our selections based on taste, customer demand, and of course we try to find options that are lower priced, because you shouldn't pay a premium to eat gluten free."
If you walk the aisles of the Greenstar flagship store in the West End (they also run Oasis on East Buffalo Street and are soon to open a store in Collegetown) he can show you all kinds of gluten free foods.
Some of them are the "naturally gluten free" foods, like all those fresh fruits and vegetables, but there is also a cooler full of gluten-free breads and a large selection of gluten-free pastas made from rice, quinoa, and other grains.
But perhaps most impressive and to some more attractive are the gluten-free options in the bakery department. The whole top shelf of the display case, said Romano, is gluten free. This includes a torte made with ground nuts and frosted with something that reportedly tastes quite a bit like chocolate.
There are also a host of gluten free cookies hanging on the wall, packaged and ready to go.
Restaurant for Delivery: Taste of Thai Express
Food critic Henry Stark reviewed Taste of Thai Express shortly after it opened at its present location on Meadow Street.
"How many times have you driven north on Meadow Street without stopping at Taste of Thai Express? I do it all the time because, from the shape of the building and the name of the establishment, I jumped to the conclusion that it was either a fast food restaurant or a grab-and-go type establishment.
"I was wrong.
"I now know it's a sit-down restaurant serving a wide assortment of authentic, artfully seasoned Thai food that happens to have an unfortunate name. It actually had its first incarnation in April 2003 on West State Street and opened at its present site on Jan. 15, 2010. That's when co-owner Sirathorn Balakula and her husband Akhin Pancharoen finished adding a second floor and constructing a large kitchen in the building that used to house Collegetown Bagel Express." (posted to ithaca.com on Sept. 16, 2010)
Cheap Eats: Viva Taqueria
Apparently the Ithaca Times last reviewed Viva Taqureria in 2001. We ought to do something about that. Here is writer Bridget Meeds in the cantina oh so many years ago:
"My brother lives in Maine, and his favorite restaurant is a Mexican place. I always thought this odd. But one snowy winter, I visited him there. And then I understood. There's nothing like bright cheery Tex-Mex music and zesty food when it's ten below outside.
"Thus, as I approached Viva Cantina one recent cold January night, I was pleased to see the lights glittering in the windows. When I stepped inside, I unwrapped my scarf from around my head, and took a deep breath of the warm scented air: Ahhh, the scent of summer. I was feeling warmer already.
"What a joy it was to eat Viva Cantina's fresh, well-cooked foods in the midst of an Ithaca January! Outside it may have been frigid, but inside, it was July."
It's nice to know that at least one thing in town hasn't changed since 2001.
Upscale Restaurant: Just a Taste
Place to Take a Date: Just a Taste 
We've reviewed Just a Taste many times over the years, most recently Luke Fenchel wrote them in March 2014:
"Just a Taste is a tapas restaurant not limited to the flavors of Spain or the traditions of any cuisine. An intimate eatery located on North Aurora Street midway between State and Seneca streets, it represents the geographical and conceptual epicenter of Ithaca's Restaurant Row. 
"Small plates sourced locally with multicultural influences and modest prices make this no-reservations space densely packed seven nights a week. This enoteca—or wine bar—combines a communal-style approach to eating borrowed from Europe, a casual and unpretentiously cosmopolitan air common to Tompkins County, and a quirky flair that is all Ithaca. With a rotating menu, candlelit tables, local art on the walls, and a gated-in garden that offers the most rustic summer outdoor seating downtown, Just a Taste boasts the most eclectic eating experience in town."
Finger Lakes Brewery: Ithaca Beer Company 
Last year when one of our Open Ended Questions was "What is the best Ithaca made product," Ithaca Beer won by a comfortable margin.
"That's great news," said Gregg Stacy, their marketing director, when he was told of their 2015 win. Stacy is new to the brewery so in effect it was his first win.
"We've transcended the local brewery definition in some ways," he said, "although a lot of people are coming to our place and we do remain locally focused." The brewery restaurant includes outdoor eating, a bocce court, and Frisbee games for kids, so it's obvious that Ithaca Beer is invested in its local retail effort. But they also make 28,000 barrels of beer per year (a barrel is 31 gallons).
Their standout brew (which has also won a Best of Ithaca award) is Flower Power. "It's regionally recognized as one of the best in its category," said Stacy. "Beer Advocate, which is like king of the beer geeks, named it the number one IPA in New York State." Ithaca Beer is the sixth largest craft beer maker in the state.
Craft Cocktails: The Argos Inn
The Argos Inn actually beat Felicia's Atomic Lounge by one lone vote to win this category. The inn and bar seemed to be under construction for quite a long while. In June 2010, then-Ithaca Times reporter, now alderperson Seph Murtagh wrote about the progress of the construction:
"Over the years, the historic white property at 408 State St. has had many names: the McCormick-Cowdery House, the Duncan Hines Institute, and most recently, Unity House. Now, thanks to a local entrepreneur named Avi Smith, the building is set to have a new name: the Argos Inn.
"Smith purchased the property last year and is renovating it with the plan of turning it into an eleven-room boutique hotel with a downstairs bar and lounge. He said smaller hotels like this are becoming popular in cities like New York and San Francisco where they serve as alternatives to chain hotels.
"'It's going to be different from the typical hotel,' Smith said. 'We want it to have the feel of a country inn, like a traveler's hotel, warm, welcoming, with a big dining room. They'll be a nice bar downstairs too, with a cocktail list like the ones you find in Manhattan.'"
Comfort Food: State Street Diner
In October 2012 an electrical malfunction caused a fire that closed the State Street Diner. It took 25 minutes to put out the fire and and seven months to repair the damage and reopen. Since it opened its doors again in May 2013, the diner has not been a 24-hour eatery, which had been 1951. 
The State Street Diner won "Best Breakfast" back in 2008. Here's what writer Pam Goddard had to say:
"Owner Stavros [Stavropoulos] says, 'Thanks. We take pride in our work and our staff is doing a great job. The diner has been here since 1936. There are regulars who come every day. There are students through the week, office, and working people. For a lot of people, it's an Ithaca tradition. People who come to reunions make a point of stopping in. We just try to be consistent and serve Ithaca as we have for over 70 years.'"
Pizza Restaurant: Pizza Aroma 
Maurico Rosa has won this category many, many times before. In fact, we're not sure why bother to include it, but Rosa was pleased all over again when he was given the news.
The key to the quality of his pizza is in the ingredients, according to Rosa. Everything that goes into the crust and on top of it is fresh and made on the premises.
Pizza Aroma pies walk a middle road between a thin Neopolitan style crust and a thicker Chicago style. Rosa also dusts the bottom of his crusts with corn meal, which is a common practice in the Greek pizzerias of Massachusetts.
In fact, Rosa come to this country from El Salvador in 1983 and found himself at first in the college town of Amherst, Massachusetts. He began working at pizzeria called Pinnochio's and on the first Friday night he was there someone did not show up and he ended up making pizzas by himself. He had never made a pizza before in his life, but apparently he had a knack.
Later instruction was complicated by the fact that his teacher at Pinnochio's spoke mostly Italian and Rosa at that time spoke only Spanish. They found some common ground in their Romance languages and Rosa learned the trade.
He moved to Ithaca 22 years ago, and 18 years ago he opened Pizza Aroma. Then the Best of Ithaca awards started rolling in ...
Pizza Delivery: Sal's Pizzeria
In April 2012 the Ithaca Times staff did a survey of Ithaca's pizzeria, a sort of critic's "best of." Danielle Winterton volunteered to write Sal's:
"We were delighted to find Sal's, located at 222 S. Fulton St., which felt like a piece of Italian Brooklyn in our own backyard. Our pizza was actually served on white ceramic plates, a much appreciated detail, and the self-service beverage area includes large glass cups for drinking water. The pizza was fantastic. The crust was doughy and crispy, the cheese scrumptious, and the sauce delicious. None of the usual pizza downfalls were here: no saltiness, no oily residue, no heavy disproportionate cheese-to-crust ration. Prices are affordable and table service is included. Our server offered to bring us shaker cheese, peppers, oregano or garlic when he served our slices. Highly recommended."
An on line comment about their delivery service was more terse, but said it all: "The delivery arrived on time, and the pizza was hot."
Healthy Menu: Moosewood
Moosewood Restaurant was established in 1973 and is arguably what most people in the country think of when they here the word "Ithaca" (sorry Cornell). 
Having said that, we don't seem to have reviewed it since 2005, when Mark Finklestein wrote this: "Conscious of its role as a vegetarian trend-setter and guide to those setting out on the journey to vegetarianism and healthful eating, Moosewood consciously offers dishes inspired by an astonishing array of international cuisines. Recent menus have included items of the following origins: Szechuan, Russian, Creole, Mexican, Greek, Italian, French, Hungarian, Spanish, Middle Eastern and Indian - a virtual United Nations of the Vegetable."
Best PEOPLE
Local Facebook Account: Svante Myrick
In a valiant and failed attempt to have a personal life separate from his public life, Mayor Svante Myrick actually has two Facebook pages. His personal account is followed by 8,592 people and 2,921 people "like" the one labeled "Svante Myrick Politician". He posts more frequently at the personal one, but there is personal and political content on both feeds. Gloria Steinem was right; the personal is the political.
Local Twitter Account: twithaca
The mayor came in second in this category. Twithaca or more exactly #twithaca is essentially a calendar and a billboard mashed together into a linear feed. You'll find everything here from how many slots are left in a particular pottery class to the latest stories posted by local news organizations to their websites to shout-outs asking for advice or direction. It's an electronic town crier.
Cab Driver: Adam Levine
Our columnist Stephen P. Burke knows Adam Levine well. They like to watch sports together and Levine is in Greenstar, where Burke works, "like, every day."
"Adam has that old-school cabbie quality of being a great talker," said Burke, "practically Olympian. But he is new-school in being genuinely warm and sweet, and concerned about individuals, the community, and the world. No surprise he is cited as Ithaca's best!"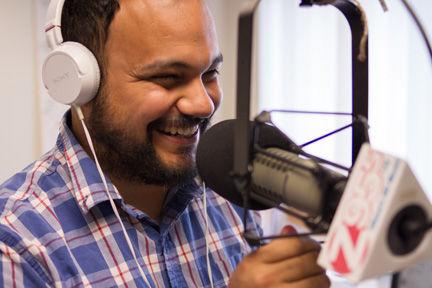 Local Radio Personality: Gabe Young on Z95.5 (WFIZ) and Dan Cole at WVBR (tie)
Gabe Young has been in Ithaca at Z95.5 since 2011 and shortly after his arrival he became the host of the morning drive show, Monday through Friday, 7 to 11 a.m. When told that he had been selected as the "Best Local Radio Personality" he confessed to being "almost speechless" and admitted that isn't a good trait in a radio personality.
"I enjoy making people happy and getting them through their day," he said. "The power of radio is sharing our stories with each other; it's a great reciprocal relationship." The format of Young's show is "music intensive," but he takes calls, tweets and texts throughout his four hours on the air.
Dan Cole has been doing Tuesdays With the Band at WVBR-FM every week at 6:15 p.m. for nine years. "I did it for a few months before I started having live bands," said Cole. "In the early years if I was out and saw someone I liked, I would contact them. Now they contact me; the bands do all the work."
Cole got into radio by taking Don Bazeley's broadcasting class at TC3. Bazeley's mantra was "Talk minus action = zero." So Cole approached the Cornell student station during a winter break and found a berth.
"It comes together easily now," he said of his live show. "I think I found my niche."
Entrepreneur: Scott Morris (Ithacash) 
Reporter Josh Brokaw did a Speakeasy with Scott Morris in April 2015:
"IT: How do you think an alternative currency can be used to promote local business to help the local community?
"SM: What I want to showcase with this currency is it's not just currency for the sake of currency, but with a deep connection to purpose. And that is what will help us make good on the commitment we've made to being a benefit corporation. That means an explicit commitment to generating a materially positive benefit for the community and society. This doesn't mean "corporate social responsibility." This is in our DNA—they're flicking a quarter over there and calling it corporate social responsibility. It's the middle ground between a nonprofit and a for-profit."
Ithacash began issuing actual notes in August.
Squeaky Wheel: Pete Meyers, Anna Kelles, Charley Githler (tie)
The above three people got a couple votes each in this category. Everyone else got one: TCAT; We Are Seneca Lake; Grace Ritter; Svante Myrick; Gay Huddle; Frost Travis; Jossiah; Ithaca City Hall; Joe Wetmore; the Grady family; Phoebe Brown; Jan Rhodes Norman; the magic guy; John Graves (South Hill Civic Association); Peter Stein.
Real Estate Agent: Jill Rosentel
Jill Rosentel justed started her 10th year in real estate. She has been with Carol Bushberg for four years and was with Audrey Edelman before that. Why did she get so many votes in such a crowded field?
"I am extremely patient," said Rosentel. "I do a lot of hand holding. I'm very knowledgeable, but I'm not a salesperson; I'm a facilitator. You can't get away with being a salesperson around here because people are so educated and they won't stand for it."
Also, she said, she is a lot of fun.
Rosentel was in the restaurant business, running the front of the house at Viva Cantina. She started developing carpal tunnel problems and asked herself what does a women with a sociology from Wells College do now?
Real estate. "It's a 100 percent service industry," she said. "You listen to people and give people what they want. I work all hours. I decided early on that you can't just work nine to five. You have to think outside the box."
Rosentel realizes that buying or selling house is a stressful thing. People are divorcing. They're first-time homebuyers. You name it. §