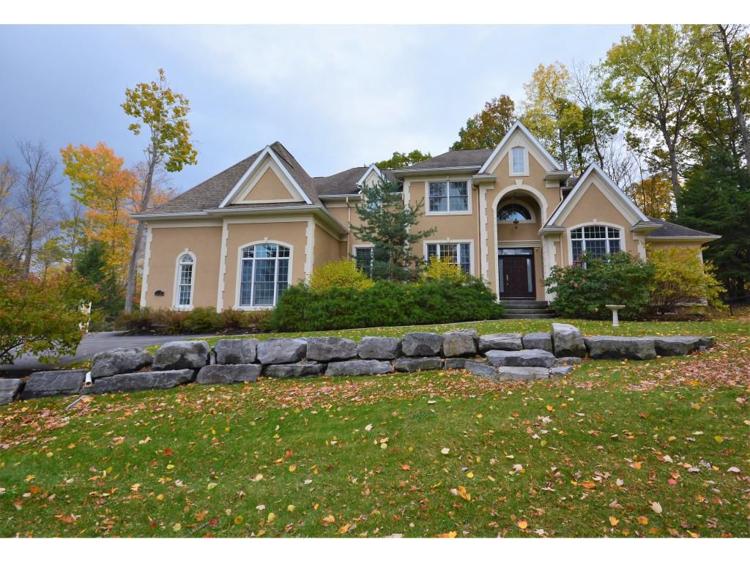 Some people have dreams of living on the water, falling asleep each night to the gentle crash of the ocean waves and awaking each morning to the sand and salt in the air.
Of course, if you're a fan of the water but don't want the crowds that come with the beach, 313 Old Gorge Road in the Town of Ithaca might just be the solution. Located in the small Southwoods neighborhood on Eldridge Gorge just off Route 179, the sprawling estate features a fenced front yard with a tall arching front door and a covered patio with a flat backyard that leads into a hilly forest and just a short walk to the gorge. There is also a small structure on the banks of the water that can be used for a variety of purposes.
While the outside is a naturally impressive landscape, the inside is modern and deluxe. Originally built in 2005, the house has a very open floor plan with a family/living room that overlooks the home's entrance. Before its conversion, that room used to be a home theater. The master bedroom was designed to emphasize natural light.
The house was previously owned by Jon 'Bones' Jones, the famous and infamous mixed martial arts fighter who is a native of nearby Rochester. His time in the house can be remembered by its massive, padded-floor basement, where Jones had built a gym for training. For your post-workout needs, there's also a wine cellar.
The gourmet kitchen is new, with all Viking cooking appliances and granite countertops. The property has a state of the art security system, and the house has tray ceilings and Brazilian Cherry floors throughout.
It's a two-story structure, with four bedrooms and five bathrooms, and a driveway that leads to an attached four car garage. In total, the house is more than 4,400 square feet. It's located in the Ithaca City School District.
It's been on the market for about four months with a listed price of $750,000.
Contact Jen Curley for any further information. There are two scheduled open houses for this property during this upcoming weekend, on March 11 and 12, both from 11 a.m. to 1 p.m.