Growing up in Old Forge, New York, Robert Barrett and his four siblings were familiar with Big Moose and Eagle Bay in the Adirondacks.The Barrett children were also familiar with making things work — large and small.
"My parents owned and operated the Bald Mountain House, a historic hotel. It included a dining room that seated 100 people, a tap room, bowling alley, [and a] three-hole putting green," Barrett said. "A crew of 30 people or more was needed to operate the hotel for the summer season. In the early years, families would come for the summer on the American plan and people would drive many miles, or arrive by boat to dine in the stately restaurant as well. There was a children's hostess for the kids' program, and it was a lively way for we kids to spend the summertime."
When Bob was 10, his parents closed the hotel and opened a campground to accommodate new trends in travel. Families had become more mobile, and camping was a less expensive, less formal way for families to get close to nature as they traveled around. A family member still operates Bald Mountain Colony Camping Resort to this day.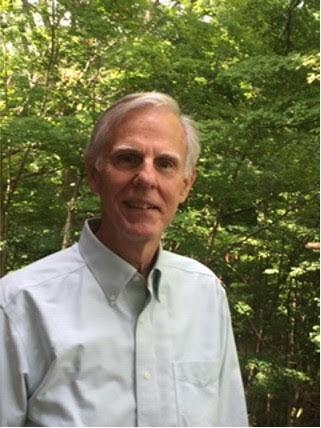 Growing up, Bob loved music and played the tuba, and in 1968 he made his first visit to Ithaca for Cornell Band Days. He remembers it rained all weekend, but many high school bands still played on the athletic field to a large audience in the stands. 
A year after Band Days, just as his family reached the entryway to Cornell on Eddy Street, the traffic was blocked. Cornell students were occupying Willard Straight Hall and other buildings to draw attention to racial inequality and other peace and justice issues. 
Since his father and his uncle had graduated from Cornell's Hotel School, Bob and his siblings considered Ithaca a great prospect for college. Eventually the "hicks from the sticks" returned when Bob and one of his siblings attended Ithaca College.
Bob studied music education with instrumentals at IC from 1971-1975. After a brief teaching stint, he received his master's in music performance (tuba). It was there he met and fell in love with how now-wife Nancy Veres, also a music student at IC. Nancy, a pianist, received her masters' in piano performance and Suzuki pedagogy before she took over the teaching studio of Patsy Reuning and Nancy Modell, who also passed along their array of students. Over the intervening years Nancy moved her studio to their home, where about 30 students came for instruction each year.
During Bob's years at the college, he became the housemate of Jan Delli-Bovi, a local piano technician. All those early years of repairing bicycles and outboard motors and woodworking on the hotel grounds proved valuable when he began assisting Jan. By the late '80s Bob owned Ithaca Piano Rebuilders and was already much sought-after as a talented piano rebuilder, repairer and tuner. 
A complicated mix of musical and mechanical talent and insight is required. Bob notes that it takes many years of working with pianos to be able to define the "color" of the tone that is optimal.
In 1982 Ithacan Sarah Gowin inherited a Steinway piano, built in 1908, from her grandmother. Bob comments that many of the older Steinways still have an incredible "voice." 
"When Sarah first inherited it, a piano technician rebuilt the piano action," he said. Now, after many students of all ages have played on Sarah's piano, Bob has replaced the hammers to create a richer sound. 
"Rebuilding pianos requires conceptualizing what it is I am going after in sound; then it requires technical skills to bring that goal to fruition," he said. "'What kind of sound am I seeking?' I want a warmer sound that has a wider range of color (tone) and dynamic range. Can it achieve subtle, gradual changes between all the colors; can those changes be controlled? Does the piano sound different when the music is played softly versus played loudly?"
Christina Colle Mead began studying piano with Trudy Borden when she was 10, and began summers with Sarah Gowin when she turned 11. Her parents bought a grand piano in New York City when she was in ninth grade. When Sarah married Paul Stearns, she became related to the Meads.
Christina and Jeb Mead's three daughters — Maggie, 16, and twins Rosemary and Laura (14 on Valentine's Day) — started piano lessons with Sarah when they were 5. Now Maggie plays the flute, Laura plays the cello (that was passed down from Paul Stearns' mother), and Rosemary plays both the violin and the piano.
Not long ago, Bob rebuilt Christina's piano. And Sarah also has a 1915 Mason and Hamlin grand piano that she purchased from Bob after he rebuilt it. Clearly the music world is close-knit, and Bob's work is renowned. One client added: "Bob has been such an important and consistent figure in our musical lives, and he is just such a kind person."
Many musicians and their audiences at Ithaca College, Cornell, Newfield High School, Ithaca High School, Corning Museum of Glass, and the Clemens Center savor the pianos restored, repaired and tuned by Robert Barrett.
For more information about sale, repair and tuning of pianos, contact Robert Barrett at the Ithaca Piano Rebuilders, or make an appointment to visit his studio in the South Hill Business Campus located at 950 Danby Road, phone: 607-272-6547.