Mohamed Maataoui loved his family and his home, but after earning a degree in physics in his homeland of Morocco, there were no jobs. When a close friend offered to help him apply for the Green Card Lottery to come to America, he wasn't optimistic.
When Mohamed was selected in 2003, he hurriedly packed and flew to the U.S. "I dropped everything," he said. "I rushed to the U.S. to meet the deadline." He did not have a place to stay and Mohamed spoke no English.
Today Mohamed gets up early and wakes his two children—his daughter, 9, goes to Belle Sherman; his son, 12, goes to Dewitt.
"They wake with me, laugh and joke with me. My wife Rachida joins us. We talk and pray and prepare for the day." By the time Mohamed leaves for work at 6:30 a.m., they have all had breakfast together.
Mohamed has worked for many years for the Ithaca City School District, driving a school bus. He provides individualized attention to each child with special needs who boards his bus. "Every single child, every person is important, valuable." He drives to and from Newfield, Enfield, West Hill, South Hill and Danby to make sure every child waiting for his bus is safely picked up and delivered. Education matters.
Mohamed and his family dreamed for many years of owning their own home. "We had some good landlords, but there are always worries when one is a renter. There are rules about children playing outdoors—we cannot paint the rooms without permission; we must notify management when relatives come to visit, and there are limits on how long they can stay, and where they are permitted to park... When you own your home, instead of paying rent to somebody else, you invest in your home, in your family's future."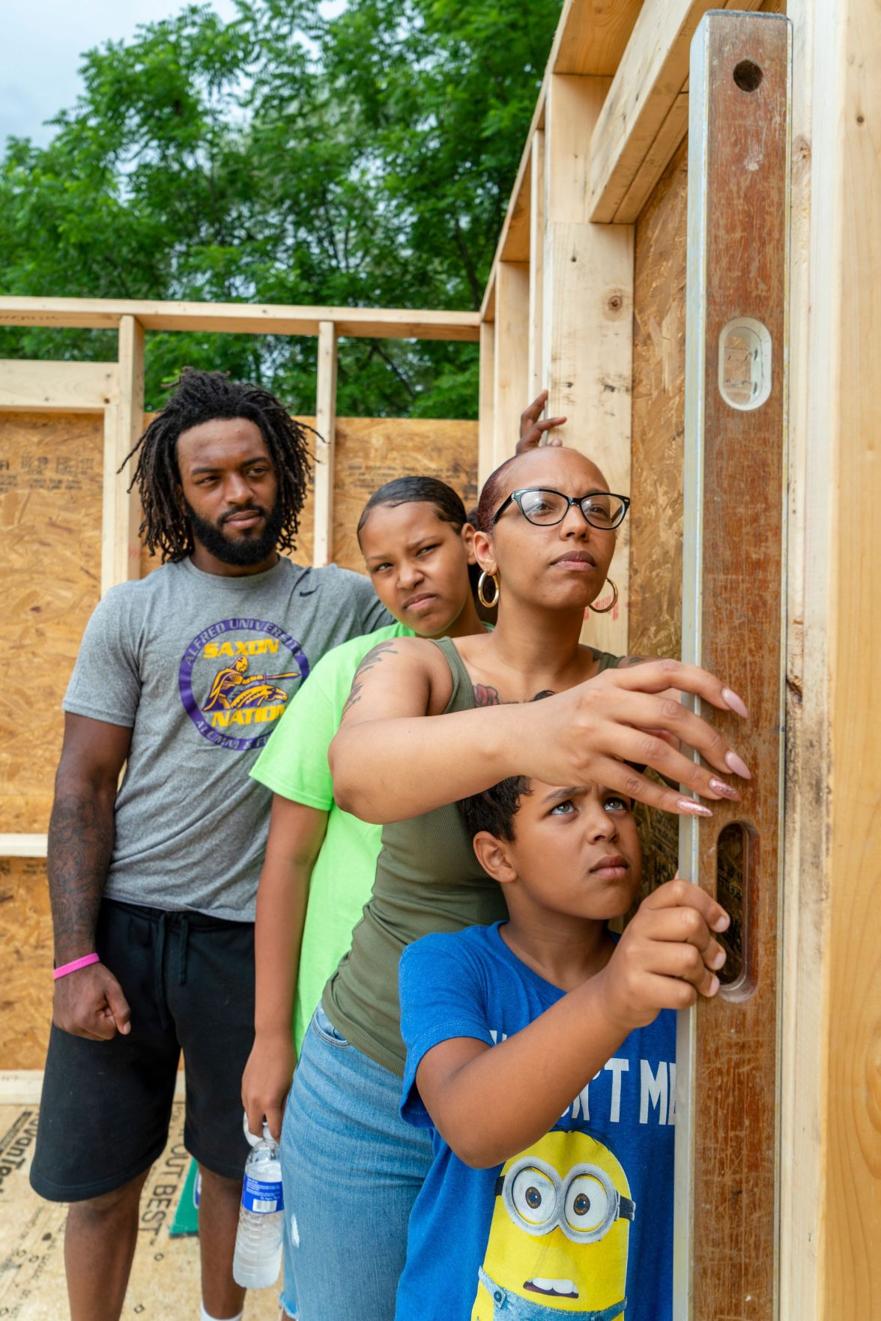 Mohamed and his family linked up with Habitat for Humanity's plan to build a duplex on Third Street in the City of Ithaca. Every H4H family invests at least 350 hours of work in their new home, along with the volunteer crew, so Mohamed was on-site from the beginning to the end. "Volunteering is part of our religion; it is like an act of worship. Our Prophet said: 'The most beloved to God, is the one who is the most beneficial to people.'" Mohamed and his family were well-known and well-loved even before they moved into their home.
While working on the house that would soon become the Maataoui's home a few years ago, Mohamed Maataoui met Paul Stearns, an accountant. Together they spent many hours building the duplex from the ground up and beyond. Thanks to Paul and many ardent volunteers Mohamed and Rachida hosted their daughter and seven girls for a slumber party in their new home for her ninth birthday. "My kids are so happy! We play in our back yard. We have more stability, more confidence in our future. We have a place we call home."
Growing up the fourth child of six, Paul Stearns remembers moving around a lot. Looking back, he can see how much it means to families yearning for a home to fulfill that dream, and he understands what a difference community support along the way can make.
Paul figured out on his own that he had a good head for numbers. He was motivated after getting an A in his first accounting class at TC3. Working for years in the construction field, he took accounting classes at night.
In the winter of 1979 when construction work slowed, Paul joined the Mike Leach, Sr. and Fred Ciaschi CPA office and continued attending night classes until he doggedly obtained his BS in Accounting. Over time, Paul started his own accounting firm and was pleased that so many clients sought his services.
After 36 years of work as a CPA, Paul began to reflect on his life: He had set his sights on a financial career and worked very hard to obtain the credentials he needed to establish himself. He had been able to help big clients and folks who were just starting out. And he and his wife Sarah had a rich life, always making time to volunteer in the community and assisting family and friends along the way.
As Paul began to pass the mantle in his firm to his younger associate, he started showing up two days a week at Third Street in Ithaca to lend a hand to the Habitat for Humanity duplex that was taking shape. For three years, Paul and other loyal volunteers worked long days of construction. Paul was pleased that they had helped our community provide comfort and stability to two local families.
These days Mohamed again joins the volunteers—this time at H4H's ambitious creation of three homes on Slaterville Road. When one visits the site on Rt. 79, the partially completed two new homes are visible on the 3-acre parcel. The 1860 Greek Revival home is being refurbished from the ground up: "With enough volunteer participation we hope to have the two new homes enclosed this winter. Many local and national companies donated materials, but H4H relies heavily on additional contributions to purchase the remaining materials needed."
"The Women's Build program constructs all the walls off-site and works on-site monthly. Roof trusses are constructed on Ho Plaza at Cornell by volunteers and Cornell students. Local businesses, churches and community groups seek volunteers for H4H Work Days throughout the year. [...] I come two days a week because I know what it means to a family to have a place to call home."