"For ten years I was thinking about living in Ithaca from my perch outside of rural Watertown. As a public school art teacher, an artist, and an advocate for community art projects, all the things I was working on up north were already happening in Ithaca.
"As kids growing up, and in my current extended family, we are makers — in stone, textiles, wood, painting. I always loved clay. As a teacher I enjoyed teaching about art and art history, but most of all I loved watching kids of all ages make things. When they create something, you can see how making art nourishes their mind and spirit. With clay, it's tactile, you get to squish it in your hands, it's accessible to anyone, not highfalutin. And it's fun.
"Ithaca had that small town feeling, plus great natural settings, and the arts were highlighted so prominently throughout the area.  Finally, I decided with retirement, 'I need to get moving.' Aging in a creatively vibrant area, in a neighborhood, could be fun, and an opportunity for the growth I continually seek.
"Then I found this house. It had so many things 'right'… a friendly neighborhood, in walking distance to the Commons and to the Clay School, on a quiet dead-end street opening to a nature trail, with a setup for a studio and gallery (with a separate entrance).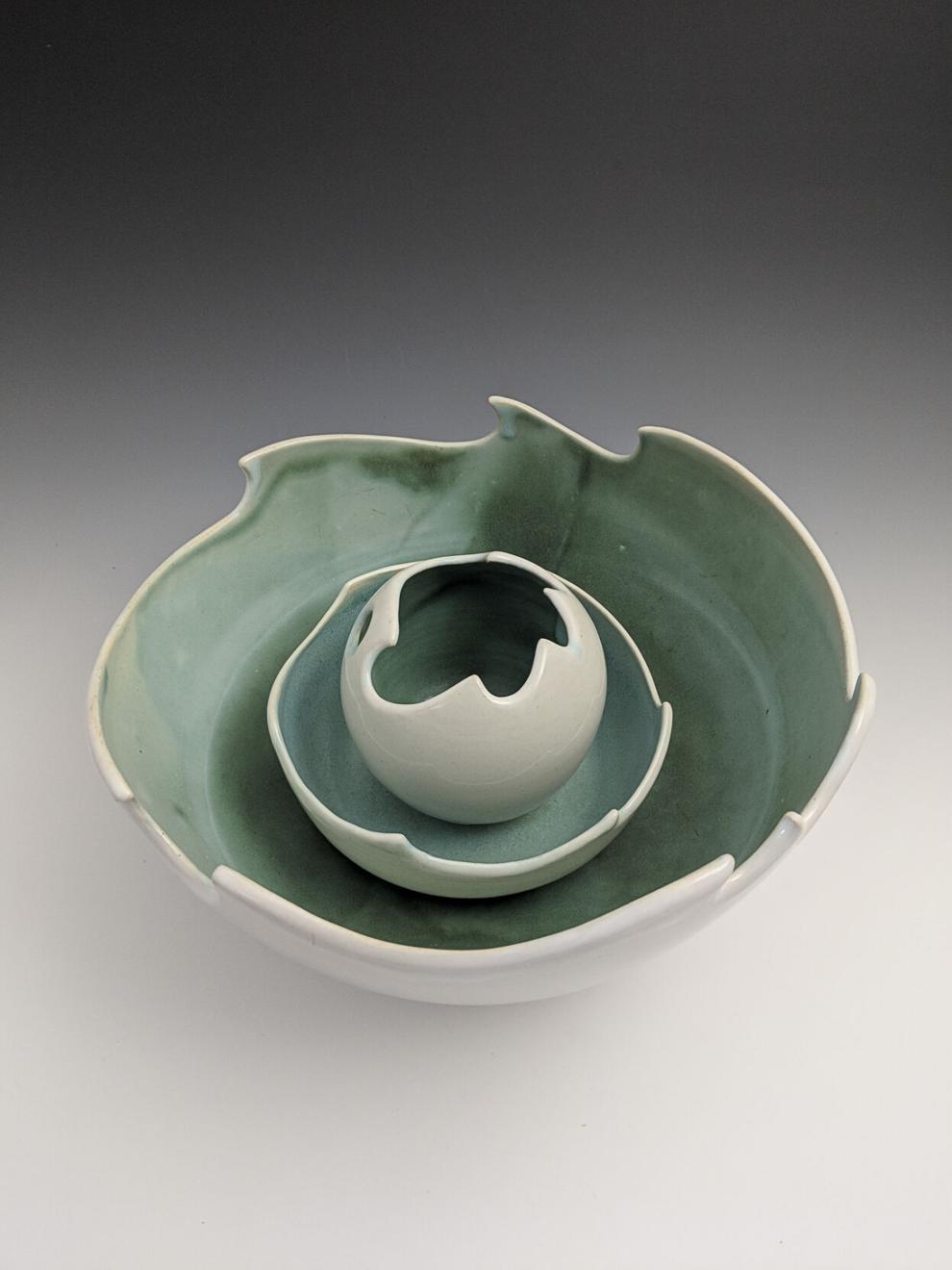 "I transitioned to a completely new way of life. People on my hill look out for each other. In warmer weather, we sit on porches and visit. Each day we enjoy the dog parade, as people walk past our house to the trail.
"And my art has been good so far…I joined the Art Trail before I moved one box into the house. In northern New York, I created the Tri-County Art Trail based on Ithaca's Art Trail. Robin Schwartz of the Tompkins County Arts Partnership was instrumental, advising and modeling, even before I met her. When I opened, for my first Art Trail Weekend here, before the pandemic, I was soon hosting 70 people in my gallery.
My work is sold in Handwork, right near the Commons, The Potters' Gallery in Penn Yan, and soon my art will be sold on Etsy, and in-person at my home gallery.
"I'm very interested in functional work. I love constructing forms of objects we can use and enjoy for years, a marriage of art and engineering. Throughout the process of making and firing ceramics, the material's characteristics change many times. The artist's choices and techniques depend on understanding the impact of the amount of moisture and the application of heat.
"Clay has played an elemental and important role in our development as a civilization. We learn about past civilizations by examining their clay pottery and objects. We study Egyptian pots and medieval clay, when sand was added to the clay. We study shelters of clay from Mesopotamia to the Pueblo Indians…It's all about clay.
"Working with clay has endless possibilities. I sometimes get an image in my mind as I am driving. I pull over and make a quick sketch. When I start driving again, I ponder, 'How will I make that happen?'"
For more information on Kari Z Robertson's clay work see:
Instagram: Kari_Zelson_Robertson
Facebook: Kari Zelson Robertson Art
Etsy: KariZRobertsonClay
Gallery: 130 Pearsall Place
Email: Kari.Zelson.Robertson@gmail.com