ITHACA, NY --  Asya Ollis loves to travel, loves to meet new people and loves to cook. With a background in music, a history of creating and developing specialty food, and a passion for street food, recipes and cookbooks, Asya was perfectly poised to bring all that together in her bright, eccentric kitchen with her new cooking classes. 
"South Indian cuisine is perhaps best known for idli and dosa. Both are made from fermented lentil and rice batter — idli is made by steaming the batter into a fluffy cake, and dosa is fried to a crisp crepe. Many recipes are vegan and gluten-free, which is a natural fit for people who live in Ithaca!"
Asya also teaches Indian street food (known as chaat). "Chaat is equally as exciting as a dosa! It combines flavors of sweet, salty, spicy and sour with a variety of crispy crunchy textures. It's like a Bollywood dance party in your mouth!"
"When I first traveled to South India, I discovered food that was unlike anything I had seen before. South Indian food is largely unknown in the U.S. and is completely different from what you see at most Indian restaurants. Ingredients such as coconut, fresh curry leaves, black mustard seeds and a variety of dals create an exciting and unique cuisine."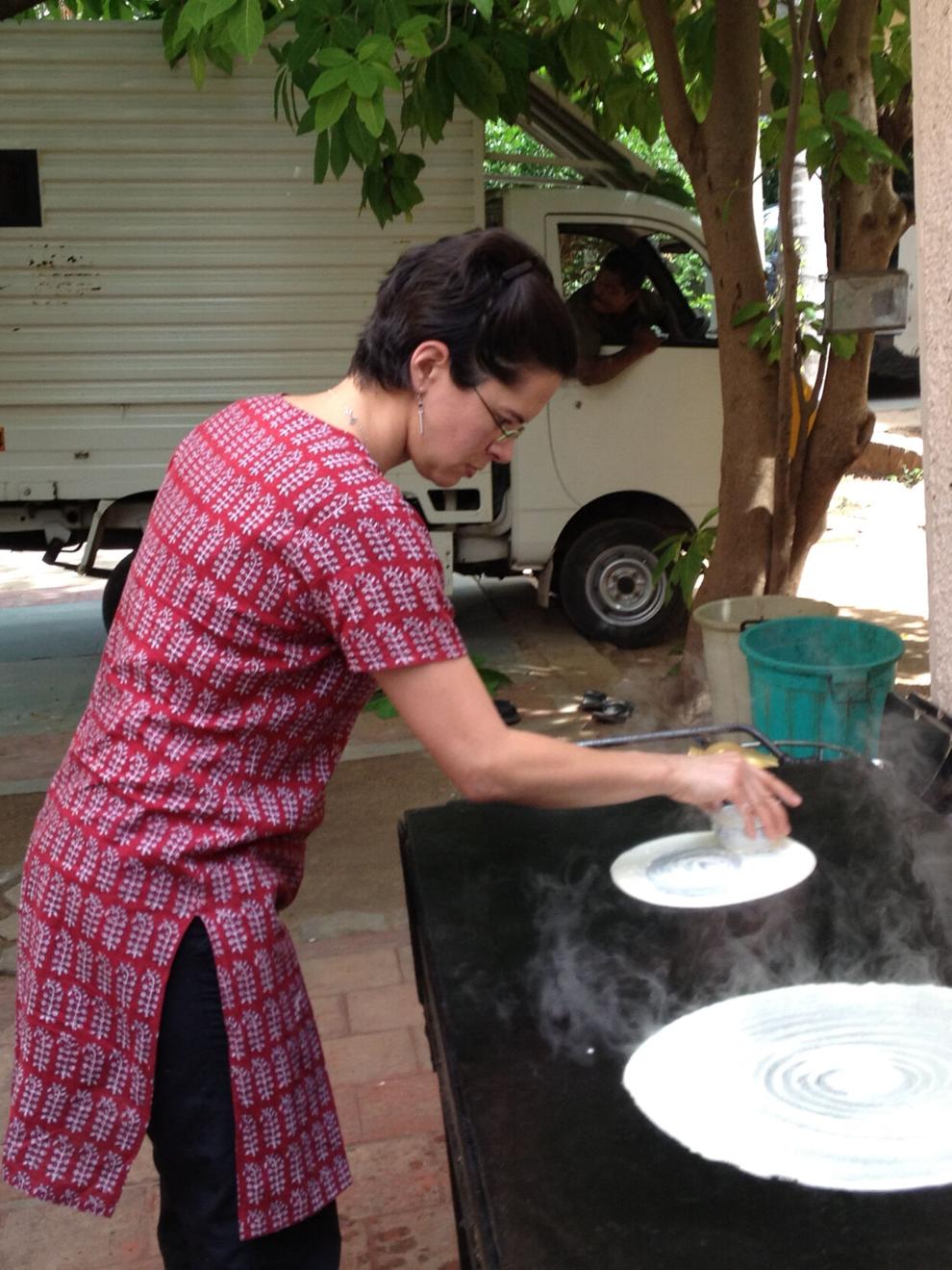 When customers at the Ithaca Farmers Market and GreenStar persuaded Asya to teach others to prepare South Indian dishes, Asya agreed. Her classes at GreenStar were sold out. Next, a class at Cornell for staff and administration was warmly received. This past February, Asya began an online series of presentations over Zoom, filmed live in her kitchen in Ithaca.
 "Cooking over Zoom turned out to be great fun. Before each class, I shared the ingredients for the upcoming class with my classmates. Some emerging cooks shared ingredients with other classmates. A few people prepared the ingredients before the class and they were able to cook along with me… With two screens, everyone in the class could watch the food preparation. People chimed in and said they enjoyed the group participation during the class. This was not a lecture."
Asya's plans include a mid-May class on idli and dosa.No experience is necessary, and interested young people love to make these recipes as well. Family and friends, separated by the pandemic, can sign up and take one or a series of classes together. Asya hopes to also add some summer classes outdoors, observing safe social distancing. "Summer is the ideal time to make idli and dosa in Ithaca. The warmer temperature creates the perfect setting for natural fermentation." Classmates can watch or they can join the set, au naturel.
For more information visit www.southindiancookingclasses.com