Courtney Royal, from Chicago, and Umit Sirt, from the Hemsin region in Turkey, are known and admired as practical visionaries in the world of energy efficiency and sustainability. They are both longtime staff of Taitem (Technology as if the Earth Mattered) Engineering, and parents of Beckett of Belle Sherman Elementary, and Gisele of the Waldorf School. 
In 2010 when this couple moved to Ithaca, they made their home on Green Street, until they completed Zero-Energy Hemsin House in 2017. When Courtney, Umit and Kids offered an Open House at their zero-energy home on West Hill (overlooking Cayuga Lake), more than 50 people toured it: Bright open spaces and whimsical, tucked-away nooks, with touches of Turkish culture. Hemsin House is a delightful example of doing it right, while making it affordable and sustainable. Their home makes the energy it uses to heat and cool them all year round. 
Talking about Ithaca's Green New Deal to address the growing threat of Climate Change, Courtney and Umit dreamed of sharing their successful net-zero energy homebuilding plan with others. Now they are returning to their favorite Southside neighborhood to do just that.  
"We loved living in the Southside when our children were born; walking to work and then speed walking home to the kids," Royal said. "Taitem is the best possible employer in our world of energy efficiency, so we had the excitement of stimulating work with terrific colleagues, yet having the maximum flexibility to work around our young children's needs."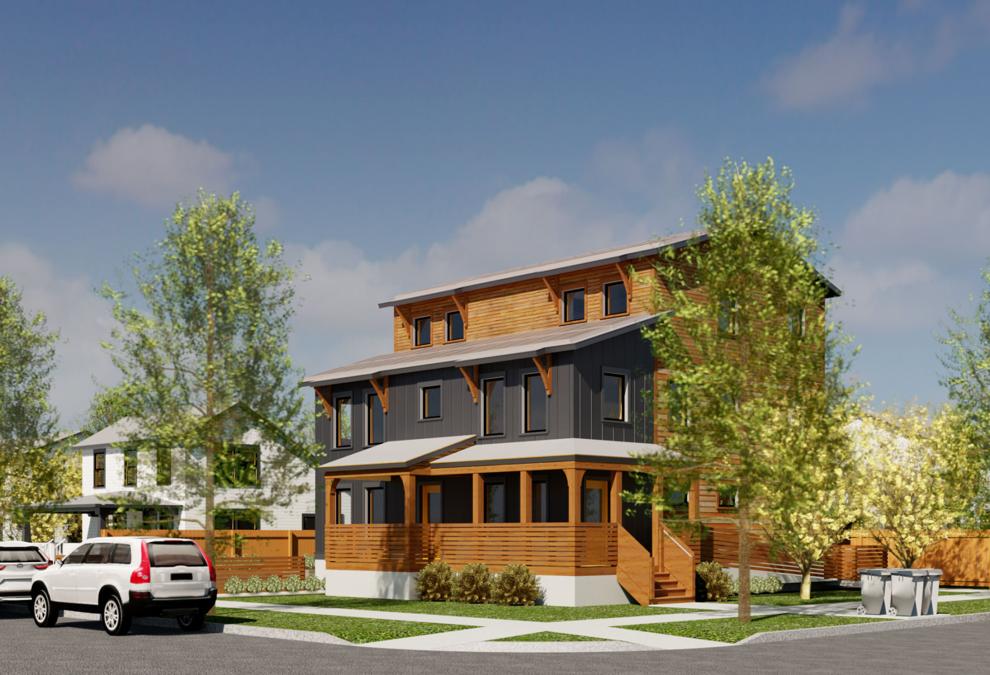 They are pleased to return and build in the neighborhood where former slave Peter Webb helped build St. James AME Zion Church. Where Harriet Tubman and Frederick Douglass spoke out against slavery and for women's rights. The Southside Community Center, which proudly hosted Eleanor Roosevelt and now hosts childcare, summer camp, Cornell's Vet Clinic, after-school care, Unity Studio, Recycle Ithaca's Bikes.re thriving. This proud, historic community is the perfect locale to create new history in sustainable affordable housing:
The Royal-Sirts will build a low-rise four-unit all-electric multifamily building downtown across from the skatepark. The goal is to demonstrate zero-energy performance, while enhancing the lives of 
residents. Perdita Flats will incorporate these features:
-Super-insulated envelope with double stud framing,  triple glazed, low-e, fiberglass framed windows, efficient building geometry;
-Maximized daylighting to minimize reliance on artificial lighting, and LED lighting;
-All-electric (no combustion), with ground-air heat exchange system to preheat/precool/filter outdoor fresh air;
-Energy-recovery ventilation and air-source heat pumps, plus on-site solar PV generation. 
Other features emphasize resilience and passive design: The building uses water conserving plumbing fixtures, rainwater harvesting, and native landscaping that require minimal water and  maintenance.
One of the major contributors to global warming is leakage from refrigerants, and specifically heat pumps in a building. Even tiny leaks of chemical refrigerants cause irreparable damage. Traditional refrigerants have 1,000 to 9,000 times greater capacity to warm the atmosphere than a natural refrigerant such as carbon dioxide.
"Reading the book, 'Drawdown,' we became more aware of refrigerant leakage and the extent of the damage in terms of global warming," Sirt said. "Although we are taking on fossil fuel usage by eliminating it in buildings and taking advantage of the clean grid in upstate New York, we felt strongly we needed to work on eliminating the impact of these high Global Warming Potential (GWP) refrigerant usage in buildings. The combination of the heating and cooling systems we are using in our building, (more than half of the energy comes freely from the ground and waste recovery, and the remaining from air source heat pumps that uses carbon dioxide refrigerant) has extremely low GWP."
Both Umit and Courtney have worked over the years with NYS' Energy Research and Development Agency, even before they moved from their consulting and engineering jobs in NYC to Ithaca. Now NYSERDA is promoting Royal-Sirt's integrated design project.  NYSERDA's funding through incentive programs and a cash prize in the first Buildings of Excellence competition, enables Courtney and Umit to replace toxic refrigerants(in the air-source heat pump)  with carbon dioxide (which we use to carbonate healthy bubbly water).
Key players on the Perdita design and construction team have worked together for years.  STREAM Collaborative is the architect on the project and is working closely with Taitem Engineering on the mechanical and plumbing design.They are using a Construction Manager, Mike Carpenter, additionally Courtney and Umit will be playing general contractors' role.  
"The intention behind the name is that residents will thrive and feel connected to the living Earth, beyond saving energy," Royal said. "The benefits of fresh air, water, and light support better physical and emotional wellbeing."