ITHACA, NY -- For 12 years Christa Núñez, originally from Michigan, and her husband, Pete, originally from the Dominican Republic via NYC, lived in Northern California. 
"We lived in a community amongst the Redwoods, only 20 miles from the ocean and three hours from San Francisco." 
But as their children grew up and California was beset by droughts and wildfires, the Núñez family was ready to pull up stakes and find a community in which their dream would flourish.
"We want all children to have access to nature for free play in beautiful green spaces. During our years in California, we learned and talked and tried out our ideas, but we needed to find the right community. By the time we found Ithaca, we were ready to get started and break ground."
In 2016 upon arrival Christa and Pete found a school for their children: "Chloe, now 12, Paxon, now 9 and Chananah, 3 have all savored the international student body at Belle Sherman School. Families from Finland, Nigeria, South Africa, Mexico, China, Belgium and Ecuador share their culture, language and foods. The school is international, the school community is strong, engaged and we love it."
Early on in this area Christa also found common ground and formed friendships with many like-minded program leaders—Healthy Food for All (Amie Hamlin), Youth Farm (Audrey Baker, Astrid Castillo and Katie Church), Groundswell (Natalie Hughes and Rachel Bezner Kerr), Cherry Street Project (Melissa Madden), ICSD (Luvelle Brown), Southside Community Center (Nia Nunn), Black Hands Universal (Harry Smith), Cornell University (Scott Peters, Anu Rangarajan, Jack Elliot, Janet Loebach, Graham Savio), Social Ventures (Jeff Furman), and Children's Reading Connection (Brígid Hubberman) to name a few close colleagues.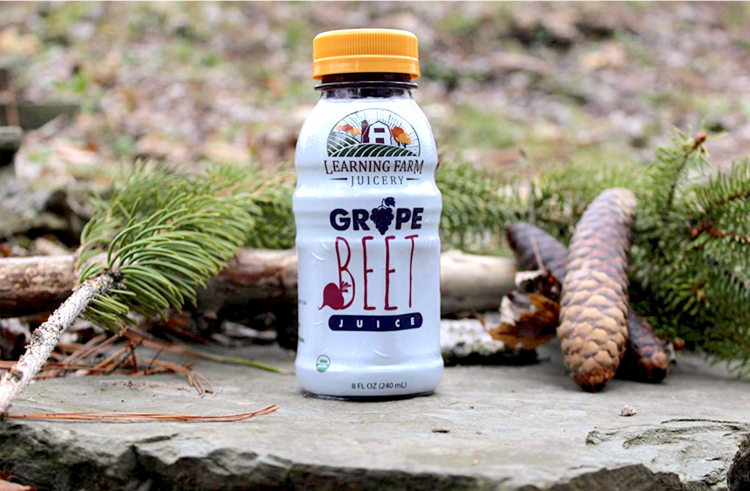 "We have discovered so many wonderful people who are working to provide access to healthy food and equitably-empowered land governance, and support for healthy families."
Moving east, Christa Núñez turned to Cornell early on in 2016. She found Cornell University's College of Agriculture and Life Sciences very supportive. Then, John Johnson of Cornell's Experimental Station encouraged Christa to launch her juice products for her inaugural project. The Learning Farm's first product is an organic grape and beet juice, produced at Cornell's Food Venture Center. Organic apple and carrot Juice and orange and celery juices are now in progress, combining fruits and vegetables to delight and nourish children of all ages.
In 2017 the Núñez family bought an enchanting farm located between Upper and Lower Enfield Falls. 
"We are surrounded by terrific neighbors who drop by with raw milk and fresh eggs, and join us in barn raising, building projects and growing and harvesting good food. At nearby Enfield Elementary School, we have created the Equitable and Edible Farm School. Spending time on the land with the little ones, learning how to grow our own food, we live, discuss and practice food justice, land justice, social justice."  
The embrace of the Enfield community and the receptiveness of the wonderful school community has enriched the growth of the Núñez farm's growth.
In the summer and during the school year, the Núñez's Learning Farm hosts programming for kids from 5-18 years of age.  
"We have Deep Hollow Creek with waterways and three waterfalls! This pristine setting, which is a Designated Unique Area, hosts an incredible array of plant life and so many bird and other animal species find refuge." 
The program supports older kids developing leadership skills in community development, while nurturing the younger children to be good stewards of the environment. And on hot days, there are cool ways to learn about water management: creek play!
Coming this fall will be the 100 Mile Café, orchestrated with many community groups and sponsored by Social Ventures. 
"We plan to transform the delicious produce of the local harvest into international favorites for all to enjoy." (More on this in a later column.)
Also planned is a visit with Shirley Sherrod from New Communities in Southwest Georgia, revered for her powerful role with Student Non-Violent Coordinating Committee (SNCC). 
"The Pigford case highlighted the disparity in USDA support for Black farmers, and subsequently the settlement of this case enabled Mrs. Sherrod to create a large community farm where Black farmers can create networks of business development and cooperation and find refuge in sustaining food systems of their own making." 
Collaborators in this event may include Cornell's Small Farms Program and Global Development Department in conjunction with Building Bridges (Laura Branca), Youth Farm (Katie Church), Social Ventures (Jeff Furman and Sara Hess).
Christa's not-for-profit program, a Khuba International's project A Quarter Acre for the People has begun grant writing to purchase land. 
"Our dream is for 10 families to each own half an acre with which they will form an ecological pod. Families who have been marginalized and experienced food and housing insecurity will be welcomed to own and cooperatively govern and farm the land. Together they will seek cooperative ways to foster healthy lives."