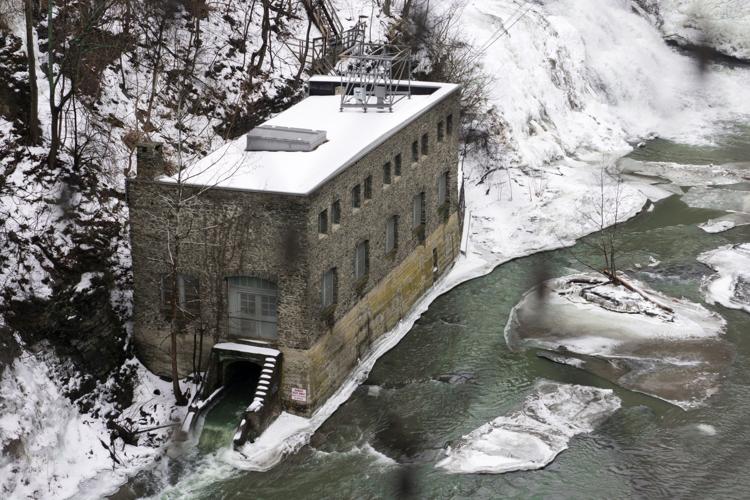 Something like a graveyard of failed dreams, the archives of the City Planning Department turn out some interesting ghosts every now and then.
Piled away in boxes hidden among the wooden cubicles of Ithaca City Hall scores of old proposals to never see the light of day, from failed housing projects to rejected highways, gather dust in crisp manila folders waiting patiently to be digitized and one day, rediscovered by some unsuspecting local putting keywords together. It was upon one of these searches earlier this year when, prompted by the topic of a letter to the editor, this reporter stumbled upon a fascinating proposal from Ithaca's not-so-distant past.
The year was 1988 and the City of Ithaca, rich in massive waterfalls and raging creeks, appeared in a dispatch published in the regional section of the New York Times over a referendum on the city's signature, 130-foot tall landmark: a vote on whether or not the city should move forward with the construction of a hydroelectric plant at the base of Ithaca Falls, harnessing the power of the creek – and an annual output of 8.9 million kilowatt hours per year – in a similar manner to Ezra Cornell more than 150 years earlier.
City officials at the time, the New York Times wrote, said the federal government was expected to supercede the city's authority to restrict such a project and, that by building the plant themselves, the city could "best protect the falls by building the plant itself" by preserving  public access to the falls and keeping water flow at the same rate as it flows on a typical autumn day.
''If the city doesn't do it, there'll be another developer,'' future mayor Ben Nichols, then a member of the Common Council, said at the time. ''If it's going to be there, we want to have control over it.''
Looking for options, the city eventually found one, managing to designate the falls as a recreational waterway, saving the falls and its gorge but missing out on a chance to continue an enduring legacy of locally generated hydropower from the mighty creek which, current Ithaca Town Planning Board member and then-city energy policy advisor Jon Bosak noted in a 2007 article, never seemed to be the plan.
"After years of study, the Fall Creek hydropower project was finally rejected by Common Council in 1989 — not because it couldn't successfully turn Fall Creek to practical as well as recreational use, but because realizing the practical benefits of hydropower was never the City's purpose in proposing the plan," he wrote. "The City was simply trying to prevent the consideration of two other competing development plans, one from Cornell and one from a private consortium, that might not have sufficiently protected the Fall Creek environment."
The following year, a proposal to repower a former hydraulic facility by Van Natta's Dam – built in 1907 – into a 400 kwh facility (1.4 million kwh annually) was put forth but went nowhere, in part due to bad faith in the consistency of the creek flow and a lack of good information from the state.
"We needed to find out if whether or not it would be economically feasible to try and capture the energy of the falls," said John Gutenberger, Ithaca's mayor at the time. "The state – the power authority – if I remember right, wouldn't tell us how much they would pay per hour. And of course, we needed to know that if we wanted to figure out whether it was feasible to do that. So we went round and round with the state, basically hearing 'we only give that information out to entities that are members of the power authority network.' And we didn't know whether or not if we should join it because we had no idea if it would benefit us. So we didn't do anything."
Ithaca's Untapped Resources
Tompkins County is a land built straight from the power of the creeks that coursed like veins through its unstable soils and steep, rolling hills.
Its economy grown from the mills along Fall and Six Mile Creeks, the towns of villages of the region popped up straight from the shores of the snaking waterways, life moving throughout Tompkins County wherever the water went. Millstones ground the farmer's grain from the water wheels that never ceased to turn and from those waters, came the money needed to support towns and build fortunes. But one of these millers dreamed bigger.
In 1830, Ezra Cornell, managing a mill at the base of the falls, himself blasted a massive hole in the wall above Ithaca Falls to power his mill at the base of the falls, giving life to what could be considered the true birth of commercial hydroelectric power in Tompkins County. Cheap and very clean, for more than a century the flows of Fall Creek powered the hydraulic mechanisms that gave birth to industry in Ithaca, driving enough force through the tunnel to run both a paper factory and a gun factory up through the 1970s.
(Cornell University, when it owned the gorge, used to charge Ithaca Gun a regular fee for the company's water use.)
"You don't think of water rights as something huge in the northeast anymore," said Lanny Joyce, Director of Utilities & Energy Management at Cornell University said. "But it was back then."
Yet, for living in the state considered the largest hydroelectric power producer east of the Rocky Mountains and currently listed as fourth in the nation in the overall generation of electricity from hydropower (17 percent, according to the United States Energy Information Administration) it seems rather strange that Tompkins County, for all its natural capital, counts just one hydroelectric power facility out of the 300 or so statewide, the next closest ones located on Erie Canal locks in Waterloo and Seneca Falls.
But the reasons aren't simply aesthetic. Much of it has to do with financing and other parts, with proper siting. There's also the question of scale, or whether or not larger-scale, commercial hydroelectric facilities are really worth the costs for the drawn out returns they would ultimately have. But those who work these facilities are quick to remind you that hydropower is power for the long-haul and that one's early investment is one being made for years – if not decades – to come.
The Plant That's Still Kickin'
If you've ever taken a look into the gorge from the suspension bridge connecting Fall Creek Drive to Cornell's main campus, you might have wondered about the rough-hewn stone structure surrounded by rushing water 100 feet below you, seemingly accessible only by a wooden staircase built into the side of the gorge and closed off by chain link fence.
Empty most of the time and rarely visited, this building – which has sat at the bed of this gorge for more than a century – is a tangible example of what was once envisioned for energy in the City of Ithaca, and also an example of what could very well be if given the right circumstances. This building is Cornell University's hydroelectric plant, a facility built in an era where the university – considered a top engineering school even then – was looking to innovate in fields few others were attempting.
Its faculty like Robert Thurston and J.E. Sweet already heavily involved in the development of steam engines by the late 1870s, Cornell's School of Engineering spent the final years of the 19th century developing what, for decades, would become one of the most important and unique structures in the history of hydropower in the United States. Built into the side of Triphammer Falls just beneath the Thurston Avenue footbridge, Cornell's 80-foot-tall Hydraulics Lab stood for 111 years (it collapsed in 2009) and for a share of that time, was one of the few facilities in the nation where turbines used for the generation of hydroelectric power could be tested and developed.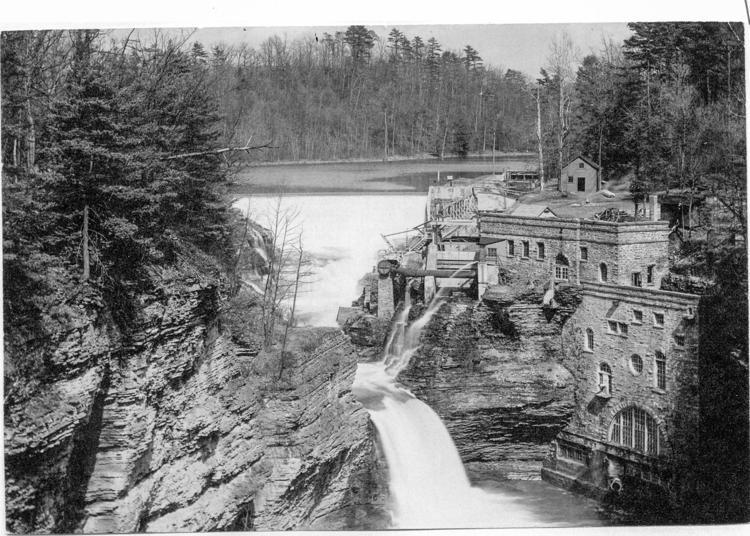 Built alongside Beebe Dam, the facility was unique in that it took the natural capital of the gorge's steep drop and harnessed it, using a number of valves of different lengths to simulate different testing conditions. Around the same time Cornell, already with a working dam, saw an opportunity: to dig a trench from the dam along the lip of Fall Creek Gorge and, at a steep drop-off, construct a flume that would drop the water from the dam 140 feet and through a pair of turbines that could help generate power for the campus.
Installed in 1907, that plant is still in operation today. Just not in the way it once was. Though most of the facility – the combined 1,900 kw rate twin Ossberger turbines, the corroded but solid half-inch thick cast iron pipes that see 25,000 gallons of flow per minute, the ancient motors and the hand-operated valves – are still in place, a lot has changed for operators like Frank Perry, who has overseen the hydroelectric plant as a sort of caretaker since 2001. Once a highly involved operation, today, most of the mechanics are controlled by a computer the size of a deck of cards that allow the plant to be operated remotely, even by an app on a smartphone. Perry's job now is largely maintenance; he comes down about once a week to check on it and oil the machinery and gauge inefficiencies in the system. Oftentimes, he'll give tours of the plant which today, is still a point of pride among facilities staff, both as a teaching tool and an important aspect of Cornell's overall energy use.
Because of the temperature on our recent visit and the quantity of ice in the water, the plant was well-below its approved peak of 1,450 kw, generating about 450 kw. Though an impressive amount for almost completely clean energy, this was just a very small piece of the pie on a day where campus demand was somewhere around 25,000 kw of power. The facility could handle more, Perry said. Many parts of the facility antiquated and not completely streamlined, the hydroplant today produces about 2 million kwh less than it did several decades ago, when the facility put out 7 million kwh of clean energy every year. To get back to that point, Perry said, is no easy undertaking.
"It's not about building a new plant," he said. "You could get a bigger penstock, and then we could make 1,800 kilowatt hours easy. But you'd have to ask for millions of dollars and the permission to dig a trench 20 feet deep along this gorge, and nobody would let you do that in a million years. So for us, it's about finding what we can do that will have the most immediate benefit for the cost, while looking ahead at the little improvements we can make over the next 30 to 40 years."
After a tour of the structure and a run-down of the costs involved, it's easy to understand why hydropower has proved difficult to take off in a place that seems so well-suited for it. According to rough estimates by Perry, to build this plant the way it is today would cost at least $5 million. Add the cost of the dam at the top of a waterfall and the penstock you would need to build up your energy source, and the whole thing might cost $15 million to $20 million to build. Then you have the cost of the equipment. The turbines you would need probably cost $750,000 a piece. The valves cost $50,000 to $75,000 a piece, the motors cost $150,000 a piece new and the control system costs about $200,000. Then you have the cost of the concrete work, which requires a crane that costs $15,000 per day just to place.
These facilities, however, are a long-term investment.
"It's a lot of money," said Perry. "But if you build it to last, it'll serve you for 200 years."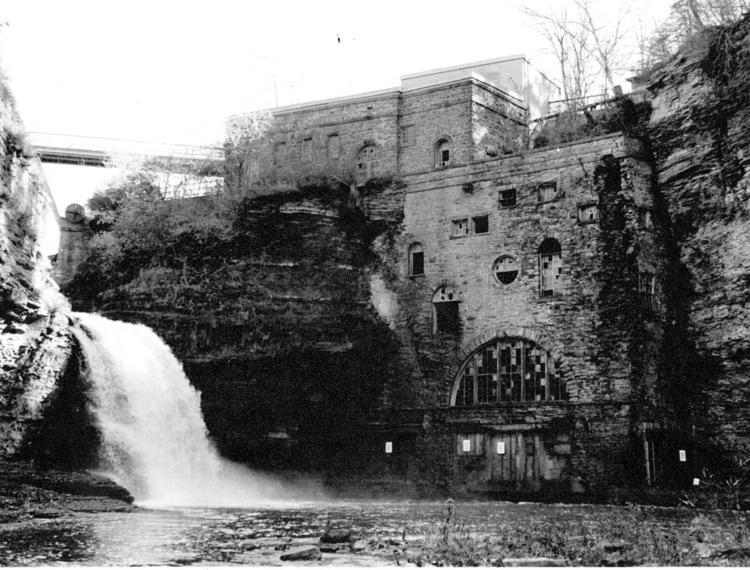 Why Haven't We Looked At It Recently?
Hydropower has a lot of advantages. It's clean energy, and can help offset the transmission of energy imports from other sources. But one of its biggest advantages is also one of the primary reasons it's hard to encourage the development of new facilities: the energy they produce is way too cheap.
In New York State, the average consumer pays about 12 cents per kilowatt hour for electricity. Paying an inflated price for maintenance, the university only puts a cost of approximately 7 to 8 cents per kilowatt hour. But, said Perry, once the debts on the building are paid off, the energy cost at the Cornell plant will drop to around 2 to 3 cents per kilowatt hour, a price so cheap that no new investment could occur at the plant. If trying to encourage a private enterprise to construct a new plant from scratch, these margins are unlikely to attract many but the most generous benefactors.
This is why today, most of the private investment in hydroelectric plants involves taking existing facilities and improving them, and little new construction is taking place. In city hall, private investors will occasionally come in inquiring about developing a hydroplant on Six Mile Creek but, with flows far too weak to support substantial power generation, the ideas never seem to take off – even with public subsidies offered by the state. (A group of Cornell students actually produced a study on this for a class project that is available online.)
There are some solutions. Energy producers can charge "carbon offsets," where individuals will sometimes ask for people to pay a little bit more to help fund low-cost renewable energy facilities long-term. But there's another hypothetical: assuming energy costs get high enough to breed consumer frustration in the way nuclear plants – once considered the future of energy in New York – began to fail, hydropower could gain an even greater presence in the overall energy portfolio of New York State.
"If power starts to cost enough," Perry said, "then you can afford it again."
Looking for room to allow hydropower to build prominence in Tompkins County, the political will is certainly there. Tompkins County already powers a large share of its facilities using hydropower generated in Waterloo and, in 2015, the county conducted a study that identified more than 200 potential sites for micro hydroelectric facilities outlined as a key part of achieving the county's renewable energy goals, which in theory this could lead to a total generation of approximately 725.7 million kwh per year. Even the Town of Caroline, looking into the subject last May, identified two potential sites for hydropower on its length of Six Mile Creek that could generate an estimated 91.5 megawatts annually, potentially proving more viable than a solar power facility after 24 years of operation.
But larger scale hydropower in Tompkins County? It likely won't happen in our backyard, and certainly not at the places it would work best, like crucial tourist spots at Taughannock and Ithaca Falls.
"You could afford to put in a plant down there," said Perry. "That fall is somewhere around the 140 to 160 foot range, you have the same amount of water, so you could potentially have 7 million kilowatt hours of energy per year down there. But you're going to have minimal water over Ithaca Falls at all times. Will the public let you do that? Probably not. And that's the key. You can hardly get a windmill or solar panels approved around here."