Dressed in a motley assortment of beat-up clothes, a group of more than 200 men straggled down Water Street in Elmira, making their way toward the train station about a mile ahead. They were thin and hungry. They looked like they'd been through a war—because they had. They weren't in great health, but they'd survived. It was July 1865, and these were the last survivors leaving "Hellmira," the notorious Civil War prison camp on the banks of the Chemung River. 
This month—on either July 10 or July 11, depending on which source you choose—will mark 150 years since the closure of the notorious prison camp that boasted an appalling 24-percent death rate. Today, the site, unlike its Confederate counterpart in Andersonville, Georgia, is probably not well-known to anyone other than local history buffs, but soon that could change. Currently there's a project underway to preserve key pieces of the camp's history -- which is, itself, morbidly fascinating. 
The Rise of the Prison Camp
Although the Civil War started in 1861, the Elmira camp didn't open until 1864. In fact, prison camps in general didn't start till later in the war. 
Gary Emerson, a retired Newfield history teacher now pursuing a Ph.D. in American history at Binghamton University, explained, "In the early years of the Civil War they didn't really keep prisoners—you were either exchanged or paroled." Under parole, captured soldiers would be sent home, as long as they agreed not to fight again until they were properly exchanged.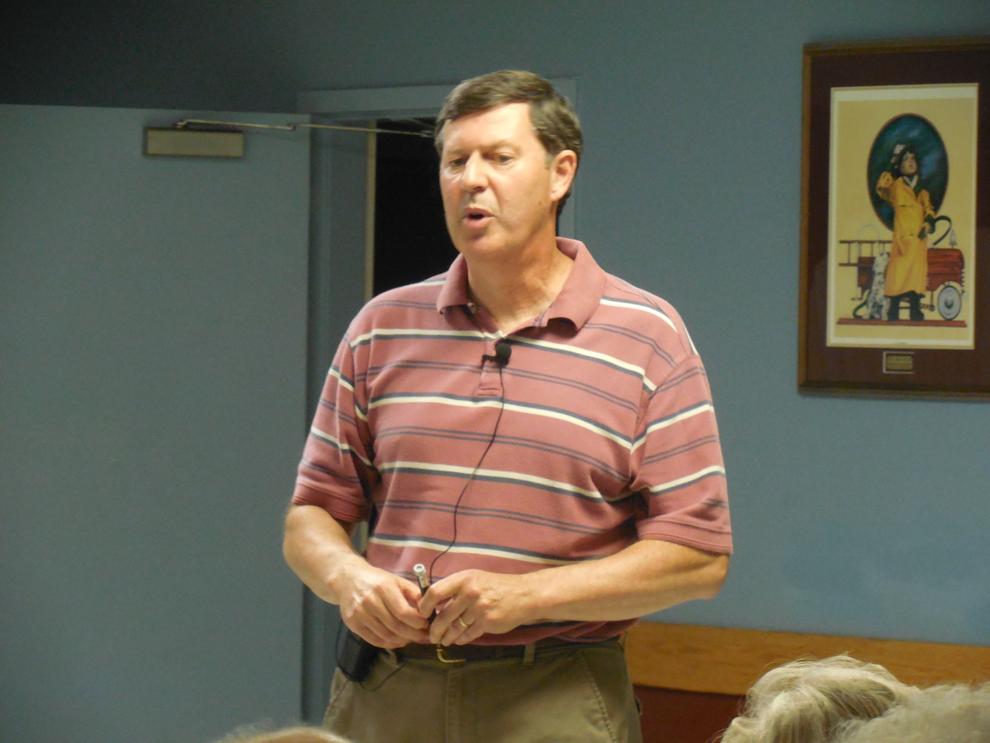 However, soldiers soon realized there was a way to game the system. Some men would allow themselves to be captured in order to get paroled home pending exchange. The armies quickly grew wise to this and thus created parole camps, in which each side would house their own soldiers near the front until they could be fairly exchanged. There was a specific exchange rate based on rank—one general was worth 46 privates, but a lieutenant only merited four privates. 
According to Emerson, General Ulysses Grant disliked paroling prisoners because he felt that exchanges only helped the Confederacy. "Quite often the Union soldiers they got back were in such poor health they weren't able to fight," Emerson said. "They knew it was a game of numbers here as well; the South didn't have as many men of fighting age." 
Ultimately, though, that wasn't the reason parole camps ended: it was the Emancipation Proclamation. Emerson said that, after Lincoln's January 1863 issuance, "The change here is that he's now going to allow the use of African-American troops in the Union army." The South wasn't willing to exchange or parole black soldiers; they would just kill them or sell them into slavery. Thus, in mid-1863, the Union suspended prisoner exchanges, giving rise to the use of prison camps. 
Why Elmira?
Out of all the places to have a prison camp, why Elmira? Bruce Whitmarsh, director of the Chemung County Historical Society, explained, "Elmira wasn't the only prison camp. There were plenty of them around. But Elmira made an effective prison camp at the end of the war for the same reason it made a good training ground at the beginning—its extensive railroad connection."
Another big reason Elmira worked out well as a prison site was that there were already barracks there. Before the Civil War, there wasn't much to Elmira; it was a village, not yet a city. But, after the nation plunged into war, Elmira came into use as a depot and training ground. With the influx of soldiers and war-related business, the little Chemung River village incorporated as a city in 1864. 
Over the course of the war, four sets of barracks were built in Elmira: Arnot Barracks, Robinson Barracks, Post Barracks, and Camp Rathbun. It was Rathbun that went on to become the prison camp better known as Hellmira. Although initially the barracks were intended to house Union soldiers, by the end of the war that wasn't as necessary. "They were sending more men into the war," Emerson said, "so there were fewer at home in the barracks."
Not all prison camps relied on the use of barracks. Emerson explained that there were five main styles of camps during the Civil War. Some, like Andersonville in Georgia, were stockade-style camps. Prisoners were just fenced in with no shelter at all. Others, like Fort Delaware, were fortifications converted to prisons. Some were converted buildings, like Libby Prison in Richmond, which was previously a tobacco warehouse. Still others, like Point Lookout in Maryland, were tent cities. Each camp style offered a different set of challenges for prisoners, but in the case of Hellmira, overcrowding was at the root of many of the camp's problems.
Life in the Prison Camp
"It was challenging for the prisoners," said Whitmarsh. That may seem self-evident; it was a Civil War prison camp, not La Tourelle. Specifically, though, one of the biggest difficulties was too many people and not enough bunks. "The camp was designed for about 5,000 people," the historical socity director continued, "and there were as many as 7,000 there." Emerson placed the population estimate higher, at around 10,000. In any case, over the course of its 15-month existence Hellmira held more than 12,000 men. 
With that level of overcrowding, Whitmarsh said, "Disease was a constant problem." That was not atypical of other camps or the war in general at that point. According to Whitmarsh, "Far more people died of disease in the Civil War than of battle wounds." The same would be true of all wars until World War II. There were 140,414 battlefield deaths in the Union Army, but 224,097 died of disease. The overall number of casualties in the Civil War is estimated at 620,000, exceeding the 405,399 American lives lost in World War II.
Part of the problem at Hellmira was Foster's Pond. The barracks had been built on privately owned property leased to the state for $375 a year. In The Business of Captivity, Michael Gray describes it as a "300-by-500 yard campground" containing 20 units, officer's quarters, a sutler's storehouse, and sinks. The land also contained a 12-yard wide body of water known as Foster's Pond. With thousands of men using that water as a personal latrine, it quickly turned into a cesspool. Emerson said, "[Hellmira] was lethal because Foster's Pond was so lethal and polluted." The pond is still there, a narrow body of water between the Chemung River and the Riverfront Levee Trail.
"Despite various disease threats—like dysentery, smallpox, and pneumonia—and  frequent food shortages, many survived," said Emerson. "For those who did, some aspects of daily prison life weren't all that different from prison life today. 
"In the morning they got up," he continued, "and then they had to have roll call, and then they'd march to the mess hall and have a meal. And then some guys had jobs that they could do in the camp. You weren't required to work or anything so a lot of guys just sat around with nothing to do."
Some prisoners spent their time making goods that the guards would sell in town. They did everything from carving intricate trinkets out of beef bones to making bracelets out of horsehair. 
Sometimes, they passed time by entertaining onlookers. Whitmarsh said, "One of the strange things that happened when the prison camp first opened [was that] somebody built a tower across Water Street and for 15 cents you could go up and look at the prisoners in the camp." Emerson said that the prisoners hammed it up for the onlookers, sometimes juggling and doing acrobatics. Eventually, though, the military decided not to allow such entrepreneurial activities and took control of the tower.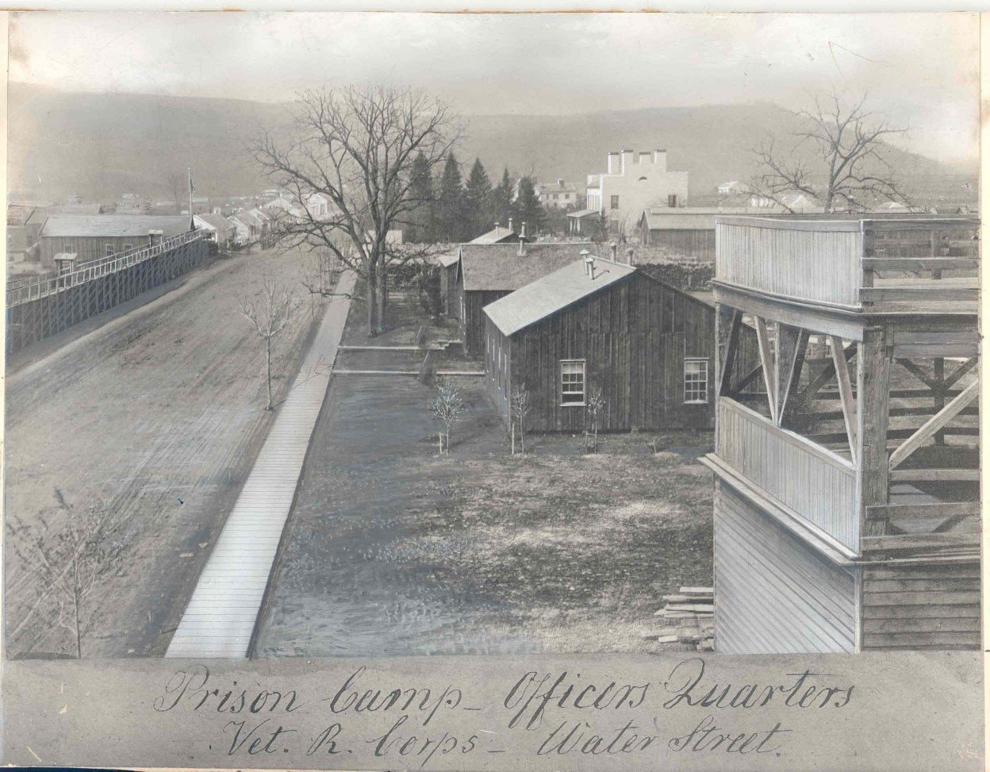 The Original Shawshank Redemption: Escaping Hellmira
While some prisoners spent their time trying to entertain onlookers or making trinkets to sell, others passed the hours by plotting their eventual escape. In total, there were fewer than 20 escapes, according to Emerson. 
Successful escape was, in part, impeded by the presence of a Union spy, Melvin Conklin. While he spent the war posing as a captured Confederate, Conklin later went on to become the Elmira postmaster (a political appointment). 
One small group endeavored to dig a 66-foot tunnel using spoons and knives. Their dig to freedom was successful and, after stopping briefly in Auburn to work as machinists, they eventually found their way back South. 
The other successful escapes were varied and creative: one man simply forged a pass and walked out the gate; another stole a sergeant's overcoat and strolled out; yet another hid in a barrel of swill and left the camp in a wagon. In a most morbid escape plot, one man asked his comrades put him in a coffin and not nail it shut tightly. Posing as a corpse, he was carted out of the prison to the graveyard, only to leap out and scare the driver on the way to his burial. 
Of course, attempted escapes had consequences. Erin Doane, curator at the Chemung County Historical Society, said that "barrel shirts" were a popular form of punishment; inmates who broke the rules would be made to wear barrels, usually bearing signs listing their transgressions. There was also a jail cell in the prison, and that was used for some offenses. Sometimes, rations could be cut as a punishment, but as Emerson pointed out, one camp commander enjoyed cutting rations simply as retaliation for the even worse prison conditions in the South.
The Legacy of Hellmira
Until relatively recently, the camp was not popularly remembered as a horrible place with a 24-percent death rate. Emerson said, "A guy wrote a book in 1912, and he made it sound like Elmira wasn't that bad." The author, Clay Holmes, was an Elmira native and a young man at the time of the war camp. Later in life he wrote The Elmira Prison Camp, which Emerson said was "in large part because people in the South were saying things about the Elmira prison camp." It is only relatively recently that more critical accounts have come out. Emerson said, "One was Michael Horigan's Death Camp of the North—just from the title you can tell that he's saying it's not that great."
As Doane pointed out, outside of historian circles the camp often wasn't remembered at all. "People are surprised," she said, "when they find out there was a prison camp here. It was something that wasn't talked about a lot until the monument was placed in the 1980s. When it was closed, it was just sort of forgotten."
Looking at the Water Street location now, it's easy to understand why the prison might be forgotten. "If you go to the site of the camp today, there's nothing," Emerson said. Some of the former barracks site is residential, and some is simply vacant, he explained.
There are some markers—the relocated original flagpole, a roadside historical sign, a stone marker—but, according to Doane, "There really isn't much of a prison camp left."
That won't be the case for long, though.
Rebuilding Hellmira
Currently, there's a group working to rebuild one of the buildings from the camp. Marty Chalk, a Chemung County legislator who is also chairman of the board for Friends of the Elmira Civil War Prison Camp, said "We'll have it open as a museum, and we're looking for artifacts to be stored there. We'll have it staffed with volunteers, people who can walk visitors through the building and explain about the camp and its importance to the Civil War and the North."
The building itself has an interesting history. Chalk said, "We think that when the camp was winding down in 1865 they were able to move those buildings. It was 18 by 20 [feet], and it's a two-story structure and we were told that some of those buildings were moved to adjacent areas. This particular building was standing on 55 Hoffman Street and was used as a garage." 
Then, in the late 1970s or early 80s the building was taken down. Since it was known to be a historical building, the owners donated it to the local living history group. The building was deconstructed board by board and each piece was numbered so they could eventually be put back together again. 
Now, it's not clear what purpose the building originally served. Chalk said, "We've heard it was a commissary or it might have been a granary building—the wooden interior is kind of smooth and the thought is that maybe grain was stored in there."
Re-erecting the building has become a long process. First, Chalk said, they had to find an appropriate location, and fortunately the county agreed to help back the project by paying to buy the land from the city. However, since the property—on Winsor Avenue, adjacent to the original camp site—was zoned residential, the Friends had to go through a rezoning process. Next, they'll be building a foundation, and then painstakingly reconstructing the building atop it.
"Our goal is to have it open this year, but that's subject to unforeseen circumstances that we may encounter," Chalk said. 
However, if you don't want to wait for that to be completed, there's an exhibit on display right now at the Chemung Valley History Museum, which is run by the county's historical society. 
The exhibit is up through the end of August and Whitmarsh said, "It's a lot of photographic and some small items, like things that the prisoners made, some uniforms on display. We have a recreated observation tower." This is the fourth of four exhibits the museum has featured to celebrate the sesquicentennial of the Civil War.
Located at 415 E. Water St. in Elmira, the museum is open 10 a.m. to 5 p.m. Monday through Saturday and 10 a.m. to 8 p.m. on Thursday. •