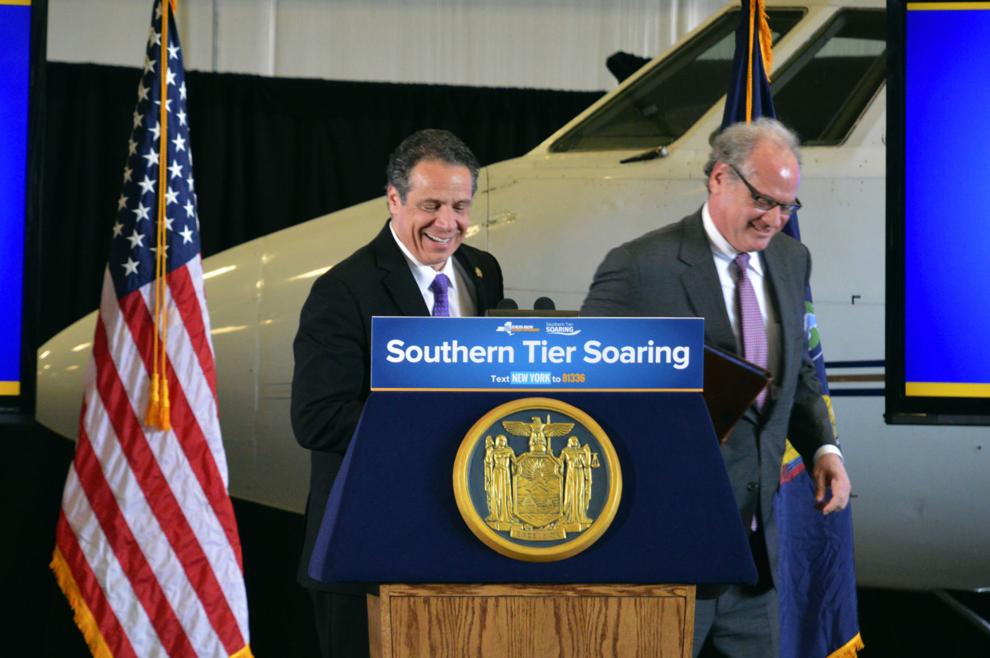 The Ithaca Tompkins Regional Airport will be receiving $14.2 million in state funds to upgrade the facility from a small, regional waystop into one that can field international passengers, Governor Andrew Cuomo said in an announcement at the facility on Thursday.
In addition to the upgrades, the Governor also announced that the New York State Department of Transportation facility – a long-time eyesore along the Cayuga Waterfront Trail – will be relocated up to the expanded facility, capping off 20 years of local efforts to free up the waterfront for commercial and residential development.
An upgrade similar to massive undertakings in places like Elmira-Corning and Rochester announced over the past several years, the project will bring on several new boarding bridges, as well as 4,000 square feet of new dining space and a 5,000 square foot customs facility to allow international passengers to fly directly to Ithaca from their connecting flights, rather than having to go through customs at an international airport before transferring here. According to figures from the state, more than 22,000 international passengers travel through the local airport annually.
The Airport serves three major airlines and, while the direct flight options are limited, flights have the capability to transfer to more than 650 global connections. With recent improvements to the airport, including the introduction of expanded jet service last year, the project will expand the terminal to provide more seating, six new gates, three additional passenger bridges and new retail opportunities, which Tompkins County Area Development representatives said will provide substantial meeting opportunities for the more than 80 high tech businesses located on or around the airport's campus.
Martha Robertson, the Chair of the Tompkins County Legislature, wrote in a statement after the event that if a current proposal out with New York State Electric and Gas is successful, Ithaca-Tompkins will run on solar, with annual energy costs projected to be cut by $50,000, though the facility will be 30 percent larger. She also mentioned there is potential for a microgrid connecting the entire Cornell Business and Technology Park to "transition off of gas to geothermal supported by solar." 
The $14.2 million in funding represents just a share of the $22 million anticipated cost of the project. While nobody is quite sure who will be footing how much of that $8 million, County Administrator Jason Molino told The Ithaca Times that the state funding would be used to leverage additional investment from other partners, with Tompkins County expected to pay a decent share of that.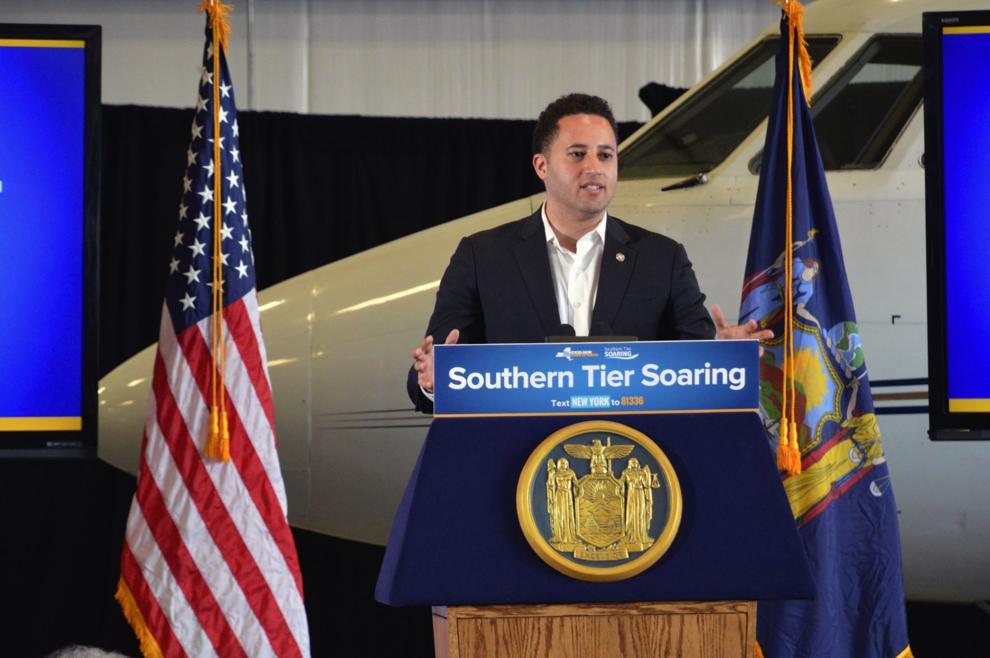 Facility upgrades will include the following:
Major security enhancements, including updating TSA baggage screening to be compliant with post-9/11 security requirements and adding another line for passenger security screening to alleviate wait times.
Reconfiguration of the security checkpoint and relocation of TSA office space as part of a 7,500-square-foot expansion of the passenger hold room.
Reconfiguration of airline office space and expansion of baggage screening space as part of a 2,500-square-foot addition on the east side.
Baggage security and check-in improvements to streamline the process and improve efficiency.
Three new passenger boarding bridges to accommodate jet aircraft and additional service.
Addition of 1,700-square-feet of space at the main entrance and an expanded ticket counter to improve passenger circulation and provide more room for ticket lines.
Construction of a new 5,000-square-foot Federal Customs Facility.
Technology upgrades to include high-speed WiFi, Bluetooth connectivity and additional charging ports and outlets.
Food service enhancements, such as expanding a pre-security café and adding 4,000 square feet of space for post-security food concessions.
Installation of a separate bus lane and a wind-resistant waiting area for buses, taxis and hotel shuttles.
Installation of new plumbing, HVAC, fire protection, mechanical and electrical systems.
Installation of a new geothermal water-source heat pump system to reduce natural gas usage for the terminal.
Work is expected to start this fall with completion sometime next year, after which the DOT facility will be relocated. According to the Governor, that process will take approximately 18 months before the property it sits on – currently valued at $2.5 million – is ready for development.
What's Next For The Waterfront?
According to a feasibility study by consulting firm Fisher Associates completed in 2016, the 7.6 acre DOT site could be worth more than $43 million at full build-out, offering a mix of commercial and residential space. No proposals, officials said, are currently being considered for that land, however it is located adjacent to a property recently bought by Cayuga Medical Center called the Carpenter Business Park, the future of which is still up in the air.
While no cost figures were available on Thursday for how much it would cost to relocate the facility up to Lansing, a plan outlined in the county's feasibility study presents an outline of what, fiscally, needs to take place to support a relocation. The state – and local partners – would contribute a share of funding toward the new facility after the land has been sold and from there, a general obligation bond or Pilot Increment Financing (PIF) would cover the cost of the facility by diverting real estate taxes – estimated to be about $1.6 million – from the fully developed project to be built on the land and sharing it proportionately by the county, city and school district. Debt payments would be approximately $357,000 per year, according to the study.
While it is uncertain what would be built on the site, Tompkins County Planning staff have hinted the property would be best suited for residential or commercial space, already citing uses such as industrial or as a hotel as prohibitively expensive due to limited access, above-average site costs, and the uncertain economic landscape created by a significant pipeline of new hotel projects. There is potential for dining or tourist-centric retail space to be introduced in line with the nearby Ithaca Farmer's Market as well as Cornell and Ithaca College's nearby boathouses, and housing – in demand at all income levels – could also be considered as part of the site's redevelopment. Several concepts were introduced in the plan of varying degrees of density with one proposal – a mixed-use townhouse concept – being identified as one of the most feasible.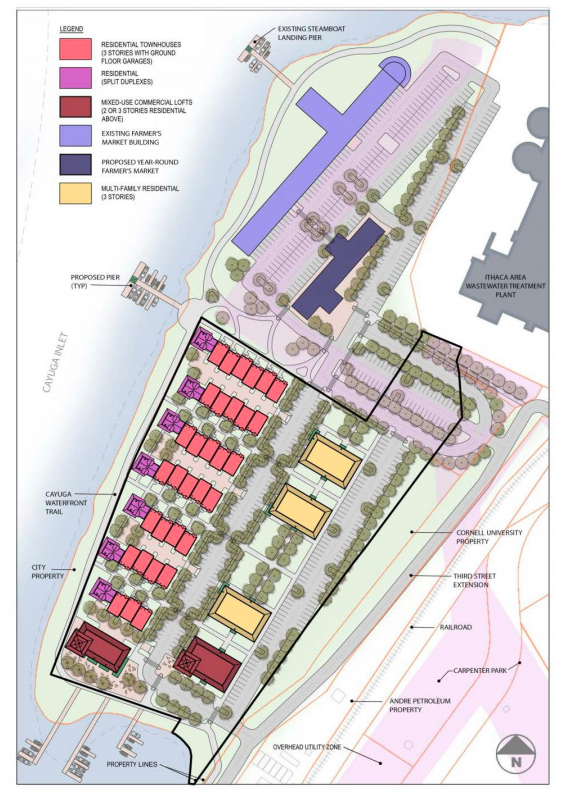 The conceptual drawings describe a development with numerous townhouse units and two mixed use (ground floor commercial, residential above) buildings located at the south end of the site, with a multifamily structure positioned on the east side of the main internal street. Parking would be included, with other amenities including a pool, outdoor leisure space, bbq's, activity space, dog walking, mailroom, recycling facility, movie room, business center, laundry and a transient docking pier floated as possibilities.
Because of its waterfront location and the environmental challenges that come with it, the estimated development costs, according to the report, would be slightly higher per square foot than similar complexes like 210 Hancock ($150/SF for a townhouse, compared to $165 on the DOT site.) with multifamily development costs ($215/SF) significantly higher than affordable housing complexes like Stone Quarry ($175/SF) or pricier locations like The Lofts at Six Mile Creek ($197/SF).
You can read the full report here.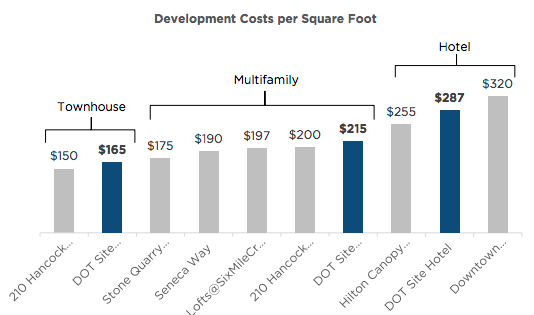 Whatever development does happen there, Mayor Svante Myrick said, would be an improvement.
"People ride along that waterfront trail and look to their left and wonder what the pile of sand and all that industrial fencing is doing between the Farmer's Market and the Boatyard Grill," he said. He talked a bit about Ithaca's past – its vibrant manufacturing sector that once included the construction of airplanes, one of which was on display behind him – and reminded the audience that the region's economic growth, today, comes from different sources.
"It's important to recognize we're not building airplanes anymore," he said. "Big industrial factories are over for our community. Finding ways to recognize our heritage while focusing on what we have – our universities and our tourism and our agribusiness, our service industry – means taking planes like this and bringing them downtown into the heart of our community into a Heritage Center. (Currently under development) And that wouldn't be possible without guess who – that New York State Governor of ours."
What Does This Do For Economic Development?
In Cuomo's remarks to the audience (he did not take reporter's questions following the announcement) he said that airports were the center of 21st century business and that the only way for regions to be competitive on an international scale is to have access to interstate highways or airports that can provide quick, unfettered access to the world economy.
Cuomo noted the loss of population in Upstate New York and in the Southern Tier especially as more and more of the workforce defected across state borders without the manufacturing jobs that once propped the region up.
"We had this old New York mentality that we're New York and businesses will come here, why? Because we're New York and because they have always been here," said Cuomo. "That was true for a period of time. It is no longer true."
The governor – as well as Myrick and airport director Mike Hall – emphasized that today's airport functions as more than a connector from point A to point B, especially in economies such as Tompkins County's where numerous companies and manufacturers boast international clientele. (ADC 9001 in Lansing, an advanced manufacturing firm, is a prime example.)
The modern airport, Cuomo said, needs to be more. It needs meeting space, and dining areas. It needs quick and easy access for international passengers, particularly for the thousands of foreign students and faculty arriving to attend school at Cornell each year. A number of studies, summarized in this article from Duke University's Department of Urban Economics, have all pointed to the crucial role of airports in a region's economic development, with the main pitfall – Director of the University of Southern California's Lusk Center for Real Estate Richard Green wrote in 2007 – being the adverse social factors of increased noise to come with increased traffic.
"Airports are the new front door to the economy," Cuomo said. "You have business people who never even leave the airport. They fly into a country, they meet their business people in the airport. They have a meal, get back on the plane and they leave. That's what an airport is now. They're the economic hubs of the next century. This nation has missed the boat entirely on this."
Michael Stamm, the Director of Tompkins County Area Development, agrees. Noting the substantial industrial and commercial development already present on the airport's campus, Stamm said the airport's expansion will only help to lure even more venture capital and internationally based companies to take a closer look at Tompkins County as a place to do business. He said the airport – as currently oriented – has "certainly hampered" the county's ability to attract business but, thanks to Cornell and numerous spin-off businesses to emerge from the campus, he said a new airport will only help to enhance an already vibrant sector that the region's economic development council has targeted as a priority.
"We know there are Chinese businesses and venture capitalists who want to fly here direct and now we're able to do that," said Stamm. "It will really be a boost to advanced manufacturing here in Tompkins County."