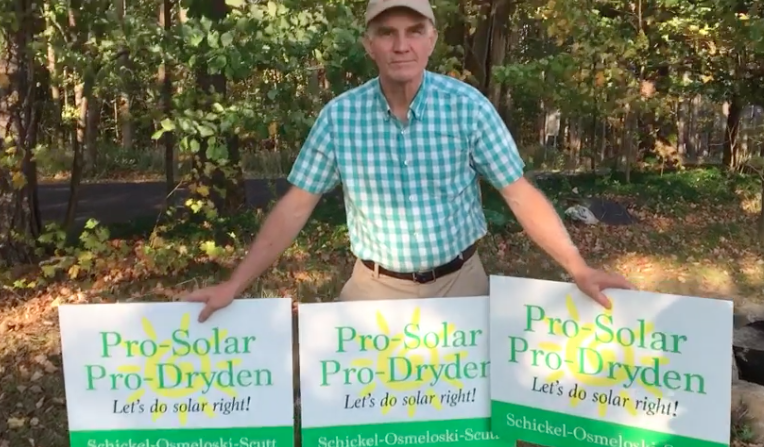 Driving into the Village of Dryden from the west, it'd be forgivable for one to think they were entering a town divided.
Coming down Route 13, the lawn signs that signal election season in small town America are strewn across the lawns without cohesion, rhyme or reason, one neighbor touting several signs for the town's Democrats while, across the way and next door, you may just as well expect one of the ubiquitous green signs of Dryden's Independence Party. Though already one of Tompkins County's most politically polarized towns, the Town of Dryden, this year, has seen its political tensions come to a head, the two parties trading barbs in press releases and with poorly-drawn webcomics shared through social media.
For the Democrats, at least, there may be fear that it could be working.
As election day rolls closer, some have speculated the conservative Dryden Independence Party and its candidates have a real shot in placing some of its membership on a town board that, over the past decade, has become dominated by Democrats: a marked shift from the way things once were not just in Dryden, but the county as a whole. These tensions, statistically and philosophically, seemed to have played themselves out between the generally conservative eastern end of Dryden and the more liberal west, which over the past decade has seemed to envelop an outgrowth of political sensibility from the left-leaning City of Ithaca.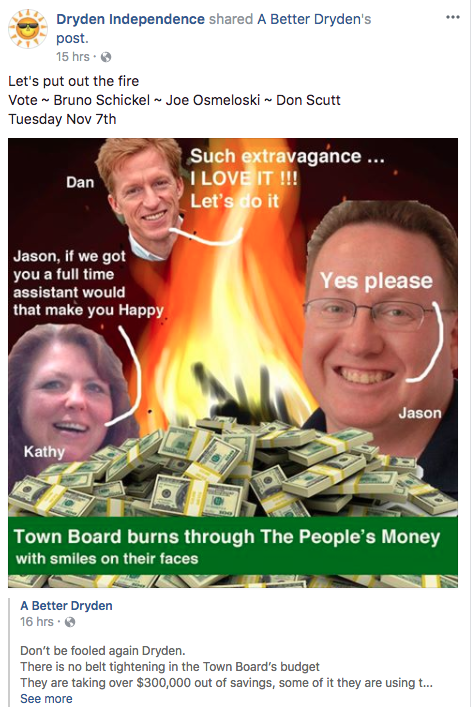 "The town has really shifted over the past few years," said Simon St. Laurent, chair of Dryden's Democratic Committee from 2004 to 2011, who oversaw a major gain both in Democratic registration and in representation in town government. "The Republicans have definitely had a harder and harder time over the years."
Between 2008 – roughly when the Democrats began to win seats in Dryden – and 2014, Democratic voter registration saw a significant increase in the southwestern end of the town in particular, causing a major demographic shift in a 93-square mile town that, despite its geopolitical divide between the "Ithaca side" and the "Cortland side," elects its candidates at-large. According to figures on St. Laurent's blog, Living In Dryden, the Democratic Party increased from 2,947 in August 2007 to 3,208 in 2014, while the Republicans in that same period actually lost membership from 2,690 to 2,414 members, approximately 200 of them seemingly defecting to the Dryden Independence Party.
Then there's the story of what's happened in the past two years.
"There's been changes in living patterns in the area," said Henry Kramer, a prominent Conservative in the Town of Dryden. "It appears, at least to me, as Cornell grew and became a more liberal institution with less diversity of opinion in the faculty, they continued to move out into the area – the Ellis Hollow area in particular – which has changed the demographics of the town."
Since 2014, Democratic registration in the town has boomed, rising by more than 500 members in just two years according to numbers provided by St. Laurent, holding a slim majority in the Village of Dryden and massive majorities in Ellis Hollow, Etna and Varna . While at the same time Republican membership dipped even further, losing 100 members, it still holds solid majorities in a number of areas of town, counting majorities in Malloryville/McLean, Eastern and Northern Dryden and South/Central Dryden – where the newsstands stop selling the Ithaca Journal and start carrying the Cortland Standard. (Freeville, with its strong Independence Party taking away 53 members from the Republicans, is about a toss-up.)
"The division is nothing new, but as far as I know it's never seemed as politically hopeless as it is right now," said Mary Ann Sumner, a Democrat and the former Town Supervisor. "I like to read minutes of old board meetings – they go all the way back to about 1810 – and it was a problem even then. Not politically, they weren't political at all back then, but it's always seemed like two different towns: that side is Cortland, that side is Ithaca. It's a big town."
Their numbers strong in some areas, the Republicans – at the mercy of a townwide Democratic majority – have expressed the sense that their opinions in town affairs have since become marginalized, whether it's a distaste for the Democrats to listen to the other side (which Sumner said, was often discouraged as a member of the Democratic Party) to the Democrats simply seeing a mandate in the complacency of the other party, one which really began to slip in the wake of a major loss in the 2011 fracking debate that led to the Town of Dryden becoming the first in New York to pass a comprehensive fracking ban – accomplished under a Democratic majority.
This, many feel, was the turning point. However, the sentiment of an emboldened Democratic Party actually began to rise several years earlier: When Sumner was first running for town board in 2005, it wasn't exactly smart to say the word "Democrat" out loud, she said, tip-toeing around it with lawn signs featuring catchphrases like "Representing All Of Dryden." Two years later, the party was marching in the 2007 Dairy Day Parade, proudly proclaiming the fact they were, in fact, Democrats.
"We were emboldened," Sumner said. "I was elected to the board that year, elected supervisor two years later and so it goes. I think it was a surprise to Republicans that we were so successful rather suddenly, and though we were pretty moderate, I think, I think it both frightened them that they were out of power but also emboldened and encouraged by the fact we took them so seriously."
"We never wanted to encourage them to be such pains of asses, though," she jokes.
There is a sensibility in the local Democratic Party and the outgrowth of Ithaca liberalism, Sumner hints, that could be holding back any potential for real political unity in the town. She recalled one dinner she once had with Tompkins County Democratic Chair Irene Stein, who once said to her "You're a lousy politician, but a great supervisor," in reference to Sumner's management style on the board.
"It really bothered them that I even paid attention to the Republicans, even tried to engage them in conversation," Sumner said. "That really annoyed the Dems. I really didn't understand what people meant about politicians being 'too political,' because I'm really not that way."
Because of this sense, some of the candidates have expressed a sense of disenfranchisement taking hold in the town that has since, resulted in a whiplash of popular opinion. The Independence Party, emboldened by an ideological split on a recent over-market price purchase of a parcel of land on Pinckney Road (3-1 against in the east, 2-1 for in the west), the Dryden solar debate (which has netted the conservatives the liberal Joe Osmoleski as a candidate on their line) and a general polarization in opinion nationwide (for Town Supervisor candidate Bruno Schickel, a dyed-in-the-wool conservative, his support of Donald Trump and Tom Reed – two highly unpopular figures in liberal Tompkins County – has become a campaign issue), sees an opening this election year to take on Ithaca's political monoculture and gain back some of the influence it had lost over the past decade.
"We don't have a broad base of representation on the Town Board," said Schickel. "They're all Democrats, they don't have to listen to sort of the 'country folks' if you will, the blue collar part of town because they're elected at-large. In my mind, that's part of the reason we seem to have a board that doesn't listen to the other side because, in effect, they don't need to."
Noting the division, Schickel said Dryden needs a more permanent fix in the form of a town ward system, a solution that has been characterized by Democratic Legislator Martha Robertson as "gerrymandering," even though the currently elected members of the board come from different sections of town and, legally, it's unclear whether or not it's even possible under the statutes of New York State Town Law.
As noted in a Facebook post by incumbent supervisor, Jason Leifer, the current members of the Town Board are, geographically far-flung, hailing from all areas in the town. As far as who is represented on the board, it may be a shift in geopolitics. Then again, it all may just be a numbers game.
"If you can't elect a Republican, it's really not the Democrat's fault," Sumner said.
 Follow Nick Reynolds on Twitter @Nickthaca