A previous version of this article stated Kim Knight as an "out-of-town resident." Knight is a resident of Covert, which is a part of the Trumansburg school district. The Free Press regrets the error.
A large portion of the Trumansburg community congregated on East Main Street, in front of the Ulysses Philomathic Library and the First Presbyterian Church, around noon on Saturday June 6 for what initially was described as a "solidarity event" in wake of the protests taking place nationwide against police brutality.
About 50 or so people, primarily white middle-aged and families with young children, gathered along both sidewalks, holding signs that read "Black Lives Matter," "White Silence is Violence," "Defund Disarm Dismantle The Police," and several others. Folks were mainly silent, standing still, watching cars pass by and cheering when one of them honked its horn in support.
It was not until approximately 40 minutes into the event when a large collection of young adults – some students at the Trumansburg Central School District, some college students who were from the area – arrived on East Main Street and amplified the movement to another level.
Seven of those young adults took the streets and began chanting "Black Lives Matter" and "Say His Name" followed by "George Floyd."
"Tburg doesn't say a freakin' word," Kim Knight, an white resident of Covert who was present that day, said. "Like everybody got all out of whack when these guys started one chant. … You could just feel the tension."
"I think there are a lot of middle-aged people in this town who like to think they're progressive, and will come out and stand on the sidelines and bring there kids and say, 'Look, this is what action is,'" Sophie Tantillo, a white college student who is from Trumansburg, said. "We were hear to show them that's not what action is."
Minutes later, one of the young adult protestors, a person of color, stood on top of a sidewalk bench on the corner of East Main and South Streets and gave a speech, expressing her disappointment of the community's actions thus far that day.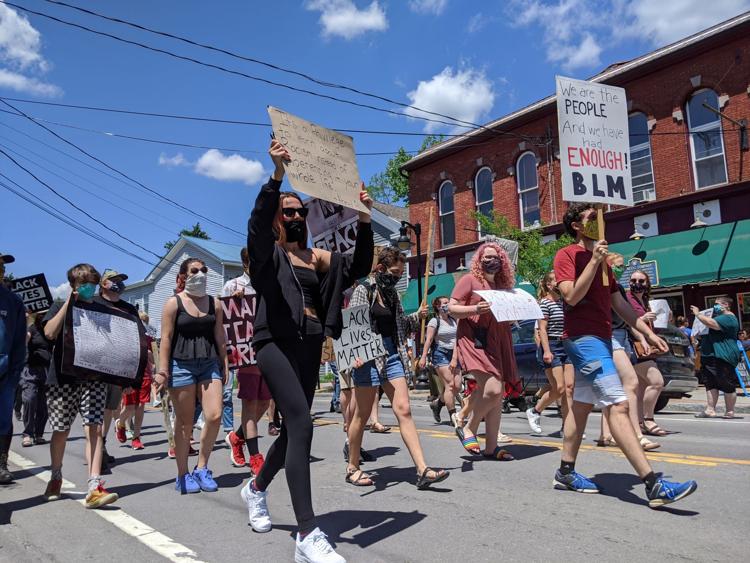 "I came here expecting a fire under this small town's belly, yearning for change," the protestor said. "But sadly, the first thought that came to my mind is, 'This is cute, Trumansburg.' Speak up. Speak up. Why is this town so accustomed to silence?"
"I hate to break it to you, but standing on the side of the road with a sign, so that you can take your picture and prove something for yourself, means nothing. It's not about you. It's never been about you."
The protestor continued by saying, "I hear people saying you're uncomfortable about the heat; you're uncomfortable because you have to wear this mask, and you can't breathe. I'm uncomfortable in my own f*cking skin in this goddamn town."
The individual then went on discussing there family's experience living in Trumansburg.
"Imagine your father tell you he's afraid to drive at night, in this town," the protestor said. "You probably don't believe it, but it's true. There is a problem, and it starts with you. It starts here. It starts within yourself."
"I'm going to be honest, I was nervous to show up today because I honestly didn't know whether anyone else would be here to support this movement. It's never been clear to me or my family, who's been here for almost 30 years – 30 years – if anyone has ever given a damn about our black lives."
Following the speech, a crowd of at least 100 people formed and began marching up and down East Main Street. The marchers chanted phrases such as "No Justice No Peace and "Whose Lives Matter" followed by "Black Lives Matter," all while the local youth led the pack.
Multiple protestors shared there contempt for the racist behavior the school district exhibits currently. Bella Nelkin Paperno, a white college student who graduated from Charles O. Dickerson High School, said she has experienced some negative interactions with former teachers since she returned to protest.
"I've been standing on the street corner down there everyday this week," Nelkin Paperno said. "I can't count the number of times I've been flipped off by people that are important pillars in this community – people who work at the high school, people who work at the middle school. I've been flipped off by teachers; I've been flipped off by administrators."
Another protest will take place in Trumansburg on Saturday June 13. The time and place have yet to be decided on. Overall, the message moving forward is that non-people of color in Trumansburg is that they must take greater responsibility in order for the movement to progress.
"You can't rely on people of color to spoon feed you the answers," the protester said in there speech. "You have to put in the f*cking work. You are skimming the surface now by recognizing the problem. The next step is to listen to people of color. Educate yourself. There are no excuses. And most importantly, use your privilege to shut down racism in any manner that it may occur."