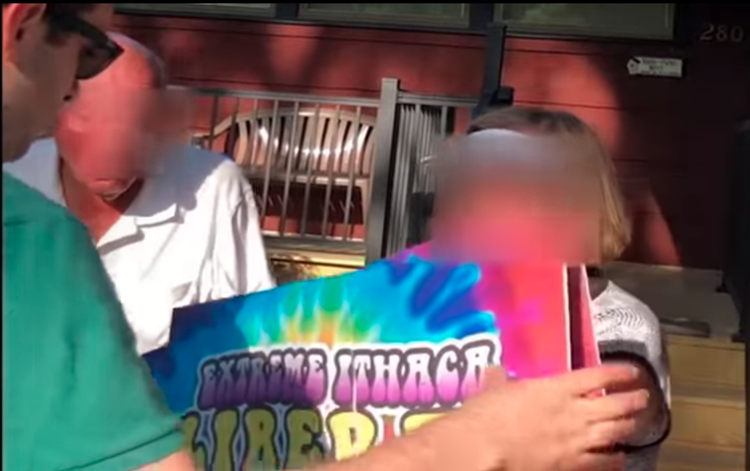 UPDATE (4:27 PM) The Mitrano campaign has issued a response:
Democratic Candidate Tracy Mitrano's Campaign responds to former unpaid volunteers' unauthorized removal of Reed's "Extreme Ithaca Liberal" signs from public property.
The Mitrano for Congress campaign has recently learned that two of its unpaid volunteers, acting on their own volition, removed Tom Reed's "Extreme Ithaca Liberal" signs from public property.
Mitrano for Congress will never condone any of its volunteers taking other candidates' yard signs. The individuals involved are no longer associated with the campaign.
Obviously, because Congressman Reed has no positive record of his own to run on, it's clear he's taken to meddling in the Democratic primary by placing "Extreme Ithaca Liberal" yard signs next to presumptive Democratic front-runner Tracy Mitrano's yard signs. He clearly must be afraid to face Tracy Mitrano in the general election.  
We encourage all of our volunteers to channel their frustration with Tom Reed's poor record into getting out the vote on June 26th and November 8th.
ORIGINAL STORY: Congressman Tom Reed's campaign manager said workers for a Democratic candidate for Congress have been stealing their yard signs, and provided video to back it up.
According to Reed's campaign, a representative for candidate Tracy Mitrano and his wife, a Mitrano volunteer, were found to be in possession of several "Extreme Ithaca Liberal" yard signs at their home in Corning, all of which were paid for by the campaign as a way to "highlight their opponents' extreme positions on the issues." On Monday, the campaign says it was tipped off that six of these signs had been stolen from a public right-of-way, and moved to a Mitrano supporter's residence in Corning.
A representative for Reed's campaign said they did not know whether the individual was a paid representative of the Mitrano campaign or a volunteer, only that they confirmed he had helped to manage the Corning office.
.@MitranoForNY23 caught stealing #ExtremeIthacaLiberal yard signs in #NY23 https://t.co/bmxNONWQQb pic.twitter.com/q1SnenGh8j

— Extreme Ithaca Liberal (@Extreme_Liberal) June 14, 2018
Nicholas Weinstein, Reed's campaign manager, said they admitted to stealing the signs after confronting them at their home, which he recorded on video.
"It is shocking to know that a Tracy Mitrano campaign employee was engaged in theft of political yard signs," Weinstein said in a statement. "Apparently when you're running on a platform that is completely out of touch with the district you want to represent – socialized government-run medicine, higher taxes, and heroin injection sites in our backyards – you start to get desperate."
The exchange went as follows:
Woman: Here's your signs.
Weinstein: So, there was another batch of signs that went missing earlier, those weren't you?
Woman: That I don't know, this I do know about.
Man: This is us confessing.
Campaigns typically have a fair amount of leeway in where they can place campaign signs, with the New York State Attorney General's office having already weighed in on towns' liberties to remove signs (note: they can't until after the campaign), a position backed up by the State Supreme Court. In New York State, stealing signs from a residential or commercial property is a Class A misdemeanor punishable by up to a year in jail, probation for three years, or a fine up to $1,000. Damaging a campaign sign is considered Criminal Mischief in the 4th Degree and is also classified as a Class A misdemeanor.
"Regardless of your political views, trespassing, stealing, and vandalism are wrong and against the law," Weinstein wrote. "Tom Reed cares about addressing the issues that matter to the people he represents and will continue to fight for the families who have chosen to make the Southern Tier, Finger Lakes and Western New York their home."
This isn't the first report of alleged sign tampering in the NY-23 race: The Ian Golden campaign reported similar lawn sign theft earlier this year as well.