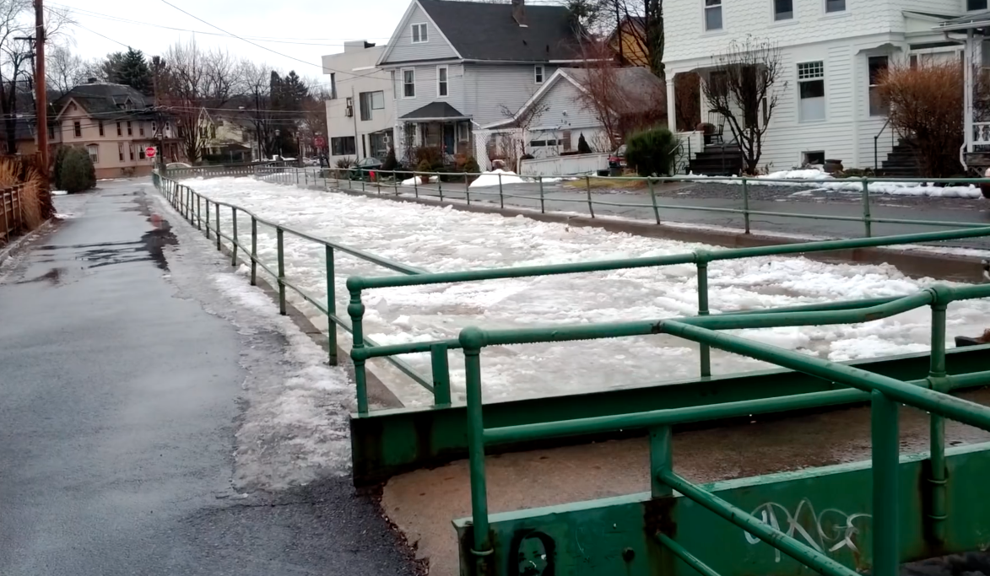 UPDATE: Flooding has been reported due to ice jams forming in Cascadilla Creek. Flooding has been reported on Madison and First Streets. Residents are advised to check their basements.
After a deep freeze solidified the creeks running through the City of Ithaca last week, sudden increases in temperature are leading to rapid ice thaws, making several neighborhoods in the city prone to flooding.
According to a press release from the Ithaca Fire Department, City of Ithaca Officials are keeping an eye on the area waterways and reminding Ithaca residents to be prepared. The National Weather Service has issued a flood watch at this time:
FLOOD WATCH CONTINUES FOR OUR AREA THIS EVENING THROUGH SATURDAY EVENING. A COMBINATION OF SNOW MELT, RAINFALL AND POTENTIAL ICE JAMS MAY CAUSE FLOODING ON LOCAL RIVERS AND STREAMS. RIVERS AND STREAMS COULD SEE LOCALLY FAST AND SIGNIFICANT RISES IN THE VICINITY OF ANY ICE JAMS.
Here's an example of an ice jam that occurred in 2014:
Citizens were also alerted with a Swift911 alert at around 1 p.m. this afternoon.
The Ithaca Fire Department reminds everyone to not drive through flooded roadways, and check their homes and neighborhoods and prepare for possible flooding. During this time, IFD is advising residents to check their storm drains to make sure they are clear of any leaves or debris so water can drain and, for residents in low lying areas and areas near creeks and streams, to be diligent and check their basements for flooding and that their sump pumps are working.
"If you don't have a sump pump," they say, "get one."
Want to know why the floods can occur? Read our coverage

here

.