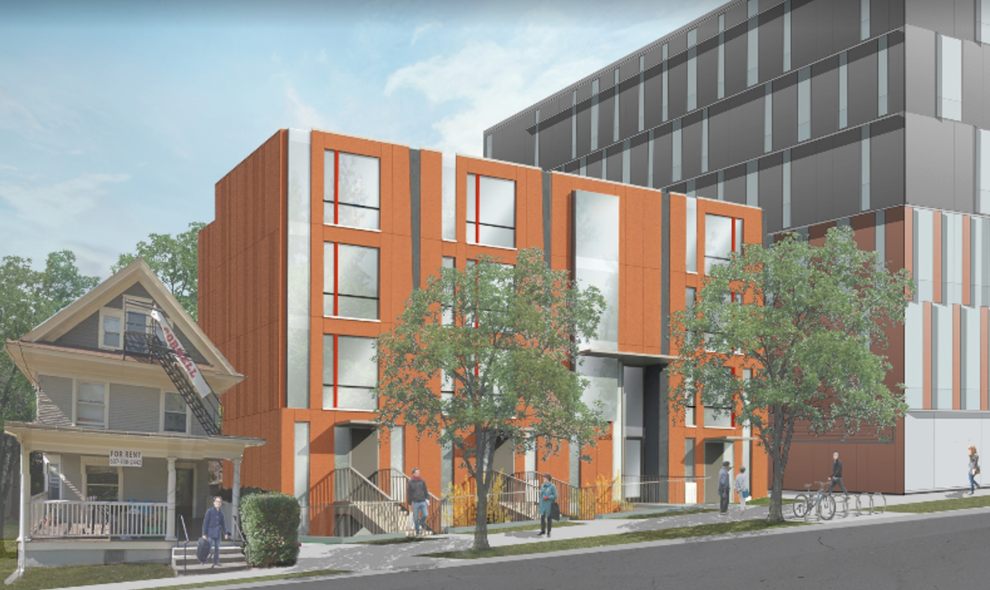 Two new proposals from two familiar developers have been heaped onto the city planning department's already-hefty Collegetown file.
A John Novarr proposal for additional townhouses at 238 Linden Ave – adjoining his Johnson School project under development for Cornell – was introduced on Tuesday evening. Similar to a previous set of ikon.5-designed townhouses he proposed for the 100 block of College Avenue several months ago, the four-story structure (five, if you count the habitable basement) will replace a 10-unit frame house built in 1920 with a sleek, 45-foot-tall structure packed with 24 "hotel room-sized" studio apartments, all intended to serve as student housing for the graduate business school next door. It's standard ikon.5 fare, ultramodern in aesthetic with floor-to-ceiling plate glass windows, aluminum frames on the windows, zinc trim and a "chameleon" finish on the south face of the building that changes color based on where you're standing. It's all a based on the template laid out in the Collegetown plan's rowhouse design guidelines, which the design team described as a "godsend" for the type of development they wanted: one that fits in with the Collegetown mix of high rise apartment buildings and mid-rise frame houses.
Here's an image of the front, taken with a potato. pic.twitter.com/3z4dsRq3iv

— Nick Reynolds (@Nickthaca) March 28, 2017
With a small courtyard leading into the basement apartments, the building provides plenty of natural lighting for the tenants on the building's lower floors, all while sitting just six inches beneath the 45-foot height limit the property is zoned under.
The development team said it hopes to be under construction by Christmas – five months after the anticipated completion date for the Johnson School.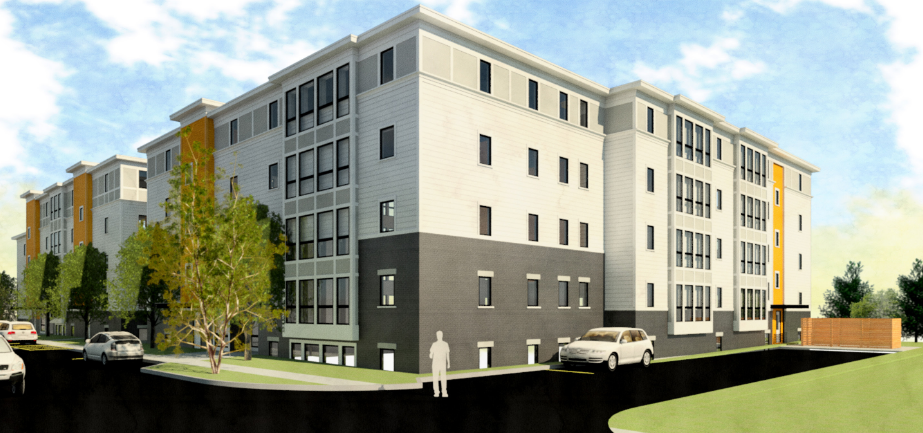 Next up, a Todd Fox/Visum Development proposal for 232-236 Dryden Road, currently a parking lot on the edge of the Collegetown core assessed at about $350,000. The lot, which features a derelict, five story building which once served as dormitory for the Cascadilla School, is built along a small slope which largely obscures the property behind a shaggy treeline.
The new proposal consists of two separate buildings – one four-story structure with frontage on Summit Avenue and another on Dryden Road – which meet to create a pedestrian passageway between the two streets in a sort of "pocket park," accenting an improved streetscape for Summit Avenue. Each structure is designed similar to the rest of those proposed by Visum in recent months, done intentionally as a way to build continuity between Fox's structures in the neighborhood with a mix of muted and brightly-colored shades of stucco, wood trim, strong vertical lines and strong variety on the facades, some of which offer stunning views over the nearby Cascadilla Gorge.
Closeup. pic.twitter.com/CGeFMQgoYe

— Nick Reynolds (@Nickthaca) March 28, 2017
"It's what we need, exactly where we need it," board member Robert Aaron Lewis said.
There's no floor plan just yet, but Fox – who spoke to "some of" his neighbors this time, he joked – said the developers hope to break ground in August and finish up in time for the following school year.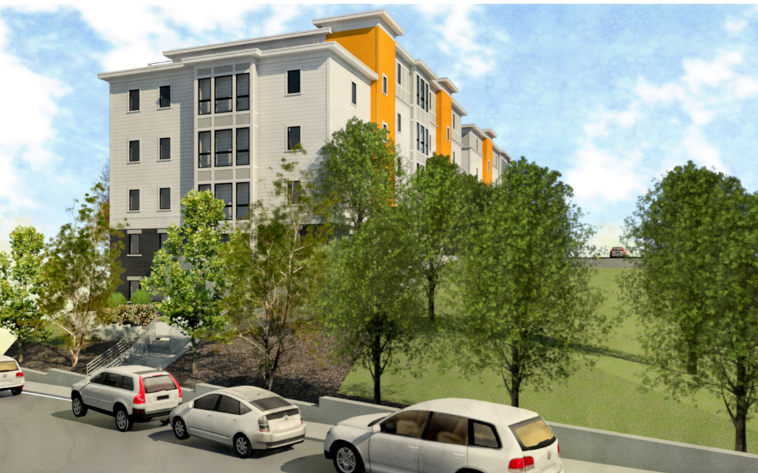 Follow Nick Reynolds on Twitter @Nickthaca