On Monday, June 10, the Trumansburg community was treated to a high school band and chorus recital by a group of very talented Charles O. Dickerson High School students. The performances included 26 different musical offerings by students involved in the various bands and choruses.
The New York State Standards now place creativity very high on its list of expectations for music students. To meet the standard, band director Hope Lewis and choral director Jenny Henion require their students to be involved in the June recital. Students could choose to be soloists, duets, or work within a group of varying numbers and were given deadlines to submit proposals and to perform. They had to decide on the music and how they planned to set aside time to practice. Many of the students chose to be in more than one musical selection. Working backstage also counted to fulfill the standard. "We are just the facilitators," said Lewis. "Jenny and I might help the students find music, transpose or arrange parts, or help them do things they might not know how to do. We also can help them rehearse if they are having trouble putting things together, but it is really all up to the students."
The musical numbers included in the recital ran the gamut from instrumental and vocal ensembles to brass duets and French Horn trios to selections by the various bands and choruses to combinations of vocal and instrumental presentations. The music included classical numbers, show tunes, old favorites, pop, and rock. Tucker Rossi and the Jazz Band performed "I'm Still Standing." "I wanted to do an upbeat song and I liked what Elton John was doing, but thought it was a bit too synthesized. I wanted a more musical version that was jazzy and upbeat," Tucker explained.
Xander Dawson, Faith Flood, Natalie Suggs, and Lily Herman sang "You Will Be Found" from the musical "Dear Evan Hanson." Xander said that the group made this choice because they liked the message the show sends and the song was very positive. The group worked together well and were able to rehearse frequently.
"Kung Fu Fighting" was a percussion ensemble piece where two sections of percussion instruments battled it out for supremacy. In the end, they discovered they were not enemies, but brothers and could work together. The number was quite dynamic.
Talia Yarbrough, Glenn Parker, and Jack Masters were a French Horn Trio that played "Triode" composed by Carrol Butts. All 3 musicians are students of Heidi Oros who introduced them to the piece and they liked it so much that they decided to play it for the recital.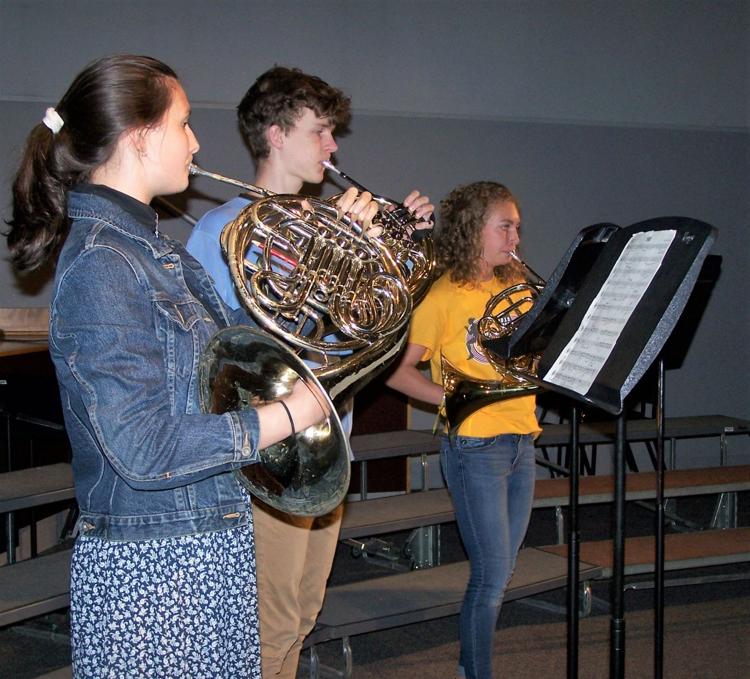 "Heathers Medley" was originally written for violins. Since Mikey Winters plays the euphonium, Eleanor Kephart plays the trumpet, and Miranda O'Halloran plays the flute, they had to transpose the music to fit their instruments in the key of B flat.
The final number in the program was a rousing rendition of "Lucky Chops Medley" played with a variety of brass and wind instruments with the addition of a drum set. It was a very good high-octane way to end the concert which really showcased the vocal and instrumental talents of the high school students. Trumansburg certainly does have amazingly talented students.