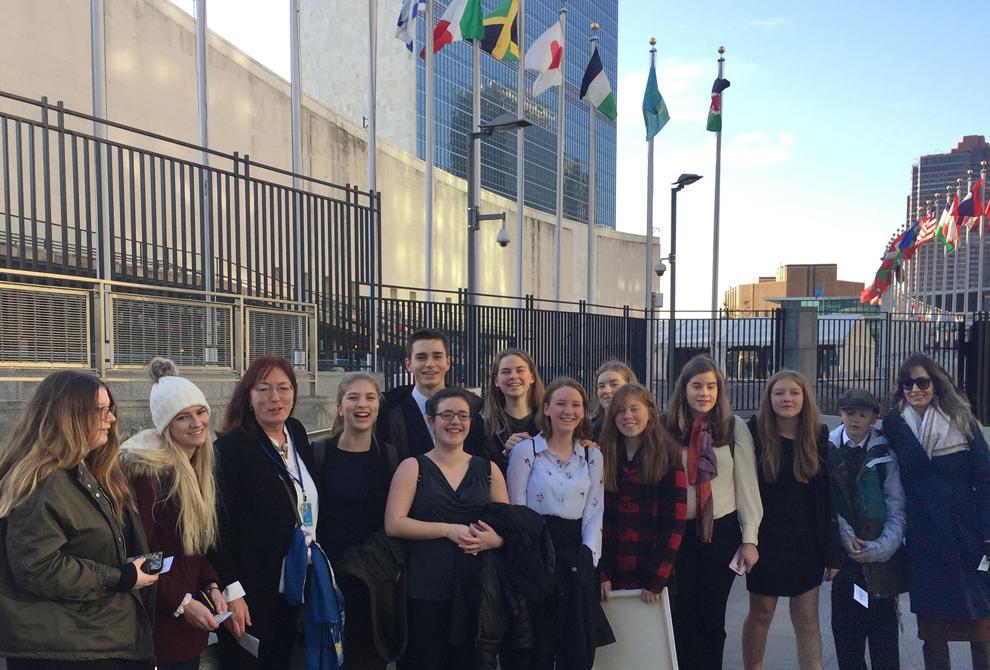 Having just returned from New York City, for a group of Trumansburg High School students, their work is still continuing as they craft community initiatives to teach and engage others about how people can do their part at a grassroots level to fight climate change.
Twelve students total went to the United Nations for a weekend to discuss the issue of global warming and try to formulate a document to be submitted to the UN that could lay out their findings amongst each other and prescribe some sort of action plan for the future. The trip is part of a Global Humanism class at the high school, which was participating in the Youth Voices on Climate Change: A Guide to Empowerment and Action program, organized by Gertrude Noden's Words into Deeds and Global Education Motivators.
Students from the Republic of Georgia, Mexico, and Queen, New York also attended the conference, along with students web-casting into the conference from India, the Philippines, and students from another school in Mexico. The students' work is currently being compiled and pared into being a full, coherent document, which will then be presented to the United Nations Youth Envoy on Climate Change in the coming months, which the kids have been invited to attend.
The conference was divided into three sub-themes of climate change, all of which the students had been working on projects for: education, scientific solutions and migration, and how all of them relate to the global issue of climate change. Some of the students were selected for important positions as well: Georgia Mechalke as one of the conference chairs, and Logan Bonn as one of the final document's editors.
"I was focusing on specific things like the ice melting in northern climates, and hurricanes," Sarah Wertis said, saying just hearing experiences from outside her worldview broadened her understanding of the topic. "But it was brought to my attention by the students from Mexico, about droughts and how people are moving away from cities who were building economies and how now they're crashing, so it opened my eyes to a much broader spectrum of migration."
Now back at home, the students ar trying to use their experience to help them follow-through on the progress they had made previously on their own projects, which ranges. Mechalke and Logan Bonn are trying to encourage local businesses to reduce the amount of plastics they use, though they have not yet had success in piquing much reciprocal interest. Meanwhile, Ginny Clifford is about a month away from painting a carbon footprint-based mural somewhere around the City of Ithaca (pending location approval), and Jadyn Wright and Lily Oxley have presented to several schools around Tompkins County regarding the topic of reducing waste in and out of the classrooms.
Bonn said seeing the program in action, with students contributing and writing and discussing and editing, he recognized the more significant effect they could be having than he had previously realized.
"It definitely made me realize we're having an impact," Bonn said. "It shows how easy it is for us to make an impact, if we actually put in the effort. I've always thought there's no way we were going to be able to change anything [...] Because there's a change that can happen if you want it to happen."
Teacher Jane George, involved in organizing the program and the UN trip, said the trip had been inspiring for her as she watched her students leave their mark on such an important issue affecting nearly everyone around the world.
"Being an adult, I can truly see the impact they're having on the world right now," George said, noting the students have garnered rave reviews from other teachers at the conference. "They really stood out, above and beyond, a lot of the other youth that participated."