Members of the Class of 2019 of Charles O. Dickerson High School in Trumansburg spent commencement June 27 fondly recounting stories of one another, thanking those who helped them on their road to receiving their diplomas, and paying tribute to those who are retiring this year.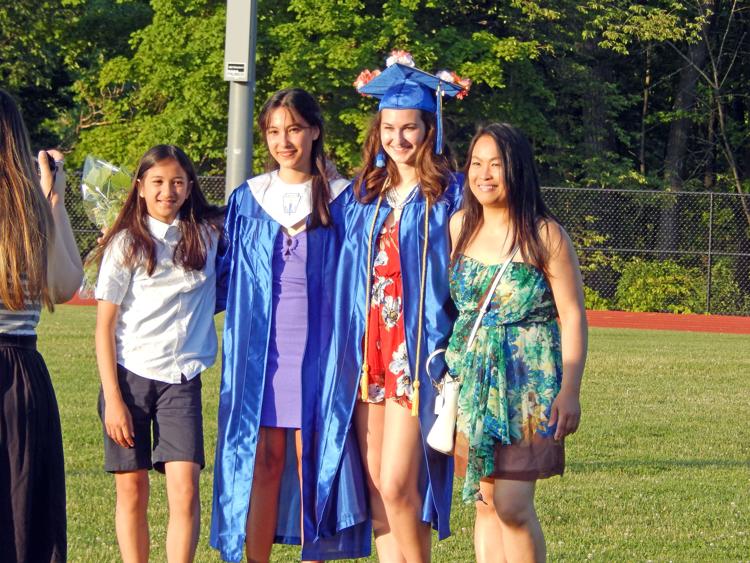 Jon Koeng, Charles O. Dickerson High School Principal, started the ceremony by acknowledging the recent loss of alum Ethan Carpenter, a member of the graduating class of 2007, who was killed while serving in the United States Army, and James Johnston, class of 2013, who died June 25 while serving in Afghanistan. 
Before the National Anthem, Koeng requested that everyone rise for a moment of silence "to honor the memory of these exceptional young men and pay tribute to their service." 
Next to speak was Gary Astles, Trumansburg Central School District Board of Education president. He asked the graduates a series of questions (he joked that they would be tested on the answers later, but they only had to say the answers to themselves and grade themselves on the honor system).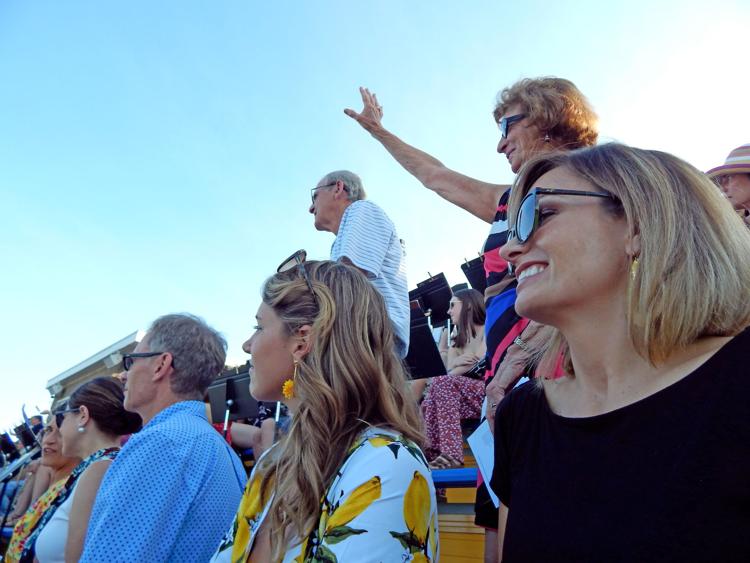 One of the questions was: "What will every person you meet have in common even though that common thing is different for each person?" The answer was that they all know something you don't know. "Learn from them, despite whether or not you like them or agree with them on other issues," Astles said. 
Next up was the student speaker, Shanya Ramirez Arroyo, who first and foremost thanked the teachers who "put up with all the nagging and the drama their students give them," as well as the parents who "truly helped nurture each and every one of us into becoming, dare I say, esteemed men and women." 
Arroyo said she thought she could name each of her 58 classmates off the top of her head and even share a fun fact about all of them. "Looking at you all I see activists, musicians, artists, chefs, actors, business men and women, architects, doctors and nurses, and veterans," she said. "I hope that all of you can achieve your goals and live your best lives."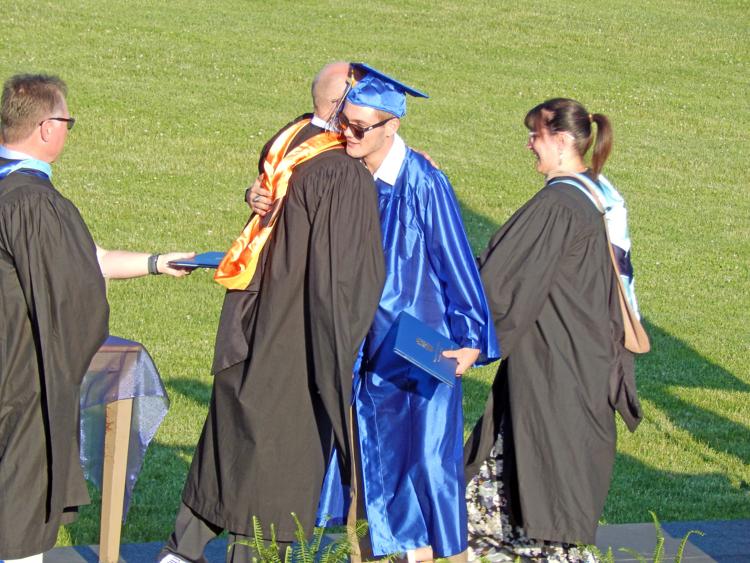 Sophie Gardner, Class of 2019 salutatorian, reflected on all the years she has spent alongside her fellow students. "When you're only 17 or 18, 13 years is almost all your life," she said. "We have a lot of shared memories: the Halloween parades around the bus circle, concerts and plays, a favorite teacher, sports teams, trying to be cool when we came to the high school." 
"We have what Mr. Koeng promised we'd have four years ago at freshman orientation and what we worked hard to get: a transcript, a ticket to our futures," she added. "How far that ticket will take us will depend upon how much more work we each are willing to do and what we do with the ticket." 
Valedictorian Benjamin Haefner, in his speech, compared himself and his peers to plants growing each year. By middle school, he said, they began to branch out and develop interests that would guide them on their own paths. "In high school our interests budded," Haefner said, "leading us into different directions as we followed our passions in history, science, design, language, robotics, music and drama.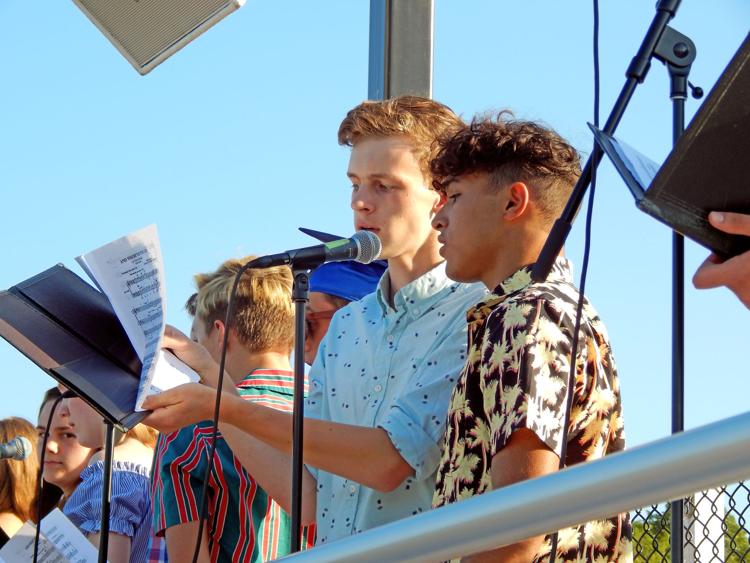 "It is important to stop and look around and enjoy the moment," he added. "We have all worked hard overcoming obstacles our friends may know of or not know of. We have all succeeded." 
Gordon Bonnet, guest speaker, said he was graduating this year, too. "It only took me til 44th grade," he joked. He is retiring from his job as high school biology teacher this year. 
He advised the graduates to not be too impatient if things don't go as planned right away. "There's no single right way to get to your destination," he said. "I changed my major four times before settling on teaching and didn't get my first teaching job until I was 26, but all of those course changes got me where I am now, and all in all I'm happy here."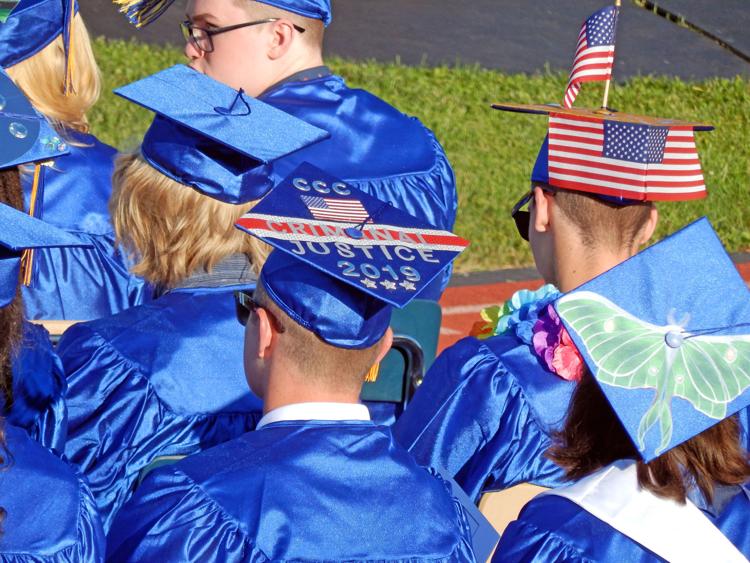 "Don't take yourself so seriously," he added. "Be aware of your foibles but also be able to laugh at them." 
Koeng gave the concluding comments. He pointed out that the Class of 2019 is the smallest class in the history of the school. 
"Here's the thing," he said. "What you lack in numbers, you make up for dramatically in character and accomplishments." More than three quarters of the class has maintained an honor roll average for all four years of high school. "That is unheard of," Koeng said, adding that over 95 percent of the class has already earned college credit. 
"The great thing about you all is that I don't need to wish you good luck," he said. "I'll just say 'keep up the good work!'"