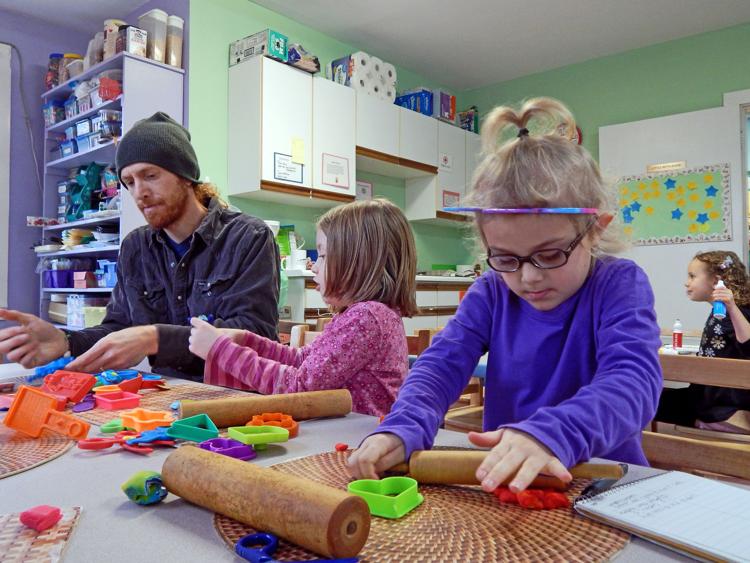 Correction: The previous version of this story contained an error. The nursery school half-day program we visited, (which meets Monday, Wednesday and Friday) has 18 students total, and there are 37 children enrolled in all of the programs at TCNS combined. 
On a recent Monday in December, the students of Trumansburg Community Nursery School (TCNS) were busy doing what they do best: playing. The 18 children in the class bounced off each other like pinballs, firing quick questions, engaging one another in a craft or other project, or plopping down together on the floor with a big, overturned tub of plastic figurines. 
It is clear to see from the comfortable way in which the students interact and play that the school has hit on a winning teaching style—one that values imaginative play as well as learning Spanish and the ABCs. The school's commitment to local families and the community at large earned it the title of 2019 Trumansburg Area Chamber Organization of the Year.
In a heartfelt speech, Steven Daily, parent of a former student, explained during the Chamber's annual gala how much the school helped him grow as a parent. He was not initially comfortable being in a classroom full of kids, he said, but that soon changed thanks to the school's policy of actively involving parents and other caregivers. 
In 2019 the school celebrated 60 years of teaching, all in the same building, the First Presbyterian Church in Trumansburg, though that is about to change. 
TCNS offers a half-day program following the Trumansburg Elementary School calendar. Children ages 3 to 5 may enroll in classes that meet two, three or five mornings per week from 9 a.m. to noon.
The school is looking forward to moving into a brand new building, to be built in conjunction with new housing development Crescent Way, which is still navigating the Village approval process. When the new building is complete the school will be able to provide daycare after school (something that their current permit doesn't allow), but for now they do just fine in the church, which has a spacious play room inside and a playground with plenty or room to roam outside.  
There are always two extra sets of adult hands and eyes in the classroom every day due to the school's policy of having a caregiver for each child volunteer in the classroom once a month. 
Alison Carpenter, mother of Ruby and Waylon Carpenter, said that when she was a first-time parent she found it very comforting to be involved in the classroom with the kids, parents and teachers.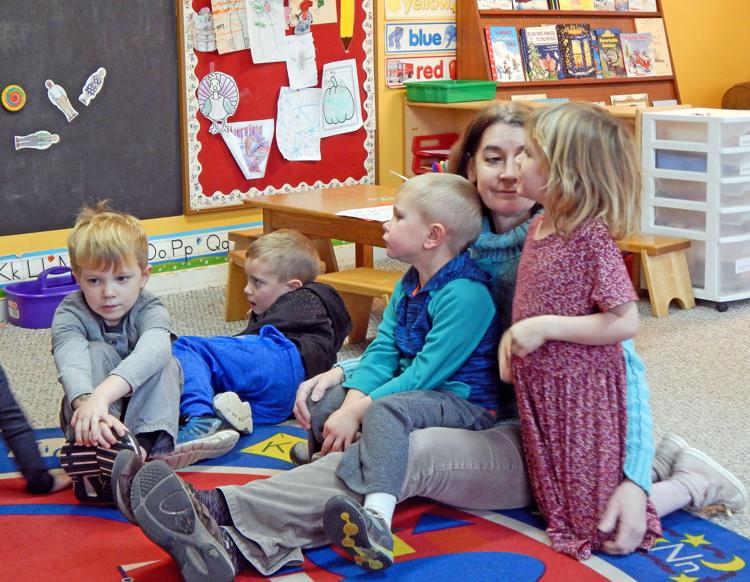 "You get to see how your kid plays and get to know the other kids in class," Carpenter said Dec. 16 while waiting for the end of recess at the close of the school day, adding that she also enjoys the extra fundraising activities and holiday events the school holds throughout the year. 
She said the fact that the students go outside for play time almost every day is also plus. "It's more hands on, and they get to use their imagination," she said of the school's teaching style. "It's not as structured. It has a more tight-knit, homey feeling." 
'It really fosters a sense of community," agreed Marilyn Garin, who was also picking up her child. 
That also means that the teachers make a special effort to appreciate what is unique about each child. 
"They get to know the kids individually, and their personalities, what they like and don't really like," Carpenter said. "It's comforting to know they pay attention that much to your children." 
Her son, Waylon, started kindergarten at Trumansburg Elementary School this year, and she believes he benefited from his time spent at the nursery school. 
"It helped him go into the school setting, where there are a lot more kids, and know how to use his words, share and communicate," Carpenter said. Another benefit is that both she and Waylon knew some of the students and parents in his class before the first day of school, she added. 
The school is pocket friendly as well; no students are turned away, and much of the fundraising goes toward scholarships for families who need assistance paying tuition. 
"Scholarships have the same criteria as the free and reduced lunch: 25 and 50 percent tuition depending on income, and everyone who applies gets in, and we don't turn away anyone," said Deb Austic, school director. 
The school has received quite a bit of attention in 2019, receiving not just the Chamber award but the Thomas L. Ferretti Award for Service and Achievement from the Village of Trumansburg as well. 
"The teachers, parents and alumni of TCNS have given significant amounts of time, monetary donations and materials to ensure the long-term viability of the school," the proclamation by the Village states. "TCNS has endeared itself as a beloved organization that provides our children with an invaluable pay-based experience that enriches their imagination and inspires their curiosity.
"Trumansburg and all communities in which TCNS alumni reside owe TCNS an infinite amount of gratitude for the impact the school has made on the betterment of society."