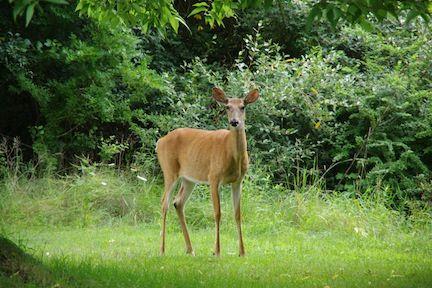 Four years after the issue was raised as something worthy of study, the Town Of Ithaca Deer Management Committee had its inaugural meeting Tuesday evening, holding the first of what are anticipated numerous discussions on ways to address a rising deer population in the town and the environmental impacts they'd had on the area's farms and forests.
Comprised of members of the Town Board and its Planning, Agricultural and Conservation Committees, the seven-member board's 90 minute meeting consisted of preliminary discussions on deer control methods, ways to study the deer population and its impact, and how – when the time comes – to sell the public on the sometimes controversial practice of population management. Ideas discussed generally followed the framework of proven deer management programs in place in areas like Cayuga Heights and Trumansburg, delving at points into some proposals suggested in a policy sheet of Deer Management Recommendations released last spring.
Members of the committee included Ithaca Town Supervisor Bill Goodman, Board Members Pamela Bleiwas & Eric Levine, Town Planner Mike Smith, as well as Lisa Ferguson (Agriculture Committee) and
Lindsay Dombrowski. (Conservation Committee)
The Plan
It was back in 2014 when, following the suit of multiple communities around the county, the Ithaca Town Board began to look into ways the town could go about managing its rapidly growing deer population, which local farmers claimed were having detrimental effects on their crops and livestock. A final document – drafted by the town's conservation board – was completed in May of 2017, listing a number of recommendations toward actions the town could take. Recommendations included:
Forming an official Town Sub-committee tasked to draft, implement, and administer a deer management plan that complements initiatives of adjacent municipalities.

Amending the current firearm discharge law to make exceptions for the use of archery (bow and crossbow) equipment to directly support landowners.

Utilizing DEC Deer Damage Permits to maximize impact of management activities in areas closed to hunting.
Measuring impacts of deer, not deer population numbers, to assess effectiveness of the management program.

Coordinating efforts with adjacent municipalities, Cornell University, and Ithaca College to leverage resources.
The plan seems to be a natural progression of local policy, especially given the efforts of other local governments around Tompkins County. After a highly-controversial deer management plan was enacted in Cayuga Heights in the early 2000s, officials both with the Village of Trumansburg and Cornell University have each implemented their own plans, utilizing a mix of both lethal and nonlethal means.
The meeting began with a presentation by current Cayuga Heights Mayor Linda Woodard, also a member of the new committee, who presented an overview of a years-old deer management program that has yielded significant results in the village since implemented in 2011 (a previous sterilization program, which was relatively unsuccessful, was first conceived in 1999), when the village counted an estimated 125 deer per square mile. (The town now counts approximately 38 – nearly twice the minimum amount needed for undergrowth in the forest to begin to regenerate.) Controversial at the time, the plan, which called for the sterilization and killing of deer by professional hunting firm, White Buffalo, made headlines statewide and attracted heavy activist attention.
But results were seen in relatively short order, Woodard said: according to a case study of the Cayuga Heights deer management program, a total of 152 does (100 percent of all female deer) were sterilized between 2012 and 2013, with an additional five sterilized in 2016 and, over a two year period beginning in 2015, White Buffalo removed 72 males by way of crossbow.
"Since we've started this program, we have not had a deer-car collision in the village (of Cayuga Heights)," said Woodard.
The Cayuga Heights model is not universal. In Tompkins County, there are areas called "Deer Management Focus Areas" regulated by the New York State Department of Environmental Conservation which allow for exceptions to certain hunting rules and encourage the thinning of deer populations. Highly regulated, these DMFAs exist in specific areas of the towns of Lansing, Caroline, Enfield, Newfield, Danby and Ulysses, though other municipalities may offer their own solutions: The Village of Trumansburg, for example, has relied on freelance hunters for years with significant results. In 2015, Trumansburg hunters killed nearly 100 deer, resulting in a half ton of venison being donated to the Food Bank of the Southern Tier. (The current phase of this program is anticipated to end this March, according to the Village website, after two year period that resulted in more than 200 deer killed overall.)
Cornell University, which introduced its own hybrid deer management plan back in 2011, also utilizes volunteer hunters and currently maintains a permit to carry out a method of deer culling known as "captive bolting," considered a humane way of killing an animal often used on cattle and pigs.
Deer Impacts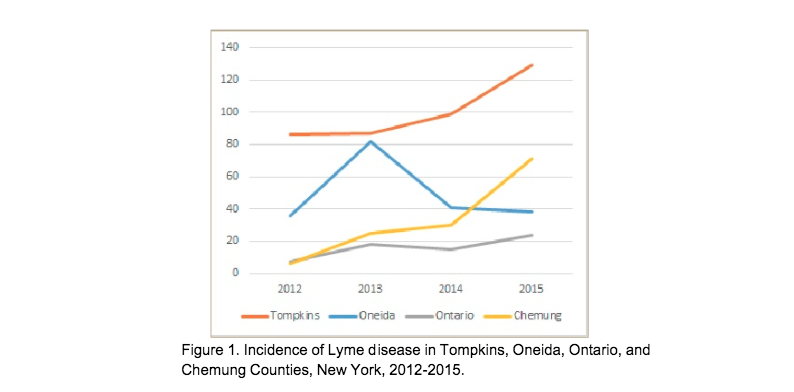 According to Town officials, a program intended to actively cull the deer population in the town is needed for a variety of reasons. A high prevalence of deer in an area has often been linked to high rates of lyme disease among the local population (Tompkins County, for example, experiences substantially higher rates of lyme disease than other, similar-sized counties in New York State.) and, statewide, deer contribute to annual crop losses amounting to more than $53 million per year. And that's just for plantlife: White tail deer can sometimes carry a parasite that can lead to the death of farm animals, which the DEC doesn't account for the recovery of. Committee member Ferguson, who owns a sheep farm, said she has experienced livestock losses of approximately 10 percent due to diseases carried by deer. (Judy Wright, a senior resource educator with Cornell Cooperative Extension of Cayuga County, wrote an article on the environmental impacts of deer for the Auburn Citizen last Fall.)
This aspect of the conversation, Bleiwas said, would likely be a major part of the discussion as the committee looks toward selling the public on their plan which, while in its early stages, could potentially resemble that of what is practiced in Trumansburg.
"We need to be careful to dot our I's and cross our T's if we want the public on board with this," said Bleiwas, who also said that a deer population study should be considered in order to see whether or not a deer population management program was even necessary.
Though in its early stages, a number of logistics questions remain. While meat from the program would likely be donated to various programs and food pantries around the region, some proposals – like an entrails disposal area at the town's public works facility – might merit a little more thought
"The public works workers don't seem too excited about that, so we'll see," Goodman said.
The group plans to meet monthly until a plan is developed, after which it will be passed along to the Town Board for consideration.