Thousands of hours of overtime. Millions of dollars of accrued costs. Months without a day off.
It's been a long year for everyone as the weight of the pandemic has taken its toll over and over. But perhaps nobody in Tompkins County has felt the burden of a public health crisis more than the Health Department.
As of Dec. 15, the COVID response team had worked 53,756 regular hours and 7,313 overtime hours — a feat Health Director Frank Kruppa commends his team for.
"They're working long hours, they're working without days off," he said. "They've stepped up every time we've asked them to. I've taken to saying that if you're not going to follow the guidance for any other reason, do it for them. They've been working around the clock for 10 months now. They need a break."
The responsibilities of the emergency response team run the gamut, from case investigations to contact tracing to educating the public. It's been a big change for a department that rarely makes the news.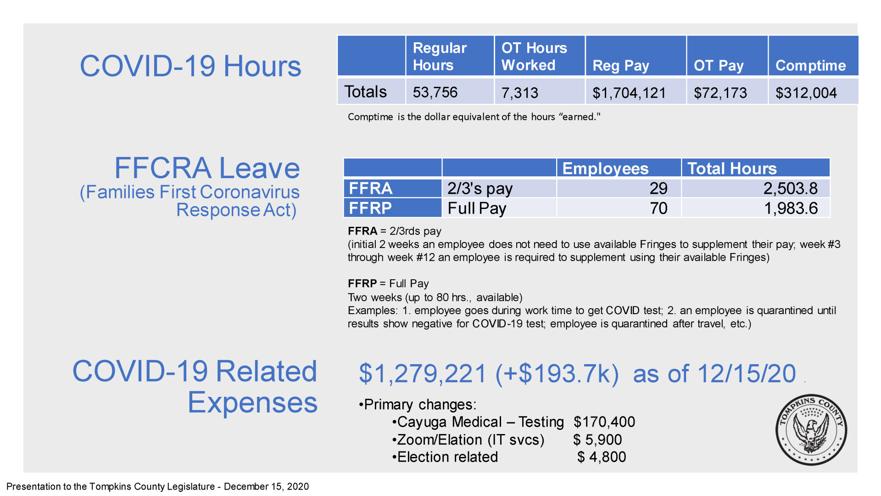 "Normally people only know about us if something goes wrong…if there's a foodborne illness outbreak or sewage spill or a disease in the community," Kruppa said. "We're a prevention organization, so our goal is to prevent people from getting sick or having illness…If we're doing our job, you don't know that we're there."
It's safe to say that's changed. Before COVID, Kruppa estimated the Health Department's Twitter page had about 10 followers; it's up to 2,800 at this point, as people check in nightly for the updated case statistics for the county and follow along for public exposure warnings.
"I think we're much more public facing at this point, but we're still doing the same work," Kruppa said. "Our goal is to prevent the spread of COVID-19, and it's not unlike what we do for tuberculosis or measles or mumps or any other communicable diseases. We've been able to take what we know, what we do, and amplify it and deal with COVID."
Of course, with the increased hours and workload comes an increase in costs. So far, the COVID response has cost the county $1,704,121 in regular pay, $72,173 in overtime pay, and $312,004 of comp time, which is the dollar equivalent of the hours earned by working.
"Even when [nurses] are scheduled to be off on weekends, we might end up calling them because we need more help," Kruppa said. "This has been going on for 10 months. It's a drain. It's hard to keep morale up. But what makes people so amazing is they keep doing it. They do everything they're asked."
Additionally, the county has paid $1,472,922 in COVID-related expenses. County Administrator Jason Molino said the community testing has been one of the most expensive portions of the public health response.
"That will be probably close to a million or so dollars," he said. "About 75% of that will be reimbursed through FEMA, but that's a big cost in and of itself."
In a chart presented to Tompkins County Legislature on Dec. 15, data showed 27,677 county residents were tested between Sept. 1 and Dec. 13. Of those, 11,140 tests were not covered by insurance and would be paid for by the county. The cost of that is $891,200, with $668,400 expected to be reimbursed through FEMA, leaving the county with a $222,800 bill.
And that's to say nothing of the budgetary issues the pandemic has caused as businesses have been forced to shutter or reduce capacity to benefit public health.
"Our sales tax revenue is at about a $4 million shortfall," Molino said.
Plus, the aid from the state government to cover mandated services will also see big cuts.
"If the governor follows through with 20% cuts across the board, we could face a $5 million shortfall from state aid," Molino said.
County Legislature approved a $182,611,872 budget for 2021, which is down 5.64%, or $10,915,637 from 2020.
"For next year's budget we did budget a decrease in sales tax compared to 2020, so hopefully that will be much more in line with what we're receiving," Molino said. "Hopefully if we can get through the next few months we'll see some growth again."
And for what it's worth, Molino said he is feeling optimistic that the county will receive its FEMA reimbursements, and sooner rather than later.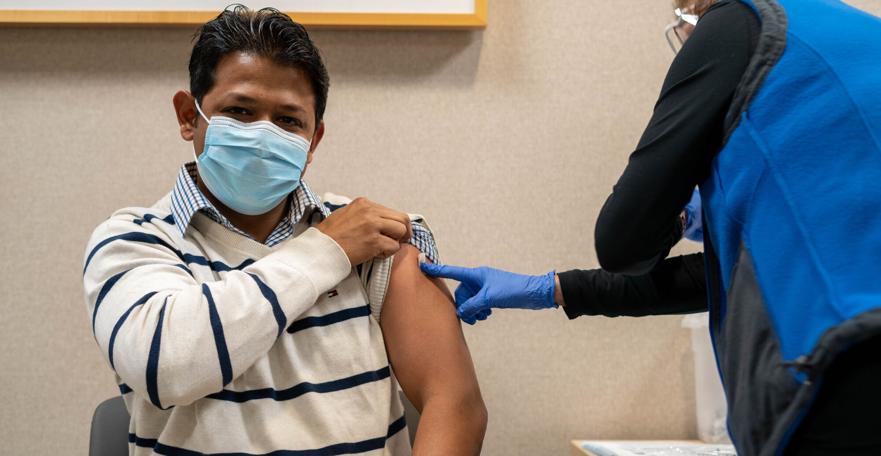 "We submit our expenditures weekly and are in the final phases of approval," he said.
However, budgetary constraints aside, county staff knows that the work needs to be done regardless. From the get-go, Kruppa said the county legislature has proved to be supportive in providing the Health Department in whatever funds it needs to deal with the pandemic.
County Legislature Chair Leslyn McBean-Clairborne said that their priority was taking care of Tompkins County residents and making sure the legislature was doing everything in their power to protect the public.
"People are working long hours, putting in overtime, coming up with policies and guidance and ideas, and then communicating this throughout the county and fielding questions day in and day out," she said. "We're figuring out all the ways to work together to keep our community safe."
At the beginning, McBean-Clairborne said the county took numerous measures as part of the response, including approving employee furloughs, reducing the number of employees working at the office, starting an Emergency Operations Center, working with people on early retirement plans, hiring a new communications director and investing in community testing.
"We wanted to make sure that those members who were most vulnerable and don't have the resources to pay for testing or don't have insurance can still get tested, because we value the health of this community," she said. "Finances should not be a barrier to getting tested. And the more testing, the easier to mitigate the spread."
McBean-Clairborne said the legislature approved a $150,000 contract with Cayuga Medical Center to make sure people can be tested, and then spent another $100,000 to purchase a testing machine to get quicker, cheaper turnaround on testing results.
"Yes there were costs, and there will continue to be costs," she said. "But the legislature is poised to do anything they need to do to make sure we have the resources in place to protect our community."
Beyond the more obvious costs such as budget shortfalls and testing expenditures, COVID has made itself known in other ways. McBean-Clairborne pointed to law enforcement as one surprise cost, as the sheriff's department has had to take on the responsibility of addressing complaints about things like large gatherings, and then showing up and educating people.
"That's just more overtime that was incurred," she said.
Molino also pointed to the staff shake ups, as people have switched roles within county government to help out the Health Department.
"A lot of departments are shorthanded," he said. "If it weren't a pandemic, other work would be getting done. But we're focusing on COVID. All the departments are understanding, and some work is paused or slowed down, but they understand that the public health of the community is the priority."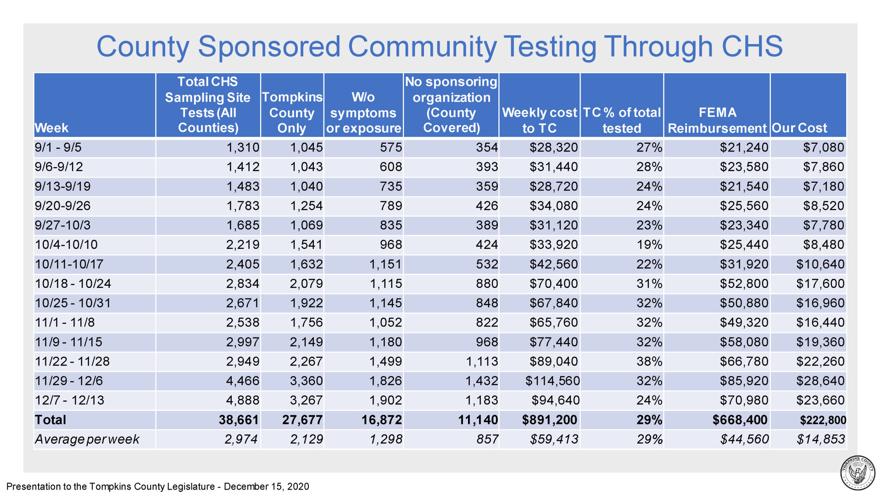 Currently, Molinio said about 15 county staff members have been diverted from their usual duties to assist with the COVID response, and over 50 staff members are trained as contact tracers.
Kruppa added that the COVID response has had to take priority over other duties in the Health Department.
"That's been one of the biggest struggles," he said. "We're not able to do everything we usually do."
McBean-Clairborne agreed and said that one of the hardships of dealing with COVID is that the rest of the world didn't stop.
"It's just a smorgasbord of issues that one has to be dealing with on a daily basis," she said. "We can't not deal with homelessness…We have to be dealing with all of that, all the safety net programs, we still have to be out there cleaning the snow when it comes, people are still going to be calling about potholes. It's everything."
Molino added that while the immediate response is managing the disease, a lot of other departments have also seen an increase in their workloads because of COVID, such as the Department of Social Services receiving more requests for public assistance.
"While they may not be directly involved with managing the disease, they are seeing the negative impacts from the pandemic," he said. "Every department is experiencing some effect as a result of the pandemic and the need to respond to it."
Despite the challenges, Kruppa said he's feeling optimistic.
"I think there's an awareness now of the importance of public health," he said. "We're at a crossroads here, and there's a lot of change that's going to be happening moving forward."
He's also thankful that residents in Tompkins County have been receptive to his advice, despite the fact that everyone has struggled.
"This has been a community effort," he said. "All of our work would have been for naught if our community had accepted the guidance. I'm glad we live in a place where public health messaging is accepted."
And with two vaccines approved, Kruppa said he's looking forward to a quieter future.
"A weekend off would be good at this point," he laughed.