TCAT is set to receive $17.8 million in federal funding from the recently passed Infrastructure Investment and Jobs Act, a bipartisan infrastructure deal signed by President Joe Biden on Nov. 15. The $1.2 trillion bill was passed by Congress on Nov. 5. Thirteen Republicans crossed party lines to vote for it, including Rep. Tom Reed, who represents Tompkins County. It is the largest single infrastructure investment in American history.
The legislation includes $39 billion of new investment to modernize transit, in addition to continuing the existing transit programs for five years as part of surface transportation reauthorization, according to Sen. Chuck Schumer.
The bill also includes provisions such as $5 billion that will help replace deficient transit vehicles, including buses, with clean, zero emission vehicles; the transportation sector is one of the largest sources of greenhouse gas emissions.
According to Scot Vanderpool, the general manager of TCAT, his mind immediately went to electric buses when he heard the news.
"Our main objective is to keep the wheels rolling, but more specifically, part of our thought process is electrification," he said. "We plan to be all electric by 2035."
TCAT did roll out seven new electric buses earlier this year, but Vanderpool noted they're expensive at about $1 million a piece.
"In order for us to reach our no-emission goals, we'll need capital help and this will certainly provide that," he said.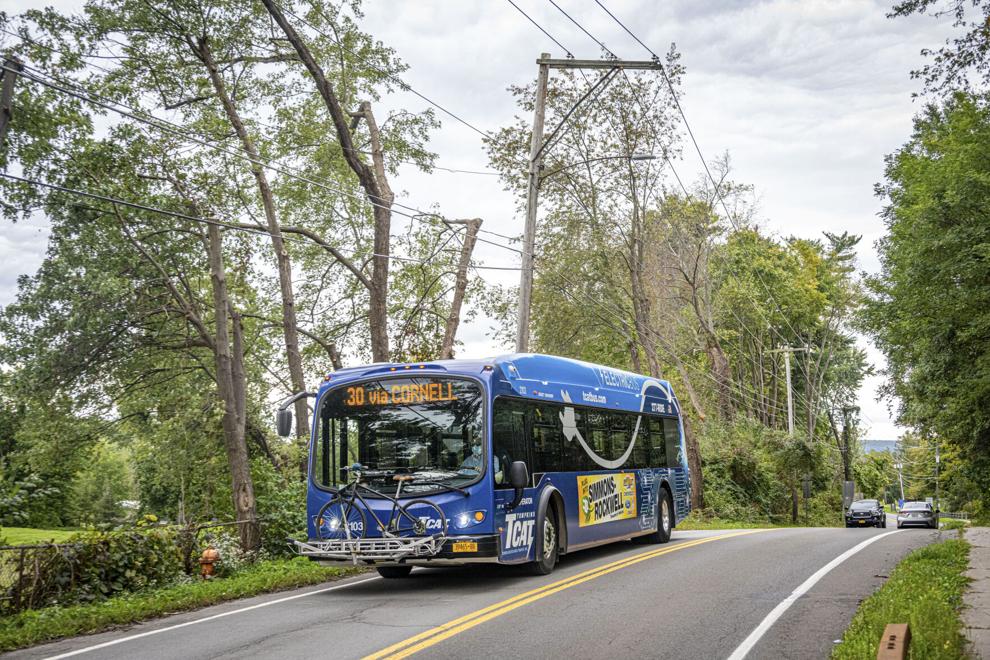 Vanderpool added that with electrification comes a change in infrastructure and training, and said the funds will help with that too.
"We'll need charging infrastructure and as far as an operational thing, when you talk about electrification, you have to think about how everything changes," he said. "Moving toward electrification will not be possible without trained employees. Diesel mechanics will be less valuable in 10 years unless we set up training."
The transportation industry, in Tompkins County and nationwide, is also facing a shortage of drivers and mechanics. Vanderpool said some of the funding could go toward providing incentives to employees, paying for training courses and figuring out other ways to entice people to work at TCAT.
He added that he's still waiting for some details and clarification about how the money has to be used and in what time frame, and any other restrictions that may come along with federal funding, but said he's already trying to think outside of the box for uses.
One area that he thinks could use some support is TCAT's Human Resource Department. Vanderpool noted with ever-changing COVID protocols, regulations, and employee shortages, HR has been dealing with a lot.
"I want to concentrate on, as a general manager, how can we support our employees better? And HR is ground zero when it comes to supporting your employees," he said. "Everyone should be putting more thought into that piece."