The new decade brought with it one of the most significant changes to the New York State criminal justice system in recent memory with the official enactment of far-reaching bail reforms that had been approved in Spring 2019. 
Ending or limiting cash bail has been a popular topic of debate since the death of Kalief Browder, a New York City man held for three years, from the age of 17-20, in Rikers Island jail pre-trial because he couldn't afford his bail. Browder was eventually released when the case against him proved untenable for prosecutors, but he took his own life two years after being released, widely thought of as a result of the abuse he suffered inside the jail. Browder's story has become a rallying cry for those demonstrating the damaging effect cash bail has, most deeply on the impoverished and, as with most of the criminal justice system, on minorities in particular. 
It was with that case in mind that New York State legislators approved bail reforms last year. The reforms eliminated cash bail for a litany of misdemeanors and low-level felonies, along with implementing changes to the arrest and trial process, like reducing times for prosecutors to turn over discovery evidence to defense attorneys (which is now 15 days after arraignment, necessitating a strong investigation by police to be sure of charges, and quick communication between prosecutors and law enforcement officers). New York's bail reforms, which come after several other states have either enacted their own reforms or kickstarted reviews to do so, differ in one crucial aspect, in that they go so far as to disallow judges from considering a threat to public safety as a criteria for ordering bail. There are, certainly, ways around that for judges, like considering a person's prior criminal history, but at least nominally whether or not a person poses a public safety risk is not to be considered. 
The reforms allowed for bail implementation in cases of violent felonies, sex crimes, some domestic violence cases, etc. Critics of the law have seized on any and all opportunities to undermine it during its nascent stage, charging that it grants freedom to dangerous individuals and risks additional crime. 
Progressive Democratic candidates Elizabeth Warren and Bernie Sanders have even weighed in, both supporting the law since it went into effect at the start of the year. Spurred by the backlash to the law, both called on New York State officials to hold the line and remain committed to the reforms. That was after New York Attorney General Letitia James, who had previously expressed concern over the laws, said she thought lawmakers and Governor Andrew Cuomo should revisit the law, although she wouldn't get into specifics. Cuomo himself has even signaled a willingness to revisit the reforms, although when he introduced his version of the bill, he wanted to allow judges to sentence people to "preventative detention" in the interest of public safety, something that was voted down during the state's legislative process.
"I'm not going to negotiate in public," James told the Rochester Democrat and Chronicle. "Safety should be the first priority."
Closer to home, Seneca Falls Police Chief Stuart Peenstra stated that he is "disgusted" with the bail reforms. In Tompkins County, far more politically progressive than its neighbor to the north, the issue has not yet been as controversial, though that doesn't mean the policy is free of detractors. Tompkins County District Attorney Matt Van Houten, certainly considered a progressive as far as law enforcement figures can be, can best be described as lukewarm on the bill. The ideology behind it, he said, is good and would benefit the vulnerable communities that have so long been treated poorly by the criminal justice system. Yet, he balances that optimism with apprehension over the reduction of judicial discretion and what he views as a risk to public safety. 
Van Houten said it's been his office's policy since being sworn in in 2017 to advocate for presumptive release for non-violent offenses and property crimes; put more generally, for offenses that don't appear to pose any risk to the community. 
"That's not fair, that someone with means can post bail and someone who doesn't have means, for the same offense, has to sit in jail," Van Houten said. "That ruins people's lives, it ruins families, you can lose your job if you miss one shift. That's something that, philosophically, I agree with 100 percent. What becomes a problem is when you take away a judge's discretion, and when the new bail reform places public safety at risk."
Van Houten's maintains that he agrees wholeheartedly with the philosophy behind the reforms, but worries about the extent of the new laws and some of the limitations they place, both on his office and on judges. He also expressed distress that the District Attorneys Association of New York was not involved in or consulted about the formulation of the plan. 
Talking a week after the reforms kicked in officially, Van Houten said there have been 6-8 cases already in which he normally would have liked to see bail in place, but which now didn't meet bail criteria. That included an assault of an elderly person, a domestic violence case (which is eligible for bail, but judges must go through the least restrictive means process to get to bail), a robbery and a misdemeanor case of endangering the welfare of a child. "Least restrictive," in this context, means judges must choose the least restrictive measures that will still do what bail is theoretically supposed to do, which is ensure that someone accused of a crime shows up to their subsequent court appearances. 
"In other words, they have to first consider release, then consider calling into probation, then consider going to probation once or twice a week, then consider adding specific conditions like counseling, an order of protection, domestic violence related services, and if the person is doing those things and showing up to court, then bail is off the table," Van Houten said. "But each case, you have to go on record showing you considered those things before you go up the ladder and get to the point where you can set bail."
The advocacy community has been much more vocal in their support for the reforms, asserting that bail encourages the detainment of people who have not yet been convicted of any crime but can't afford to get out, something that seems fundamentally wrong in a country that, at least nominally, operates under a "beyond a reasonable doubt" standard of guilt. That's particularly true when it comes to the minority community.
"There's this presumption of guilt when we're supposed to have a presumption of innocence," said Anita Peebles, a senior client service worker at Opportunities, Alternatives and Resources (OAR) of Tompkins County. "Some of those folks get their charges dropped, some of them are found innocent. So to have people waiting in jail when they haven't been convicted, we see as unfair. People take the position of dangerous criminals are being released, but the reality is that the wealthy have been released on bail for years, and we see the bail reform as a way to start equalizing the justice system."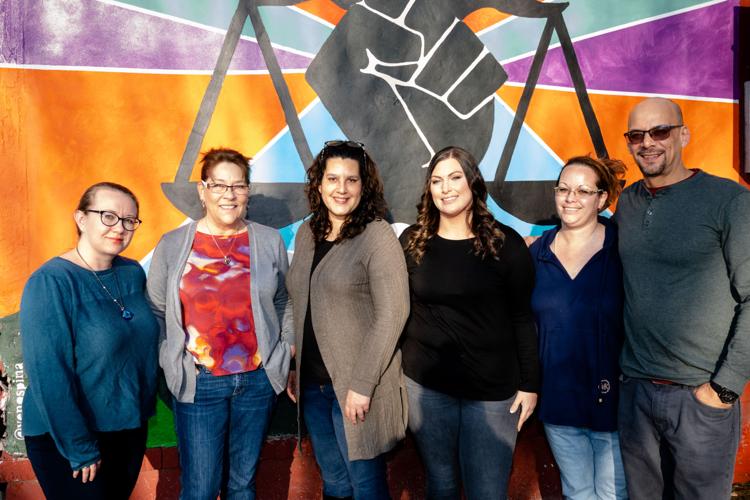 OAR has begun to see changes over the last few months, with Peebles noting that City of Ithaca judges had already adjusted their rulings to fall closer in line with the reforms that went into effect with the new year. Since then, Peebles said, their monitoring of the jail population shows that it has remained mostly around 40 people, down from the previous norms of around 60 or 70. Van Houten also mentioned that Tompkins County had started bail reviews in December in advance of the new rules coming into effect, and that had resulted in the release of about six people who had been detained while awaiting trial. 
Peebles and Nadie Phoenix, another client service worker, both said that so far, they haven't seen much of a change in their day-to-day operations as a result of the bail reforms, although they do expect to eventually, particularly when it comes to the transportation programs they provide, designed to help their clients arrive at their scheduled court dates on time. Irene Flores, who works for Legal Assistance of Western New York after over a decade as a defense attorney in Syracuse, said the new reforms would likely lighten the load on defense attorneys, who will be able to work on more significant aspects of their clients' cases instead of having to prepare for a bail hearing. 
"You don't know how much time I wasted trying to get bail reduced on a crime that really didn't merit all the work that I did," Flores said. 
"Right now there's a hysteria in the community about 'Oh my gosh, there will be so many dangerous people set free,'" Flores said. "I think it's a knee-jerk reaction that the AG is having to the reform law [...] In the end, I think it makes the system more fair, especially for people who are of a certain racial group, in Syracuse there are a lot of African Americans and Hispanics who are jailed because they could not afford bail."
But whatever the extra costs amassed by municipalities that have to hire more people for pre-trial services, Flores said she believes that will be outweighed by cost reductions from not having to  house inmates in jail who can't afford bail, or who have to wait for their bail money to be raised by friends or family. Frustratingly, though, Tompkins County can only watch as the state appears poised to continue a see-saw battle between its criminal justice system and its legislative bodies. 
"I've really tried not to fear-monger here, because for the most part, this is not a bad thing," Van Houten said. "It was put together poorly, and that's been frustrating. But if we can tweak it, to prevent some of the potential for abuse that has happened in other communities, I think that's a good thing. We don't want anyone to be treated differently in the criminal justice system because of their financial means."