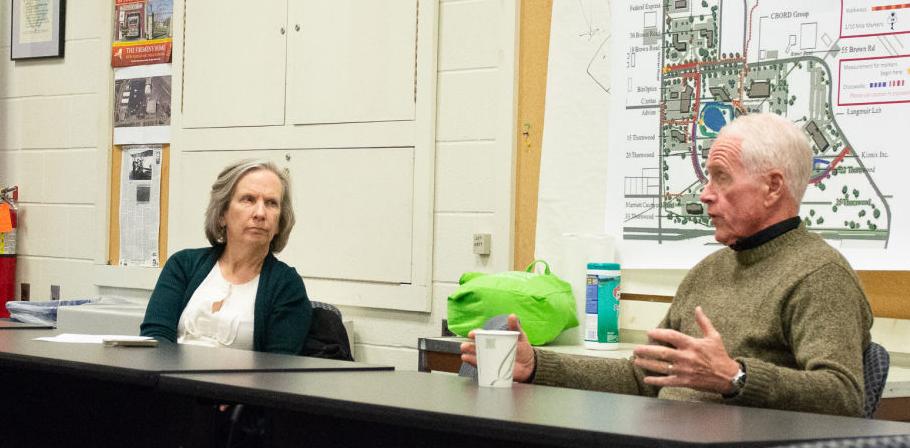 With the Asian population in Ithaca sure to remain steadily growing as Cornell University and Ithaca College continue to attract students from the Far East, Tompkins County is launching a new initiative that will try a deep approach to growing the county's tourism reputation among that population.
The new program is called It's Your Business: Welcoming China to Ithaca, and is aimed at ensuring the tourist experience in Ithaca and Tompkins County is comfortable and appealing. This will take a few different forms, most significantly readying front-line staff members at local businesses frequented by tourists such as restaurants, hotels and wineries for interactions with Chinese tourists potentially via online classes for language and cultural education.
Welcoming China will launch officially May 9 with a day-long event sponsored by several tourism groups around the county, with presentations from China Ni Hao and Boyd Group International. According to the Tompkins County Chamber of Commerce, there are more than 9,000 students combined from Asia enrolled at the local universities, and people visiting from countries like China spend an average amount of $15,000 in the United States over a 2-week period. The program is being organized and operated by area tourism officials and community leaders, with an advisory committee made up of local leaders from businesses and higher learning institutions led by Jean McPheeters, the Chamber's former chairwoman. Tompkins County Airport Director Mike Hall has also been deeply involved with the program's formulation.
The group has been working with the infrastructure set forth by the Tompkins County Tourism Strategic Tourism Plan, specifically hoping to fulfill three of the long list of goals that plan laid out to foster tourism. It's being fueled by a $30,000 grant from the Tompkins County Tourism Program, along with an additional $60,000 which will come from the airport and other sponsorships.
Hall spoke about some of the challenges a foreigner here may face, including some of the larger stuff that would be challenging for an American, like navigating the healthcare system or even buying a car, but are made exponentially more challenging by being in a different country or speaking in a second language. The program's aim, he said, is not necessarily just to get another bus of tourists into the town, but to go deeper than a normal surface-level marketing push.
McPheeters said the group has encountered enthusiasm from other community members they've reached out to connect with the initiative. This is likely not the end of similar efforts in Tompkins County either, McPheeters said, and not all will have to do with what part of the world someone is from. Hobby tourism could also be a future endeavor, taking advantage of inherent characteristics of the area which could attract fans of certain activities like off-road biking or the lot enjoyed by history buffs, she said. In terms of future niche international tourist markets, Hall also said the program could be guided by some of the international demographic maps of the local colleges; after all, that's a major reason Chinese tourists were selected as the pilot target. Regardless, the central theme of industry growth through deeper cultural welcoming is the prevailing force behind the renewed focus.
"When you have visitors in your home, you try to make them comfortable," McPheeters said, noting that when she was abroad she struggled mightily to learn Urdu, for example. "This really was spearheaded by the airport, but I think there are lots of other groups in town who are very interested in niche marketing [...] It requires somebody with energy and the desire to do them, and through the Tompkins County Tourism Fund money is available to people who are interested in those things."
Ithaca's already in an advantageous position for tourism, as Hall said they betray normal traveling trends among other upstate New York locations: the Ithaca-Tompkins Regional Airport sees about the same amount of people arriving as departing, a number that in this region is normally tipped in favor of departures. With that as a foundation, Hall said improving the tourism environment here will undoubtedly benefit the airport, but will have ripple effects elsewhere as well.
"This is a program that's in our social best interest, and in our business best interest," Hall said. "And If we can use that as a rallying point I think we become a better community. And that benefits our airport, sure [...] It's not a simple play to get another bus of tourists in here, it's a complex play to make our community a better fit for the people who have already expressed an interest in coming here, and that in itself will spread growth."
The "social best interest" portion certainly matters to the group, though the economic benefits attached to enhancing the tourist experience in Tompkins County are attractive as well. Parts of the country, Hall said, have shown themselves as unfriendly to foreigners, particularly in recent months and years. While Tompkins County has largely been free of that, there have inarguably been ugly glimpses of it. Instead of rebelling against that sentiment by maintaining the status quo, Hall feels like more can and should be done to actively battle against it, viewing the China Welcome program as a key starting point of that effort.
"If you want to put it in the context of national politics, there are significant parts of our country that are not welcoming right now, and we are not one of those, so it's a good time in our eyes to emphasize that we are welcoming," Hall said. "You have the kind of community that you build. So if you're not comfortable with the community you have, you have to act as a citizen to influence that community to where you want it to be. We are an international community and many of us believe deeply in the value of that diversity. You have to grow that."